LASZLO & VILMOS ON PBS
AND VILMOS PODCAST INTERVIEW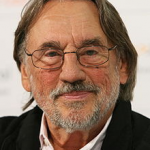 Check local listings at
PBS.com
this week to catch the documentary,
No Subtitles Necessary: László and Vilmos
, which is being shown on PBS'
Independent Lens
series. The film, which has been shown at various film festivals, tells the real-life story of cinematographers
László Kovács
and
Vilmos Zsigmond
, who fled from Hungary to Los Angeles with footage they shot of the violent Hungarian Revolution of 1956. Zsigmond, of course, would go on to shoot several films for
Brian De Palma
:
Obsession
,
Blow Out
,
The Bonfire Of The Vanities
, and
The Black Dahlia
. According to
a Los Angeles Times article by Michael Goldman
, Zsigmond had previously been reluctant to make a film about their story, but after Kovács became ill in 2006, he decided to do it. Zsigmond told Goldman, "I had turned down this idea previously. I wasn't interested in a movie about me, and I'm not comfortable in front of the camera. But by the time this idea came up, László was very ill, and I was proud of our relationship and how we helped each other. That doesn't happen often in film circles. So I basically decided to do it for László. He was such a great cinematographer, and why he wasn't rewarded more is incredible. I thought I could help him by doing this movie and making sure people in the future remember his work."
You can hear an interview with Zsigmond and
No Subtitles
director
James Chressanthis
on a
123 Film Easy!
podcast from November 4th.