KatsNjazz Lover Come Back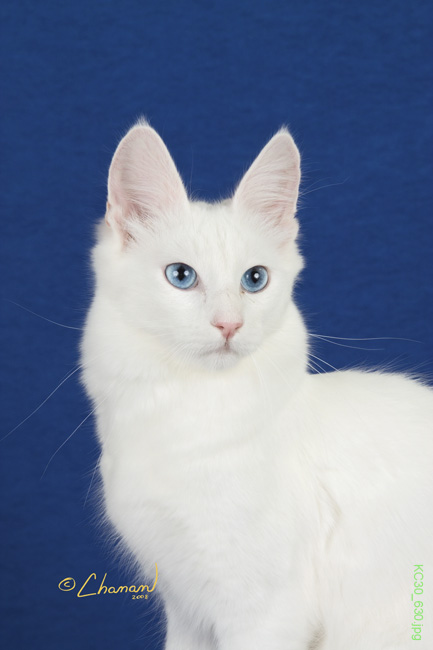 KatsNjazz Lover Come Back, 5/3/08, while he lived with
Barb. Photo by Richard Katris, Chanan Photography.


KatzNjazz Lover Come Back of Azima was a cat Barb had obtained from Kathryn Amann for breeding. When Barb died, Kathryn Amann offered to have him sent back to her. We appreciated having one fewer cat to place and were especially delighted to be able to say that
Lover Come Back came back!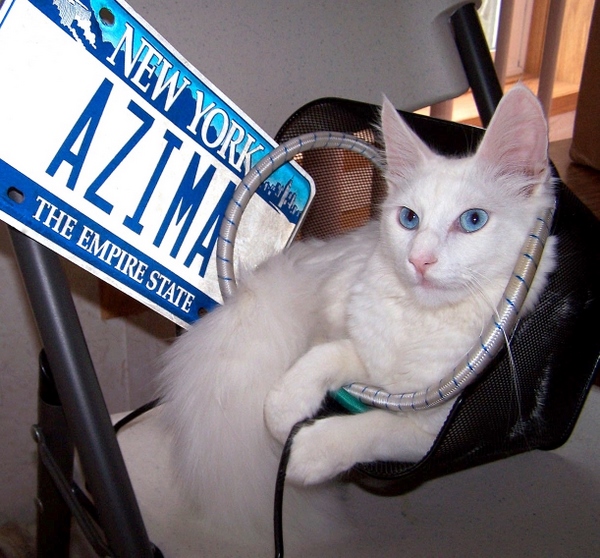 Lover at Barb's house, photo by Barb Azan, dated 6/4/08.
As far as identification, Sue knew Lover from other trips to Barb's, Barb labeled him in photographs on her computer, Kathryn recognized him from Chanan photos while he lived at Barb's, Sue recognized him from Animal Planet's Cats 101, and Barb's documentation includes the contract between Barb and Kathryn and several mentions in Barb's kitten log as having bred different girls. Finally, he could not be confused with any other white cat because he was the only adult white male cat in Barb's house at the time she passed. Kathryn is positive she got the same cat back.
Since his return to Kathryn, Lover has been neutered and shown in both CFA, where he is a Grand Premier, and TICA, where he is a Double Grand Champion Alter! Kathryn adds: "Lover Come Back has since gone to a wonderful pet home in the Sierra Nevada foothills in California where he is the pampered pet he deserves to be." Well done, Lover!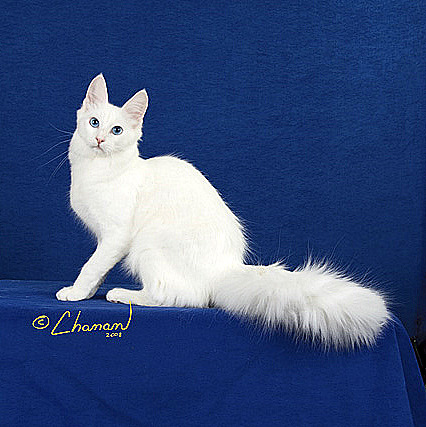 Lover Come Back after he returned to Kathryn Amann.
Photo by Richard Katris, Chanan Photography, dated 8/18/09.
Lover Come Back Identification Checklist:
People who knew this cat: Angela Manookian, Sue Howland, Kathryn Amann.
Pedigree on Cat Manager in Barb's computer.
Photos taken by Barb and Richard Katris.
Lover appears on the Cats 101 episode featuring the TA.
Status: neutered and in pet home.
Click on a link below, to see the details:
Email: integritycats@earthlink.net