Azima's Purrfect Blossom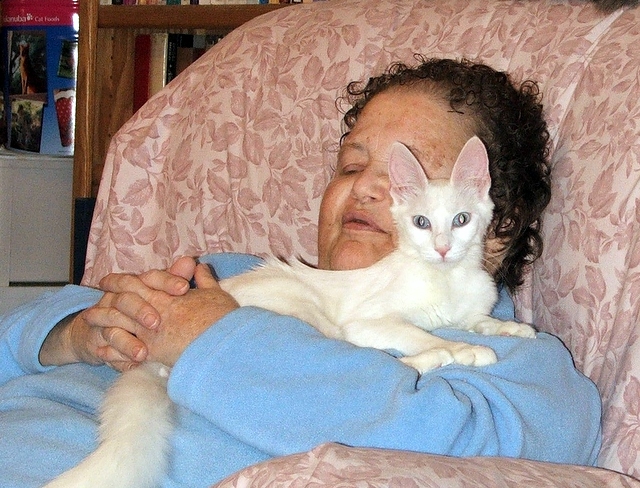 Azima Purrfect Blossom and Barbara Azan.
Photo by Kit Goodwin during visit to Barb's house, dated 03/03/07.



Our first comment regarding Blossom is similar to what we said about Abra. Not only that we all knew her, but we all WANTED her! She is one elegant girl, with those big baby blues, and was arguably the most flashy cat in Barb's house during her last three years with us.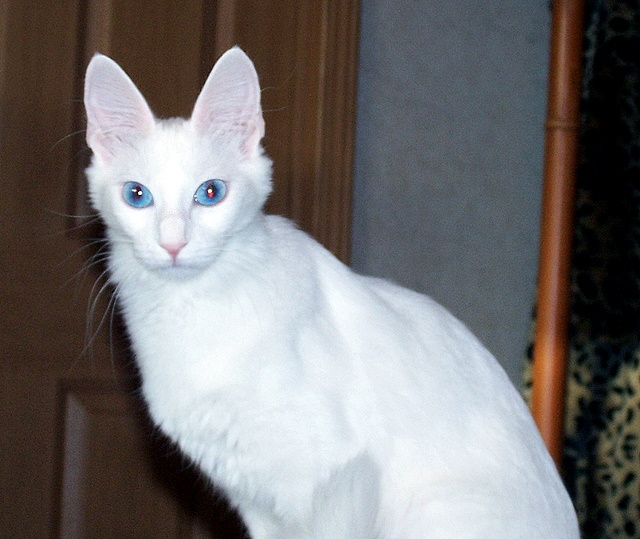 Blossom at Barb's house.
Photo by Barb Azan, dated 01/18/08.
Blossom is a blue-eyed white female who was born to Ellie Gantz on 6/12/06, lived in Barb's home for 3 years, and was well known to anyone who visited Barb. This extreme little beauty was present during a visit in early March of 2007, when Chris Thomas and Kit Goodwin spent a few days with Barb. During that visit, Kit took a number of photos and videos, and two of these appear on youtube.
Blossom was also well documented in Barb's computer. She appeared in various records on paper and in Barb's computer as well as having photographic evidence. She was the centerpiece for a magnetic sign that attached to the side of Barb's car.


Azima Purrfect Blossom.
Photo, dated 3/8/07, by Kit Goodwin during visit to Barb's house.
Blossom was the only adult white female with blue eyes on the premises at the time of Barb's death. Her blue-eyed white sub-adult daughter, Posy, was present, as well as her eight-week-old odd-eyed white kitten, who was later named "Azima Crystal Legacy". Posy, Crystal, and Blossom were known well by Angela Manookian, Karen Delmont, Sue Howland, and Kit Goodwin. Posy and Crystal have their own pages, in the links below.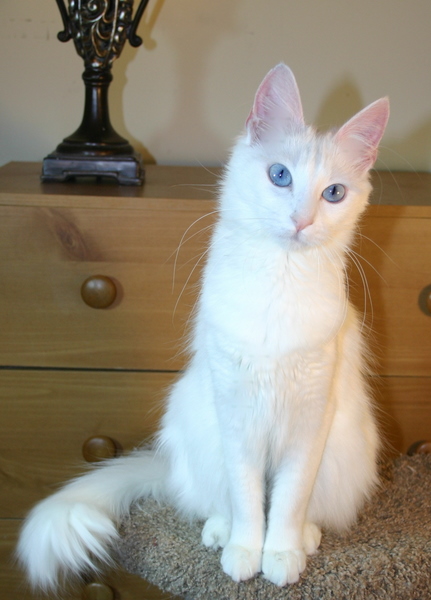 Blossom at Sue's house.
Photo by Sue Howland, dated 12/17/09.
Blossom Identification Checklist:
People who knew this cat: Angela Manookian, Sue Howland, Kit Goodwin.
Listed in Barb's breeding log as kitten and dam.
Pedigree on Cat Genius in Barb's computer.
Registered with CFA by Barb, processed on 10/10/06.
Listed in Azima cattery report.
CFA Certificate of Championship dated 12/15/07.
Photos taken and labeled by Barb.
Photos taken by Kit, Chris, or Sue, during visits.
Videos taken by Kit during visits.
Status: whole, key dam in breeding program at Sue's.
Click on a link below, to see the details:
Email: integritycats@earthlink.net