Azima's Camille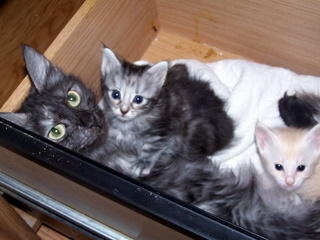 Above: Azima's Abra with two of her kittens; Azima's Camille of Bizans, and Azima's
Purrfect Wonder of Antioch. Photo by Barb Azan, dated 6/22/2008 in her computer records.

Below: Azima's Camille of Bizans, photo by Barb Azan, dated 9/21/08 in her computer records.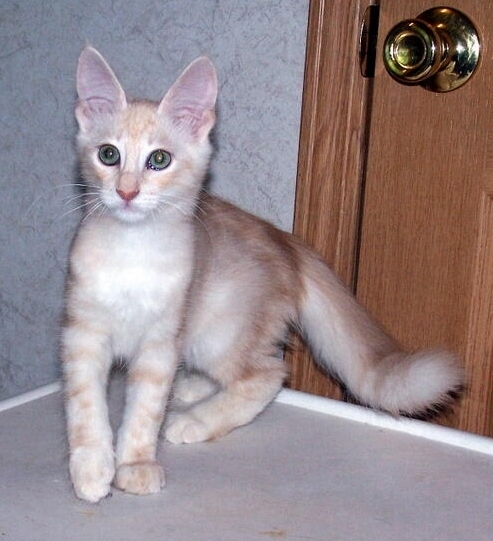 ---
Azima's Camille is a pretty little green-eyed cameo classic female. She was born to Abra on 5/26/08 at Barb's house in a litter that included Flash Dancer and Purrfect Wonder. (Click for their pages below.)
Many other photos of Camille were taken by both Sue and Barb in the summer and fall of 2008. Camille was slated and prepared, along with Classy Lady and Byron, to go to Wales. (See Lord Byron and Classy Lady's pages.) Both Sue and Kit knew of these plans several months before Barb died. As was the case with Byron and Classy Lady, Camille remains in the USA because a family problem ended the Welsh purchaser's plans to start a cattery.
Like Lord Byron, Camille is tremendously well documented, not only by the photos but officially by Barb's vet in preparation for shipping to Wales. She received her microchip and rabies vaccination on the same day Lord Byron did, as is evidenced by a Rabies Certificate and tag, a copy of the Rabies Antibody Titer form, original manufacturer's microchip stickers throughout the documentation, and the vet's invoice, all dated 9/30/08, just three weeks before Barb was taken to Intensive Care in Allentown, Pennsylvania.


Azima's Camille of Bizans, photo by Sue Howland at her residence.


Camille lives with Sue, and, lo and behold, her microchip number matches the documentation Barb's vet wrote for her! Despite initial trepidation, Camille has learned to become comfortable in the show ring. She is now a Champion in CFA.
Kittens in Barb's House when she died:
Azima Camille - Cameo Tabby
Azima Purrfect Wonder - Silver Patched Tabby
Azima Classy Lady - Brown Patched Tabby
Azima Crystal Legacy - Odd-eyed White
Azima Flash Dancer - Tortie Smoke
Azima Purrfect Posy - Blue-eyed White
Azima Jingle - Black Smoke
Camille Identification Checklist:
Listing in Barb's breeding log.
Litter registration prepared by Barb and processed by CFA 8/27/08.
E-mail correspondence between Barb and the client in Wales.
Rabies Certificate dated 9/30/08.
Microchip insertion listed on vet invoice dated 9/30/08.
Rabies Antibody Titer for Export Animals official form sent to Rabies Laboratory, Kansas State
Veterinary Diagnostic Library in Manhattan, Kansas, stating she is bound for Wales,
and listing her Microchip Number.
People who knew this cat: Angela Manookian, Sue Howland, Kit Goodwin.
Pedigree on Cat Manager in Barb's computer.
Photos taken by Barb match photos taken by current new owner (Sue).
Photos taken by Kit, Chris, or Sue, during visits.
Camille appears on the Cats 101 episode featuring the TA.
Status: showing at Bizans Cattery. Spayed.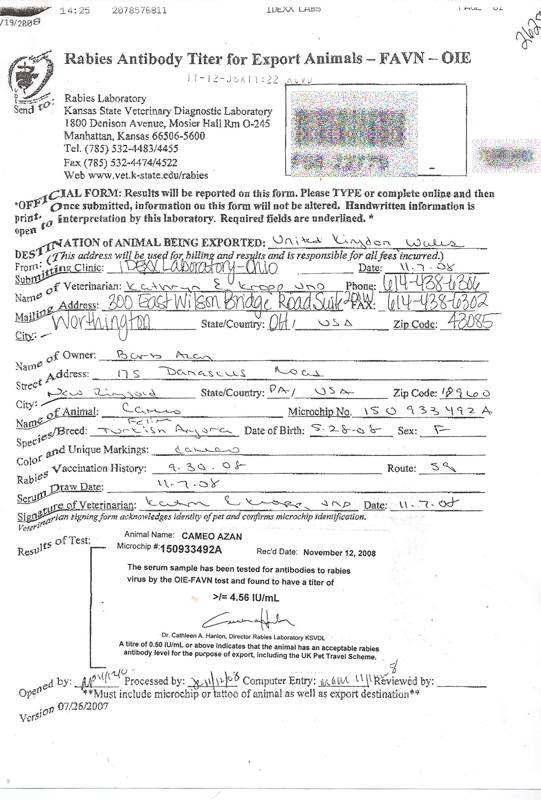 Here is one of the many documents that were used to identify Camille.
Click on a link below, to see the details:
Email: integritycats@earthlink.net