Azima's Azahn of Kica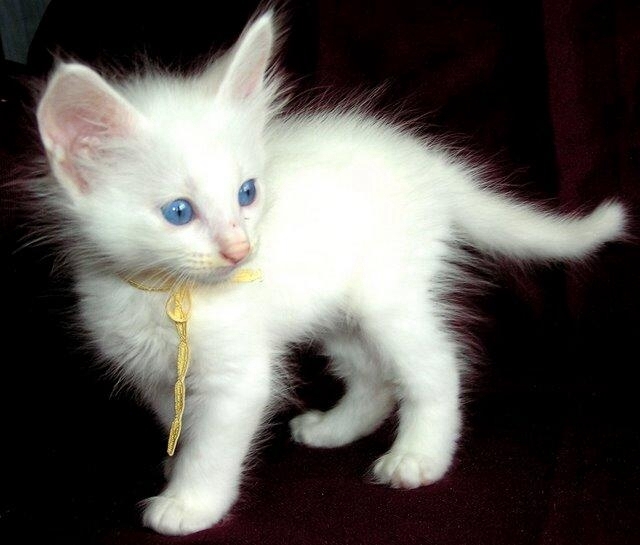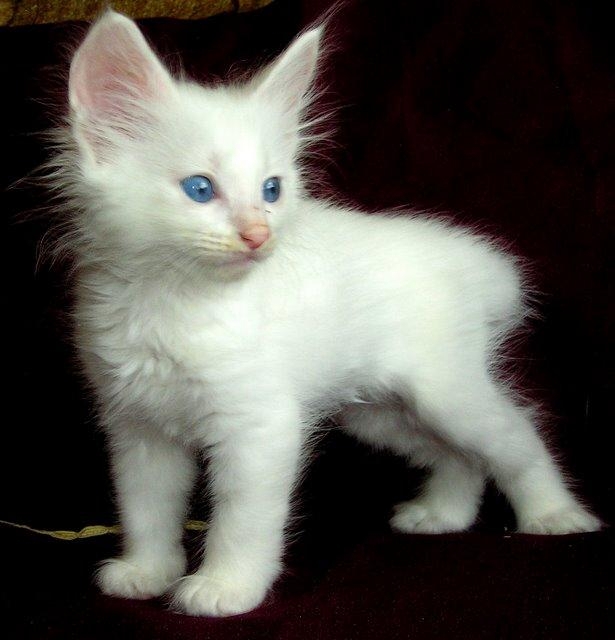 Azima's Azahn of Kica.
Photo e-mailed to Barb by Jamie Thiem on July 9, 2008,
3 months before Barb's passing.
In March, 2008, Barbara bred Azima's Bright Angel to Azima's Patsy Katz and placed Bright Angel at Jamie Thiem's home in Pittsburgh. The breeding was done at Barb's house, and Bright Angel arrived at Jamie Thiem's home already pregnant.
The result of this breeding was five kittens, born 5-27-08. There were two blue-eyed white males, one blue-eyed white female, one green-eyed white male, and a brown patched tabby girl they called Raja.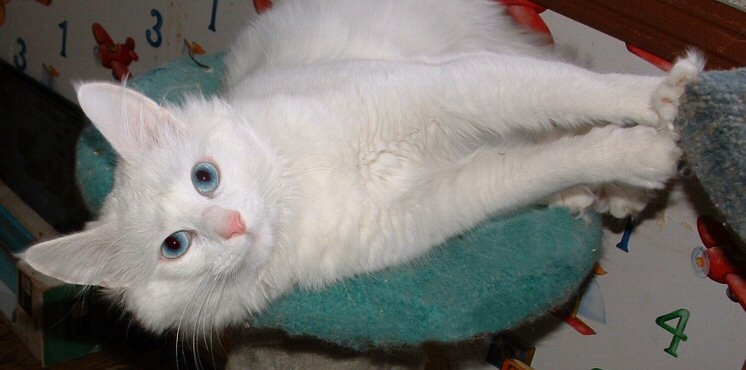 Azima's Azahn of Kica.
Photo by Chris Thomas, taken 12/27/09.
The kittens were never in Barb's house, and she never saw them in person; therefore, there was never any confusion between this litter and any kittens born at Barb's house. Based solely on photos sent to her by Jamie Thiem, Barb sold three of the white kittens and Raja to two pet clients in Canada. Barbara completed the litter registration with CFA (processed 8/27/08).
Documentation includes a contract between Barb and Jamie for raising the litter, a listing in Barb's breeding log, photos taken by Jamie Thiem, litter registration with CFA prepared by Barb and processed on 8/27/08, and contracts from both pet clients in Canada. Azahn cannot have been confused with any other kitten because he was the only remaining blue-eyed white male kitten at the Thiem's home. Jamie was able to give us the call names of all the cats in her home.
Azahn was given to Chris Thomas, who needed a new male. We will let Chris speak about the arrangements that resulted in this placement - see below.
Azahn Identification Checklist:
People who knew this cat: Jamie Theim.
Pedigree on Cat Genius in Barb's computer.
Photos taken by Jamie Theim and e-mailed to Barb match photos taken by current new owner (Chris).
Azahn was the only BEW male kitten remaining in Jamie Theim's house.
Jamie Theim witnessed the breeding, birth, and raising of this kitten, whose temporary name was "Blue".
Status: breeding at Kica Cattery.

Statement by Chris Thomas coming soon.
Click on a link below, to see the details:
Email: integritycats@earthlink.net