Are we still open? Yes! We will be working with Turkish Angoras for awhile yet.
NOTICE: My email accounts with earthlink have all been HACKED, and this has allowed my TWITTER accounts to be hacked as well. You may find me on facebook as Kit Goodwin and Instagram as Antiochcats. New email address coming soon.
Click on the links below to visit our other pages:
Welcome to . . .
Welcome to Antioch Turkish Angora Cats.
I hope you enjoy my site about the Turkish Angora cat, with detailed breed info. From our small cattery, we offer home-raised kittens, adults and rescued cats for adoption. We are well known and respected showing members of The International Cat Association, or TICA. We show occasionally in CFA.

If you are looking for a Turkish Angora companion, visits to our home can be scheduled by appointment. We also ship, having a small cattery that falls below the USDA guidelines prohibiting shipping. We are located in central Ohio, but provide pet kittens to anyone in the lower 48 states of the USA. We pursue quality, not quantity, so there may be a worthwhile wait involved in obtaining your companion kitten.

At the top of the page, please click the links
to visit the pages of our site!
Please read our USDA STATEMENT.
Click on the butterfly to see our Monarch pages.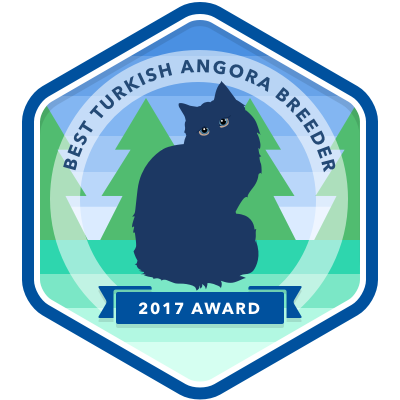 Over one million Turkish Angora lovers have
visited this site in the past.