Azima's Classy Lady of Grimoire


Classy Lady, then known as "Baby Godiva", at Barb's home.
Photo by Barb Azan, 8/18/08.
Classy Lady was a kitten whom Sue Howland knew well because she looked like a small version of another cat of Barb's that Sue had known for a year. Sue had called the older girl Lady Godiva because her classic tabby pattern and colors were swirls of all the colors of Godiva chocolate -- so Sue called this little kitten with similar markings Baby Godiva. Baby Godiva became Classy Lady when she was placed with Lisa James.


Classy Lady and her brother Jingle. Photo by Barb Azan, 8/18/08.
According to Barb Azan's breeding log, Classy was born to Slurpy (see Misty Rose's page) on June 14, 2008, with her brother, a black smoke boy (see Jingle). Classy was the youngest of three cats (see Lord Byron and Camille) that Barb had agreed to sell to a client in Wales.


Azima Classy Lady of Grimoire, photo by Lisa James. Note the necklace line that is half red,
and the distinctive white under her eyes, matching the kitten photos.
She is documented unofficially by numerous photos Sue and Barb took in the summer and autumn of 2008 and in Barb's breeding log. Classy is officially documented in a CFA litter registration prepared by Barb and processed on 8/27/08, a Rabies Certificate, rabies tag, microchip tag and stickers stapled to the medical record, and the vet's invoice, all dated 10/15/08.


Azima's Classy Lady of Grimoire, photo by Lisa James, at her residence.
Nota Bene: It was Classy Lady that Barb took to the veterinarian's office just four days before an ambulance took her from her home for the last time to Intensive Care in Allentown. In fact, Barb is the person who took Lord Byron and Camille to the vet on 9/30/08 as well. It often brings tears when Sue thinks of how very much Barb was suffering at that time, and yet she did this. Humbling.
Kittens in Barb's House when she died:
Azima Camille - Cameo Tabby
Azima Purrfect Wonder - Silver Patched Tabby
Azima Classy Lady - Brown Patched Tabby
Azima Crystal Legacy - Odd-eyed White
Azima Flash Dancer - Tortie Smoke
Azima Purrfect Posy - Blue-eyed White
Azima Jingle - Black Smoke
Last spring Lisa James confirmed that the microchip number read on Classy by Lisa's own vet matches the documentation from Barb's vet dated 10/15/08.


One of the several documents that were used to identify Classy Lady.
The plastic envelope containing the rabies tab attached by staples at the top left
is flipped back to show the complete information on the form.
Classy Identification Checklist:
People who knew this cat: Angela Manookian, Sue Howland, Kit Goodwin, Karen Delmont.
Breeding log entry in Barb's computer.
CFA litter registration completed by Barb Azan.
Pedigree on Cat Genius on Barb's computer.
The kitten in photos taken by Barb matches photos by Lisa James, showing unique patching on right chest.
Rabies certificate from Barb's vet with matching microchip.
Appears on the Cats 101 episode featuring the TA.
Microchip match between Barb's vet records and Lisa's vet.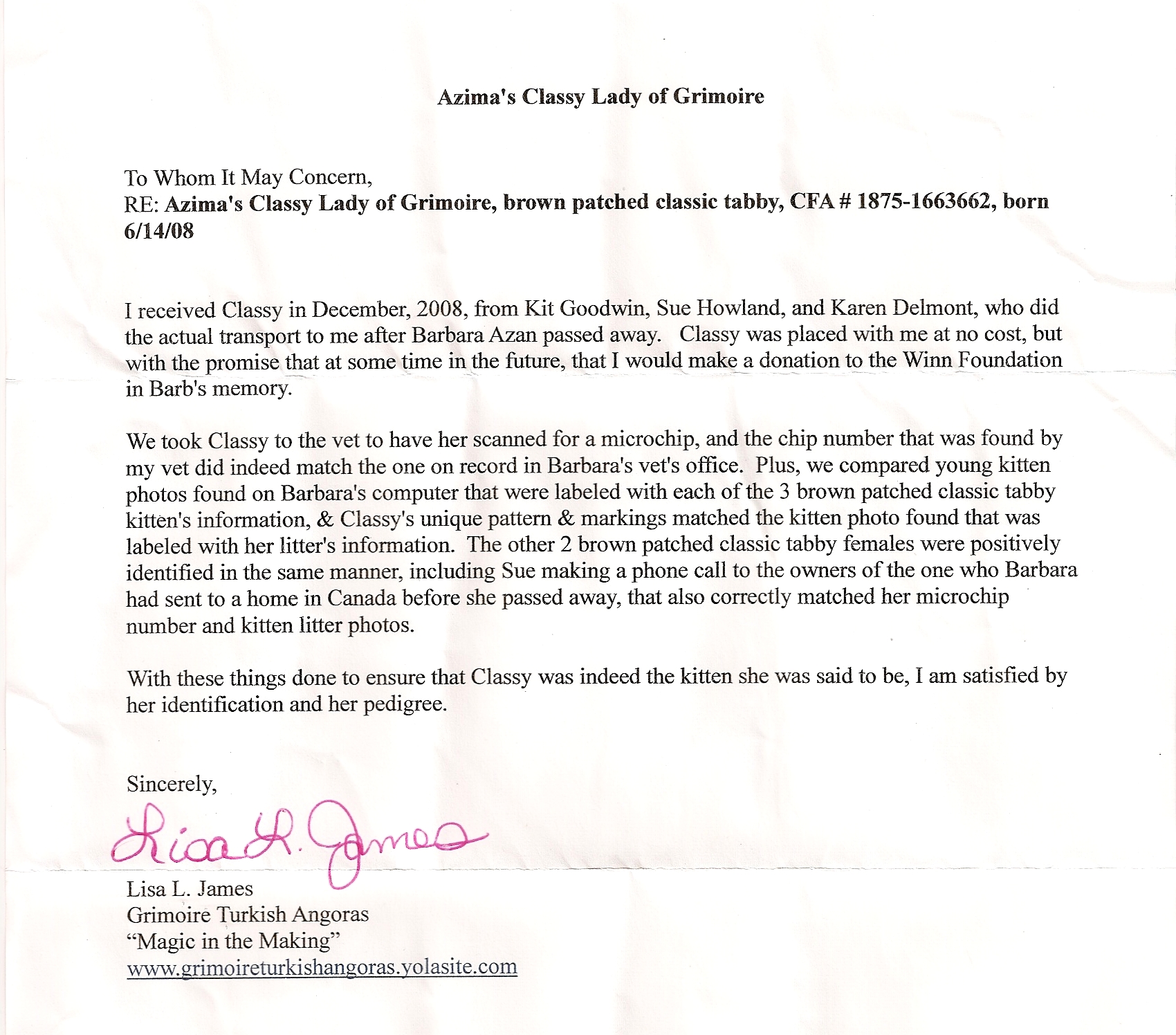 Letter from Lisa James, regarding her receipt of Azima Classy Lady of Grimoire.
Status: breeding at Grimoire Cattery.
Click on a link below, to see the details:
Email: integritycats@earthlink.net