YAMAHA FZ1
SITEMAP OF IOWAZ FZ1 PAGES

a Muscle-Sport Motorcycle
a Super Standard
A true Muscle Bike right out of the box.
One bike that can do it all for me.

WHEN YOU CAN RUN WITH THE CHEETAH'S, WHY RIDE A HOG !!
[] IowaZ Sitemap [] FZ1 Owner's Association [] IowaZ Vmax Sitemap [] IowaZ V65 Magna Page [] iowaz@swbell.net []
IOWAZ FZ1 PAGES

FZ1 LINKS

FZ1 Web Information
FZ1 Review Information

FZ1 Personal Views
FZ1 Personal Impressions Latest update early Sept, 2001
FZ1 Race Tourer/Trip to Road America Travel bag system
FZ1 Camping IowaZ Style New 1/15/2002

FZ1 vs Vmax New 3/15/2002

Cycle Rides
Fast Bikes to Hannibal, Annual local St. L area ride.


FZ1 Personal Mods & Information
FZ1 Windshield Alternative Info on Demon shield added 9/2001
FZ1 Givi Windscreen Evaluation
FZ1 Windscreen Options
FZ1 Battery Tender Installation & Science
Seat & side panel removal outlined on above page.
FZ1 Foot Pegs & Engine Guard Mod
FZ1 Radar Detector Mount
FZ1 Manual Fan Switch Installation
FZ1 Mudflap Trimming
FZ1 Sigma Bicycle Speedometer
FZ1 Riderhaus Five Star Tail Rack Installation New 2/11/2002

FZ1 Troubleshooting
FZ1 Headshake?

FZ1 General Maintenance
FZ1 Chain Maintenance
FZ1 Oil Change and Information
FZ1 Motorcycle Oil and Posts

FZ1 Break In, a Theory Edited 3/14/2002

FZ1 By the Manual
FZ1 Shop Manual Specs
FZ1 Owner's Manual Basics
FZ1 Fastener Torque Values



FZ1 Adjustments
FZ1 Front Brake Lever Handle Adjustment
FZ1 Throttle Position Sensor (TPS)
FZ1 Throttle Cable Free Play

FZ1 Carbs
FZ1 Carb Synchornization with the Carbtune II
FZ1 Carb Removal by the Manual
FZ1 Carb Check, Needle, Jets by the Manual

FZ1 Electrical

FZ1 Engine
Dyno Run, Stock & GYTR slipon, Hp & Torque
Valve Adjustment by the Manual (eventually)

FZ1 Exhaust
FZ1 Exhaust Removal
FZ1 GYT-R Carbon Slip-on Installation with dyno results, new 9/2001

FZ1 Wheel, front
FZ1 Front Wheel Removal

FZ1 Wheel, rear

Tech pages by Pat (Really great)
Pat's FZ1 Page (this is a must study, and one of the all-time great cycle sites!!!!)

(and other good tech pages)
Wild Rice's FZ1 Modifications
Service Manual p3-54 scans
Ivan's Performance Products

Non-Tech FZ1 Links
FZ1 Information from Yamaha
FZ1 Specs from Yamaha
FZ1 Specs from Yamaha

FZ1/Fazer Lists/Clubs
FZ1 Yahoo Club/List
UK Fazer Yahaoo Club/List
FZ1 Owner's Association
FZ1 Performance Group Site
Italian FZ Site (in Italian) added May 2002

Personal Pages of FZ1/Fazer Riders
John Bunton's FZ page (linked 5/26/2002)
GotFZ1.com (linked 4/4/2002)
Joshua's FZ1 Site (linked 3/10/2002)
Stan's FZ1 Site (linked 3/8/2002)
Winnepeg FZ1 Site
Denise's FZ1 Page
Leon and Jean's Homepage from Down Under (many links to different cycle reviews)
Jean's FZ with a Roo Racing can & stock dyno
Roo Racing Site (quality web page)
Dieter Geiger's fazer site In German, great site.
Dutch Fazer Owners Club In Dutch
Troy's Web .Com

Great FZ1 Review (Just what we have been saying :)

Australian Bikepoint.com FZ1 Review
Australian Bikepoint.com FZ1 Performance Bike

Iowaz Vmax & V65 pages of possible interest for FZ1 riders
Yamaha Vmax
Yamaha Vmax, Thee King of Muscle Bikes
Zmax Mods and Opinions
Vmax Clutch and Brakes
Bleeding Brakes/Clutch
Galfer Braided SS Clutch Line Installation
Front Brake Pad Replacement
Rear Brake Pad Replacement
Vmax Cooling
Installing a Manual Fan Switch
Coolant Notes
Vmax Fuel & Air System and Ignition
Fuel/Octane Notes from Posts
Changing Plugs and Plug Science
Changing the Fuel Filter
Synchronizing Carbs with the Carbtune II

Tires
***Changing a Motorcycle Tire (great link)

Honda V65 Magna
Honda V65 Magna, the First Muscle Bike
Z65 Pics, Mods, and Opinions
Cracked Head on a V65 Engine
FZ1 Personal Impressions

2001 Yamaha FZ1, Fazer---Muscle right out of the box, stock: header exhaust system, race brakes, race engine and set up, radial tires, good seat, modern oversized steel tubing frame, large fuel tank. Mods: Battery Tender, Memphis Shades Hell Cat the Demon shield, homemade pegs/crash guard, manual fan switch, Sigma bicycle computer, Riderhaus tail rack. 40, 45, 50 mpg.

Dyno Values: Stock, June 23, 2001, 120.5 hp. 70.1 ft-lb of torque. Yamaha GYTR slipon (everything else stock) Sept 17, 2001, 122.1 hp. 70.3 ft-lb, low & mid range smoothed out.

V65 Magna Information and Impressions

1985 Honda V65 Magna: Oil mod installed, manual fan switch, Kerker headers, K&N air filter, Works dual rate fork springs, Works dual rate shocks, center stand removed, fork brace, Galfer green brake pads. Needles will be shimmed and main jet taken up one or two levels. Battery Tender. 40, 44, 48 mpg.

Dyno values: 98 rear wheel hp, 65 ft-lb torque.

.
IowaZ Vmax Sitemap will have some basic mechanical pages that apply to the FZ1.

1995 Yamaha Vmax: Hindle headers, needles shimmed, K&N air filter, four 1/2 inch holes drilled in the top of air box Y, T-Boost engages V-Boost at 3k rpms instead of 6k, fork brace, frame braces, Works dual rate fork springs, Works dual rate shocks, Galfer green brake pads, Stainless steel brake and clutch cables, manual fan switch, Battery Tender. 30, 33, 46 mpg.

Dyno values: 112 rear wheel hp, 76 ft-lb.

Cycle related Links

RepairManual.net
Bolt Science
Stainless Steel Fasteners for the Vmax (England)
Gardner-Westcott Company, Motorcycle Product Profile
Dynojet
Over Racing
Race Tech
Wheelbase.com
X-1R Oil Additive
Diamond Distributing
Odyssey Batteries Direct, dry cell for Max
Battery Specialist Inc.
PowerSportsPro, PartFish for many bikes
McMaster-Carr Hardware
Threaded Fasterners FAQ, version 7.3
The Metric Specialties, Inc., metric stuff
All About Spark Plugs
The Bike Bandit, parts and things
K&N Motorcycles
Holeshot Performance Modifications, Dale Walker
Rocky Mountain Sportmax, John Furbur
Dennis Kirk Catalog
Salvage Yard
National shipping
Japan Max Parts
Link to HLSM Parts and Accessories, a place to order factory Vmax parts at a lower price, microfiche available.
Speedbleeder Web Site
Galfer Web Site
Motorcycle Accessory Warehouse
Dennis Kirk Street Bike Catalog
Competition Accessories Catalog
Link Cycle
Brockton Cycle Center
---
FZ1 FACTORY INFORMATION SUMMARY

Features:
Compact, lightweight 998cc, DOHC, 20-valve, liquid-cooled in-line four-cylinder engine.
Redesigned R1-spec crankshaft with increased inertial mass.
Four 37mm Mikuni CV side draft carburetors.
Large-capacity radiator features all-new coolant lines routed to pre-heat carburetors.
New clutch features compact, lightweight design and 17-plate assembly.
New shift linkage.
New 4-into-1 exhaust features quiet stainless steel header/muffler.
Steel double-cradle large steel tube frame uses a link-type engine mounting.
Cross-sectional design swing arm.
Fuel tank has 5.6-gallon capacity. 40-4? mpg

Engine:
R1-spec one-piece cylinder and crankcase assembly.
Compact slant-block engine design uses stacked gearbox shafts.
Lightweight forged pistons feature carbonized connecting rods.
Bore x Stroke: 74 X 58mm
Compression Ratio: 11.4:1
Throttle position sensor monitors throttle position and adjusts ignition timing.
Yamaha's patented Exhaust Ultimate Power valve (EXUP) monitors engine rpm and adjusts exhaust flow.
Specially designed camshaft lubrication system.
Patented electroplated cylinder bores.
R1-spec 6-speed transmission.
Special 3-axis gearbox design stacks input/output shafts.

Chassis/Suspension:
Front Suspension: Fully Adjustable 43mm Inverted Telescopic Fork, 5.6" of Travel
(Hum, I guess my FZ is missing this little inverted fork deal!)
Front fork is fully adjustable (preload, compression and rebound damping) with 5.6" of travel.
Fully adjustable (preload, compression and rebound damping) piggyback-type single shock, 5.3" of travel
Dual 298mm front disc brakes with one-piece 4-piston calipers and 267mm rear disc brake with dual-piston caliper.
Cast-aluminum 3-spoke wheels wear competition-spec 120/70-ZR17 front and 180-55-ZR17 rear Metzeler radials.
Adjustable, 5-position front brake lever.
Adjustable, R1-type clutch lever.
#530 O-ring-sealed drive chain.

Additional Features:
Instrument display features analog tachometer, speedometer and fuel gauge, digital odometer and clock, and lights for neutral, high beam, low fuel, turn signals, low oil and coolant temperature.
Dual 12V 60/55-watt multi-reflector headlight.
Dual-bulb, R1-style taillight.
Anti-theft wiring harness provides easy-access terminals to simplify alarm installation.
Standard toolkit located in under passenger seat, with some under seat storage.

Front Brake: 4-Piston Calipers, Dual 298mm Discs
Rear Brake: Single-Piston Caliper, 267mm Disc
Overall Dimensions: (Length x Width x Height) 83.7" x 30.1" x 46.9"
Seat Height: 32.3"
Wheelbase: 57.1"
Minimum Ground Clearance: 5.5"
Dry Weight: 458 lbs.
Color: Team Yamaha Blue, Black
---
....In the Spring of 2001 I received my FZ1. This page will be a collection of links to my own pages and links to other pages of possible interest to FZ1 riders and "thinkers". I am an older rider with a background in riding inline fours as they developed in the 1960-70's, then converting to the V4 of the V65 Magna and Vmax of the 1980's, so my impressions of the FZ1 will be mainly from older technology experience and may be different from the views of a younger rider who grew up on dirt bikes and/or sportbikes. Likewise my impressions are different from someone coming out of the Harley and Goldwing crowd. My cycling interest has been older muscle bikes with old technology and suspensions and hot-rodded engines. The FZ1 is a modern muscle bike with modern technology, great frame, race proven engine and brakes, radials and additional "tricks."
....Most of my pages are very long and contain significant graphics. If they time-out in loading, hit the refresh button and loading will generally start where your browser left off and complete the page.
....It is October 1, 2001---------I absolutely could not be more pleased the my FZ!!!!! I have added a GYTR slipon and love it. The Memphis Shades shield solved the wind blast. No problems, no issues. Oh, I could suggest a few little changes for Yamaha, but since 1985 the same problems with the Vmax have existed, so one has to assume Yamaha "knows-it-all." The more I ride the FZ better I like it and after love at first ride, that is saying something for me.
....December 2001....I am presently planning to do a couple of ultra-light solo camping runs next summer, and thought I might add a set of Eclipse P-38 bags, but in November, I saw the Riderhaus tail rack on someones FZOA post and now have it installed.. I like to bungee 12x24 duffles across the seat and rack, as I do not like hard bags, or saddle bags. Like many, I discovered the FZ is a great long hauler. I am a muscle street bike person, not a cruiser, not a squid, but power and speed on the street in a standard riding position. To date, the FZ is the most athletic bike of this type for me.
....January 2002....We are in a brown winter, so I continue to ride when time allows. The Riderhaus Trail Rack has been installed and gear strapped on for a camping trip test. Perfect for the way I like to travel.
....March 2002....The FZ1 is IMO the best all round bike developed to date. Nothing compares, yet? However, there are "real" rumblings of a new Vmax being announced in August. And finally the new Yamaha Super Sport-Tourer arriving is good news for people that like that kind of bike.
....April 2002....Ivan's Jets and air induction removal awaits, as do SS brake lines and new tires, when time allows in June.
---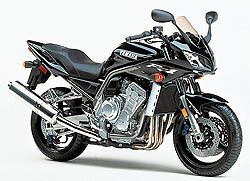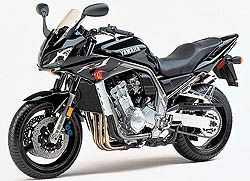 ---
Site page links:
[] IowaZ Sitemap [] FZ1 Owner's Association [] IowaZ Vmax Sitemap [] IowaZ V65 Magna Page [] iowaz@swbell.net []
Page last uploaded: 5/25/2002

Any reproduction of this site or it's contents requires express written consent.
Send Email