YAMAHA FZ1
Tail Rack and Camping Gear
Riderhaus Five Star FZ1 Tail Rack
Packed with full ultra light gear and utilizing the Tail Rack for a tour with the FZ1, will allow the flexibility of using motels to stand alone camping for an unlimited time out on the road.

[] IowaZ Sitemap [] Send Email [] FZ1 Owner's Association [] IowaZ Vmax Sitemap [] IowaZ V65 Magna Page []
Use the FZ1 Sitemap to navigate all of the FZ pages.
Source of Rack and Supplies: Riderhaus

Yamaha FZ1
A long-hauling Super Standard

---
Installation of the Riderhaus Five Star Tail Rack
Background (repeated from the installation page)
....Source of Rack and Supplies: Riderhaus
....I traveled on the FZ1 in 2001 without a tail rack with no difficulties. I used motels and did not camp off the FZ1 during the first summer but intend to use the FZ as a camping platform during the 2002 season. With the technique I use to strap on equipment and the type of equipment I take, there is no doubt the I could camp off the FZ by just utilizing the stock grab rails. I had intended to go without a tail rack because of the lack of acceptable accessories for what I wanted in terms of function and appearance. However in early Nov 2001, pics of the Riderhaus tail rack were posted in a discussion on the FZOA site. This rack immediately caught my attention as being just what I needed. I immediately went into the Riderhaus site, communicated with Bob Sims regarding the quality of the rack and payment methods, then ordered the rack. Total cost delivered was $115 from Germany, with a shipping time of between 3-4 weeks.
....The Riderhaus Five Star rack can also be part of an integrated mounting system utilizing Givi Bags. I do not use hard bags, but just wanted the tail rack, which I had on my cycles for decades.
....Just give me a tail rack. A rack is just right for the way I long haul. I have tried it all, but for me the only way to go is to use bungee cords and 2-4, 12x24" Cordura duffels for gear, depending on the trip as plastic or camping. I like the gear behind me in bags. I do not like the feel of hard bags on a bike nor do I like soft saddle bags hanging down low. Riding two-up, of course, is another issue and will require a bag system of some type. I address my technique on FZ1---Race Tourer and have done it that way for decades. I traveled without the rack this summer, but no camping. The FZ is a wonderful "touring" bike for me. I love the athletic ability of this bike on 300-500 miles days. I added the rack as I want to strap on 1-2 more bags of ultra light camping gear. The stock grab bars will work but the rack will be much better. Neither however, have the optimum bungee points, but the tail rack supplies a larger, solid surface to bungee too.
....The communication and service from Riderhaus is first class. The quality of the rack is first class. However, the rack comes only with a parts list in German and a schematic diagram. Thus it takes while to figure out where the four different length sets of mounting bolts are utilized. There are two sets of thicker spacers that apparently can be used under the mounting points. I did not use them as I wanted all the surface contact with the frame and rack that was possible. The rack fits without the spacers but I am not sure they do not need to be used. I will have to run the bike awhile to find out. My only issue as all is the lack of good mounting instructions, but the diagrams that follow will let you mount the rack in just a few minutes. The stock grab handles come off very easily and the new rack will go on in minutes.
....The rack is strong enough and solid enough to pick up the back of the bike. Test mounting four full bags of gear across the seat and rack indicates to me that everything will work very nicely for my style of tour camping.
....I repeat the Riderhaus rack is first class, plus Bob and Laura Sims offer first class service. The Five Star Tail Rack looks good on the FZ and will function for extra space to bungee gear if that is what one wants, or will become part of the Givi bag system if that is what one wants.
Installation Page for the Riderhaus Five Star Tail Rack on the FZ1
---
Riderhaus FZ1 Tail Rack, installed and ready to use.
---
Utilizing the FZ1 Tail Rack, my way.
---
Ultra Light Camping with the FZ1
....It starts with a functional tent, sleeping bag and pad.

We cannot remember decades of things, but we can remember nearly every single FZ1 tour or life long camping trip.
Winter camping, a fable....Every time I start thinking about camping I make sure I am alone, since I am generally laughing out loud and re-living memories of five decades of pitching tents and the evolution of not only the gear but of me. We all have visions of camping out as little boys. Anything and everything was used, borrowed, begged or stolen.
....Back in the early 1950's, "Our gang." was heading out for winter camping in a "cave" in the middle of winter, an unusual brown winter. It was going to be cold, but not too cold, maybe in the 20's. We had it all planned, the location was a full two miles from nowhere, we had been there daily for years, owned the place, a hole in the limestone wall right near the river, and there was ice on the river, so no wet feet for us, in the crossing to thee cave. Seemed like a really good idea at the time, a warm place to spend a December night, with a raging fire in front of the cave (hole), especially with the 100lb's of gear each 75-90lb lad was going to bring to the expedition, two miles into the wilds. We talked the show at home for weeks, parents as they are, absolutely delirious with our comedy act. Knowing full well only idiots or 10-12 year olds would dream up such a winter scheme. Wonder what they were really thinking as the amount of mountain man gear just kept piling up. The plan was to get a good night sleep right after school that Friday night before the trek, then get up and walk into the bush, set up "base" camp and play along the river until retiring for winter comradely and returning the village on Sunday, but with no haste to get back to civilization. That eventful week the forecast was for significant snow by the weekend, followed by much colder temperatures. We had planned and planned, we were worried. Our home fronts even mentioned we might not be able to venture out to the cave. No problem we related. We were tough and used to cold, besides we would be warm enough and deep snow was out native environment, our calling. We would not only carry our homemade packs but take our sleds. This was going to be better than we thought, no skating but sleds! Thursday night rolls around and deep snow, 12-15 inches worth and drifting in front of a northern wind. We are still talking the talk at home as we plow those little boots through the snow and head off to impatiently attempt to get through the school day when we really needed to be resting up for the weekend. The bell rings, we head home to the bad news. We are not going winter camping. Well that is what they are saying at home, anyway. The clouds have gone now, the northwest wind is buffing 15-30 mph out of Canada as the sun sets. It is zero already but still not a problem in the little minds of little boys. We cry, throw multiple fits, cry some more, storm around, argue, make excuses. Pull every little boy trick that comes so naturally. Finally the "troll", my father steps in with threats of real pain, and the trip is voluntarily called off by the "hole in the wall gang." Hell, I about froze to death in my own bed that Friday night. It was 22 below in the morning. That Saturday night, our winter camping night, and let me tell you we would have started out for sure, it dropped to 35 below in the wonderful northeastern Iowa valley. Thank God for my father, the brute !!

....Then I go back to remembering the first canoe trips into Superior and Quetico with nearly everything but the kitchen sink. The tents were all treated canvas at that time and always leaked, weighing in at least 20-30 lbs. It was always early summer, with nearly daily cold rain and even freezing slush. Talk about cold. Coleman stoves, pots and pans, reflector ovens, white gas lanterns, and any other convenience the mind can conceive. All things just like home and heavy. Food right out of the old grocery store.
....Slowly new equipment, materials, foods developed. It was a slow evolution from a couple of 75lb packs to one with 40-50 lbs of gear for an entire touring kayak trip, bicycle touring trip, etc. And the change in thinking from needing all those items that at the end of a trip were never used. The diet habits changed also. No more cooking. Maybe an ultra light stove on a fishing trip for fresh fish, but that was it. I can live on my own combination of supplements, dried fruit and nuts, hard crackers, freeze dried items as peas, etc., and tins of chicken, etc. if canned items and their weight must be hauled.
....All of these materials and camping methods fit right in with "race touring" on the FZ1. Ultra light equipment, with ultra light thinking. Camping and touring off the FZ is a breeze, plastic can buy a night anywhere, and Wally's all over the US of A.
....There are so many places today to acquire outstanding high-tech outdoor equipment. Back "then" there were only a few places to buy the developing high tech equipment, especially in no-man's land of the Midwest. Thus I have been a patron of REI for decades, and continue to use their equipment. A Google search would turn up unlimited places to order equipment and reviews.
....I am using rather high dollar items, but could walk into even the smallest Wally World, as an example, and come out the door ready to pack up the FZ for a tour, camping and/or motel. I would buy the lightest free standing tent (they are quit inexpensive), a foam pad (but not too bulky), a very light sleeping bag (cheap one), 3-4 Outdoor Products 12x24" nylon duffels, a bunch of bungee cords (variety of lengths). One could pick up nearly anything else on the "needed list," as a small AA cell flash light, small first aide pack, etc. Many of the modern mega-stores have everything needed. Go over to the Wally food self in any "Tiny" Wally and there you will find supplies to live on for days without cooking. ....When in civilization, cycle touring/camping is a trip from one food source to another, but just in case one is "really" camping and wants to be self sufficient for several days, it can be done rather cheaply out of a store like the local Wally and grocery store.
---
Shelter----For space and weight reduction, I am using---
....I have "borrowed" the pics from REI
....The North Face Slickrock tent is free standing and weighs under 5lb complete. For what I want out of an ultra light tent, this is one of the best styles for me. Extremely light and well built, with side doors, good space for one person and gear. Good ventilation, relatively easy to set up and free standing. There are many, many great tents on the market that will work for FZ camping.



....The "footprint" by North Face is an extra barrier layer placed under the tent for its protection, weight about 12oz.
....A gear loft may be carried for the tent as it is handy to have a place near the top of the tent for small items, weight 8oz.


....The new generation of bags and pads are fantastic.
....I generally utilize an ultra light bag weighing under 3lb, but always under 4lb. Down is the warmest but synthetic is much better if it get wet. Combination bags are good. A very small camping pillow may be worth the space, and reduce the onset of headaches from the sudden "change" in lifestyle.
....I like the Thermarest 3/4 length pad for space saving. The Thermarest pad is self inflating and combines qualities of both foam and air. It is very light and compact and yet will have a good feel. They are expensive but much better than think foam pads.
....The FZ is the type of bike that make a good ultra light tourer so I want to keep gear weight and bulk to an absolute minimum.
....The combination of tent, bag, pad above will weigh in at about 11lb, but more importantly will stuff into one 12x24" duffel if needed.
....I tend to use two duffels where one would work. I like to completely under-fill the duffels as they tend to pack on the bike better, plus when traveling, repacking is always done in a hurry. Plus one seems to gain more "things" the longer the trip. Also the tent will be very wet from dew many mornings and needs to be packed loosely by itself and often in a plastic garbage bag to keep other bags dry. I generally pact the tent bag where I can quickly loosen a couple of bungee cords and take the tent out of the bag to dry at the first scenic stop. A nylon tent like the Slickrock will dry in just a few minutes in the open air.
---
Planning for a long haul
The basic "stuff" I take (note I, not necessarily you)

Riding Clothing, including items worn---
....Jeans, 2 pair, relatively tight so they do not whip in the wind, however tight clothing "scrubs" the skin. so watch for hair follicle and skin infections.
....Underwear, 3pr, silk so the seams will not cut/deaden/bind after 8-14 hours riding, someone is now making thin bicycle type shorts for motorcyclists. If silk is not available, then nylon is better than the heavier seams on cotton shorts.
....Socks, 2 pr, wool only, thin tall type. Wool absorbs moisture and is better for foot health in boots. They are available at farm stores, Wally's, etc., or turkey hunter's socks from archery/gun shops. Standard cheap athletic tube socks will work fine. Some people save their old shorts and shocks, using them on trips and then throwing the items away rather than washing or bringing them home.
....Riding boots, 1pr, sealed/oiled/waterproofed, must walk in them, high top black Wellington type.
....Belt, one, select carefully so it does not restrict breathing or cut into the stomach or scratch the tank. Turn the buckle to the side to eliminate tank scratches.
....T-shirt, 3, tight enough not to whip in the wind, but not highly restrictive.
....Undershirt or singlet, 3, standard strap type used by runners, cotton, sold at Wally's, etc, wear under T-shirt, reduces the perceived whipping effect of wind on the T-shirt, also a layered effect for warm/cool.
....Mock-turtle, 1, layer for cold, wear off bike, relatively tight.

Motel Clothing
....Sweat Pants, 1 pr, relief from riding tightness
....Single layer, nylon pants (light and rinse/dry rapidly)
....T-shirt, 1, larger for relief from riding clothing
....Sandals, soccer style, for second pair of shoes and relief for confined feet in boots.
Bike Clothing and Supplies
....Gore-Tex lined Cordura riding coat by Motoport, many nice coats are now available, Cordura being better for all-purpose riding over leather. This coat supplies warmth for the coldest of spring to fall riding conditions, plus substitutes for a rain jacket.
....Light weight, Gore-Tex pants by Motoport, and big rubber bands to secure the cuffs.
....Tote overboots, pull on style, can be ordered from cycle companies if not found local. It is important to carry two old plastic shopping bags from the grocery store or Wally World. Place these bags over your leather boots, then the totes will slide on easily. I repeat, carry two plastic shopping bags. You have to experience how hard the boots go on without them just once and you will never be without the bags.
....Gore-Tex cold weather gloves and/or rubber dishwashing gloves. The hands get very cold during rain riding.
....Black baseball gloves or any riding glove, 1 pr
....Bell half helmet, or helmet of choice.
....Dew rag, when the helmet is not used.
....Clear shield for helmet, rain/wind emergency protection
....Clear shooting glasses, cheap model, quick night protection
....Polarized fishing sunglasses, tight fitting goggle type, used during most of daytime riding.
....Goggles, Oakley or folding, tinted and clear, for full eye protection.

Tool kit
....Standard onboard FZ kit.
....WD-40, smallest can, to wipe down chain, water displacement in circuits, emergency lube, works to wipe bike down.
....Electrical tape, 1/2 role, black, general repair
....Taking a lot of tools can create a pretty heavy "lump" in one of the bags. If you know you can travel into a town for tools, keep them to a minimum, but add what you are comfortable with, such as jumper cables, wrenches, sockets, drivers, hex heads, tire plugs, air pump, etc.

Supplies and Equipment
....Maglite, AA, extra batteries and bulb, headstrap
....Maglite, AAA, extra batteries and bulb, end taped to hold in mouth.
....Leatherman Wave Multi-tool, or Leatherman Sideclip.
....Large rubber bands in Ziploc bag.
....Ziplocs, few extra, various sizes
....Garbage bags, couple for bad rain.
....Golf umbrella, handle end cut off to shorten, invaluable in sun/rain, I repeat an umbrella is invaluable.
....Ear plugs, cheap disposable shooters type, several pair.
Personal Items
....Money, cards, papers, wallet
....Watch
....Map bundle
....3x5 cards, 2 pencils
....Reading glasses
....Pocket items, Classic Swiss Army knife, tiny multi tool or Leatherman Sideclip, lip coat, money, ear plugs.
First Aide
....Tiny kit, usually from Wally World or bicycle company small road-rash kit.
Possibles
....Disposable camera
....Micro binoculars
....Walking boots, light, for walking tours so bike can be parked and one can move around.
....Leather vest for quick cold weather layering.
Toiletries
....Sunscreen
....Hand lotion
....Udder balm, available from farm stores, high in lanolin, put in small container(s), wind and sun will be intense, protect the first few days out.
....Lip lotion, 2 sticks
....Disposable shavers, 2,
....Shaving cream, tiny can
....Soap, tiny bar,
....Handi wipes, several in Ziplocs, for wash cloth/towel use.
....Eye drops
....Headache medication, your best, wind/sun/helmet will give you headaches.
....Vitamins
Food and Liquid
....Nut and dried fruit mix, two small Ziplock bags, I buy the ingredients separately and make my own mix, after decades of canoeing, kayaking, biking, etc. and trying every food fad, I have found food is not an issue and often a waste of my time, I can live on a fruit/nut mix for a long time, thus I carry it when traveling and would prefer a "mix" meal over stopping or shopping, you may find something simple you like to carry also, the new athletic bars and meals are an option, it is nice to have a little food with you on any trip.
....Water, I generally carry 1-2 small bottles of water, in the 12-16 oz range. Sports such as motorcycling really "sap" the water from the rider. Like bicycling, during long motorcycle trips I try to "force" drink fluids during the first part of the trip. It is often hard to do, as you are always on the move and only stop for gas, thus a tank bag that works is a luxury for me, I can drink all I want by carrying fluid bottles in the bag. A bicycle water bottle will also work.
Cargo Carrying
….Eclipse medium sized magnetic tank bag. I have nothing but praise for this item. It comes with a rain fly that just fits over the top and draw strings around the bottom. It balloons up at speed but stayed on as speeds well over 100mph. It also worked to keep the bag contents dry in moderate rain. The bag has two double zipper pockets on the sides. I do not carry valuables or any gear that I would worry about blowing out of the bag in these pockets. They are easy to leave unzipped and have an item drop or blow out. The bag has a handle on the driver's end which does work nicely for carrying the bag off the bike. There is a safety strap provided but since the six big ceramic magnets have so much holding power, I do not use the security strap. The large center area of the bag is supported on the side with a stiffened, thin plastic supporting sheet to retain the shape of the bag when it is unfilled. It works well. The bag is simply lifted up and off or gas fills, which worked great. One big, big positive of this bag at least, is that the Eclipse tank bag did not scuff the finish of the tank, at least after the first season of use. Since these are very powerful magnets, one has to be careful they do not pick up tiny metal particles that will scratch the tank surface.
…..Several 12x24 nylon Cordura round duffle bags by Outdoor Products, sold by many Wally World's, are bungee corded laterally across the passenger's seat and rack, one on top of the other. I use Cordura bags as it is a much heavier/thicker nylon than the nylon tricot bags, and will not flap in the wind, being a major distraction.
....Bungee Cords, 24" and 32" are the main lengths, purchased from Wally World, they have the large round nylon hooks that work very nicely on the tail rack or stock grab rails plus the rear foot-peg hangers.
....I like a small nylon back along, one with a chest tie or string to hold the shoulder straps together if on the back during riding. It can be used for short trips, walking trips off bike, extra cargo or a helmet bag.
....Belt Pack, small, will fit in the tank bag and holds valuables for quick access and carry off bike. That brings up a point, be careful of carrying credit cards in the bottom of a magnetic tank bag. It is possible the magnetic strip on the cards will be destroyed by the powerful ceramic magnets in the tank bag. I have carried mine in the tank bag in a forgetful mode and did not seem to have trouble, but others report to be very careful about credit cards in tank bags. I have been carrying my billfold in the belt pack, which is then laying on top of all the items in the tank bag, or 4-6 inches above the magnets. No trouble yet, but then I would not want to have to replace all the cards.
Strapping on the Duffels
....The bottom duffels contain extra clothing and supplies not placed in the tank bag. Things that will not be needed until stopping for the evening. These bags should be the most densely packed and heaviest.
....The top duffels are for rain boots, rain/cold gloves, riding coat, riding/rain pants, back pack, and items that might be used immediately, plus the tent bag and the sleeping gear bag.

....The Umbrella can be tucked behind available bungee cords for rapid access. If one can pull over quickly and get out of the traffic to a safe spot and get the umbrella out, it is possible to just "stand" out a storm or at least keep dry until the rain suits and boots can be slipped on.
....With this moderate load, there was no problem with movement at any speed, as the total weight will be well below traveling two-up. The load is right behind you, lashed in a stable riding position and in the air bubble created by the windshield and/or your body.
Hints
....Riding in rain is a water sport. Plan on being wet and cold.
….Expect rain and cold. You will be very miserable riding cold and wet. One often has no choice but to ride in heavy rain. Being wet is one thing, but being very cold from the wet is another. Very few rain gear systems keep a rider perfectly dry, so plan on being wet from the completely soaked level to damp. Rain suits do offer enough warmth, even when wet, to make riding tolerable, even though miserable from being wet.
…. Expect sun and wind. You can generally handle a short trip of 2-3 days of sun and wind. You may come back burned and tender after a couple of days, but you generally will not develop blisters and sores. If you stay out on the road four or more days, you will be in danger of being miserable from sun scald/sores, infected hair follicles on the legs, feet moist and "moldy", severe head itch and helmet hair, seat rash from sitting so long in one spot on one spot, etc. My advice is very little sun the first couple of days. Cover up, even though you want to be out in the open air. Limited exposure the first days of the ride will mean you will slowly toughen in and have fun riding more exposed the last days of a trip and come back in better shape. The nose, ears, forehead, cheeks, chin, top of the arms are going to be sore if exposed very much the first days of riding. Keep clean, keep clothing relatively clean, stretch on and off the bike, often. Get into loose fitting clothing in the evenings, at least for several hours.
….Expect by the latter days of a long trip to want some, to total protection from the wind. The wind eventually wears on the rider. The best solution is to be able to keep the wind off the face with a shield or full face helmet and to have a riding jacket that protects from the wind. Large baggy pants and a large shirt simply whip in the wind all the time. That will get very old later on in the trip for most riders.
....Everything goes in Ziplocs, individually for rain protection, or try some of the modern dry bags available for water sports or land excursions.
….Make a master "wish" list of all items you think you would like to take on any road trip. Select from the master list the essentials for any one specific trip, then run the trip over and over in your mind to visualize when you will actually utilize and what might be necessary for weather and road emergencies and personal luxuries you cannot live without. Work on your list while on the road, so it is refined for the next long ride, while the ideas are fresh in your mind.
….Reduce to bare essentials. Pack early, and then cull out items of limited use/value. Weight/bulk builds up fast. Keep only the bare essentials and very important road "survival" items.
….Remember, you can buy almost anything, almost anywhere. One or two day delivery can get many hard to find parts/accessories delivered to you in the field.

---
Use the FZ1 Sitemap to navigate all of the FZ pages.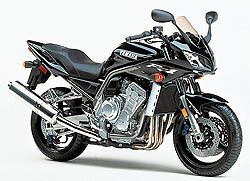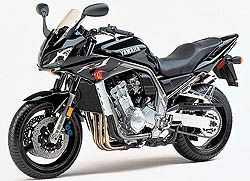 [] IowaZ Sitemap [] Send Email [] FZ1 Owner's Association [] IowaZ Vmax Sitemap [] IowaZ V65 Magna Page []

Any reproduction of this site or it's contents requires express written consent.
To Open a Search or Find-a-Word Window, press "Ctrl" and "F" at the same time.
Page last uploaded: 1/21/2002