YAMAHA FZ1
RACE TOURER
Super Standard, All-round Motorcycle
Packing for a first long haul on the FZ
1050 miles round trip from Hannibal, Missouri
to Elkhart Lake, Wisconsin, and the 2001
Superbike weekend at Road America,
plus an evaluation of the FZ as a total package,
as high mileage days bring out the best and worst of a bike.
FZ1, a Muscle-Sport Motorcycle
a Super Standard
A Modern Muscle Bike right out of the box? Yes
One bike that can do it all for me? Yes!!
[] IowaZ Sitemap [] Send Email [] FZ1 Owner's Association [] IowaZ Vmax Sitemap [] IowaZ V65 Magna Page []
Use the FZ1 Sitemap to navigate all of the FZ pages.

Yamaha FZ1
A long-hauling Super Standard
Packing for the first long haul on the FZ1. A 1050 mile round trip to from Hannibal, Missouri to Elkhart Lake, Wisconsin, and the June 2001 Superbike weekend at Road America, plus an evaluation of the FZ as a total package, as high mileage days bring out the best and the worst in a bike.
---
Planning for a 3-4 day long haul, in this case to Road America
Below is a list of items I packed for just this trip, and may help others to pack successfully for a FZ excursion in the more northern states.

Page uploaded July 2001.
---
Planning for a long haul
The basic "stuff" I take (note I, not necessarily you)

Riding Clothing, including items worn---
....Jeans, 2 pair, relatively tight so they do not whip in the wind, however tight clothing "scrubs" the skin. so watch for hair follicle and skin infections.
....Underwear, 3pr, silk so the seams will not cut/deaden/bind after 8-14 hours riding, someone is now making thin bicycle type shorts for motorcyclists. If silk is not available, then nylon is better than the heavier seams on cotton shorts.
....Socks, 2 pr, wool only, thin tall type. Wool absorbs moisture and is better for foot health in boots. They are available at farm stores, Wally's, etc., or turkey hunter's socks from archery/gun shops. Standard cheap athletic tube socks will work fine. Some people save their old shorts and shocks, using them on trips and then throwing the items away rather than washing or bringing them home.
....Riding boots, 1pr, sealed/oiled/waterproofed, must walk in them, high top black Wellington type.
....Belt, one, select carefully so it does not restrict breathing or cut into the stomach or scratch the tank. Turn the buckle to the side to eliminate tank scratches.
....T-shirt, 3, tight enough not to whip in the wind, but not highly restrictive.
....Undershirt or singlet, 3, standard strap type used by runners, cotton, sold at Wally's, etc, wear under T-shirt, reduces the perceived whipping effect of wind on the T-shirt, also a layered effect for warm/cool.
....Mock-turtle, 1, layer for cold, wear off bike, relatively tight.

Motel Clothing
....Sweat Pants, 1 pr, relief from riding tightness
....Single layer, nylon pants (light and rinse/dry rapidly)
....T-shirt, 1, larger for relief from riding clothing
....Sandals, soccer style, for second pair of shoes and relief for confined feet in boots.
Bike Clothing and Supplies
....Gore-Tex lined Cordura riding coat by Motoport, many nice coats are now available, Cordura being better for all-purpose riding over leather. This coat supplies warmth for the coldest of spring to fall riding conditions, plus substitutes for a rain jacket.
....Light weight, Gore-Tex pants by Motoport, and big rubber bands to secure the cuffs.
....Tote overboots, pull on style, can be ordered from cycle companies if not found local. It is important to carry two old plastic shopping bags from the grocery store or Wally World. Place these bags over your leather boots, then the totes will slide on easily. I repeat, carry two plastic shopping bags. You have to experience how hard the boots go on without them just once and you will never be without the bags.
....Gore-Tex cold weather gloves and/or rubber dishwashing gloves. The hands get very cold during rain riding.
....Black baseball gloves or any riding glove, 1 pr
....Bell half helmet, or helmet of choice.
....Dew rag, when the helmet is not used.
....Clear shield for helmet, rain/wind emergency protection
....Clear shooting glasses, cheap model, quick night protection
....Polarized fishing sunglasses, tight fitting goggle type, used during most of daytime riding.
....Goggles, Oakley or folding, tinted and clear, for full eye protection.

Tool kit
....Standard onboard FZ kit.
....WD-40, smallest can, to wipe down chain, water displacement in circuits, emergency lube, works to wipe bike down.
....Electrical tape, 1/2 role, black, general repair
....Taking a lot of tools can create a pretty heavy "lump" in one of the bags. If you know you can travel into a town for tools, keep them to a minimum, but add what you are comfortable with, such as jumper cables, wrenches, sockets, drivers, hex heads, tire plugs, air pump, etc.

Supplies and Equipment
....Maglite, AA, extra batteries and bulb, headstrap
....Maglite, AAA, extra batteries and bulb, end taped to hold in mouth.
....Leatherman Wave Multi-tool, or Leatherman Sideclip.
....Large rubber bands in Ziploc bag.
....Ziplocs, few extra, various sizes
....Garbage bags, couple for bad rain.
....Golf umbrella, handle end cut off to shorten, invaluable in sun/rain, I repeat an umbrella is invaluable.
....Ear plugs, cheap disposable shooters type, several pair.
Personal Items
....Money, cards, papers, wallet
....Watch
....Map bundle
....3x5 cards, 2 pencils
....Reading glasses
....Pocket items, Classic Swiss Army knife, tiny multi tool or Leatherman Sideclip, lip coat, money, ear plugs.
First Aide
....Tiny kit, usually from Wally World or bicycle company small road- rash kit.
Possibles
....Disposable camera
....Micro binoculars
....Walking boots, light, for walking tours so bike can be parked and one can move around.
....Leather vest for quick cold weather layering.
Toiletries
....Sunscreen
....Hand lotion
....Udder balm, available from farm stores, high in lanolin, put in small container(s), wind and sun will be intense, protect the first few days out.
....Lip lotion, 2 sticks
....Disposable shavers, 2,
....Shaving cream, tiny can
....Soap, tiny bar,
....Handi wipes, several in Ziplocs, for wash cloth/towel use.
....Eye drops
....Headache medication, your best, wind/sun/helmet will give you headaches.
....Vitamins
Food and Liquid
....Nut and dried fruit mix, two small Ziplock bags, I buy the ingredients separately and make my own mix, after decades of canoeing, kayaking, biking, etc. and trying every food fad, I have found food is not an issue and often a waste of my time, I can live on a fruit/nut mix for a long time, thus I carry it when traveling and would prefer a "mix" meal over stopping or shopping, you may find something simple you like to carry also, the new athletic bars and meals are an option, it is nice to have a little food with you on any trip.
....Water, I generally carry 1-2 small bottles of water, in the 12-16 oz range. Sports such as motorcycling really "sap" the water from the rider. Like bicycling, during long motorcycle trips I try to "force" drink fluids during the first part of the trip. It is often hard to do, as you are always on the move and only stop for gas, thus a tank bag that works is a luxury for me, I can drink all I want by carrying fluid bottles in the bag. A bicycle water bottle will also work.
Cargo Carrying
….Eclipse medium sized magnetic tank bag. I have nothing but praise for this item. It comes with a rain fly that just fits over the top and draw strings around the bottom. It balloons up at speed but stayed on as speeds well over 100mph. It also worked to keep the bag contents dry in moderate rain. The bag has two double zipper pockets on the sides. I do not carry valuables or any gear that I would worry about blowing out of the bag in these pockets. They are easy to leave unzipped and have an item drop or blow out. The bag has a handle on the driver's end which does work nicely for carrying the bag off the bike. There is a safety strap provided but since the six big ceramic magnets have so much holding power, I do not use the security strap. The large center area of the bag is supported on the side with a stiffened, thin plastic supporting sheet to retain the shape of the bag when it is unfilled. It works well. The bag is simply lifted up and off or gas fills, which worked great. One big, big positive of this bag at least, is that the Eclipse tank bag did not scuff the finish of the tank, at least after the first season of use. Since these are very powerful magnets, one has to be careful they do not pick up tiny metal particles that will scratch the tank surface.
…..Several 12x24 nylon Cordura round duffle bags by Outdoor Products, sold by many Wally World's, are bungee corded laterally across the passenger's seat and rack, one on top of the other. I use Cordura bags as it is a much heavier/thicker nylon than the nylon tricot bags, and will not flap in the wind, being a major distraction.
....Bungee Cords, 24" and 32" are the main lengths, purchased from Wally World, they have the large round nylon hooks that work very nicely on the tail rack or stock grab rails plus the rear foot-peg hangers.
....I like a small nylon back along, one with a chest tie or string to hold the shoulder straps together if on the back during riding. It can be used for short trips, walking trips off bike, extra cargo or a helmet bag.
....Belt Pack, small, will fit in the tank bag and holds valuables for quick access and carry off bike. That brings up a point, be careful of carrying credit cards in the bottom of a magnetic tank bag. It is possible the magnetic strip on the cards will be destroyed by the powerful ceramic magnets in the tank bag. I have carried mine in the tank bag in a forgetful mode and did not seem to have trouble, but others report to be very careful about credit cards in tank bags. I have been carrying my billfold in the belt pack, which is then laying on top of all the items in the tank bag, or 4-6 inches above the magnets. No trouble yet, but then I would not want to have to replace all the cards.
Strapping on the Duffels
....The bottom duffels contain extra clothing and supplies not placed in the tank bag. Things that will not be needed until stopping for the evening. These bags should be the most densely packed and heaviest.
....The top duffels are for rain boots, rain/cold gloves, riding coat, riding/rain pants, back pack, and items that might be used immediately, plus the tent bag and the sleeping gear bag.

....The Umbrella can be tucked behind available bungee cords for rapid access. If one can pull over quickly and get out of the traffic to a safe spot and get the umbrella out, it is possible to just "stand" out a storm or at least keep dry until the rain suits and boots can be slipped on.
....With this moderate load, there was no problem with movement at any speed, as the total weight will be well below traveling two-up. The load is right behind you, lashed in a stable riding position and in the air bubble created by the windshield and/or your body.
Hints
....Riding in rain is a water sport. Plan on being wet and cold.
….Expect rain and cold. You will be very miserable riding cold and wet. One often has no choice but to ride in heavy rain. Being wet is one thing, but being very cold from the wet is another. Very few rain gear systems keep a rider perfectly dry, so plan on being wet from the completely soaked level to damp. Rain suits do offer enough warmth, even when wet, to make riding tolerable, even though miserable from being wet.
…. Expect sun and wind. You can generally handle a short trip of 2-3 days of sun and wind. You may come back burned and tender after a couple of days, but you generally will not develop blisters and sores. If you stay out on the road four or more days, you will be in danger of being miserable from sun scald/sores, infected hair follicles on the legs, feet moist and "moldy", severe head itch and helmet hair, seat rash from sitting so long in one spot on one spot, etc. My advice is very little sun the first couple of days. Cover up, even though you want to be out in the open air. Limited exposure the first days of the ride will mean you will slowly toughen in and have fun riding more exposed the last days of a trip and come back in better shape. The nose, ears, forehead, cheeks, chin, top of the arms are going to be sore if exposed very much the first days of riding. Keep clean, keep clothing relatively clean, stretch on and off the bike, often. Get into loose fitting clothing in the evenings, at least for several hours.
….Expect by the latter days of a long trip to want some, to total protection from the wind. The wind eventually wears on the rider. The best solution is to be able to keep the wind off the face with a shield or full face helmet and to have a riding jacket that protects from the wind. Large baggy pants and a large shirt simply whip in the wind all the time. That will get very old later on in the trip for most riders.
....Everything goes in Ziplocs, individually for rain protection, or try some of the modern dry bags available for water sports or land excursions.
….Make a master "wish" list of all items you think you would like to take on any road trip. Select from the master list the essentials for any one specific trip, then run the trip over and over in your mind to visualize when you will actually utilize and what might be necessary for weather and road emergencies and personal luxuries you cannot live without. Work on your list while on the road, so it is refined for the next long ride, while the ideas are fresh in your mind.
….Reduce to bare essentials. Pack early, and then cull out items of limited use/value. Weight/bulk builds up fast. Keep only the bare essentials and very important road "survival" items.
….Remember, you can buy almost anything, almost anywhere. One or two day delivery can get many hard to find parts/accessories delivered to you in the field.
---
Elkhart Lake, Wisconsin


and Road America
Road America at Elkhart Lake, or Brainerd, Minnesota would be a functional FZ1 Cycle Rally point for the North Central Region
.....After being back from the Elkhart Lake Track, it is obvious the FZ is going to be a great long hauler.
.....Any Superbike weekend would make a good Rally point for cycle groups in the northern/central states. I notice online that many of the groups have small regional rally's with only a local agenda, but no central drawing item like a Superbike weekend. The Vmax group has numerous gathering around the country. It looks like any region with Superbike races could set up a central motel location, plan ahead letting members know to reserve rooms, ride in to the races, keep things simple, small group gatherings/meals/rides, etc. Nothing very formal on the organization body. Maybe have a central location for meeting/parking at the track. Northern Wisconsin or Minnesota has many potential riding loops if one wanted a day before/after or during the race, ride. Superbike weekend in Wisconsin, Minnesota, Ohio, St. Louis, etc would make a great 4-6 day riding vacation, rally, bike weekend.
.....No, I am not interested in organizing anything, but the north/central FZ group might become more organized down the road, depending on how the FZ and its following progresses. I remember when the present Vmax Owner's was started in about 94/95 by Clint. It has grown to well 2000 paying members, a major web sight and a sizeable web ring of some pretty complete Vmax information sites. The FZ may be here to stay more than a few years. Or something similar, with the same performance/suspension. If the FZ does stay around I visualize quite a following. As an example, unless also blinded by Hardley syndrome, a Vmax or SabMag rider would have to consider a bike like the FZ as a second bike or replacement. It has all the performance issues we fight on the Vmax stock. Many "squids" will want a performance level street standard. The movement to the super standards will probably continue to grow.
.....FZ riders could rally with the Yamaha Vmax or other cycle groups. I can see FZ's laying all over the pavement from trying to do burn outs with the Max boys, and Maxes in every ditch trying to stay with the FZ on the open road.
.....I am getting a bit of a kick out of listening to a little Vmax interest in the FZ, but instead of homing in on performance/power/suspension/speed/ability and all the things Vmax folks try to get out of our "old" bikes, it gets down to old mind sets on looks and "squids." Poor boys do not know what they are missing. There was only One, now there is Two, Max and FZ
.....Road America at Elkhart Lake, Wisconsin leads itself to a rally point for riders due to several attractive reasons. There are several smaller cities within 50-70 miles for a central motel location without entering very large cities. It sits out in the county, is big and easy to get into. You can ride the entire grounds area and park a cycle at "any" available space. You can get into the Paddock area with the teams and mechanics. The racing atmosphere is like a state fair of various activities and interests.
---
Thoughts regarding the FZ
after 1050 miles and returning
from Road America
Three Day 1050 mile trip to Road America
….Elkhart Lake, Wisconsin, AMA Superbike Double Header, about 1050 total miles, 320 first afternoon, 190 second day, 520 home third day.
….1042 miles on 23.3 gallons equals an average of 44.7 mpg. I used several fills of 89 octane, but ran everything from 87 to 93 depending on what was available. A fill was at about 100+ miles as other bikes needed to stop that often for gas. Not the FZ :)) Thus generally there was a half tank mix at gas fills. A couple of times I gassed up every two stops. The range of the FZ is a very enjoyable luxury. In decades of riding, I have never owned a bike with this kind of range. I did not detect any difference in mileage but that would take a better set of data, using only one octane for many fills as each fill will vary so much in level or amount. I did not notice any performance issues on any tank of gas. Performance was "extreme" at all times.
….The 465 miles into the racetrack were very hard, fast interstate riding. Traffic was running 80+ most of the way. We were running 80-95 nearly the entire distance to the track, when on the highway at cruising speeds. There were of course many fast passing bursts from 90-105, but nothing over 120+. I ran with a very good bandit rider who likes to "play," so there was a great deal of hard accelerating going on during the entire trip. ….The return trip was 12 hours in the saddle with stops for gas every 100 miles for the other bikes and lunch. The return was on Wisconsin two lane roads, which made me homesick :)) The speeds were still 75 or over most of the way, with a major amount of hard accelerating and decelerating on the corners, plus a significant number of small towns with stop and go riding.
….What is my overall evaluation of the FZ after three days of major riding? PERFECT for me!!!!!! Only small issues that I can live with or adjust too. One must remember my opinions come from a lot of years of long hauling on old Honda inline fours, the V65, the Vmax. I now have a race level machine, disregarding what class one wants to throw it in, that will haul enough "stuff" if one is conservative, for 3-10 days on the road, and it will do it at literally any level of hard riding one can throw its way. Total power and handling performance. Try taking 45-mph curves at 70-100 on any muscle bike, sport tourer, cruiser, or land barge. Cannot be done. It can be done on the FZ, and done with confidence and safety, assuming one is a good rider making sure decisions on road conditions/environment.
….Get the point. The FZ is an absolute blast on a tour; out on the road for 8-14 hours a day experiencing a total variety of riding conditions. There can be very few if any bikes every developed with the ability of the FZ on a tour. Talk about total riding performance and just plain fun day after day, it is an FZ, a Road Predator, a Racetourer.
….Actually I am guessing the FZ stands alone at this point in time.
….I use no hard bags, only duffels/bags held onto the bike with bungee cords. I want speed and power when touring, but I want a street muscle bike when not long hauling 3-10 days, and that of course is most of the riding time for the majority of riders.
….I cannot comment at all on the FZ in comparison to a real tourer in the Goldwing class or a sport tourer in the ST1100 class. I really do not want either of these styles in the stable, which is not a put-down to any other bike or class, as for most/many people they will be much better option than the FZ.
….The kind of person that will find the FZ a grand touring option is the type of person that want to experience high riding speeds, rapid acceleration/deceleration, g-forces in corners. They would like the bike to handle all kinds of road conditions and speeds without worry of what is next, knowing the machine will handle it all and then some for the average good riders. They do not what to want to apologize or be looked down upon by the sportbike/muscle bike/Harley that pulls up along side. The FZ rider likes the feel of knowing every when fully loaded for a tour, they are more than a handful for anything on the road, whether on the straights or in the corners.
….Footpegs worked great, and are a must for me on long riding days. I only use the periodically but they offer enough stretch and relief from the normal jockey riding position of the FZ to drastically increase comfortable time in the saddle.
….I considered the saddle of the FZ in the very good category. Much better than my Vmax or V65 or long trips. I am sure not as good as a custom seat or seat on an actual touring machine, but I do not want that type of soft, shaped seat as they do not ride well for more aggressive riding that the FZ owner is capable of experiencing.
….I need to retract my former statement that the Givi aftermarket windscreen flutters about an inch or more. It actually flutters only about Ό to ½ inch at the edges. After re-evaluating the Givi on a longer ride, I can live with the flutter, even though at times it is a distraction/annoyance to me. The cowling of the FZ like most sportbikes is very light, small, thin by design to reduce weight. Any aftermarket shield will have to also be light and probably very flexible so as not to stress the attachment points and cause destruction of the cowling. I left the Givi on for this longer tour as it "throws" more wind away from the Hell Cat shield I have mounted on the handlebars. Thus the Givi reduces the pressure on the Hell Cat and reduces the amount of air coming in behind the Hell Cat onto the rider.
….Since the cowling on the FZ will not support, IMO, any major type of large wind shield necessary for most long rides, the "cobble" job wind shield like the Hell Cat that I have mounted on the bar seems the best option that I can come up with. As stated earlier, I am probably going to order the next side of Memphis Shades shield to see if it will fit as a replacement on for the National Cycle Plexistar 2 on my Max. At that time I will see if the larger shield is an option for more protection on the FZ. The Memphis Shades mounting system is quality stainless steel, which the National Cycle mounting hardware has basically not changed for decades and in comparison is very poor quality and functions at a much lower level.
….After several long days in the FZ saddle, what were the biggest personal issues with the bike? Number one is there is no self-canceling turn signal. Number 2 is the poor instrument dial design, with the numbers being too small and the dials being too day during normal riding conditions.
….As you can see, I am hard pressed to find anything of "value" to complain about on this bike. Engine buzz was not a problem at all to me. The two places I could feel any major engine vibration were the pets and the handle bars, but that was not severe, nor was it a perceived issue for any length of time. I tend to ride with a very light touch on the bar grips. I did experience any after ride buzz or feel in the hands.
….How did the Hell Cat windshield work? Great. I wore a half helmet about half of the trip and no helmet the other half. Wind blast is off the chest completely, with only the top of the head exposed when totally stretched upright. There is a nice dead air pocket several inches behind the shield where the head/eyes rest much of the time when leaning a little on the bars. With this shield set up, you can turn the head and look to the sides without fighting constant wind blast. You can see, hear, experience the riding environment. Trust me, if you plan to make the FZ a long hauling "racer" then consider the best wind protection possible. If you are not a believer, go out about 7 days on a trip, ride 8-14 hours each day in hot wind, cold rain, heavy traffic, etc. If not a long hauler, then the Givi or similar shield my be the way to go, or like me, have both options available.
….What were the biggest surprises from the FZ on a longer trip? The 44.7 mph over 1042 mile trip at very high highway speeds and very aggressive, hell-bent-for-leather riding, and that is just was it was
….The next pleasant surprise would have to be the overall riding comfort. The wind protection of the shield worked great, the seat if comfortable for me, the suspension handled bumps and bad roads like a dream. Cargo weight/bulk did nothing to interrupt the unlimited power and handling.
….I will put up another page of more detailed information regarding equipment and supplies I utilized on a short trip of 3-4 days, which may give ideas for someone thinking about an FZ or similar bike utilized as a long hauler.
….This is the most comfortable bike to ride I have owned, due to the great suspension/power and also I have multiple riding positions. Straight up or laying down, and everywhere between. One or two legs on the pegs. Up to the front of the saddle or pushed to the back. Like the Vmax, because of the jockey riding position, I stand totally up on the pegs and stretch out often, generally in and out of towns or before stop signs, but the FZ is easily controlled out of the saddle at any speed. Most FZ riders will be experienced so riding out of the saddle is not an issue to them. New and intermediate riders need to be very careful about such "tricks."
….The FZ is so new that most folks do not recognize what it really is, however, those in the know seem very interested in knowing how it performs and how I like the machine. My answer if usually a one-liner, "Total package." It does everything beyond my expectations. Great bike. Super bike. Fantastic bike. I have never owned anything I liked any better.
---
Gas Mileage and Break-In Experience
.....Gas mileage reports are always interesting and I always wonder at their validity. My FZ mileage during the first four fills ranged from 42-48 mpg. That was the first 600 miles, generally topping off the tank around 100+ out of habit formed from riding a Vmax. It is too hard to fill a cycle tank like the FZ to the same exact level every fill, so a series of data must be collected.
.....There was no real break in period for my FZ. I ran highway speed home from the dealer; 100 miles at 60-75, and had a couple of runs to 100. However, I did not take it up into the high rpm zones either, and still after the first 2000 miles have not gone high rpms (8k+) for any length of time. I ran the Vmax about the same during break-in without apparent problems showing up later. I would not recommend to anyone to forget their own "lighter", more sane break-in period. I just do not have the time or patience for it and really feel high rpm runs during the initial first several hundred miles created the "break-in" of the rings with cyclinder walls. Plus I just plan on running the FZ hard and replacing it with the even better and improved version :)
....Oil was changed to Yamalube dyno at 600 miles. Will go with Mobil 1 next change. I put Torco Full Synthetic in the Max at 2000 miles and it is running as strong as ever. Again I would not recommend following in my footsteps. Most are going with at least two dyno oil changes before even considering synthetic. At this point, the sooner I have synthetic in the better. If problems ever develop in the clutches on any of my cycles then I will reconsider. I am a champion of the absolutely superior lubricating qualities of modern synthetic oils, but to each his own.
....GOOD GAS MILEAGE TEST: I was very, very impressed by the gas mileage of the FZ. During the 1042 mile run to Road America and the Superbikes at Elkhart Lake, I used 23.3 gallons for an average of 44.7 mpg. This was a good test of mileage as gas level for each fill was not an issue with that much data collection. I ran everything from 87 to 93 octane, depending on what was available. Most of the fills were 89 or 91. I could not detect any difference in octane or brands. No irregular engine performance at all. The FZ engine is a major player on the road. I never thought I would find an engine I liked as much as the Vmax :)
....What really impressed me with the 44.7 mpg average for 1000+ miles was the fact this was the fastest/hardest riding I have ever been able to do with a cycle for that distance. The speeds for the first 500 miles were all on Interstates, with traffic in Ill. and Wis running a minimum of 80, so we were able to run 80-95 almost all of the way, and more toward the high 80's. No town traffic, no lights; only at gas stops during the first 500. The mileage on the first very fast 500 was in the 43-44 range. One of the guys was a young, very good Bandit rider so we could keep the hammer down all of the time, with many runs to the next car at over a hundred. We kept the others playing catch up, so the group speed remained high. I might add one of the riders was on a Harley Road King Classic! This interval was between 600-1100 miles on my FZ. I was really impressed with the gas mileage at that aggressive level of road riding, and more impressed by the FZ loaded with travel gear.
....The 500+ miles back were on Wis, IL, IA, MO two lane roads. Many small towns, stop lights, stop and go, slow down and accelerate to pass. Highway speeds generally from 65-80 mph, and more toward the high range. Sightseeing ride compared to the "flight" up. Gas mileage for the last 500 was 45+ range. Again impressed by the mileage. The big tank is also a major luxury to me. It would appear the mileage will be 40-50 mpg, depending on how hard the FZ is pushed. That is very, very good gas mileage for such a performance level machine.
....We shall see how the "no break-in" period works in the long run on my FZ. It has thus far had the most aggressive 1500 miles of riding I have put on a cycle in decades of riding. And because of the superb performance/handling the most safe 1500 miles. Cars and trucks being close to an FZ is not an issue, nor is control in corners/straights, nor is braking/accelerating.
....I have to conclude the FZ will run on any octane and average at least 43-45 mpg when out on road trips, loaded and running hard. I might also conclude the FZ may be the first of a new class of bikes, the Race Tourer :)
---
Home to the stable, rode hard, put up wet.
When the only issues are the lack of self-canceling turn-signals,
and poor instrument markings, no temp gauge, there are NO issues.
The FZ is the most complete bike to date for my riding style.
The FZ will get Mobil 1 and a check up, to be ready for the next long haul.
The summer's longer rides for 2001 will be, into southern Missouri, to northeast Iowa at least once (yes there is a heaven), the Great River Road to Iowa, Minn and Wis, and on to the Great Lakes

If any of these rides turn into a camping ride, I will put up a page on camping off the FZ. Either way, I am planning on packing the FZ with minimum camping, road survival gear and personal items, to see if everything needed can be strapped on and hauled successfully without adding a tail piece and/or sissy bar. I plan to keep the tail of the FZ naked as enough gear can be carried for any length of long trip I want to attempt at present. That of course may not be the case for another type of rider/traveler. Camping off the FZ without saddle bags and tail piece may be another issue. Reports coming later.

Page loaded online July 2001.
---
Use the FZ1 Sitemap to navigate all of the FZ pages.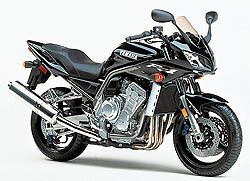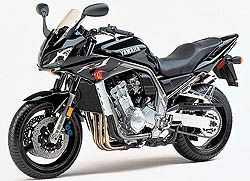 [] IowaZ Sitemap [] Send Email [] FZ1 Owner's Association [] IowaZ Vmax Sitemap [] IowaZ V65 Magna Page []

Any reproduction of this site or it's contents requires express written consent.
To Open a Search or Find-a-Word Window, press "Ctrl" and "F" at the same time.