ONYX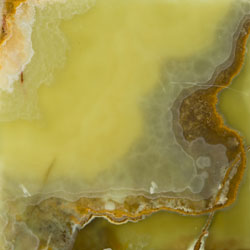 Onyx is formed by quartz crystals which are fused together by nature into translucent layers of stone, revealing a rainbow of colors ranging Form creamy whites, gold's and ambers to orange, reds, browns deep greens, and grays. The natural process of heat and pressure creates a crystalline stone rich in color and pattern that reaches well below the surface to reveal a truly unparalleled inner warmth, depth and opalescence.
Onyx, like travertine, is the result of water dissolving existing limestone and re-depositing it as a new kind of stone, sometimes called sinter. In limestone caves, onyx is formed by drip water, as stalagmites and stalactites. It's a very soft stone, and somewhat brittle, and needs to be installed where it will not be subject to hard wear. This beautiful stone is characterized by its translucence, and can actually be backlit for striking, dramatic effects.
Onyx is quartz crystals fused together by nature into translucent layers of stone, revealing a rainbow of colors ranging Form creamy whites, gold's and ambers to orange, reds, browns deep greens, and grays. Onyx is not a new stone; It is actually millions of year old! A natural process of heat and pressure creates a crystalline stone rich in color and pattern that reaches well below the surface to reveal a truly unparalleled inner warmth, depth and opalescence.
The name Onyx is derived from the Greek term meaning the nail of a finger. It's a member of the chalcedony family which includes carnelian, agate, etc. Occurring naturally in a variety of colours, black onyx is polished to enhance it's appearance, a member of the quartz family. Originally, almost all colours of chalcedony from white to dark brown and black were referred to as onyx. Today we tend to think of onyx as black. A variety of onyx which is reddish brown with white and lighter red bands is called sardonyx.
Similar to limestone, onyx is a softer stone best placed where it won't be used or abused on a day to day basis. It is porous and needs to be sealed. Otherwise, it will absorb water and liquids easily which tend to stain the stone. Once a stain is absorbed into onyx, it is extremely hard to remove.
Onyx marble is most often used as a fireplace surround, bar top, or as a small island because it transmits light.
Heb. shhm; Sept. onychion; Vulg. lapis onychinus; the eleventh stone of the breastplate in the Hebrew and the Vulgate (Exodus 28:20; 39:13), representing the tribe of Joseph. The Vulgate indeed gives onyx as the equivalent of the Hebrew shhm. Stronger evidences are in the fact that the Hebrew word occurs frequently in scripture. (Genesis 2:12; Exodus 25:7; 25:9, 27; 1 Chronicles 29:2; etc.) and on each occasion, but Job, xxviii, 16, it is translated in the Vulgate by lapis onychinus (lapis sardonychus in Job 28:16). The Greek is very inconsistent in its translation, rendering shhs differently in various texts; thus in Gen., ii, 12, it is lithos prasinos, sardios in Ex. xxv, 7; v, 9; smaragdos in Ex., xxviii, 9; v, 27; ix, 6; soam, a mere transcription of the Hebrew word in I Par., xxix, 2; and onyx in Job, xxviii, 16. Onyx is the stone signified by shhm. The onyx is a variety of quartz analogous to the agate and other crypto-crystalline species. It is composed of different layers of variously coloured carnelian much like banded agate in structure, but the layers are in even or parallel planes. Hence it is well adapted for the cutting of cameos and was much used for that purpose by the ancients. The colours of the best are perfectly well defined, and are either white and black, or white, brown, and black. The best specimens are brought from India. Sardonyx has a structure like onyx, but is composed usually of alternate layers of white chalcedony and carnelian, although the carnelian may be associated with layers of white, brown, and black chalcedony. The ancients obtained the onyx from Arabia, Egypt, and India.
OTHER TYPES OF STONE
LIMESTONE
Limestone is formed near hotsprings and colours can range from creamy whites to browns and blacks which impart warmth and subtlety to any structure. It's mainly sedimentary rock consisting of organic material such as tiny grains of sand, skeletons, and shells of marine life, and other sediments, which form ooliths around which calcium carbonate adheres. All limestones originated as sea-floors of tropical regions of the world, and there are limestones which are in process in this way at the present time. Seawater contains carbon dioxide (C0 2) which escapes when warmed by the sun. As this takes place, calcium and bicarbonate ions in the water combine to form calcium carbonate, like scales form inside a kettle.
Limestone contains calcite. It does not show much graining or crystalline structure. It has a smoothe granular surface. It varies in hardness. Some dense limestone can be polished. There are limestones called Beauharnais (Bow-Are-NAY) which are very hard and dense. Limestone is known to contain lime from seawater. It comes in black, gray, white, yellow and brown. Finishes include polished, honed and tumbled. All limestone however, is still calcium based, so susceptible to stains.
The shelly limestones of the Purbeck Beds, Eng., and the ussex marble, both of Mesozoic Era (from 65,000,000 to 225,000,000 years ago), consist of masses of shells of freshwater snails embedded in blue, gray, or greenish limestone. They were a favourite material of medieval architects and may be seen in Westminster Abbey and a number of English cathedrals. Limestone was a very popular building block in the middle ages in the areas where it occurred since it is hard, durable, and commonly occurs in easily accessible surface exposures. Many medieval churches and castles in Europe are made of limestone. Black limestones containing bituminous matter, which commonly emit a fetid odour when struck, are widely used; the well-known petit granit of Belgium is a black marble containing crinoid stem plates, derived from fossil echinoderms (invertebrate marine animals).
Limestone is especially popular in architecture, and many landmarks around the world, such as Israel. It's abunsant in North America and Europe, are made primarily of the material. So many buildings in Kingston, Ontario, Canada were constructed from it, that it was nicknamed the 'Limestone City'. Limestone is readily available and relatively easy to cut into blocks or more elaborate carving. It is also long-lasting and stands up well to exposure. However, it is a very heavy material, making it impractical for tall buildings. It is also quite expensive. Limestone was most popular in the early 20th and late 19th centuries. Train stations, banks and other structures from that era are normally limestone. Limestone is used as a facade on some skyscrapers, but only in thin plates for covering rather than solid blocks. In the United States, Indiana has long been noted as a source of high quality quarried building Indiana limestone, while many famous buildings in London are built from Portland limestone. Limestone was most popular in the late 19th and early 20th centuries — train stations, banks and other structures from that era are often limestone. It is used as a facade on some skyscrapers, but only as thin cladding rather than solid structural blocks.
SANDSTONE
Sandstone rocks are sedimentary rocks made from small grains of the minerals quartz, which is the main ingredient, but is accompanied by mica, feldspar and other minerals. Most sandstone is formed in oceans, lakes, and rivers where tiny bits of rock and dirt settle to the bottom. Year after year, these layers of sand are continually buried under tons of more sand and dirt until it's turned to solid rock. The chemical constitution is that of sand, the rock is thus composed of essentially quartz. Grains may be cemented by silica, calcite, or iron oxides. Sandstone often forms in layers, with fossils embedded in the layers. They are often used as building stones. Sandstone is often marked with the ripples of an ancient sea bed. It can be found in many colours which range from red, brown, greenish, yellow, grey, and white.
Sandstone can be found in abundance in Israel. At Beersheba, sandstone blocks integrated into the walls of the storehouses were originally part of a four-horned altar. Three of the sandstone blocks preserved the shape of large horns typical of four-horned altars, while a fourth showed evidence that the horn had been broken off. Another of the stones bore the image of a deeply incised serpent. The historic section of the capital city of Berne, listed as a cultural heritage project, is almost entirely built of locally Bernese Sandstone. The sandstone deposits in India are primarily found in Rajasthan - the only place in India with extensive deposits. The districts of Karauli, Dholpur and Bharatpur on the east, Kota, Bundi, Bhilwara and Chittorgarh on the south, and Nagaur and Jodhpur on the west of Jaipur are the most promising ones. The extension of deposits can be seen on the map. Shivpuri and Lalitpur in Madhya Pradesh also have some deposits of sandstone. Lemon Tint Mint and Lalitpur Yellow are being exported in different sizes and thicknesses.
Sandstone can be used for such projects as
Fireplaces
Walkways and stairs
Foundations
Stone walls
Garden furniture
Pillars
Arches
Landscaping
Flooring or lining walls

GRANITE
The term "granite" means "grain" in Latin, and is derived from "Granum" because of it's granular nature. Granite is volcanic rock, called igneous rock. Granite is formed from magma. Granite magma has many potential origins but it must intrude other rocks. Granite magma must make room for itself or be intruded into other rocks in order to form an intrusion, and several mechanisms have been proposed to explain how large batholiths have been emplaced. When the magma comes out of the earth's crust through a volcano as lava and is exposed to the surface elements, it cools and hardens, producing the more porous and less dense stones, such as pumice. This type of igneous stone is called "extrusive."
If the magma cools and hardens inside the earth, it is called "intrusive" rock. This rock cools slowly and has large crystals. When the magma does not reach the earth's surface, it is formed into a variety of geological structures. This intrusive type of stone is what is typically used as building stone. It is quarried from beneath the earth's surface and it comes in a variety of types, such as granite, basalt and obsidian.
Most granite intrusions are emplaced at depth within the crust, usually greater than 1.5 kilometres and up to 50km depth within thick continental crust. It is very hard, crystalline. When the molten material forming the earth's core (magma) comes up from just beneath the earth's surface, it cools, forming the crystalline granular structure called "Granite." It is primarily made of quartz (35%) feldspar (45%) and potassium. The differences in the color of granite are due to the percentage of quartz, mica and feldspar. The Vosges, though not the highest elevations, are composed of granite, exhibiting no vestige of marine products, and these granites are not covered with calcareous beds, although the sea has borne its relics to much greater heights in other places. With this exception, it is only in high vitreous mountains that the ancient structure and primitive composition of the earth can be seen bare in masses of quartz, veins of jasper, groups of granite, and metallic veins.
Various placements of minerals form the pattern of granite.
Stoping, where the granite breaks the wall rocks and pushes upwards as it removes blocks of the overlying crust
Diapirism where the density of the lighter granite causes relative buoyancy and the granite pushes upwards, warping and folding the rock above it
Assimilation, where the granite melts its way up into the crust and removes overlying material in this way
Inflation, where the granite body inflates under pressure and is injected into position Most geologists today accept that a combination of these phenomenon can be used to explain granite intrusions, and that not all granites can be explained by one or another mechanism.
Granite contains little calcite. Provides a heavy crystalline and granular appearances with mineral grains and can be polished to a high shine. The stone comes in a variety of colors ranging from salt and pepper to reddish brown and black. Due to the extreme hardness and density of granite, it accepts a long lasting polish.
It's is the hardest building material, has high load bearing capability, is resistant to chemical erosion, with it's durability makes it resistant to weathering, yet capable of taking a mirror polish. It comes in facinating colours, and testural patterns, making it an excellent choice for kitchen counter tops, custom made furniture such as table tops, desks or garden furniture, bathroom vanities, and fireplace surrounds. India is one of the leading producers of slab granite and granite tile. Major granite producing regions are the Scandinavian Peninsula (mostly in Finland and Norway), Spain ( mostly in the Galicia area), Brazil, India and several countries in the South end of the African continent, namely Angola, Namibia, Zimbabwe and South Africa.
Historic applications of this stone: The Red Pyramid of Ancient Egypt (c.26th century BC), named for the light crimson hue of its exposed granite surfaces, is the third largest of Egyptian pyramids. Menkaure's Pyramid, likely dating to the same era, was constructed of limestone and granite blocks. The Great Pyramid of Giza (c.2580 BC) contains a huge granite sarcophagus fashioned of "Red Aswan Granite." The mostly ruined Black Pyramid dating from the reign of Amenemhat III once had a polished granite pyramidion or capstone, now on display in the main hall of the Egyptian Museum in Cairo (see Dahshur). Other uses in Ancient Egypt, include columns, door lintels, sills, jambs, and wall and floor veneer.
South Africa
North & South America
Sweden
Finland
Norway
India
A distinctive pink granite forms most of Pikes Peak, Colorado. Its major constituent is pink-orange potassium feldspar. The gray, clear mineral is quartz, which is diagnostic of granite—that is, a rock without quartz, no matter what else is in it, cannot be called granite. There are also a few rare white grains of plagioclase feldspar, and also a darker mineral, the brown mica phlogopite.
As old as the earth itself, granite is one of the hardest and durable of all building stones. Syene Opening (Eze 29:10; Eze 30:6), a town of Egypt, on the borders of Ethiopia, now called Assouan, on the right bank of the Nile, notable for its quarries of beautiful red granite called "syenite." It was the frontier town of Egypt in the south, as Migdol was in the north-east.
The obelisk of Hatshepsut, built in the year 1457 BC, during the XVIII dynasty, is the second biggest of all the ancient Egyptian obelisks. Made of one single piece of pink granite, it has a height of 28.58 metres and its weight is 343 tons. It is located in the Big Temple of Amon, in Karnak.
ALABASTER
This type of natural material is defined as fine-grained, massive gypsum (q.v.) that has been used for centuries for statuary, carvings, and other ornaments. It normally is snow-white and translucent but can be artificially dyed; it may be made opaque and similar in appearance to marble by heat treatment. Florence, Livorno, and Milan, in Italy, and Berlin are important centres of the alabaster trade.
"Alabaster is a beautiful and varied stone prized by sculptors worldwide since the beginning of recorded history. It has been deposited in nature in an incredible rainbow of colors. It can be translucent as in the variety Selenite or nearly opaque, transmitting little light.
The translucent stone is quarried either in open pits or underground. In open pits, veins of Alabaster are found 12 to 20 feet below the surface under a layer of shale which can be two or three feet deep. The rocks have an average height of 16-20 inches and a diameter of two to three feet. Rarely do the rocks exceed these sizes.
The term "alabaster" occurs in the New Testament only in the notice of the alabaster box of ointment which a woman brought to our Lord when he sat at meat in the house of Simon the leper at Bethany. She poured the contents on the head of Jesus (Matthew 26:7; Mark 14:3; Luke 7:37).
In the days just prior to His crucifixion, a woman at Bethany (see The Place Of Christ's Ascension And Return) anointed Jesus Christ with the contents of an alabaster flask. (Luke 7:36-50)
This Bas-relief is a photo showing the gods Isis and Osiris, Ptolemaic period, Ancient Egypt, 323-30 BCA. Alabaster is found throughout the histories of Sumer, Babylon and Assyria and of course, Mexico and Egypt. Deposits of alabaster are not only found in Egypt also in countries like Algeria, England, United States, Belgium, India, Turkey, Spain, Cyprus, and Italy.
Usually describes the mineral Gypsum, especially the varieties that are compact, take a good polish, and often have some degree of translucency. This term has occasionally been applied to some types of very pure, fine grained and semi-translucent Marbles such as much of the stone used in ancient Egypt for both functional and decorative objects. Cosmetic jars made of this are intricately carved, and the bible contains a story of a woman who possessed a perfume vial of this sort.
SOAPSTONE
Soapstone is a metamorphic rock mainly composed of quartz and muscovite, along with other minerals. It can be made into roofing slates (shingles) because of its clevage and grain, two lines of breakability that make it possible to split into thin sheets. It is composed of talc, magnesium silicate and chlorite. The softer is known as "talc" and is used to carve or crush to a powder for a variety of purposes. It is a quarried stone that comes in shades such as green/gray, blue/gray and charcoal gray in its natural state but turns quite dark to almost black with the application of mineral oil. In the 18th and 19th centuries, slate was used for blackboards and individual writing slates. More recently, it has been used for laboratory bench tops and billiard table tops due to it's thermal stability and chemical inertness. Soapstone occurs in many metamorphic terranes throughout the world. Two well-known sources of soapstone used for carvings (etc.) are the Limbue quarries, near Lake Nyasa, Malawi (formerly Nyasaland) and quarries near Kundla, Gujarat State, ay Province, India. Soapstone for Canadian Eskimo carvings has come from the Yukon Territory and Baffin Island. In the western United States, perhaps the best known source of soapstone used for carvings (etc.) is Skagit County, Washington. Quarries near Schulyer, Nelson County, Virginia, which have been a good source of soapstone used for such things as griddles and acid-resistant counter tops and sinks, would appear to constitute a potential source of carving material.
CARE & USE FOR YOUR STONE COUNTERTOP
Wipe the surface of your countertop as needed with a soft cloth and stone cleaner. We recommend Stone Care International (SCI) products, which are available in the Kitchen and Bath department at The Home Depot?.

Clean up spills immediately and do not let any spill stay on the countertop for longer than 24 hours.

Do not use household cleaning products with acid or ammonia on your countertop surface, such as bathroom cleaners, grout cleaners or tub and tile cleaners.

Do not use vinegar, or lemon juice as a cleaner.

Do not use abrasive cleaners.

Promptly clean any spilled chemical substances, such as bleach or drain cleaner, off the granite.

Do not use polishes or waxes that were not specifically developed for stone care on your granite countertop.
THE PROFESSIONAL MAINTENANCE PROGRAM FOR YOUR NATURAL STONE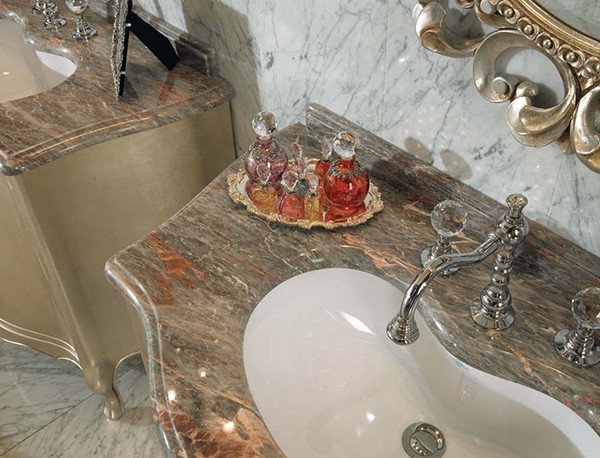 Sealing granite and natural stone with penetrating sealers, (also called impregnators), protects the structure of a natural stone. They protect the stone from within. When sealing natural stone or granite with this type of sealer, it is applied directly to the face of the stone with a soft cloth. It's simple to do and does not require a stone specialist. This type of sealer is recommended for sealing granite.

The sealer will penetrate below the stone's surface without leaving a coating or film on top. The stone below the surface will be protected, however, there is no surface protection. This means calcareous natural stones such as marble, onyx, limestone, and travertine can still etch or dull if acidic products such as orange juice or coke are left on your stone.

To help provide surface protection, a natural vegetable soap cleanser or a cleanser made specifically for natural stone should be used. These cleansers build up a thin film layer between periodic deep cleanings. Natural vegetable soaps and stone cleaners remove dirt and debris from the stone's surface the same as a detergent soap does. They are just milder.

Etch Marks

Etching is the result of a chemical reaction occuring when acid comes in contact with a surface. Etch marks on stone surfaces resemble water spots or a worn polish.

Items like orange juice, coffee, vinegar, wine, tomato products, mustard, and many soft drinks are highly acidic and will etch, discolor, or even scratch most marble, limestone, and travertine (acid resistant stones like most granite, slate, and sandstone will typically not etch). Sealing will give you time to clean up a spill, but cannot stop the chemical reaction that may leave a dull mark. Professional refinishing is the best way to remove etch marks and restore your natural stone's even finish.
THE UNIQUE FACETS OF USING NATURAL STONE
Shade variation - Slabs / tiles should be sorted to ensure uniformity of shade. Normally, any colour can be sorted into three shades. Sorting is simple -just lay all the material on the floor and look from different directions. If you will buy the entire quantity over a period of time,then you should make it a point to know from which specific quarry the material will be supplied as there will always be a difference between quarries.
Grain variation - If grain varies between fine and coarse, such tiles / slabs should also be sorted uniformly by grain size. Sort this the same way as for shade. The further you see it from, the easier it is to sort.
Oiling - Many black granites are light blacks.To make them temporarily look better (blacker), industrial oil is rubbed on it after polishing.This oil evaporates after some months leaving the slab looking very shabby. A burning match will heat an oiled surface and the oil will rub off on your finger.
Colouring - Similarly, red oxide is put on red granites to make them look redder and to fill pinholes. To check this, rub the surface hard with your finger and see if some red colour rubs off. By wetting the sawn surface(back side of polished piece), you can see the true colour and nature of any granite.
Colour patches - These are darker or lighter patches or bands of single colours due to mineral localisation; in black this occurs as "oil patches"-patches which look as if oil has been spilled. These are actually permanent patches. Pay less for such materials. After laying and seeing from different angles, it is easy to see which pieces have these defects. Tapping with your finger nails or spoon may give different sounds on these patches compared to rest of the granite.
Double colour - Sometimes two different grain sizes occur in the same slab, giving the appearance of a double colour. Pay less for such materials.
Cracks - Test by pouring water, wiping and letting dry. Water which goes into a depression in the stone evaporates last.
Staining - Many granites stain. Test before buying with wet spices or oil kept on it for a few minutes. Even if staining is not your worry, if you are going to wash the surface frequently, then check how long tap water remains absorbed. Some granites change colour when wet compared with when dry. Since drying is a slow process, the surface looks unattractive during the interim period when part of it is wet and part is dry.
Holes - Some crystallic granites do not have a smooth surface. The surface chips or there are pin-holes. Avoid this type for horizontal applications.
NATURAL STONE FOR OUTDOOR APPLICATIONS
In your garden, practically any natural stone can be used. Granite pathways are popular, especially when complemented with granite lanterns or Japanese basins and sculptures. If you like marble, you could utilize such custom made items as stone marble fountains, flowerboxes in marble, plant stands, garden benches or sculptures for an elegant effect. Limestone pathways in earthtone hues add a touch of class, or you could try slate flagging. Garden walls may be done in slate slabs for a unique decorating texture on a patio. You could design an outdoor kitchen with a barbecue area using natural stone on the walls and floors as a backdrop.
Travertine and slate look very attractive outdoors, with slate around the pool area and the driveway. But nothing looks quite as imposing and distinguished as a nameplate in polished granite, particularly black granite.
TERRAZZO FOR INDOOR & OUTDOOR USE
Terrazzo is a composite consisting of chips of marble, granite, glass and other stones. The Egyptians were actually the first to hand set pieces of stone, glass or ceramics in a mortar bed to create a decorative pattern.
As far back as the Roman days, Terrazzo floors were installed in prestigious buildings when Terrazzo was used by Roman architects to add beauty and variety to the courtyards and villas of their patrons. The Romans adapted mosaic to create linear borders of repeating patterns, such as egg and dart, acanthus leaf, and Greek key designs. The earliest illustration of the fabrication of a terrazzo floor is found in Della Architettura by Giovanni Antonio Rusconi, in which wood carvings date back to the sixteenth century. By the end of the sixteenth century, a Guild of Terrazzo workers was granted it's statute, it's techniques having already become well established. Giobatta Crovato was one of the early founders of this guild of craftsmen. Terrazzo reached a zenith of splendor and developement in Venice, where it came to be known as Venetian Terrazzo. In Venice, where mosaic never went out of style, 15th century mosaic workers used leftover marble chips to surface the terraces of their own living quarters.
Giandomenico Facchina, from Sequals is buried in Paris at Pere Lachaise, a cemetery for artists, because he created some of the most beautiful works of art. Terrazzo can be found in Ancient Greece.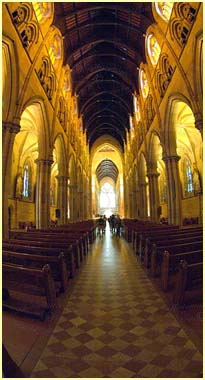 Over the years terrazzo has continued to be the flooring of choice for people concerned with beauty, longevity and ease of maintenance. These floors are almost impenetrable to moisture and very durable. During the Renaissance Michelangelo used terrazzo floors in St Peter's Basilica. Terrazzo speaks of the grandeur of elaborate stucco work, frescoes and antique terrazzo floors. Yet it is also the perfect choice for outdoor applications such as garden walls and furniture, stairways, as well as exquisitely designed mosaic terraces, with intricate inlaid marble borders.
The term, from the Italian word for terraces, was created several hundred years ago in Europe when Venetian workers discovered a new use for discarded marble remnants. Since that time it has become a logical, practical solution for contemporary design and construction.
While it is widely believed that terrazzo was developed by the Venetians, archeologists have found evidence of terrazzo floors in ruins in Turkey that may be as many as 8,000 to 10,000 years old. In 7,000 BC or earlier at Cayonu, at the foot of the Taurus Mountains, near Bogazcay, a tributary of the Tigris River, smelted copper Terrazzo floors have been found.
The first terrazzo floors were made of marble chips set into clay, and sealed with goat's milk to produce a high gloss finish. Later floors, taking advantage of technological advances in the 1920s used a three step process to make the floor design.
Fifteenth-century Venetian mosaic workers began to use odd-size marble chips (remaining from shaping the stone tesserae) to surface the terraces around their living quarters. The uneven surfaces created, when the chips were set in clay to anchor them, convinced the workers that flattening the surface would produce a smoother surface more comfortable for walking. They began to rub the surface with handstone, achieving a flat surface.
In the late 1700s, Europeans brought terrazzo with them to America, when highly skilled craftsmen were hired to install the unique material. Often the preferred flooring material in government buildings, churches, hospitals and libraries, for centuries it has been equally popular with residential owners. The basic construction techniques and appearance of terrazzo remain unchanged, resulting in a smoothe, dense and highly polished surface, which is then sealed to retain it's polished appearance. Terrazzo has been used extensively in monumental structures. (Our first President, George Washington, designed his Mt. Vernon home and selected Terrazzo for many of the rooms.)
Today, for those with an appreciation for both the old world elegance as well as the durability of fine ancient european craftmanship, terrazzo floors are being used in up scale office buildings,airports, hospitals, schools and increasingly in homes.
Tom Campbell Journeyman Stone Craftsman-Seattle/Bellevue & Surrounding areas
Telephone (425) 252-2981

Tom Campbell is married to Alana Campbell, an artist in oils, watercolour, acrylic, pen and ink and mixed media. They have 3 sons and 3 daughters. See: Simchas
LINKS
The Sanctified Imagination Rembrandt Harmenszoon (son of Harmen) van Rijn Johannes Vermeer
Pierre Auguste Renoir Claude Monet: Impressionist PainterFree Illustrations
2Ki 12:12-And to masons, and hewers of stone, and to buy timber and hewed stone to repair the breaches of the house of the LORD, and for all that was laid out for the house to repair it.
Isa 58:12-And they that shall be of thee shall build the old waste places: thou shalt raise up the foundations of many generations; and thou shalt be called, The repairer of the breach, The restorer of paths to dwell in.
LINKS
Skylark Studio
But the Stone that struck the image became a great mountain and filled the whole earth. (Daniel 2:35)
Main
Back
Page 6
Email: adazio@lycos.com