As an artisan in dimensional stone for over 30 years, Tom Campbell is a specialist in the stone trade. He has created everything from pieces of fine art furniture to counter tops of marble and granite. He is a master craftsman in his trade.
From ancient times and civilizations, natural stone has proven the most enduring of all building materials. The formation process of natural stone began deep in the heart of the earth, where a combination of heat and pressure created blocks of natural stone including the following types:
Granite-Originates as molten magma that cools into granite deep in the heart of the earth. Quarried from the mountains of Brazil, Italy, India, Portugal and beyond. Contains silicates, feldspar, quarts and mica. It's durability and longevity make it ideal for kitchen counter tops, high traffic areas of floors or highly used tabletop surfaces.
Marble-Formed from limestone as the recrystallization process occurs deep within the earth's surface. Shades range in color from creamy neutrals to warm earth tones. Onyx-Found in limestone caves, is formed developes into quarts crystals that fuse into layers of natural stone. Beautiful, translucent, can remain unpolished with a honed finish. Frequently used for fireplace surrounds, bar tops, kitchen islands.
Serpentine-Ranging in color from dark to light green with brilliant light veining. Famous localities in which this stone is found include Cornwall, England; the Antigorio Valley, Piedmont, Italy; Mount Olympus, and Cyprus. Serpentine rocks and basalts in the central zone of the Appalachian Mts of the eastern United States represent sutures of old oceanic crust, known as ophiolites, crushed between colliding continents. Essentially all lower crust and upper mantle rocks recovered from the mid-ocean ridges have been serpentinized to some degree by reaction with seawater.
Serpentine rocks are classified as common serpentine and precious serpentine, the common serpentine being darker, less translucent, and sometimes impure. Serpentine is sometimes used as a gem and the massive varieties are quarried. Used like marble for decorative purposes, when serpentine is mixed with calcite, dolomite, or magnesite, a mottled or veined rock called verd antique is produced, although the masses are frequently jointed and only small slabs can be secured. Travertine-A variety of limestone formed along streambeds, mineral springs, partularly hotsprings and waterfalls. It is formed by a process of rapid precipitation of calcium carbonate, often at the mouth of a hot spring or in a limestone cave. Trivoli Italy contains extensive deposits. The Roman Coosseum is constructed of it.
Soapstone Metamorphic rock comprised of quartz, muscovite, talc, and clorite. Sandstone-a sedimentary rock composed mainly of sand-sized minerals or rock grains. Most sandstone is composed of quartz and/or feldspar because these are the most common minerals in the Earth's crust. Like sand, sandstone may be any color, but the most common colors are tan, brown, yellow, red, gray and white. Since sandstone beds often form highly visible cliffs and other topographic features, certain colors of sandstone have been strongly identified with certain regions.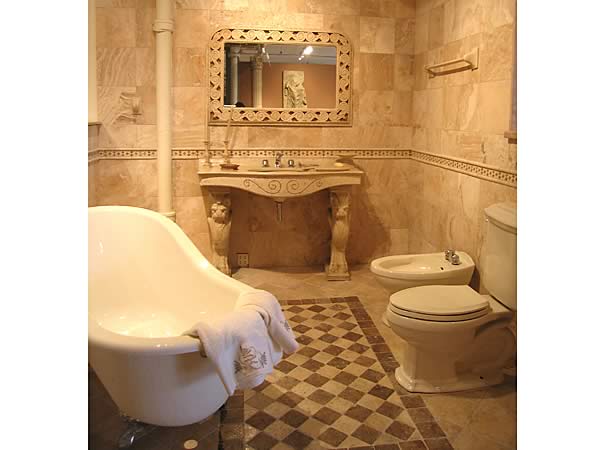 Quartzite-Metamorphic rock which was originally sandstone. Sandstone is converted into quartzite through heating and pressure usually related to tectonic compression within orogenic belts. Pure quartzite is usually white to grey, though quartzites often occur in various shades of pink and red due to varying amounts of iron oxide.
Quartzite deposits can be found in Brazil, Spain, India, Turkey and Greenland. Limestone-A sedimentary rock that forms near waterways and can be found, although rarely, where ancient bodies of water used to be. This is because limestone is typically made of calcium that comes from marine creatures. Found in such countries as France, England, Sweden, the US, Canada and hong Kong. Limestone is comprised of the mineral calcite, and embedded with shells and fossils of sea creatures. It is easily carved, yet durable. Used kitchen islands, range hoods, vanities and countertops, flooring, walls and sinks.
With over 30 years experience in every aspect of the stone trade, including field measuring, templating, stone restoration, fabrication and installation of marble, granite, limestone, onyx, soapstone, and travertine, Silestone, Caesarstone, slate counter tops, cooktop cutouts, backsplashes, tub decks, bath vanities, tub and shower surrounds, fireplace surrounds, stone fireplace mantles, stone furniture such as mammoth marble and granite board meeting tables, marble or granite desk tops, jewelry store counters, attorney office counters, State Capital Building stone restoration, marble and granite statue bases, thresholds, marble baseboards, stone stairs, various types of stone flooring and refinishing, terrazzo floor repair, and in general the basic routine maintenence which keeps stone's ages-old quality and appeal, Tom brings to his trade a well-spring of experience which can be highly trusted. Due to his expertise in the trade, he is frequently called upon for consultation by builders, architects and other professionals, as well as homeowners.
Trained in his craft by highly skilled Italian stone craftsmen in the centuries old methods of natural stone fabrication using exotic materials cut from the stone quarries around the world such as The Americas, Italy, Spain, France, Mexico, India, Portugal, and Israel to beautify and increase the value of the homes and businesses of America. Tom experiences satisfaction in producing workmanship of the highest caliber. The slabs of these marvellous natural stones have names such as:
Arabescato Calacatta
Botticino
Rosso Levanto and
Rosa Norvegia (Norwegian Rose)
As a journeyman fabricator and installer, Tom was invited by the Bricklayers Local No 2, of which he's been a long time member; to train apprentices for the union at the South Seattle Community College for several years. His students drove from as far away as Montana for his twice a month class.
Tom's work includes consultation with estimators, sales people in the trade, architects, designers, specifiers, construction professionals & other purchasers of stone. The company owns the business park, and has recently started a cabinetry business to coincide with stone work. It's located in the same business park as the showroom.
For more information on stone fabrication, and routine maintenance
Skylark Art Studio Newsletter