Grand Champions
The Most Beautiful Horses in the World!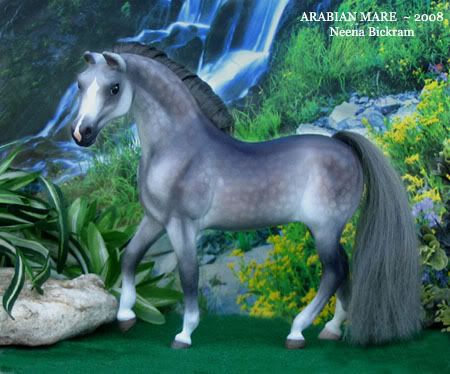 Welcome to the Grand Champions ID Site!
Wow! The Grand Champion ID Site
has been visited over ONE MILLION TIMES! Thanks for all your support over the years, here's looking forward to 1,000,000 more!
This site has been created by Grand Champion fanciers, for Grand Champions fanciers! On these pages you will find a near-complete guide to all Grand Champion Horses that have been produced over the years. It is a labour of love, a way to give something back to the wonderful horses who had shared my childhood. This site is always growing and expanding, so check back often for all the new features!
The Grand Champion ID Site could not have been made possible without the help of the people at Mutiny Bay Enterprises, who provided pictures from old catalogs that grace the pages of this site. And, most of all, it's the help of people like you, who have been filling in the gaps and providing insight from the very beginning. Couldn't have done it without you!
If anyone has more pictures or information about the Grand Champions they would like to see added to the site, please e-mail me :) Credit will be given to everyone.
As always, most of the pictures form this site can be taken and used for your own site, but please ask first! And do remember to give credit with a link back to the site :) The pictures used have come from a variety of different sources, including my own collection of horses and back card, catalogs, and other collector's albums. Remember to thank them!
Some common questions answered: GC FAQ

And should you want to know more about me... About the Author
Please note that the horses pictured in the following galleries are NOT available for sale.
And now, the Horses!

What are Grand Champions? - A Brief History
Other Points of Interest: GC Creations - A Gallery of Custom GC Horses ~ NEW Horses Added 07/06/08 ~
The Grand Champion Photo Show
An event where collectors get to show off their collection and creativity.
The show is currently looking for staff to help run it; please email me for information.
GC Cleaning Tips - Helpful tips and hints to make your horse look his best :)
Boxed In - A little gallery of horses still in package :)

In Progress: Names and Breeds - a handy text list

In Progress: Model by Pose ID - A list of horses sorted by pose for easy identification.
Important Note: Currently Alpha International - the parent company of Empire Toys, who owns Grand Champions - is on and indeterminate hiatus. Because of this, production of the line has been put on hold since spring 2007. That means no *new* Grand Champion Toys will be appearing on store shelves anytime soon. The Blue Ribbon Program has remained unaffected by this so far. I am unsure what affect this has on Revell Toys (which manages the Grand Champions brand overseas) but it appears supply has dwindled in the European countries too.
We are all hoping that Grand Champions will be back in production and in a store near you some time in near future; more information will be posted as it is known.
ONE MILLION people have visited us so far!
See how many more have visited:
Places to BUY GC Horses: North America
Birdsong Collectables
A great US-based online store that has all the latest Grand Champion horses and ships world wide! Plus lots of other great horsey stuff, too.
Farm Goods For Kids
This is an online store that always has a selection of Grand Champions, plus many other great toys.
Ebay: Online Auctions
It's true that you can find anything on Ebay, and Grand Champions are no exception! Just plug in what you're looking for into the search engine, and away you go!

Places to BUY Horses: UK and Europe
SP Models
Offers a nice, current selection of UK & European models.
MyToys.com
This site is in German.

Collector's Websites:
Grand Champion Collectors
A terrific E-group for people who love GC! Come join and meet other collectors!
(You can find many GC Mailing Lists simply by searching Yahoo! Clubs & Groups.)
The Grand Champion Hitching Post
A message board to where you can talk with other collectors, ask questions, buy, sell and trade horse, and lots more!
Blue Paradise Stables
A GREAT site filled with wonderfully witty commentary on all your favorite GC Horses, not to mention EXCELLENT pictures. Everything you wanted to know about horses '96 to now and then some; it's a riot!
Everlasting Acers
This site has tonnes of pictures - if you're looking for a picture of an actual GC Horse, it's probably in here. Not to mention albums for all her Breyer & Stone modles, too :)
Bar-None Stables
Home of the Micro Mini guru, have a visit and don't forget to look at her beautiful Stablemate customs :)
Pegasus Farms
An avid Grand Champion & Breyer collector, a personal site with lots of pictures :)
Kicking Spur Collectable Horses
A Grand Champion sight, with pictures to see, stories to read, and more!

More Horse Links:
The Model Horse Gallery
Thousands of pictures of all kinds of beautiful horses, well organized and easy to use!
Model Horse Central
More model horse links then you can swish a tail at. Seriously, over 1000+ links!
Cayuse Ranch ~ Spanish Mustangs
Real horses, and among the most beautiful in the world! Don't beleive me? *G* Check out the site - and I dare you to find just *one* horse in the herd who isn't the most stunning grulla, appaloosa, or paint!
The Colourful World of Paints & Pintos
All about mapping, genetics, and of course, with great pictures. A very good artist's reference. This article was recently revised with some new pictures, directed more towards actual horses then models. Check out Part II for new tidbits :)
Identify Your Breyer
A very solid site with lots of pictures, and easy reference format.
Breyer Horses Acording to Ponylagoon
Another excelent site with a variety of searching methods for quick finds.
Peter Stone Reference Site
THE place to identify your Stone model, or drool over the pretty pictures. Very easy to use, tonnes of pictures!
MH$P: Model Horse Sales Page
The BIGGEST model horse sales page around! Veiw adds, or post your own - it's free! (picture hosting available for a small fee). Come in, get lost, and buy horses.
MODEL HORSE BLAB
THE PLACE on the internet to meet other collectors, learn about the hobby, get plenty of helpfull tips and tricks on customizing projects, and generally hanging out with model horsey people. This site is availble by subscription for extended features.
Ponytopia
A Great My Little Pony site, with a supburb links page and daily updates about the lates pony news!
Email Me!
Places to Visit:
Whimsy's Place of My Little Pony
The Fashion Star Filly's Paddock