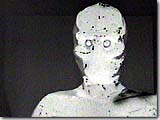 Each week would also bring what series producers took to calling a "bear," their code name for the (usually) anthropomorphic monster that would rear its not-so-comely head every episode, courtesy of makeup supervisor Fred B. Phillips (who also handled makeup chores on the original Star Trek series). From the arachnid-like aliens in The Zanti Misfits to a horribly bug-eyed Warren Oates in The Mutant, each of Phillips' creations made an indelible impression in the mind of anyone who watched — exactly what the network brass at ABC wanted obviously, since they began to insist on having a monster parade through each episode. That, plus the accomplished special effects from Projects Unlimited (the FX company led by Oscar®-nominated Seven Faces of Dr. Lao and When Dinosaurs Ruled the Earth effects supervisors Jim Danforth, Paul LeBaron, and Ralph Rodine), helped disguise the fact that the series was produced on a relatively low-budget.

Beautiful black & white photography from cinematographers like Conrad Hall (an Oscar

®-winner for 1969's Butch Cassidy and the Sundance Kid and a nominee for 1967's In Cold Blood, among a few others) and John Nickolaus (Roger Corman's The Terror) also added immeasurably to the show's effectiveness. Nevertheless, from the time of its first airing to its last episode, the show never got the critical acclaim that it deserved, its thunder consistently stolen by Rod Serling's Twilight Zone series, which stood as an obvious "OL" influence, but which didn't always sport the horrific and sometimes even artsy bent that "OL" often had in spades (One big problem: the inclusion of "monsters" also made "OL" seem sillier and not as prestigious as its Serling-produced counterpart).

But, obviously, the "OL" scripts were more than pointless exercises in sci-fi goofiness, for they attracted a slew of notable guest stars, among them Martin Landau, William Shatner, Cliff Robertson, Sally Kellerman, Martin Sheen, Bruce Dern, Carroll O'Connor, Chita Rivera, Gloria Grahame, Nick Adams, Vera Miles, Robert Duvall, Eddie Albert, David McCallum, Adam West of Batman fame, Jill Hayworth, and James Doohan of Star Trek.

THE OUTER LIMITS may have been short-lived (in its second season, ABC programmed it against the CBS hit The Jackie Gleason Show, which killed its chances for everlasting success), but it was the writers and the producers penchant for pushing the boundaries of imagination that has kept viewers and fans returning to the series almost 35 years after it was first aired.

It was announced in 2003 that "the realm of the weird will no longer be confined to the small screen. Working with Trilogy Entertainment, along with producers Mark Victor and Michael Grais, MGM plans to give The Outer Limits the big screen treatment. The film will be produced by Victor & Grais, along with Pen Densham, Mark Stern, Guy McElwaine and John Watson. Mark Skelly will executive produce."

newer (color) episodes on the SYFY's Chiller TV Channel Sorry, Chiller TV does not want anyone to see it's schedule anymore more than one day at a time


~~~~~~~~~~~~~~~~~~~~~~~~~~~~~~~~~~~~~~~~~~~~~~~~~~~~~~~~~~~~~~~~~~
    No episodes scheduled for SYFY, though some might be on Chiller TV
Most previous 1960s eps scheduled on the SciFi Channel, a marathon last March 2009:
03/30/2009 OUTER LIMTS (1960s eps) marathon
           08:00 AM  THE ARCHITECTS OF FEAR     
           09:00 AM  THE INVISIBLES     
           10:00 AM  THE BELLERO SHIELD     
           11:00 AM  A FEASIBILITY STUDY 
           12:00 PM  THE FORMS OF THINGS UNKNOWN 
           01:00 PM  DEMON WITH A GLASS HAND by Harlan Ellison  
           02:00 PM  THE INHERITORS - PART 1     
           03:00 PM  THE INHERITORS - PART 2     
 9/8/2010  OUTER LIMITS MARATHON:
Sep 8 08:00 AM  The Beholder 
Sep 8 09:00 AM  Seeds Of Destruction 
Sep 8 10:00 AM  Simon Says 
Sep 8 11:00 AM  Stasis 
Sep 8 12:00 PM  Down To Earth 
Sep 8 01:00 PM  The Inner Child 
Sep 8 02:00 PM  Glitch 
Sep 8 03:00 PM  Decompression 
Showtime sometimes has it's new color eps on one of its various Showtime channels




Watch entire episodes of Outer Limits


Outer Limits, complete seasons 1 to 2 are also available on DVD from Amazon.com - or would you rather take One Step Beyond?

Previous episode titles seen on the SciFi Channel


b/w 1960s episodes seen on TNT in year 2000:


EP#     DATE               EPISODE TITLE 


16 10/28/2000 Controlled Experiment:
A Martian administrator (Barry Morse) journeys to Earth to examine a strange local custom, known as murder.
11 8/23/00 5:00 AM Nightmare

10 8/24/00 5:00 AM Tourist Attraction

1 8/26/00 5:00 AM Galaxy Being

20 8/29/00 5:00 AM The Bellero Shield

30 8/30/00 4:30 AM The Chameleon

Aug. 12, #2 Hundred Days Of The Dragon
To create an impostor for the U.S. president, an Asian uses a serum that alters human form to make a Manchurian candidate.

Aug. 6, #19 The Invisibles

Aug. 5, #26 The Guests
Lovers must decide whether to stay in a strange place and keep eternal youth or to return to their true ages

Aug. 2, #25 The Mutant
A scientist mutated by rainfall on an alien world holds colleagues hostage and demands to return to Earth

July 30, #40 Wolf 359
A scientist (Patrick O'Neal)'s wife (Sara Shane) works to destroy a creature who escaped from a miniature, artificial planet. Additional cast: Dabney Coleman

July 24, Soldier by Harlan Ellison
An ultimate future soldier created only to kill (Michael Ansara) finds himself in the 20th century, and protects Lloyd Nolan from a similar enemy who also came back thru time.
Click here for New Outer Limits episode descriptions on the SciFi Channel (if it's still there)
The original b/w Twilight Zone episodes are also on the Sci-Fi channel.
Episodes of The New Twilight Zone are on TNT irregularly.

Episodes available on video include Harlan Ellison's Demon With A Glass Hand
Return to MonsterVision Home Page or Scifans.com

Official b/w Outer Limits info page on TNT.com (archived version, links may not all work yet)

Every episode of the 1963 series is at the official www.TheOuterLimits.com website at MGM.com

Or would you rather visit the Halloween movies page and check out how many days/hours/minutes it is until midnight October 31?


Email: scifanscom