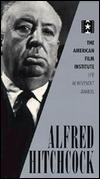 Alfred Hitchcock
TV and movie page
CAUTION: This is not for:
* Sheltered little old ladies who believe all stories must have a happy ending and crime should never pay
* Impressionable children who go into hysterics at the sight of a dead ant (or aunt).
* Big, strong men who would be embarrassed to have their wives see them hiding beneath the bedcovers.
Anyone else who might be offended by Alfred Hitchcock's special brand of menace, murder and un-innocent merriment.
.............. Intro from "Alfred Hitchcock Presents: More Stories Not For The Nervous

...

This is devoted to the great movie director Alfred Hitchcock, also a tv series host and subject of books.
"Witness a murder and catch the killer, watch a blackmailing ring unfold, get inside a secret agency that controls all the governments in the world and the evil agents who work there, a mysterious kidnapping results in a mystery not even the greatest minds can solve, but can a small child?"








See if your favorite person,
TV series or motion picture is
available: video/DVD/books


Alfred Hitchcock was born in London 8-13-99 (died 1980). At a young age, he got a bad report card and his father decided to teach him a lesson. He had a policeman friend put young Alfred in jail overnight, saying this was the punishment for bad grades. Whether the father's motives were good or a practical joke gone wrong, it left Hitchcock with a life-long fear of authority which would become a hallmark of Hitchcock movies. He once commented that in a free society a policeman is the only person who can say "Come here," and you have to go.

At age 19 he went to work for a telegraph company as an electric cable tech estimator while taking art classes at the university of London. In 1920 he began designing titles for the London branch of Lasky (Paramount Studios), and showed an interest in directing. In 1922 the studio changed hands and Hitchcock began working as assistant director, art director and screenwriter on various productions. He was assigned "The Pleasure Garden" as director in 1925, a forgetable melodrama. But it was his third film as director that both Hitchcock and his fans consider the first true Hitchcock film, "The Lodger" (1926), aka "The Case Of Johnathan Drew" (US title). A landlady suspects that Mr. Drew, one of the people in her roominghouse, is actually Jack The Ripper. Drew is an innocent man, but finds himself running from a bloodthirsty mob convinced that he's a killer. The success of "The Lodger" firmly established Hitchcock's theme of a man accused of a crime he didn't commit, in a web of extraordinary events. It was also the first film in which Hitchcock made a cameo (as a corpse; there weren't enough bodies for the scene). The Lodger was remade in 1932 & 1944, then by Hitchcock himself as an American movie in 1954 as "Man In The Attic."
Blackmail (1929)
After a string of mostly forgotten silent films, this was not only Hitch's first sound movie, it was also Britain's first. As with America's first sound movie (The Jazz Singer), it began as a silent film, then scenes had to be redone when the decision was made to use sound. Special effects included the Schufftan Process for a chase scene through halls and across rooftops. Hitch would put similar chase scenes in future films.
Murder! (1930)
An actor (Herbert Marshall) on jury duty tries to prove a condemned woman innocent of murder. Phyllis Konstam, Norah Baring, Edward Chapman. Hitchcock's next few films were forgetable, including a low-budget musical (Waltzes From Vienna/Strauss's Great Waltz). That all changed in 1934.
The Man Who Knew Too Much (1934)
A British couple in Switzerland become involved in international intrigue ending with the rescue of their own daughter. Audiences were introduced to Hitchcockian themes of sudden shock and sinister jeopardy lurking beneath the surface of commonplace serenity. This was Peter Lorre's first Hitchcock film. A huge hit in both Britain and the USA, Hitch later remade it in America in 1956.
The 39 Steps (1935)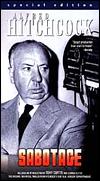 An even bigger success than the previous movie, Hitchcock told Francois Truffant in a book-length interview that starting with this movie, he was more concerned with building emotion and mood than with plausibility and logical story progression. Yet the plot about an innocent man caught in a web of intrigue has hair-raising suspense, romantic and comic relief that heighten tension. A 1978 British-TV remake starred Robert Powell and David Warner (Jack the Ripper in Time After Time and Satan himself in Time Bandits). His next two films didn't do as well: The Secret Agent (based on 3 stories including 2 by Somerset Maugham), and Sabatage (aka The Woman Alone, based on The Secret Agent by Joseph Conrad), that nontheless include many Hitchcockian touches.
Young & Innocent (aka The Girl Was Young, 1937)
Based on a story by Josephine Tey about a young woman who helps an innocent man on the run accused of murder, and helps him find the real killer
The Lady Vanishes (1938)
Last of the great Hitchcock films in England, filled with breezy humorous suspense/action. A baffled young woman can't get anyone on train to believe an elderly lady has disappeared. When she finally gets through the dizzying web of intrigue, the lady is not exactly what she seemed to be. Comic relief by Naunton Wayne and Basil Radford as a pair of English twits was such a hit they went on to play the characters in other British films. Remade in 1979 as a wacky comedy starring Elliott Gould and Cybill Shepherd. As soon as Hitch finished the 1938 film he was signed by producer David O. Selznick to direct movies in the US. Before leaving England, Hitch hurriedly directed one last film, the forgetable "Jamaica Inn" (1939) -- Charles Laughton starred as a Victorian nobleman heading a gang of cutthroats. Remade as a 1985 TV-movie starring Jane Seymour and Patrick McGoohan.
Rebecca (1940)
Hitch took a Daphne du Maurier romance novel and turned it into a creepy moody suspense thriller, winning Hitch the best picture Academy Award and 1940 nomination as Best Director
Foreign Correspondent (1940)
Joel McCrea stars in the title role as a man caught in the middle of a spy ring with innocent Loraine Day and suspicious father (Herbert Marshall). With George Sanders and Robert Benchley as fellow reporters. Script by Bennett & Harrison, dialogue by James Hilton and Benchley.
Mr. & Mrs. Smith (1941)
Comedy (no relation to recent married assassins movie) in which Carole Lombard and Robert Montgomery discover that their marriage wasn't legal. But do they want to make it legal or "stay single?" Bouncy comedy isn't typical for Hitchcock, making it a favorite oddity among some fans. With Gene Raymond, Jack Carson.
Suspicion (1941)
Joan Fontaine stars as a woman who begins to believe her husband is scheming to murder her for her money, which he did (in the original script). But the husband is played by Cary Grant, the studio's biggest star, and the studio threatened to cancel the production if Cary Grant played a killer. Hitch reluctantly changed the ending and was careful to use Cary in future films as innocent characters instead of killers. Joan won the Academy Award for her role. Remade as a TV-movie (1987) starring Jane Curtain of Saturday Night Live.
"The (unauthorized) biography of Hitchcock was absolute nonsense. Hitchcock couldn't have been a nicer fellow.
I whistled coming to work on his films." Cary Grant (Variety, 12-6-83)
Saboteur (1942)
An innocent man accused of sabotaging a U.S. munitions plant during WW2 sets out to find the traitor who framed him in a chase that includes Boulder Dam, Radio City Music Hall, and the Statue of Liberty.
Lots of Hitchcock touches and unusual supporting characters. Final story resolution is "unfortunately abrupt."
Robert Cummings, Priscilla Lane, Norman Lloyd, Otto Kruger, Alan Baxter.
Screenplay by Dorothy Parker, Peter Viertel and Joan Harrison.
No relation to 1936 film "Sabotage."
Shadow of a Doubt (1943)
Uncle Charlie comes to visit relatives in the small town of Santa Rosa, but young girl slowly realizes he's the Merry Widow Murderer, and he slowly realizes that his niece is suspicious. Hitchcock's first serious attempt to create suspense drama through subtle characterization, careful recreation of a small American town, and understated plot. Hitch's personal favorite film. Joseph Cotten, Macdonald Carey, Teresa Wright, Henry Travers, Wallace Ford. Hume Cronyn (Batteries Not Included) steals the show as a nosy pulp-story fan. Remade in 1958 (Step Down To Terror, with a no-star cast and different director), and as a 1991 TV-movie starring Mark Harmon, with Tippi Hedren as one of the victims and a scene borrowed from the finale of Strangers On A Train. No relation to 1998 movie "Shadow Of Doubt" (starring Melanie Griffith as an attorney defending a rap singer).
Lifeboat (1944)
After a Nazi U-boat sinks a ship, eight survivors and a stranded German spend the rest of the film together in a tiny lifeboat. Based on a story by John Steinbeck, only Hitchcock could so successfully keep tension building in such a confined visual space. Tallulah Bankhead plays a spoiled journalist, Walter Slezak the stranded Nazi sailer. William Bendix, Mary Anderson, John Hodiak, Henry Hull, Heather Angel, Hume Cronyn, Canada Lee.
To make the boat rock realistically, it was placed 8 feet above the floor, requiring the actors to climb a ladder up to it each day. Tallulah, who once remarked, "My life is as pure as the driven slush," didn't wear underwear under her dress and fellow actors complained about having to follow her up the ladder. Hitch said he didn't know which Union to send the complaint to: acting, wardrobe, or hair styling. By the way, Hitch makes his cameo as the "before" photo in a diet ad in the newspaper someone in the lifeboat is reading.
"Dead Calm" (1989) tried to replicate Lifeboat's tension, and the sci-fi movie in space "Lifepod" (1993) was a more direct remake, starring and directed by Ron Silver.

During WW2, Hitchcock was one of several directors who volunteered for military service. When the unit he was assigned to document liberated a Nazi deathcamp, he ordered the camerman to set up his tripod in the center of the courtyard a do a 360-degree sweep without stopping, of everything: the buildings and barbed wire fences, the lynched prisoners still hanging from the scaffold, the living walking skeleton prisoners and dead bodies piled carelessly to one side. He did this because he feared that certain people would try to deny that the Holocaust ever happened and wanted a film of the entire scene that could not have been edited.
Bon Voyage (1944)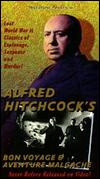 The first of two shorts filmed in French to help the European war effort. In London, an RAF pilot is questioned by the Free French about his escape from German-allied France. He was aided by a Polish agent who was really working for the Gestapo to uncover the French Resistance, so which side is the pilot on? Flashbacks tell the pilot's story from the spy's point of view. 26 minutes. No relation to the 1962 Disney romantic comedy "Bon Voyage."
Adventure Malgache (aka Madagascar Landing, 1944)
This second French short starring the Moliere Players was based on the experiences of actor Clarousse. He was working for the Resistance in Madagascar when he was betrayed and sent to prison by France's pro-German Vichy government. Rescued by the British, he returns to work for the Resistance. 31 minutes, both shorts are usually available on the same video or DVD.
Spellbound (1945)
An amnesia victim (Gregory Peck of The Omen) is accused of murder. A psychiatrist (Ingrid Bergman) slowly uncovers his past with Freudian analysis as she herself falls in love with him. One of Hitch's best films, with a dream sequence personally designed by Salvador Dali.
Story based on "The House of Dr. Edwardes" by Francis Beeding.
Leo G. Carroll, Wallace Ford, Rhonda Fleming, Bill Goodwin. Filmed in black & white, the gunshot was filmed in color for extra shock value.
Notorious (1946)
The government sends beautiful playgirl (Ingrid Bergman) to marry a suspected spy (Claude Rains) in Brazil. A cynical agent (Cary Grant) is sent along to keep an eye on her. Duplicity, guilt and suspense - pure Hitchcock.
No relation to Fritz Lang's "Rancho Notorious" starring Arthur Kennedy as cowboy looking for girlfriend's killer. Along the way he meets Marlene Dietrich, who just may turn out to be the head of the bandit gang he's looking for. Remade as a cable-TV movie in 1992.
The Paradine Case (1947)
Talky courtroom drama set in England, produced & written by David O. Selznick, who spent $70,000 just to reproduce the original Bailey courtroom. Lawyer falls in love with female client accused of murder, but isn't sure she's innocent. Gregory Peck, Charles Laughton, Charles Coburn, Ethel Barrymore, Louis Jourdan, Leo G. Carroll, John Williams, Ann Todd.
Based on a novel by Robert Hichens. The snooze-fest was originally 132 minutes, then edited down to 125, then re-released at 116 minutes. Hitch's final b&w movie. After this, Hitchcock produced as well as directed his own films, essentially firing Selznick as producer. Charles Laughton later starred in the much better "Witness For The Prosecution" (1957, dir. by Billy Wilder, based on an Agatha Christie play), as the lawyer in a British courtroom defending an American (Tyrone Power) accused of murder, with Marlene Dietrich as the German wife of the accused who testifies against him
Rope (1948)
Two gay college students (based on the Leopold-Laeb murder case) kill a friend for kicks and put his body in a trunk. They then throw a party in the friend's honor with the trunk under a buffet table. Film is told in real time, with unedited scenes 10 minutes long (the camera had to be reloaded every 10 minutes). Based on Patrick Hamilton's play, adapted by Hume Cronyn.
James Stewart (his first for Hitchcock), John Dall, Farley Granger, Cedric Hardwicke.
Hitchcock's first color movie, later remade as "Compulsion" (1959, starring Orson Welles, Dean Stockwell, Martin Milner and E.G. Marshall) and again in 1992 as "Swoon" (a low budget film, ironically in b&w).
"I've never seen Hitchcock look through a camera; some directors never stop." James Stewart (Variety, October 1983)
Under Capricorn (1949)
Stuffy British costume melodrama set in 1830s. Ingrid Bergman is the neglected Irish(?) wife of convict husband Joseph Cotten, who's making his fortune in Australia. Housekeeper has designs on husband, when Bergman's cousin (Michael Wilding) comes to visit. Only Margaret Leighton (in a supporting role) is interesting, otherwise a dud. Remade in 1982 with an all-Australian cast (it didn't help).
Stage Fright (1950)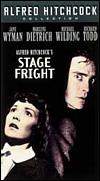 Filmed in England with a British supporting cast. Drama student (Jane Wyman) is trying to clear boyfriend accused of murdering the husband of an actress (Marlene Dietrich, who sings "The Laziest Gal In Town"). Disguised as a maid, Wyman falls in love with the detective and discovers her friend was guilty afterall. Film was another dud.
Hitch returned to America and didn't make another British film until 1971.
Strangers On A Train (1951)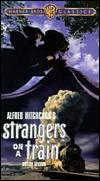 Two passengers (Farley Granger, Robert Walker) chat about murder. Walker wants to kill dad for his money; Granger could marry a Senator's daughter (Ruth Roman) if his wife were dead. Granger's kidding, Walker's not. Tension builds to the classic "carousel scene." Mystery writer Raymond Chandler adapted the story from Patricia Highsmith's novel. American version is two minutes shorter than British version and has a different ending. Marion Lorne, E.G. Marshall. Patricia Hitchcock, Alfred's only child, plays Roman's sister. Remade as "Once You Kiss A Stranger" (1969) and inspiration for Throw Momma From The Train (1987) starring Billy Crystal, Danny DeVito and Anne Ramsey, directed by DeVito.
I Confess (1953)
A killer (O.E. Hasse) confesses murder to priest (Montgomery Clift) in Confessional, who can tell no one even when he himself becomes a suspect. No chase scenes, little suspense and not much interest. Anne Baxter, Karl Malden. Filmed in Quebec. British/Canadian remake "Le Confessionale" set in 1952 when first movie is being made, with all-French Canadian cast.
Rear Window (1954)
One of Hitch's best and best known. A news photographer (Jimmy Stewart) is stuck at home with a broken leg, in a wheelchair. To pass the time, he watches neighbors in apartment building across the alley. When no one believes he saw a possible murder, he sets out to solve it himself with help from his beautiful girlfriend (Grace Kelly) and personal nurse (Thelma Ritter). There's just one problem: the white-haired killer (Raymond Burr) has figured out that Stewart may have seen him do it. Remade in 1998 by Christopher Reeve as a TV-movie three years after an accident put him in a real wheelchair, with Daryl Hannah in the Grace Kelly role. From a story by Cornell Woolrich. Jimmy Stewart made "Rear Window" while starring in the Western radio series "The Six Shooter" (it lasted one season and had no sponsor because Stewart refused to let a cigarette company, Chesterfields, sponsor anything he was in). Stewart was even better known for Western movies
Dial M for Murder (1954)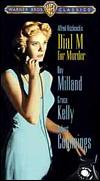 Based on a suspense play of a man plotting wife's murder. It seems that all of Ray Milland's money is from his marriage to Grace Kelly. Now, the unfaithful cad wants to kill her before she leaves him (he thinks) for a writer (Robert Cummings). But as he's working on his elaberate plans, she accidentally stabs him with scissors. The Chief Inspector (British actor John Williams, no relation to the orchestra composer/director) quickly determines that it was an accident but also begins to suspect Ray, who's having a hard time playing the innocent victim. Filmed in 3-d, remade in 1981 as a TV-movie (Angie Dickinson, Christopher Plummer) and in 1998 as "A Perfect Murder" (the original play's title) starring Michael Douglas and Gwyneth Paltrow.
To Catch A Thief (1955)
Cary Grant returns in a Hitchcockian plot as an innocent man suspected in a string of robberies on the French Riviera. Complicating things is the fact that he used to be a jewel thief before he reformed. A wealthy American (Grace Kelly) likes him, but has he really reformed? While filming, Grace Kelly fell in love with Prince Rainier and eventually left acting to marry him. She had been Hitch's favorite actress. He once said, "Blondes are the best victims. They're like virgin snow which shows up the bloody footprints." (Sunday Times, 9-1-73).
TV-series "It Takes A Thief" (1968-70) starred Robert Wagner as a paroled jewel thief hired to steal stuff for a government agency. Fred Astaire joined the cast the second season as his refined jewel-thief father inspired by the Cary Grant role.
The Trouble With Harry (1955)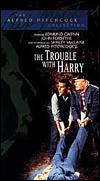 Hitchcock once commented that suspense thrillers and comedy are similar in that they both depend on surprise. In this comedy, Harry is a dead body on a woodland path, discovered by one person after another in a sort of dark version of Candid Camera. Did Harry die of natural causes or was he murdered? No one wants to stick around long enough to find out. When a little boy reports the body, it causes all kinds of problems. Edmund Gwenn, John Forsythe, Mildred Dunnock, Mildred Natwick. Shirley MacLaine has a bit part, her first movie.
Bernard Herrman's first musical score for Hitchcock, he believed a score written for a movie should be unique and never used the same score twice.
Two years later the little boy (Jerry Mathers) would be starring in the TV-sitcom "Leave It To Beaver" (1957-63).
The Man Who Knew Too Much (1956)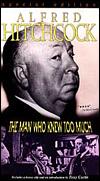 Hitch's American remake of his 1934 film has an American (Jimmy Stewart) vacationing in Marrakech with his family. They become involved in kidnapping, intrigue and murder. While Jimmy is looking for his kidnapped boy, Doris Day sings "Que Sera, Sera." More lavish, color settings than the original, but some Hitchcock fans prefer the 1934 version. Carolyn Jones, Bernard Miles, music score by Herrman. Spoofed by Bill Murray in "The Man Who Knew Too Little" (1997), though Leonard Maltin says script is so bad that title is funnier than anything Murray gets to say as the tourist involved with intrigue in England.
The Wrong Man (1957)
Hitchcock film done documentary style, as a musician (Henry Fonda, playing real-life bass player Manny Balestrero) is accused of robbery and watches his life be destroyed and his wife (Vera Miles) crack up. Nehemiah Persoff, Anthony Quayle.
No relation to cable-TV movie "The Wrong Man" (1993, John Lithgow, Rosanna Arquette), or "The Wrong Guy" (1996 comedy, Dave Foley, Joe Flaherty).
Vertigo (1958)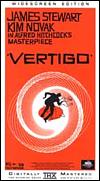 Good to the last drop. Classic Hitchcock movie starts off with a bang. San Francisco cops are chasing a bad guy across rooftops when one cop slips. Hanging onto the rain gutter far above the ground, he reaches out to detective Jimmy Stewart but Stewart, due to a bad case of vertigo, can't reach him. The cop falls to his death in the street below.
Off the police force, Jimmy becomes a private detective. He's hired by a man to follow around his suicidal wife. Jimmy begins falling in love with her and they drive up the coast through the big trees to visit one of the old Spanish missions. She scampers up the bell tower steps and when he's afraid to follow, plunges to her death off the top. Back in San Francisco, again unemployed, Jimmy spots her exact double. He can't believe it, and begins shadowing her. He's as stunned as the audience when he discovers that...
Kim Novak, Barbara Bel Geddes, Ellen Corby, Henry Jones. Betcha can't watch this movie only once. Click here to hear Herrman's themesong for Vertigo again. Spoofed by Mel Brooks movie "High Anxiety" (1977) which also spoofed Psycho, Spellbound, The Birds, and One Flew Over The Cuckoo's Nest (with Cloris Leachman of Young Frankenstein as Nurse Ratchet). The same year Stewart made another movie with Kim Novak (as a modern witch, in "Bell, Book & Candle")
North By Northwest (1959)
An innocent businessman (Cary Grant) is visiting the new United Nations building in New York when someone in the crowded lobby is assassinated. Soon he is on the run cross-country from spies who think he's a double agent, cops who think he's a murderer, and men in black from Washington who may or may not be on his side. Walking on a deserted highway, a cropduster plane comes closer and closer behind him. Then he realizes it's after him. He meets a woman on a train (Eva Marie Saint) who tries to help. They end up in a modernistic hillside house on poles in the desert, and make a visit to Mount Rushmore that may be their last-- hanging over the edge by fingertips. James Mason, Leo G. Carroll, Edward Platt, Martin Landau (as one of the more psychotic men in black, who follows them up Mount Rushmore; his first major film role) 137 minutes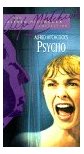 Based on Robert Bloch's novel which was based on a real killer (which also inspired The Texas Chainsaw Massacre), Hitchcock broke all the rules. Setting up Janet Leigh (of Halloween H20) as the movie's star (an embezzler who stops at a remote motel for the night), she's killed early on by the young psycho (Tony Perkins) who runs the place with his unseen mother. Soon a detective (Martin Balsam) and a woman who says she's Janet's sister (Vera Miles) come around--only one will survive.
John Gavin, John McIntire, Simon Oakland, Ted Knight, John Anderson, Frank Albertson, Pat Hitchcock.
Remade scene-by-scene in 1998. Psycho sequels included "The Bates Motel." Hitchcock starred in the movie trailer promoting the film, conducting the audience through the Bates Motel and Victorian house where "it" happened (Hitch shudders as he thinks of it, before continuing the tour).
"On Psycho, if things ever got tense, he'd stop production for five minutes and say "Please remember--we're supposed to be enjoying ourselves." Tony Perkins (L.A. Times, 4-28-85)
Hitchcock spent an entire day listening to a sound effects man stab everything from a head of lettuce to various mellons until he heard one he liked for the shower scene.
"Psycho gave me very wrinkled skin. I was in that shower for seven days, 70 setups. At least, he made sure the water was warm." Janet Leigh (Film Yearbook, 1988)

The Birds (1963)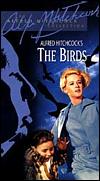 After creating the slasher film genre with Psycho, this one rewrote the book on films where nature goes berserk. Why are the birds in a small coastal town suddenly attacking people? Is it something in the food? The water? A sign of the apocalypse? The scene where more and more birds gather on the playground behind Tippi Hedren still creeps some people out when they see lots of wild birds sitting together. The beseiged farmhouse of Night Of The Living Dead (1968) also reminds me a bit of the final scenes in which they are barricaded inside and The Birds are ripping away the walls and roof trying to get at the people inside.
Based on a short story by Daphne Du Maurier. Rod Taylor (the Time Machine), Jessica Tandy, Veronica Cartwright, Suzanne Pleshette, Morgan Brittany. TV-movie sequel directed by Alan Smithee in 1994 had none of the same stars except Tippi Hedren.
MonsterVision's Joe Bob Briggs chatted about it with in-studio guest Tippi Hedren and said this is one of those movies that everyone seems to have a different theory about-- MonsterVision review and host segments for The Birds

Not a Hitchcock film, though directed in that style by Stanley Donen (Arabesque, Saturn 3, Singin' In The Rain). Cary Grant is a mysterious stranger in Paris who offers to help widow Audrey Hepburn. A government man (Walter Matthau) tells her in his U.S. Embassy office that her husband and three other men stole a quarter of a million dollars during World War 2 intended for an operation to expose Nazi spies. The government wants it back and thinks she has it. So do the bad guys. One is a grinning killer (James Coburn), the second is an angry psycho (George Kennedy) who lost his hand to torture and now uses the hook it was replaced with as a weapon. The third partner in crime just might be Cary Grant, and he does seem to have a relationship of some kind with the first two.
Marnie (1964)
A thief (Tippi Hedren) goes to work for Sean Connery, who marries her and tries to figure out why she steals. Not a hit at the time, this one has gotten more and more popular over the years. Bruce Dern, Mariette Hartley and Melody Scott Thomas have small roles. Sean Connery had only made two James Bond 007 movies and was not yet typecast as the superspy.
Torn Curtain (1966)
Political thriller about scientist (Paul Newman of Towering Inferno) pretending to defect to East Germany in order to find out Communist Russian missile secrets. His fiance doesn't know it's pretend and follows him, then they both try to get back from the Iron Curtain. Story is not up to Hitch's usual standard and Julie Andrews was not his first choice for leading lady in it. "You start with the compromise of casting. They say: What about Julie Andrews? I say: Fine, if you want her. "Well, she's the hottest thing there is." And that's how she came to be in Torn Curtain. Then, you start fixing things up to accommodate Julie Andrews." Alfred Hitchcock, 4-21-66
Music was not by Herrmann this time.
Topaz (1969)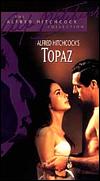 CIA agent (John Forsythe) teams up with French agent to find out what Russia's up to in Cuba. Whirlwind plot and intrigue level better than Torn Curtain, but still not classic Hitchcock. Laserdisc includes two alternate endings filmed by Hitchcock, possibly also on DVD. John Vernon, Frederick Stafford, Roscoe Lee Browne. Based on best-selling novel by Leon Uris. No relation to 1933 movie Topaze (starring John Barrymore and Myrna Loy).
Frenzy (1972)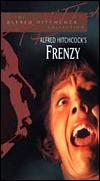 Hitchcock went all out with R-rated sex and violence in this one. Set in the late 1960s, Jon Finch plays an innocent man convicted of stalking and killing women in London. He breaks out of prison to find the real killer while Alec McGowen as the police inspector is charged with tracking him down. No relation to 1946 movie "Frenzy," in which mad sculpter kills his unfaithful wife and seals her inside statue.
Family Plot (1976)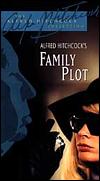 Hitchcock's final movie is this tongue-in-cheek mystery in which a phony psychic (Barbara Harris) gets involved with a diamond theft and a murder plot by evil William Devane.
Hitch's 54th film is a bit too goofy for some fans, but still worth a look.
Bruce Dern, Karen Black, Katherine Helmond.
Music by John Williams (not the British actor in previous Hitchcock movies and his TV-series)

Click here to see if any Hitchcock movies are scheduled this month on Turner Classic Movies, or on American Movie Classics. They also show on various Starz and Encore channels



Alfred Hitchcock Presents: The Glass Eye

William Shatner (uncredited) intros this episode about a woman (Jessica Tandy) who finds out why a ventriloquist's dummy seems so real


Alfred Hitchcock broadcasts in 2007, times shown for TCM and FMC (Fox Movie Channel) are EST



--------------------------------------------------------------------------------


Date & Time   Channel   Title  



Previous Broadcasts:


The 39 Steps (1935) BW 
Tue  Aug 14  12:00A on Mystery

The Birds (1963)
Mon  Sep 17  08:00P on AMC (American Movie Classics)

Dial M for Murder (1954, Ray Milland, Grace Kelly)
Mon  Sep 17  03:15P on American Movie Classics

Family Plot (1976, Karen Black, Bruce Dern, William Devane, Katherine Helmond)
Fri  Sep 21  10:15P on American Movie Classics

Frenzy (1972) 
Thu  Sep 20  02:15P on American Movie Classics

Jamaica Inn (1939, BW) 
Fri  Aug 17  5am/8am EST on TCM (Turner Classic Movies)

Lifeboat (1944)
Fri  Sep  7  12:10P on Thrillermax
Thu  Sep 13  04:50A on More Max

The Man Who Knew Too Much (1956) 
Thu  Sep 20  07:30P on American Movie Classics
  
Marnie (1964) 
Wed  Sep 19  08:00P on American Movie Classics
Fri  Sep 28  09:15A on American Movie Classics

Murder! (1930, Herbert Marshall)
Sat  Sep  8  3am/6am EST on Turner Classic Movies

North by Northwest (1959)
Sun  Sep 23  9am/12pm EST on Turner Classic Movies

Notorious (1946, BW) 
Sun  Sep  2  06:05A on Mystery

The Paradine Case (1947, BW) 
Mon  Aug 13  06:00P on Mystery

Psycho (1960, BW) 
Sat  Sep 22  08:00P & 8:30A on American Movie Classics
  
Rear Window (1954) 
Sun  Sep 16  08:00P on American Movie Classics

Rebecca (1940)
Sat  Aug 11  06:30A on Encore Love Stories
Sat  Sep  8  12:00A on Mystery
Sat  Sep  8  01:00A on Movie Plex

Rope (1948, James Stewart, Farley Granger)
Mon  Sep 17  10:30P on American Movie Classics

Saboteur (1942, BW) 
Tue  Sep 18  10:45P on American Movie Classics

Shadow of a Doubt (1943) 
Tue  Jul 24  08:00A on Mystery
 
Spellbound (1945) BW 
Mon  Aug 13  06:40A & 4pm on Mystery

Stage Fright (1950, BW)
Wed  Sep 12  06:10A on Cinemax

Suspicion (1941, Cary Grant)
Tue  Sep 18  06:15P on Turner Classic Movies

To Catch a Thief (1955, Cary Grant, Grace Kelly)
Tue  Sep 25  06:00P on Turner Classic Movies

Topaz (1969)
Fri  Jun 29  05:00A & 6:50P on Movie Plex
  
Torn Curtain (1966)
Fri  Sep 21  05:15P on American Movie Classics

The Trouble with Harry (1955)
Fri  Sep 21  08:00P on American Movie Classics

Vertigo (1958)
Sat  Sep 22  05:15P & 1:00A on American Movie Classics

Dial "H" for Hitchcock (1999, 135 minutes)
profile includes clips from his films and comments by Robert Altman, Wes Craven, Curtis Hanson
Tue  Aug 14  06:30A on American Movie Classics

Dead Famous: Ghostly Encounters (2004, 60 min) Alfred Hitchcock's haunts are visited:
the schoolhouse from the "The Birds"; a San Francisco hotel from the "Vertigo." 
Sun  Jul 15  11:00P & 3:00A on Biography Channel

Notorious: Serial killer Ed Gein, the inspiration for "Psycho" profiled. 2004, 60 min.
Mon  Jul 23  08:00P & 12:00A on Biography Channel

Alfred Hitchcock Presents is sometimes scheduled on TV Land channel

ALFRED HITCHCOCK PRESENTS / THE ALFRED HITCHCOCK HOUR

Alfred Hitchcock, who had been directing films for three decades by 1955, entered television that fall as host of a half-hour anthology series of mysteries and melodramas. At the beginning of each episode Hitchcock's silhouette was seen filling the famous line drawing of his profile. The camera would then pan to Hitchcock himself, who would introduce the evening's story with a few well-chosen witty remarks; the set on which he appeared either bore a connection to the plot or was a spoof of a popular commercial. The opening remarks (which were filmed in French and German as well as English) typically ended with a barb at the sponsor; all were written by James Allardice. After the inevitable commercial, the episode ran.

Suspense and surprise endings were the trademarks of the series. Hitchcock reappeared at the end of each show, sometimes to tie up loose ends, sometimes to assure viewers that the killer had been apprehended ("a necessary gesture to morality," as Hitchcock told TV Guide). In 1962 the show returned to CBS, expanded to one hour, and was retitled The Alfred Hitchcock Hour. Although Hitchcock hosted every episode, he directed only twenty of the several hundred shows. Between 1957 and 1959 several episodes were directed by Robert Altman, who went on to direct such notable films as M*A*S*H and Nashville.
Among the many stars who made multiple appearances over the ten-year run of the series were Barbara Baxley (six appearances), Barbara Bel Geddes (four), Pat Collinge (six), Mildred Dunnock (four), Robert H. Harris (eight), Paul Hartman (five), Robert Horton (five), Henry Jones (four), Brian Keith (five), Hugh Marlowe (four), Ralph Meeker (four), Gary Merrill (seven), Claude Rains (four), Gena Rowlands (four), Phyllis Thaxter (eight), Cara Williams (four), and Dick York of Bewitched (five). Other notable guest appearances included those by Cloris Leachman ("Premonition," 9 October 1955), Joanne Woodward ("Momentum," 24 May 1956), Steve McQueen ("Human Interest Story," 24 May 1959; Peter Lorre ("Man from the South," 3 January 1960), Michael J. Pollard ("Anniversary Gift," 1 November 1959, his first major TV role), Dick Van Dyke ("Craig's Will," 6 March 1960), Judy Canova ("Party Line," 29 May 1960, her first TV dramatic appearance), Robert Redford ("The Right Kind of Medicine," 19 December 1961; "A Piece of the Action," 20 September 1962), Katharine Ross ("The Dividing Wall," 6 December 1963), and Peter Fonda ("The Return of Verge Likens," 5 October 1964).
One episode, "The Sorcerer's Apprentice," included in the syndicated package of reruns, was never shown on network television. It featured Brandon De Wilde as a retarded youngster who, after watching a magician, accidentally sawed someone in half; the network felt that Hitchcock's concluding remarks were insufficient to "save" the show for network broadcast.
2 October 1955 - 25 September 1960 (CBS)
27 September 1960 - 18 September 1962 (NBC)
20 September 1962 - 18 September 1964 (CBS)
5 October 1964 - 6 September 1965 (NBC)
The series was brought back (29 September 1985 - 20 July 1986) by NBC, and USA (1987 - 1988)
Surely Alfred Hitchcock would have been morbidly pleased to know that, five years after his death, he would return to television. On this half-hour mystery anthology series colorized versions of Hitchcock's introductions and conclusions from his old series were now wrapped around new stories, some of which were remakes of original Hitchcock shows. The show was given the go-ahead following the 5 May 1985 telecast on NBC of a two-hour telefilm which presented four updated classic Hitchcock episodes (together with a colorized Hitchcock): "Incident in a Small Jail,'' with Ned Beatty; "The Man from the South,'' with John Huston, Tippi Hedren (star of Hitchcock's The Birds), and Melanie Griffith (Hedren's daughter); "Bang! You're Dead," with Bianca Rose and Billy Mumy of Lost In Space (who had played the lead in the original telecast); and "An Unlocked Window,'' with Annette O'Toole. New episodes were produced for the USA Cable Network during the 1987-1988 season and rerun through September 1991

Hitchcock was once asked in an interview if it was true that he said actors were cattle. "No. What I said was that actors should be treated as cattle." Hope that clears it up!

Berinthia Berenson Perkins, widow of Anthony Perkins was one of the 3000 people who died on September 11, 2001. She was on American Airlines flight 11. She left a son, Elvis, who says his dad never regreted his role in Psycho. "He never imagined its lasting impact. But I doubt he would have chosen to take it back if he could." Elvis is a songwriter, and his mother was a professional photographer under the name Berinthia Berenson, though she traveled that day using her full name according to the list of names.
Hitchcock episodes on TV Land so far
Hitchcock website on TV Land.com (if it's still there)
Click here to hear the themesong to Hitchcock's Vertigo again
Or here for the TV-series themesong (WAV audio)
Or here for TV-theme as a midi