The Twilight Zone




This page is devoted to Rod Serling and the Twilight Zone, a tv series so popular 3 episodes were remade into a popular motion picture almost 20 years after it left tv, not counting William Shatner's movie Horror At 37000 Feet.
Click here for silent version of this page if you have trouble hearing the TZ themesong (no daily listings)
There have even been books written about Rod Serling and The Twilight Zone.

Rod Serling created & hosted the CBS tv series 10-2-59 to 9-5-65, with the exception of the 1 hour pilot, which was hosted by Desi Arnaz (a story in which the subject kept waking up in a Pearl Harbor waterfront bar on 12-7-41, but couldn't get anyone to believe him: not bartender Jesse White in 1941 or psychiatrist Martin Balsom in the present), and is not seen on the Sci-Fi channel (TV Land has exclusive rights). Though Ray Bradbury was not credited for it, one of his novels was adapted for a classic episode in which a man is on trial for not turning in his books to be burned as ordered by a government.
All the other episodes were half hour with the exception of 1963 when CBS tried hour-long episodes. But the fans seemed to prefer the more concentrated writing and suspense of 30 minutes and the series returned to half-hour stories the remaining 2 years. When Twilight Zone ended its run in 1965, Serling went on to other projects and CBS assigned the writers & directors to a new science fiction-western project called Wild Wild West. When West ended its run in 1970, Rod Serling needed them back for a new series on NBC called Night Gallery starting with a 3-segment Night Gallery movie.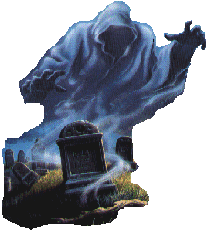 A few Twilight Zone episodes, the TZ movie, and a couple of recent versions of Rod Serling stories are available on video or on DVD, followed by this month's episode titles showing on the Sci-Fi channel:
Treasures of the Twilight Zone
Twilight Zone - Vol. 1-43 (1959/62)

Twilight Zone - Season 1 is available on DVD from Amazon.com

2 regular 30-minute or 1 hour-long episode(s) are sometimes broadcast in a 1-hour timeslot unless noted. 5am episodes are usually followed by a 5:30 episode without commercials (see separate list below). Up to 6am is night of date shown; it's not morning until the sun comes up
Combined listings including 5:30am Cable In The Classroom TZ eps (no commercials)
This month's listings, up to 6am is night of date shown in 2014
Ad-free Twilight Zone episodes (for Cable in the Classroom)
You're a very bad man
Congress passed a 1200-page bill without reading it. Unfortunately, it's a cook book!


Watch entire episodes of the Twilight Zone and Night Gallery
online!

Entire seasons of Twilight Zone and Night Gallery
are available on DVD

On other channels:
The Dick Van Dyke Show: It May Look like a Walnut
Rob discovers Earth's been invaded by aliens (they have one flaw) 
in this b/w TZ spoof from 1963, as aired on TVLAND and HULU

     Previous episode titles broadcast (2003-13)
7/4/2014 July 4th 2014
12/31/13 New Year marathon 2013/2014
7/4/1013 July 4th 2013
12/31/12 New Year marathon for 2012/2013
7/4/2012 July 4th Zonethon for 2012
12/31/2011 New Year marathon for 2011/2012
7/3/2011 July 4th marathon for 2011
12/31/2010 Twilight Zone marathon for 2010/2011
           There was no Twilight Zone marathon for July 2010.
12/31/2009 last New Year's marathon (2009/2010)
7/2/2009 July 4th marathon (2009)
12/31/2008 New Year's marathon (2008/2009)
7/3/2008 July 4th marathon (2008)
12/31/2007 New Year's marathon (2007/2008)
07/03/2007 July 4th marathon (2007)
12/31/2006 New Year's marathon (2006/2007)
2006 July 4th Twilight Zone-thon (Global Flight 33 is Lost)

Episodes of The New Twilight Zone may be showing on Chiller TV, but Chiller TV does not want anyone to see it's schedule more than one day at a time

Making of Kick The Can episode & movie segment
"Planet Of The Apes" done as a Twilight Zone episode: Click here (Rod Serling intro & parting comments, on the beach)

"Twilight Zone: The Movie" is occasionally on cable

Did they ever have that atomic war?

In 2006, WE network reran the 1-23-00 episode of Felicity directed by Twilight Zone veteran Lamont Johnson (he's Lost now) in black/white. Several attempts have been made over the years to recapture the feel of the original Twilight Zone, but this hour-long episode is the only one that has succeeded. In the episode, a young woman goes to "The Clinic" for her problem, heartache, after the most recent breakup with a boyfriend. Then she has second thoughts, but is told it's too late: the treatment has already begun. Then a corpse with it's heart missing warns her to get out while she can...


Have you ever been trapped on the 13th floor of a closed department store that doesn't have a 13th floor? Well, have you?

Monstervision Host Segments of Forbidden Planet including interview with in-studio guest Anne Francis about her Twilight Zone episode (she still has the head)
The Twilight Zone is also currently scheduled (2 episodes a day) on Sundays
in 40 states on the myRTN cable network channel.


Return to MonsterVision or Sci-fans


Previous Twilight Zone broadcasts on the Sci-Fi channel (2002)

Twilight Zone episode list, all 5 seasons
Ted Cassidy served TV's Addams Family as their butler Lurch; before that, he served Man

Outer Limits page (the original black & white series)

Results of SciFi.com's survey: best Science Fiction tv series of each decade.
Rod Serling Bio at the Sci-Fi channel's website
Email: scifans@twilight.zone

UFOs, Spider eggs in gum, Santa Claus stuck in the chimney: all your favorite Urban Legends can be found if you click here (just how much cocaine is there is Coca-Cola?)



Click here to hear the themesong again We are programmed to receive. You can check out any time you want, but you can never leave