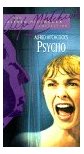 Psycho (1960)
Everybody goes a little mad sometimes



See if your favorite person,
TV series or motion picture
is available: video/DVD/books



Psycho, with it's pathic, grotesque motel keeper Norman Bates (Anthony Perkins), broke all the existing Hollywood rules for horror films, as well as box office records. A secretary (Janet Leigh) embezzles money from her employer and drives west. She stops at the remote Bates Motel, all 12 units empty, below a brooding Victorian mansion (which is still a popular attraction on the Universal Studios tour). After checking in, she takes a shower ... and is stabbed to death by a gray-haired person. In Hollywood, this made no sense, but Hitchcock assured Janet Leigh that the audience would have no trouble remembering her even though her starring character was killed so early on. Even now, if you watch "Silence Of The Lambs" with a stopwatch, Hannibal the Cannibal (Anthony Hopkins) is seen on-screen for less than 10 minutes, yet people complained when he was nominated only for Best Supporting Role in a movie.

The shower scene itself was filmed with Janet Leigh and an unseen, uncredited actor's arm wielding the knife. For years after, Tony Perkins joked that he was innocent, out of the country when Janet was stabbed. Director Alfred Hitchcock himself "hosted" the advertising trailer seen in theaters (see below). He started at the Bates Motel, then walked up the hill to the mansion. At the bottom of the grand staircase inside, he shuddered, noting that this was where one of the murders happened (of Martin Balsam, as a detective).

While horror films often have a woman as victim, in this one it is another woman (Vera Miles) who discovers "Mother" and solves the mystery. Hitchcock himself said he considered the film a comedy. In fact, one scene of comedic banter between her and Perkins got such a big laugh with the studio test audience, Hitch had to go back and add extra footage because the audience was missing the next line. This set the tone for light momments and lines in films that followed, from Halloween to James Bonds - as when 007 trips the bad guy, sending him to his death over a cliff and says, "Have a nice trip."

Anthony Perkins had made elevin films since 1953, most notably "Friendly Persuasion" (1956, scheduled on Turner Classic Movies occasionally), and "Green Mansions" (1959). But "Psycho" typecast him as a villain. In "Ffolks" (1979), a spy thriller starring Roger Moore, he again played the villain, a terrorist blowing up offshore oil rigs by remote control. He tried playing a good guy in the 1979 sci-fi movie Black Hole, but finally returned to his best-known character in 1983.
"At the end of Psycho, I realized I'd worked with the director who'd been more open to actor's suggestions and ideas than any I'd worked with, with the possible exception of William Wyler. Since this was the reverse of what I'd expected of Hitchcock, it came as a great surprise," Anthony Perkins (Cinema, 1965)

Janet Leigh appeared in Halloween H20 twenty years after the first Halloween movie, driving a strangely familiar 1960 automobile (an inside joke for fans). She says that to this day, she prefers to avoid hotels that only have a shower.
Joseph Stefano (who went on to "The Outer Limits") wrote the script based on a novel by Robert Bloch (pronounced Block). Joe Bob Briggs said on Monstervision that Bloch based the character on a real life psycho, and actually toned it down. In real life, the psycho invited young transients into his house, killed them, and ate them. After the arrest, body parts were found in his freezer. Nieghbors who he had given "venison" got violently ill at the news.

Supporting cast of "Psycho" includes John Gavin, John McIntire, John Anderson, Frank Albertson, daughter Pat Hitchcock, and Simon Oakland of Kolchak, the Night Stalker.

Hitchcock had previously directed a silent film, "The Lodger" (1926), in which a land-lady suspects her tenant is Jack the Ripper (remade in 1932, 1944 and 1954). Robert Bloch later wrote Star Trek episode "Wolf In The Fold," in which a murder supposedly done by Scotty, turns out to be by none other than Jack.

"Psycho" is available on video and on DVD

All Hitchcock films available on video and on DVD from Amazon.com
Psycho 2 (1983)
Hitchcock's final film before he died was "Family Plot" (1976). In this non-Hitchcock directed sequel, Vera Miles returns as Lila. Norman Bates (Perkins) is deemed rehabilitated and released from the asylum, returning to the long-abandoned Bates Mansion. By 1983, slasher movies had lots of gore, but here director Richard Franklin follows Hitchcock's formula and keeps it to a minimum, at least until the graphic violence toward the end (to get an R-rating).
Supporting cast:
Meg Tilly, Robert Loggia, Dennis Franz, Hugh Gillin
Psycho 2 movie trailer

Psycho 3 (1986)
Anthony Perkins successfully argued that he knew Norman Bates better than anyone and directed this official sequel. Perkins tried to put more humor in this one than was in "Psycho 2," for one thing. In one scene, a bloody body is hidden under icecubes in an open motel-type ice machine. While the Sheriff is talking, he absent-mindedly picks up an icecube to chew on, then another, while Norman nervously watches. Meanwhile, Bates is falling in love with a runaway (Diana Scarwid), and tries to joke about his "past" with her. The movie studio added a gory ending, reportedly without the director's prior approval, to get another R-rating.
Supporting cast:
Jeff Fahey, Roberta Maxwell, Hugh Gillin, Lee Garlington, Robert Alan Browne

Want a second opinion? Alright, here's Joe Bob Briggs:

"I went to see Psycho III about a month ago but I forgot everthing in it the next day, and so now people been writin in and wonderin what happened. All I remember is how Tony Perkins moons around the Bates Motel, sewin up bodies and talkin to Mama a lot. He keeps Mama upstairs, where she's fallin apart on him and makin a lot of long speeches about who Norman needs to slice up next. Diana Scarwid wanders into the motel after gettin kicked out of a convent and almost gettin raped in a rainstorm by Jeff Fahey the slimeball guitar player. Then a reporter shows up to prove to the sheriff that Tony is still missin a few knobs on his satellite dish, and it's enough to make Mama say stuff like, "Stand up straight and wipe your snotty little nose!"

Then Norman goes on a date with Diana "I Look Just Like Janet Leigh" Scarwid, and pretty soon we know Mama is gonna insist on some Justice. They let Tony direct this baby, and so the main thing wrong with it is Tony lets his Mama talk a lot and it gets real boring listenin to the old bag, which is literally true--she's an old bag.

Way too much plot gettin in the way of the story.

Six breasts
Seven dead bodies (one technically a dead undead body)
One motor vehicle chase
Three quarts blood
Two slit wrists
Corpse sewing
Throat slitting
Stomach gouging
Ashtray bashing
Gratuitous fatty orgy
Hitchhike fu
Phone booth fu
Drive-in Academy Award nominations for Jeff Fahey, for doing a sex scene with a lampshade;
Diana Scarwid, for saying "I'm afraid I did leave the bathroom a mess," settin up Tony's line "I've seen worse";
and Tony, for saying "My hobby is stuffing things" and
"Well, I can't have that sort of thing going on in my motel."
Two and a half stars. Joe Bob says check it out if it's still around."
© 1990 by Joe Bob Briggs. All rights reserved. For this and other reviews by the artist formerly known as the host of MonsterVision, go to JoeBobBriggs.com
Psycho 3 movie trailer
The Bates Motel (1987)
This oddball tv-movie was supposed to be the pilot for a teen-romance tv-series that didn't sell. Bud Cort plays an asylum inmate, released with the deed to the Bates Motel from his cellmate Norman - don't contracts have to say, "...being of sound mind"? Described by one critic as looking "like a cross between Mr. Rogers and Peter Lorre," Bud Cort reopens the Bates Motel for business and soon an assortment of young couples check in. Director Ken Topolsky takes responsibility in the credits for this "amateurish mixture of spoof, suspense and pathos ... haphazardly structured and abysmally written." The thing finally creaks to the end, with long-dead bodies suddenly being found in the garden.
Supporting cast:
Gregg Henry, Khrystyne Haje, Moses Gunn, and Jason Bateman (who also starred in the bomb Teen Wolf Too, also in 1987, must have been a bad year for sequels). Leonard Maltin doesn't usually rate tv-movies, but calls this one, "below average." Followed by "Psycho 4" (1990), a prequel in which we see Norman as a little boy, and find out what it was that pushed young master Bates over the edge. "Psycho 4" was followed in a showing on the USA Network by "House" and "House 2" Monstervision's Joe Bob Briggs reviews House 1 & 2

Teaser movie trailer for Psycho 5

Anthony Perkins never did a movie spoofing "Psycho," but he did guest host Saturday Night Live once. In a skit of mail-order school commercials, Norman Bates (Perkins) in a familiar motel office, gives a simple quiz to see if your are hotel management matterial: A guest has a complaint. Do you (A) Fix the problem, (B) Ignore the problem, or (C) Hack her to death with a knife?
"You would be surprised how many people answere C," Bates/Perkins says cheerfully.

An episode of "Murder She Wrote" was set at the Bates Motel on the Universal Studios back lot, broadcast 1-19-92. In the story, novelist Jessica Fletcher (Angela Lansbury) is at Universal to discuss the filming of her latest novel when the producer (Ron Liebman) is found murdered in the infamous mansion's foyer. Cast includes:
Paula Prentiss, Stuart Whitman, Henry Gibson (the grinning psycho at the end of "The Burbs"), and Ron Glass
Psycho IV: The Beginning (1990)
Anthony Perkins returned for this one, which first aired on HBO or Showtime rather than in theaters. Joseph Stefano, who wrote the script for the 1960 original returned, and the original movie's score is used. If a fifth Psycho movie was planned, Perkins didn't live to do it (he died from Aids in 1992)
Norman Bates is listening to a radio call-in show about matricide and it triggers memories (told in flash-back with a child actor) of his crazy, abusive, slutty mother (Olivia Hussey).
Supporting cast:
Henry Thomas, CCH Pounder, Warren Frost, Donna Mitchell
Director: Mick Garris
The Psychopath (1966)
Robert Bloch scripted this British film, though not a sequel to "Psycho," in which a demented killer leaves behind a doll at each murder scene.
Cast: Patrick Wymark, Margaret Johnston, John Standing, Judy Huxtable
Psycho Circus (1967)
Loosely based on an Edgar Wallace story, also not a "Psycho" sequel, though at 65 minutes it has good pacing. A murderer is on the loose in the Big Top, and it may be one of the circus performers themselves.
Cast: Christopher Lee, Margaret Lee, Klaus Kinski, Suzy Kendall
Psycho (1998 remake)
Director Gus Van Sant remade Hitchcock's classic film 38 years later with the same script and virtually the same scenes, then forgot to tell us why. Performances are good, though star Vince Vaughn is so cool all the time, it doesn't compare favorably to frail, geeky Norman Bates as portrayed earlier by Perkins. Anne Heche costars in the Janet Leigh role, and you have to wonder if someone knew something because it was about that time that Heche broke up with her gay lover (Ellen DeGeneres) and was arrested wandering around in a stranger's backyard in a "disoriented" state of mind. Ellen DeGeneres, by the way, was in "Mr. Wrong" (1995) and "Goodbye Lover" (1999).
Anyway, the 1998 remake is 106 minutes, rated R. Also in the cast is Rance Howard, William Macy, and Chad Everett. Nominated by 1998 Golden Raspberry Awards for worst remake or sequel, worst Director, and worst Actress.

Psycho Scarecrow (2000)
Five dope-smoking Canadians decide to stop for a picnic in a corn field. Then one is found dead so they decide to stuff him inside a scarecrow so they won't have to report it to the police. Only he either isn't dead or he's now undead; either way, the scarecrow is now a psycho picking off the other four one by one...
Joe Bob Brigg's review of Psycho Scarecrow

There was also "Psycho Cop," not to be confused with Maniac Cop or Vampire Cop (also Joe Bob reviews) or RoboCop, and the two recent unrelated "American Psycho" movies
For any current Psycho movie listings, see the Hitchcock page

Turner Classic Movies will show 5 Anthony Perkins movies in a row on Sat, Oct 27 @ 5pm/8pm EST
~~~~~~~~~~~~~~~~~~~~~~~~~~~~~~~~~~~~~~~~~~~~~~~~~~~~~~~~~~~~~~~~~~~~~~~
                Previous 2007 broadcasts:

                Psycho (1960)
Sun  Jun 17  11:30A on Encore Drama Channel
Wed  Jul 25  04:05P on Mystery
Sat  Sep 22  08:00P on American Movie Classics

                Psycho (1998 remake, Anne Heche, no Tony Perkins)
Last seen night of 10/20/2007 @ 1am on SciFi Channel

                Psycho II (1983, Tony Perkins is cured after 22 years, or is he?)
Last seen Jul 31, 2007 on Cinemax
Last seen Sep 17, 2007 on More Max

                Psycho III (Tony Perkins)
Last seen Sep 17, 2007 on More Max

                Psycho IV: The Beginning
Last seen night of 10/20/2007 @ 3am on SciFi Channel

                Goodbye Again (1961, Paris decorator takes a lover to spite her boyfriend)
Last seen Sep 20  2:45/5:45P EST on Turner Classic Movies

Hitchcock's personal tour of the Bates Hotel
(click to play movie trailer)



Fun fact:
Hitchcock did not use catsup for the shower scene in Psycho, it was chocolate syrup (a common blood-substitute in black & white movies). In fact, Hitch hated catsup. In a London interview (4-21-66) he said, "I hate sauce in bottles. The most horrible sound in the world is of a hand smacking the bottom of a Ketchup bottle, only because, as result of that smacking, some ugly, dark-red goo oozes from the neck of the bottle and lays itself over some innocent French-fried potatoes."

Berinthia Berenson Perkins, widow of Anthony Perkins was one of the 3000 people who died on September 11, 2001. She was on American Airlines flight 11. She left a son, Elvis, who says his dad never regreted his role in Psycho. "He never imagined its lasting impact. But I doubt he would have chosen to take it back if he could." Elvis is a songwriter, and his mother was a professional photographer under the name Berinthia Berenson, though she traveled that day using her full name according to the list.

Back to Monstervision or Sci-fans.com


Movie descriptions above © Bill Laidlaw. All Rights Reserved. Any plagiarized stuff clearly noted.

Click here to hear the Psycho themesong again (midi). Or here for Norman's line, Everybody goes a little mad sometimes

Or visit Alfred Hitchcock if you're not afraid of vertigo