John Carpenter Movies
Movie descriptions, by year of release:
Dark Star (1974), director/coscript/story and music.
The crew of a bomber in space tries to convince a smart bomb to stop its countdown because it's stuck in the bomb bay, but it argues that its sole purpose for being is to blow up, and sees insufficient reason to stop. Cowritten while in college.

Assault on Precinct 13 (1976), director/script/music. A remote police station comes under siege by a street gang. They cut the phone line. Then it gets dark outside. The daughter of Donald Pleasance liked this movie so much she begged him to accept a role in Carpenter's low-budget Halloween

Eyes Of Laura Mars (1978), coscript/costory only. A photographer has premonitions of grisly murder. Faye Dunaway, Raul Julia.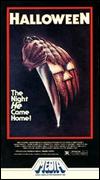 Halloween (1978), director/script/music
Halloween 2 (1981), coproducer/coscript/comusic
Halloween 3: Season of the Witch (1982), coproducer/comusic
See Halloween page for descriptions of all the Halloween movies in the series.
Someone's Watching Me! (1978 TV-movie thriller), director/script. Career woman tells police someone's stalking her, they say there's nothing they can do. She takes on the stalker herself. Adrienne Barbeau's first movie for Carpenter.
Elvis (1979 TV-movie), excellent biopic became one of highest-rated TV-movies ever. Kurt Russell's first movie for Carpenter (just 4 years after Kurt starred in The Deadly Tower). Elvis movie ad on TBS

The Fog (1980), director/music/coscript. 100 years ago a ship ran aground, but no one would help rescue the passengers because the ship was that of a leper colony. Now their ghosts are back for revenge, coming in with the fog. Adrienne Barbeau, Jamie Lee Curtis, Janet Leigh. Monstervision review and host segments for The Fog. Carpenter uses Barbeau's radio host character to narrate the ongoing story similar to the previous year's MonsterVision movie, The Warriors (1979)
The Fog movie trailer

Escape From New York (1981), director/coscript/comusic. 16 years in the future, Snake (Kurt Russell) is hired to rescue the President (Donald Pleasence) when Air Force One goes down in Manhattan, which is now an island self-run walled prison. The hijackers had flown the plane into a building (one of the twin towers), leaving the President's "escape pod" somewhere inside the World Trade Center. Some elements of movie script had been in Carpenter's first big-budget movie "Assault on Precinct 13." Ten minutes were added to 1994 video reissue after Muslim extremists set off a bomb in the underground garage of the World Trade Center in 1993. Escape From New York 1981 movie trailer. Sequel: Escape From Los Angeles (see below)

The Thing (1982), based on the original 1951 movie said to be directed by Howard Hawks. Kurt Russell stars in this remake, which is actually more faithful to John W. Campbell's science fiction novel than the 1951 version.
The Thing theatrical trailer "We found something...some...thing"

Christine (1983), director/comusic, based on Stephen King's true story of a demonic car that kills everybody. OK, I made up the true story part. If you really want to know what "Christine" is about, see the Monstervision review & host segments for Christine

Christine movie trailer

Starman (1984), director. A departure for director John Carpenter, STARMAN is a gentle, simple film that won accolades from critics and applause from audiences. Jeff Bridges plays the title character, an alien that has come down to Earth on a peaceful scouting mission. Starman movie trailer. In 1990, Finola Hughes ("Storm" in the 1996 X-Men movie "Generation X") starred in a 3-month General Hospital story-arc based on Starman. The bad guy in that story-arc went on to star as the spaceship commander in the 4th Critters movie (1992)

Black Moon Rising (1986), story/coscript. A thief wants to steal high-tech car "Black Moon" from car-ring that already stole it. Really. That's the whole plot. No relation to Black Moon (1934), a movie about voodoo with Fay Wray. Actually, that sounds more interesting.

Big Trouble In Little China (1986), director/comusic. Carpenter is back in stride with this one in which a trucker (Kurt Russell) finds himself right in the middle of a centuries-old conflict involving an immortal evil wizard (James Hong) and his kung-fu minions (played by the best martial arts actors Carpenter could get from Hong Kong) in and below San Francisco faster than Kurt can say What the Hell. And watch out for the upside-down water Hell, the Chinese have many Hells. Studios didn't have a clue how to promote this action/horror/thriller/ghost story, and yanked it from wide release too quickly. Over the years, it just gets more and more popular on tv and cable, including the commercial-free pay channels. Kurt Russell says things like this in the movie. And Carpenter sings the opening themesong
Monstervision review & host segments. Inside joke:
Kurt says if he's not back in...minutes, call the President (see his 1981 movie above)

Prince of Darkness (1987), director/comusic/script (under a pseud). Murkey story of a college professor (Donald Pleasence) and his students, who find Satan trapped in a canister of glop in a church. Rod Serling did it better. For this, Carpenter skipped doing a sequel to "Big Trouble In Little China?"

They Live (1988), director/comusic/script (under a pseud). Movie based on story in an episode of Tales Of Tomorrow, with Roddy Piper in the Burgess Meredith role as a man whose glasses allow him to see alien invaders who are taking over. Based on a story by Ray Faraday Nelson.
MonsterVision review and drive-in totals for They Live

They Live theatrical trailer

Memoirs Of An Invisible Man (1991), director only. Semi-remake of 1942 invisible man movie "Invisible Agent." Chevy Chase plays a securities analyst who's rendered invisible after an accident, and finds himself in a standard Hollywood spy scenario. Rated PG-13

Body Bags (1993 TV-movie), director/acting. Macabre trilogy of gory stories "hosted" by Carpenter onscreen. Stacy Keach, David Warner of Time After Time, Robert Carradine.

Darkness (1993), editing only. A homegrown vampire splatter-fest, with a convenience store clerk taking up arms against the army of bloodsuckers holding his bucolic Midwestern burg in a filthy death grip. The title - and the lunatic spirit - recall "Army of Darkness," the Evil Dead sequel released a year earlier. The production values are limited, but this one wears a big badge of cool: an editing job by John Carpenter, working under one of his many synonyms (John T. Chance).

Silence of the Hams (1994), acting cameo only. R-rated comedy spoof starring Dom DeLuise in the Anthony Hopkins role as a psycho killer. With Martin Balsam of Psycho, John Astin of TV's Addams Family, and Shelley Winters of The Poseidon Adventure and Tidal Wave

In The Mouth Of Darkness (1995), director. From a padded cell, Sam Neill relates the story of locating a reclusive horror writer (obviously based on H. P. Lovecraft). But when he does...

Village Of The Damned (1995), director/coscript. Remake of 1960 movie based on John Wyndham novel about wierd blackout in English village followed by births of strange, emotionless children. Sequel to original was Children of the Damned (1964), not to be confused with Monstervision's Children of the Corn. Anyway, Carpenter's R-rated 1995 remake is more violent and explicit, with Christopher Reeve of Superman and Somewhere In Time, Kirstie Alley of the 2nd Star Trek movie, Mark Hamill of Star Wars, etc. Oh, and don't confuse it with "Village of the Giants" (1965) either, Bert I. Gordon's travesty featured as Mystery Science Theater 3000 episode #523, which he remade in 1976 as Food of the Gods (the original H.G. Wells book title), followed by "Food of the Gods II" (1989), in which giant rats terrorize a superimposed college campus

Escape From L.A. (1996), director. John Carpenter and Kurt Russell reteamed for this sequel to ESCAPE FROM NEW YORK "to kick butt and have fun." They do just that. Snake Plissken is forced to rescue the President (Cliff Robertson)'s daughter from the new prison of Los Angeles (created after an earthquake submerges California central valley under water and leaves southern California an island. Cameos by Peter Fonda, Bruce Campbell (Evil Dead), Pam Grier and others.
"Eye-patched mercenary prisoner Snake Plissken gets forced into another kamikaze mission in this long-awaited sequel to Escape From New York. This time he must scour the earthquake-demolished, prison streets of Los Angeles, circa 2013, to find and disable a so-called electronic Doomsday Device, as well as rescue the President's rebel daughter, who's in on the scheme. Packed with clever digs at the Hollywood, as well as juicy bits from B-movie staples Paul Bartel, Bruce Campbell, and Robert Carradine."
The scene in which Kurt Russell shoots a basket from over a half court away took several nights to shoot. When the producers decided to force the ball in the hoop via special effects Kurt Russell got angry and demanded to be allowed to try again until he made the shot for real, offering to pay the crew overtime until he succeeded. He made the basket on his very next throw. When Russell learned he would be renewing the role of Snake Plissken he went to his closet and pulled out the original leather pants he wore in the first film 15 years ago. They still fit perfectly.
Stacy Keach, Steve Buscemi, Pam Grier, Robert Carradine
Quotes:
"Snake Plissken. I thought you were dead!" --a line spoken by many of the characters Snake (Kurt Russell) encounters in both ESCAPE FROM L.A. and ESCAPE FROM NEW YORK"
"You guys ever hear of a Mexican showdown?"--Snake, before he kills three men who have him cornered
"I shut down the third world, you win, they lose. I shut down America, you win, they lose. The more things change, the more they stay the same."--Snake
At the end of the first movie, Plissken says "Call me Snake." At the end of this one, he says the opposite.
Escape from Los Angeles theatrical trailer beginning as spoof of movie theater public service announcements

After Sunset: The Life & Times of the Drive-In Theater (1996 docu), appearance only. "Tour a vanishing section of Americana that was a cultural beacon at a time when the Blob oozed across the silver screen, hot dogs and soda came with a tray, and teenage fun was defined by fumbling in the rumble seat. Includes interviews with John Carpenter, Samuel Z. Arkoff, Joe Bob Briggs, and others who took part in making a whole new movie experience: the drive-in theater."

John Carpenter's Vampires (1998), James Woods is a present-day vampire hunter working for the Vatican, looking for the undead in the American Southwest led by the master Valek (Thomas Ian Griffith).

Silent Predators (1999, direct-to-video), coscript. "When a construction site explosion rocks a small California desert town, a lot more than smoke and fire gets unleashed. Some 25,000 mutant rattlesnakes, who have been breeding nearby since escaping from a truck on their way to a zoo, are unearthed. Dangerous and deadly, the swarm of killer snakes are on the attack, and the terrified townspeople must find a way to stop them.
Patty McCormack, Jack Scalia, Harry Hamlin, Shannon Sturges

Cradle Will Rock (1999), acting cameo.
R-rated movie loosely based on National Recovery Act projects of 1930s-40s, with some actor portraying young Orson Wells.
Despite the title, is not a remake of The Sitter

Ghosts Of Mars (2001), a science fiction/horror.
"In the year 2176, Earth has colonized Mars, and all positions of power are held by women. Police Lieutenant Ballard (Natasha Henstridge) is assigned to take a crew via train from the metropolis of Chryste to the deserted mining town of Shining Station to capture an extremely dangerous convict, Desolation Williams (Ice Cube). When Ballard and her crew arrive at Shining Station, an eerily deserted town, they find not only Williams, but also scientist Dr. Whitlock (Joanna Cassidy), who has secluded herself in the colony for safety. She tells Ballard and her crew that a mining project released a mysterious cloud from beneath the planet's surface. It is possessing the colonists, causing them to hunt down and kill off any non-possessed beings. Ballard and her crew decide that they must destroy the possessed people for the good of the planet, a job which is more difficult than anyone predicts. John Carpenter's 17th theatrical feature combines action, horror, and sci-fi with thematic elements from earlier works (most notably ASSAULT ON PRECINCT 13 and THE THING). Rough around the edges with lots of energy and a sense of fun, GHOSTS OF MARS is a spirited genre cocktail." Ghosts Of Mars theatrical trailer
Jason Statham, Pam Grier, Clea DuVall. Director: John T. Chance (see above)
Previous broadcast schedule, in 2007:


Big Trouble in Little China (MonsterVision review & host segments)
Tue  Jul 31  03:00A on Actionmax

Christine (story by Stephen King, MonsterVision review & host segments)
Jan 29, 2007 on HD Movies

Escape From New York "Call me Snake"
Fri  Sep 28  12:00P on HD Movies

Escape From L.A. "Call me Plisskin"
Dec  1, 2006  01:00P on USA Network

Eyes Of Laura Mars
(not currently scheduled)

The Fog (1980, not the recent remake, MonsterVision review & host segments)
Sat  Feb 10  03:00P on SciFi Channel

The Fog (2005 remake without Carpenter and different cast)
Wed  Feb  7  10:50A & 9pm on Starz

On the Set: The Fog (2005, 20 minutes)
Fri  May 11  04:40A on Movie Plex
Wed  May 30  06:35A on Action

Ghosts of Mars (2001, set in year 2176)
Mon  Jul 16  04:00A on TNT

John Carpenter Presents: Vampires (1998 version)
Sun  Sep 23  12:20P on Cinemax
Mon, Oct 15,  2:40A on More Max

John Carpenter Presents Vampires: Los Muertos (2001 version)
Sat  Aug  4  01:00P on SciFi Channel

John Carpenter's Body Bags
(not currently scheduled)

Memoirs of an Invisible Man (1992)
Mon  Feb 12  07:30A on HBO
Wed  Sep 26  06:00A on HBO Signature

Prince of Darkness
Sun  Jul 15  04:00A on TNT

Starman (dir. Carpenter, starring Jeff Bridges)
Sat  June 30  1pm/4pm EST on Turner Classic Movies
Fri  Sep 21  12:15P on HD Movies

They Live (MonsterVision review, aliens secretly take over Earth)
Tue  Sep 25  02:05A on More Max

The Thing (1982 remake starring Kurt Russell, reviewed by MonsterVision's Joe Bob Briggs)
Fri  July 6  02:00A on TNT

Village of the Damned (Carpenter's 1995 remake)
Sat  Sep 15  03:05P & 12:00A on Mystery

Backstory: Halloween (2002, 60 min)
A look at the making of Halloween (1978) inc. film clips and interviews
Sat  Sep  8  05:00A on American Movie Classics

Boogeymen II: Masters of Horror (2004, 2 hours, Bruce Campbell hosts)
Horror retrospective featuring clips and directors' commentary inc. Wes Craven, John Carpenter
Oct 27, 2006  03:00A on SciFi Channel

Going to Pieces: The Rise and Fall of the Slasher Film (2006, 90 min)
The horror-movies of the '80s inc. interviews: directors Craven, Carpenter & Sean S. Cunningham.
Tue  July 3  06:45A & 2:05P on Starz Edge
Sat  Sep 29  04:05A on Action

Making of 'Assault on Precinct 13' (2005, 15 min)
A look at the 2005 remake of John Carpenter's 1976 classic. Ethan Hawke, Laurence Fishburne
Feb 15, 2007  06:10P on Thrillermax

Halloween and Jamie Lee Curtis movies this month are on the Halloween page

***********************************************************


MonsterVision movies Adventures In Baby Sitting and The Dead Zone were produced by Debra Hill, who died of cancer (age 54) March 7, 2005. She was John Carpenter's partner on many films including the Halloween movies, The Fog, and Escape From New York. She was working on a film about "September 11th", and had already co-written (with Carpenter) the 9th Halloween movie.

Halloween 2, 3, 4, 5 were on American Movie Classics 10/31/02 @ 2pm, then all 4 shown again, with "John Carpenter's Screamers" at midnight
Big Trouble In Little China is scheduled on FX from time to time, and even Telemundo

Text & layout © Bill Laidlaw. All Rights Reserved. Is this the Shape of things to come?