www.MSTfans.com


Note: The MSTfans.com name was hijacked. It was changed to MSTfans.info for awhile, and Vampirefans.com is still OK. Please change any bookmarks you have back to www.MSTfans.com or
www.angelfire.com/mn/nn/MST3000.html
I sent some big nasty goons after the guy who hijacked it and got it back. If you have any questions, email me: mstfans@gmail.com

Click here to enjoy the themesong while you read (447k, it takes a few moments to load).
... Mystery Science Theater 3000 was born on Comedy Central before the cable channel had its present name. It ran 7 years including a big-screen version of the show which ran in theaters as Mystery Science Theater 3000: The Movie (which has never been seen on commercial tv), then ran another 3 years of new episodes on the Sci-Fi Channel. It is now frozen in its 10th year like Walt Disney.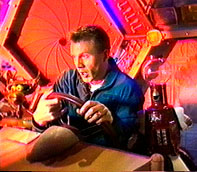 "Mike Nelson (Michael J. Nelson), Tom Servo (Kevin Murphy), Crow T. Robot (Bill Corbett), and the evil Pearl Forrester (Mary Jo Pehl), are off on their final journey. After ten years of flight, it is time for the "Satellite of Love" to head home, while taking time to see the movie" (usually a bad one. So bad, they talk and joke during the dialogue...)

Harry Potter gets the MST3K Treatment - At RiffTrax
***** Sci-Fi channel episodes of MST3K aired at 9am Saturdays (EST/Pacific),
unless an infomercial ran an hour longer than scheduled...
MST3K is Back! - RiffTrax
300 the Movie is now Funny with RiffTrax
Mystery Science Theater 3000 Treatment for Hit Movies!
Click here
for this month's episode / movie titles
Click below for the live-actors version of
Space Invaders!


titles not yet available for the year 2525 (if Man is still alive,
if Woman can survive)
Sorry I didn't update the titles last month, Gremlins ate my computer

Usually, the episodes run in order, but if an infinite number of monkeys were sitting at an infinite number of typewriters, they would have come up with the above schedule...

Click here for MST episodes, all 3 Sci-Fi channel years

Previously funny episodes on Comedy Central, all 7 years

Or click here for Monstervision with a link to Joe Bob's new website. You can also find host segments there for a movie reviewed by Elvira, Mistress Of The Dark...unpleasant dreams!

Click here to watch Plan 9 from Outer Space in its entirety free of charge

A handful of videos of the episodes (and The Movie) are still available: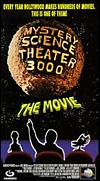 Mystery Science Theater 3000: The Movie(1996)
Mystery Science Theater 3000 - The Atomic Brain(1994)
Mystery Science Theater 3000 - Red Zone Cuba(1994)
Mystery Science Theater 3000 - Eegah(1993)
Mystery Science Theater 3000 - Mitchell(1993)
Mystery Science Theater 3000 - The Unearthly(1992)
Mystery Science Theater 3000 - The Brain That Wouldn't Die(1991)
Mystery Science Theater 3000 - Cave Dwellers(1991)
Mystery Science Theater 3000 - Pod People(1991)

All Mystery Science Theater 3000 stuff available.

Mystery Science Theater 3000 videos you can buy

Mystery Science Theater 3000 DVDs are also available

A book is available about Mystery Science Theater 3000, as well as the Amazing Colossal Episode Guide, and Mike Nelson's Movie Megacheese (I think Mike now writes for Timmybighands.com)
Or would you rather just read every Harry Potter book you can get your hands on?

Frequently Asked Questions


Previous years broadcasts on the Sci Fi channel
Return to TV Listings at www.Sci-Fans.com

Best movies by Japanese guys in monster-suits ever made

Monstervision host segments page
Best Unofficial MST3000 website

Or check out last month's funny license plates

Merry Christmas & Happy New Year! If you are Scrooge, click here

Email: mstfans@gmail.com

Animated graphics (c) 2001 by The Animation Factory.
Over 100,000 Premium Web Animations and Graphics! Click Here
And now a word about Summer Rerun Season

Episodes broadcast since 12/99
Today is . . . just days until everybody stops talking about the 2001 movie sequel "2010."
Click here for Hal to open pod bay doors

Or here for steam calliope music


Note: If this page does not look right, there may be a screw loose in the webmaster. You rang?

Soylent Green is people! (Charlton Heston 1923-2008)

"Ninety percent of the politicians give the other ten percent a bad reputation." Henry A. Kissinger

Having trouble with your computer mouse? Here's a note from a Japanese website. Hope it helps:
"The movement of PC which is used at the company gradually becoming bad... Re-installing the driver, it fights desperately, when it tries watching the joint of the line of the mouse lastly, it is doubtful how without. When it disassembles, observes well, roughly the line of the [ma] and red has been disconnected. As for cause it was understood, but repair seriously so. If there is a solder and an iron, but it is appealing. Is put out to repair in extent and the extent which is bought in PC budget of this year being, but is, when it purchases formally, when it becomes, the procedure which is done properly seems necessity. But it is 1000 Yen just a little about story. Well, we assume that it tries soldering at the tonight or discernment night house? Without the mouse there are no times when it cannot control with the pad, but to be troublesome excessively, efficient slump."



I had a presentiment about this