Rod Serling's Night Gallery

Click here if you don't want to hear Night Gallery open narration.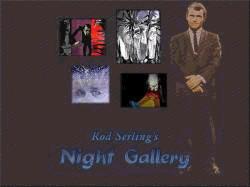 Rod Serling created and hosted The Twilight Zone. When the CBS program went off the air in 1965, the writers and directors went to a new CBS series to be called Wild Wild West and Rod Serling went to other projects, including narration for Jacques Cousteau tv broadcasts. When Wild Wild West left the air in 1970, Rod Serling was ready to try something new. Night Gallery would be similar to The Twilight Zone, with episodes tending more toward horror and the macabre. But there were still episodes with elements of mystery-suspense, fantasy and science fiction (in one episode, Mission Control hears astronauts scream after feverishly working on something. The camera pulls back to see what it was: a giant mousetrap).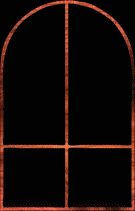 The episodes were originally 1 hour long, consisting of 2 or 3 main stories (each represented by a wierd painting or sculpture in the night gallery), and various shorts. Serling hated the humorous shorts, which were added at NBC's insistence to compete with the higher-rated tv series "Love American Style" (which still shows occasionally over on TV Land channel), and were nonetheless popular with fans. The Sci-Fi channel has the half-hour version of reruns, which each consist of a main story and a short, as well as episodes of "The Psychiatrist" retitled with Night Gallery credits. For a collection of paintings used in the Night Gallery (and comments on the Psychiatrist episodes), check out: www.nightgallery.net, an unofficial website. Night Gallery originally aired 12-16-70 to 8-12-73. In addition to people from the original Twilight Zone series, Rod Serling also used a former actor-turned-director from the recently cancelled Star Trek tv series, Leonard Nimoy (Spock), and a new kid who was directing Columbo episodes named Steven Spielberg. Nimoy says of his directing debut there, "It was theatrical, adventurous & unpredictable." Starting on 2-11-73, Jack Webb (creator of Dragnet and Project UFO tv series) also tried a series on NBC to complement Night Gallery called "Escape," a suspense anthology that originated on radio, but it only lasted 4 episodes.
For a complete description of the 1969 pilot movie, click here
The scripts for some Twilight Zone and Night Gallery episodes that were never done have been filmed recently. One was "A Town Has Turned To Dust," (1998, see video below) based on a true story from the 1950s or 60s, in which a black man was lynched for whistling at a white woman. Serling changed it to a story set in the old West, but the network still refused to let him film it back then.
He also wrote the first draft of the movie script for Planet of the Apes (so that's why the camera pulls back right at the end to show what Charlton Heston sees on the beach...)
No episodes are scheduled on national TV or cable this month. Previous Night Gallery episodes (until 2004)
Previous year's broadcasts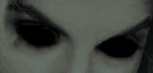 "Call out the giants and the werewolves and the spirits of those trees who are on our side. Call the ghouls, and the boggles, the ogres, and the minotaurs. Call the cruels, the hags, the spectres, and the people of the toadstools." If you like Lord Of The Rings or Star Wars, check out The Chronicles of Narnia...Aslan is on the move


From The Sci-fi channel's website in Spanish:
GALERIA NOCTURNA
Rod Sterling es el inusual presentador de esta serie de antología que reune un interesante conjunto de macabras historias, que cuenta con dramatizaciones tan reales que lo harán saltar de su asiento.
GALERIA NOCTURNA (with photos)

* * * * *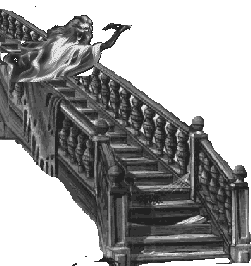 Join Rod Serling for his "other" classic anthology series, concentrating on the macabre, the supernatural, and other stories of horror. For Twilight Zone broadcast listings, go to The Twilight Zone
Some of the movies & tv series of Rod Serling are available, but none of the Night Gallery episodes so far: Entire seasons of Twilight Zone
are available on DVD

Night Gallery - Season 1 was also available from Amazon.com (these are the original hour-long episodes, not the cut-down 30-minute ones)

Town Has Turned to Dust (1998)
In the Presence of Mine Enemies (1997)
Encounter With the Unknown (1975)
UFO's: It Has Begun (1973)
Assault on a Queen (1966)
Seven Days in May (1964)
Requiem for a Heavyweight (1956)
Rod Serling: Submitted For Your Approval (1998)
Night Gallery (1969)


Planet Of The Apes" done as a Twilight Zone episode

(Rod Serling intro & parting comments, on the beach)




The Painted Mirror (Zsa Zsa Gabor)

Fright Night (Stuart Whitman)


Even Heroes Have A Night Gallery


Professor Peabody's Last Lecture


Entire episode: House-With Ghost/Hell's Bells



Entire seasons of Twilight Zone and Night Gallery are also available on DVD

To leave a message for The Devil, click here, and a demon will be with you shortly.


EPISODE GUIDE (by story segments)


Pilot episode/movie in 3 segments - 1969: 
1. 8 Nov 69   The Cemetery / Eyes / The Monster Who Wanted to be a Fisherman 

Season 1 - 1970 - 71 segments (50 min episodes) 
1. 16 Dec 70   The Dead Man 
2. 16 Dec 70   The Housekeeper 
3.  23 Dec 70   Room with a View 
4.  23 Dec 70   The Little Black Bag 
5.  23 Dec 70   The Nature of the Enemy 
6.  30 Dec 70   The House 
7.  30 Dec 70   Certain Shadows on the Wall 
8.   6 Jan 71   Make Me Laugh 
9.   6 Jan 71   Clean Kills and Other Trophies 
10.  13 Jan 71   Pamela's Voice 
11.  13 Jan 71   Lone Survivor 



12.  13 Jan 71   The Doll 
13.  20 Jan 71   The Last Laurel 
14.  20 Jan 71   They're Tearing Down Tim Riley's Bar 

Season 2 - 1971 - 72 segments (50 min episodes)
1.  15 Sep 71   The Boy Who Predicted Earthquakes 
2.  15 Sep 71   Miss Lovecraft Sent Me 



3.  15 Sep 71   The Hand of Borgus Weems 
4.  15 Sep 71   The Phantom of What Opera? 



5.  22 Sep 71   A Death in the Family 
6.  22 Sep 71   The Merciful (Imogene Coca)



7.  22 Sep 71   The Class of '99 (Vincent Price)
8.  22 Sep 71   Witches' Feast (Victor Buono)
9.  29 Sep 71   Since Aunt Ada Came to Stay 
10.  29 Sep 71   With Apologies to Mr. Hyde (Adam West)
11.  29 Sep 71   The Flip Side of Satan (Arte Johnson)



12.  6 Oct 71   A Fear of Spiders 
13.  6 Oct 71   Junior (Wally Cox has a big baby)



14.  6 Oct 71   Marmalade Wine (Rudy Vallee doesn't like to lose visitors)
15.  6 Oct 71   The Academy (spare the rod, spoil the child...Pat Boone)
16.  20 Oct 71   The Phantom Farmhouse 
17.  20 Oct 71   Silent Snow, Secret Snow 
18.  27 Oct 71   A Question of Fear (what's in the basement?)
19.  27 Oct 71   The Devil is Not Mocked (Nazis invade Transylvania)

20.  3 Nov 71   Midnight Never Ends 
21.  3 Nov 71   Brenda 
22.  Not Screened    Die Now, Pay Later 
23.  10 Nov 71   The Diary 
24.  10 Nov 71   A Matter of Semantics 
25.  10 Nov 71   The Big Surprise 
26.  10 Nov 71   Professor Peabody's Last Lecture 
27.  17 Nov 71   House- With Ghost 
28.  17 Nov 71   Midnight Visit to the Neighborhood Blood Bank 
29.  17 Nov 71   Dr. Stringfellow's Rejuvenator 
30.  17 Nov 71   Hell's Bells 
31.  24 Nov 71   The Dark Boy 
32.  24 Nov 71   Keep in Touch- We'll Think of Something 
33.  1 Dec 71   Pickman's Model 
34.  1 Dec 71   The Dear Departed 
35.  1 Dec 71   An Act of Chivalry 
36.  8 Dec 71   Cool Air 
37.  8 Dec 71   Camera Obscura 
38.  8 Dec 71   Quoth the Raven 
39.  15 Dec 71   The Messiah on Mott Street 
40.  15 Dec 71   The Painted Mirror 
41.  29 Dec 71   The Different Ones 
42.  29 Dec 71   Tell David... 
43.  29 Dec 71   Logoda's Heads 
44.   5 Jan 72   The Funeral 



45.   5 Jan 72   The Tune in Dan's Cafe 
46.   5 Jan 72   Green Fingers 
47.              Room for One Less 
48.  12 Jan 72   Lindemann's Catch 
49.  12 Jan 72   A Feast of Blood 
50.  12 Jan 72   The Late Mr. Peddington 
51.  19 Jan 72   The Miracle at Camefeo 
52.  19 Jan 72   The Ghost of Sorworth Place 
53.  26 Jan 72   The Waiting Room 
54.  26 Jan 72   Last Rites for a Dead Druid 
55.   9 Feb 72   Deliveries in the Rear 
56.   9 Feb 72   Stop Killing Me 
57.   9 Feb 72   Dead Weight 
58.  16 Feb 72   I'll Never Leave You- Ever 
59.  16 Feb 72   There Aren't Any More MacBanes 
60.  23 Feb 72   You Can't Get Help Like That Anymore 
61.  23 Feb 72   The Sins of the Fathers 
62.  1 Mar 72   The Caterpillar 
63.  1 Mar 72   Little Girl Lost 
64.  22 Mar 72   Satisfaction Guaranteed 
65.  22 Mar 72   Smile Please 

Season 3 - 1972 - 73 segments (25 min episodes) 
1.  24 Sep 72   The Return of the Sorcerer (Vincent Price & Bill Bixby)
2.  1 Oct 72   The Girl with the Hungry Eyes 
3.  22 Oct 72   Rare Objects 
4.  29 Oct 72   Spectre in Tap Shoes 
5.  12 Nov 72   You Can Come Up Now, Mrs. Millikan / Smile, Please



6.  19 Nov 72   The Other Way Out 
7.  10 Dec 72   Fright Night 
8.  17 Dec 72   Finnegan's Flight 
9.  24 Dec 72   She'll Be Company for You 
10.  7 Jan 73   The Ring with the Red Velvet Ropes 
11.  14 Jan 73   Something in the Woodwork 
12.   4 Mar 73   Death on a Barge 
13.  13 May 73   Whisper 
14.  20 May 73   The Doll of Death 
15.  27 May 73   Hatred Unto Death
16.  27 May 73   How to Cure the Common Vampire



Email: scifanscom@yahoo.com

Return to MonsterVision.org or Scifans

Trivia, courtesy Internet Movie Database

* Conceived as an updating of the "Twilight Zone" concept, Serling reportedly began planning the series soon after "Twilight Zone" was cancelled in 1964.

* Two segments, and possibly a third, were directed by a young Steven Spielberg. According to the book, "Rod Serling's Night Gallery: An After Hours Tour", Spielberg was scheduled to direct the 1971 vignette "A Matter of Semantics" starring Cesar Romero. Those involved with the production are unclear in their memory as to whether Spielberg actually directed the piece, which was ultimately credited to Jack Laird. At least one actor involved in the 2-minute mini-episode recalls a director who more closely fits Spielberg's description than Laird's.

* Artist Tom Wright did all of the paintings shown on Night Gallery.
* Sculptors Logan Elston and Phil Bandierle did all of the Night Gallery sculptures.



* Beginning with the second season, and despite Serling's objections, the producers began to insert brief 1-3 minute "blackout comedy" sketches in between main segments of some episodes, usually when an episode was running short. The merits of these brief vignettes remain controversial among "Night Gallery" fans to this day.

A few episodes of Night Gallery have been posted for free in the SYFY.com Drive-in