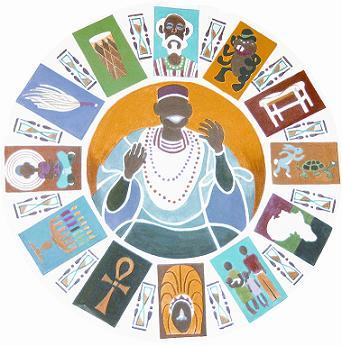 Keepers of the Culture, Inc.
Philadelphia's Afrocentric Storytelling Group
Akawaaba!
©1996 Columbus Knox
"Telling Our Story, Claiming Our Glory!"
MISSION STATEMENT
Keepers Of The Culture, Inc. KOTC, or ("Khotsi") of Philadelphia is a non-profit, educational, cultural art organization which seeks to perpetuate the African and African-American oral tradition. We recognize that traditional African storytellers - griots - were the true "Keepers Of The Culture." Their role as historians of the community helped people maintain a strong, positive sense of self and a clear understanding of the values of the community and the individual's role in the community. The griot presence insured that the history, culture and values of a people would be passed on in their own words.
We intend to highlight, reinforce and pass on the history and culture of African-Americans and their antecedents, to educate and nurture individual and collective self-esteem and foster pride of culture in our community-especially in our children. Our objective is to do this by offering performances, workshops, seminars, mini-festivals and collaborations with other cultural arts organizations and artists of various disciplines in the Philadelphia area.

Our purpose is to inform, educate, enrich and to restore storytelling to its traditional place of importance in the African-American community. We are open to poets, visual artists, sculptors, craft persons, musicians and dancers of African descent whose presentations are rooted in the African and African-American tradition. We will nurture, encourage and support this community of artist regardless of each artist's level of expertise, length of experience or level of artistic development.

Recognizing that "It takes a whole village to raise a child," we believe we have a responsibility to reach out to all children, parents and teachers as we endeavor to become the caretakers of their future by drawing on the strength of our past and passing that knowledge on through the spoken word.