KOTC EVENTS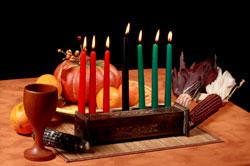 Demystifying Kwanzaa: A Pre-Kwanzaa Event
Keepers Of The Culture, Inc. (KOTC) proudly presents a Pre-Kwanzaa workshop and storytelling program for the entire family. Come out and discover all you need to know about celebrating the African American holiday, Kwanzaa. The members of KOTC, Philadelphia Afrocentric Storytelling Group, will educate and entertain you with these engaging activities:
Make-It and Take-It Workshop: Come learn an easy to duplicate at home Kwanzaa craft project. Perfect activity for family fun!
Blackstorytelling: It would not be a KOTC affair if storytelling was not on tap. These stories illuminate the 7 principles (Nguzo Saba) of Kwanzaa such of unity, self-determination and collective work and responsibility.
Everything You Wanted to Know About Kwanzaa: Want to begin incorporating Kwanzaa in your family tradition? KOTC will give you the nuts and bolts of how to get started. Already celebrating Kwanzaa? Come discover ways to engage your family members and make the holiday fun and memorable.
Free will donation. Registration is highly recommended. Register here. Space is limited.
GENERAL MEMBERSHIP MEETINGS

Our membership meeting are help on the first Thursday of every month.
735 South 50th Street
Philadelphia, PA 19143
6:00 p.m. - 7:30 p.m.
" Bring stories, proverbs, poems & instruments for a good ole' gathering with da' folk!"

____________________________________________________________________________________