Mayberry Days 2000
After Col. Tim's we went bowling. Our team didn't fare quite so well this year, falling from 1st to 5th place. Even the Bulkheads dropped a notch, from 3rd to 4th. The Convicts at Large received recognition for their shirts. It was fun, as always, and is a great way to wrap up a lonnnnnnnng day.
(Again, all I have here are video frames, I sure would like to have some pictures....)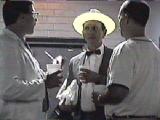 Floyd and Bernard P. Fife dropped by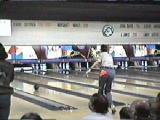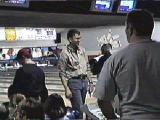 Opie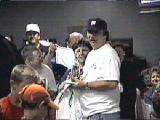 I wouldn't want you to think I was a dinger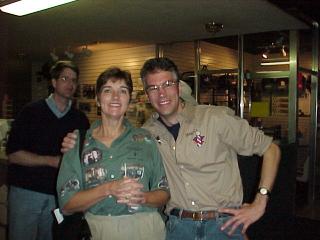 Jim Clark, Pat Coleman, and Jeff Koontz
Sunday Morning Coming Down
We met at the Golden Corral for a buffet breakfast Sunday morning. I only have a few pictures because when I got home I THOUGHT I already rewound the film and I opened the camera and there was the film so the last 4 or 5 shots were ruined. ANYway, it's always a nice way to wind down before starting the trip home. A lot of picture sharing and huggin' and picture takin' ....... and eatin'.

Robin (the huggin' machine) moves in for a last hug from Ron as Don waits his turn.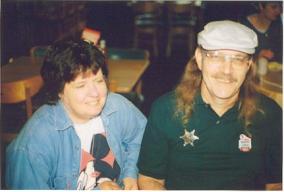 Linda and Ron



Brian and Melanie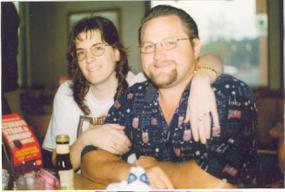 Robin and John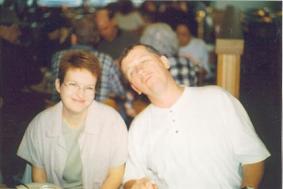 Carolyn and Bob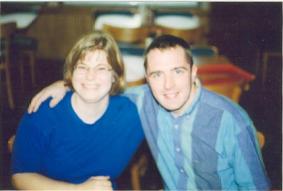 Lisa and Mark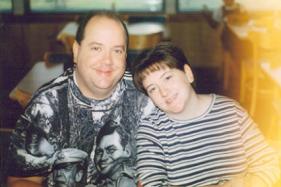 Doug and Stacy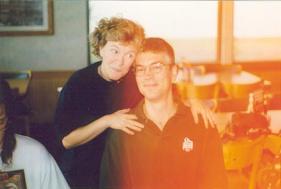 Trisha and Jeff
Y'all can see the effects of me exposing the film on these last two. The rest of the pictures were runined.
Dirty me, dirty me, I'm disgusted with myself.......
More pictures compliments of Don and Joyce........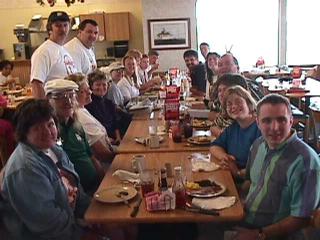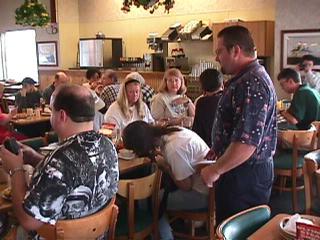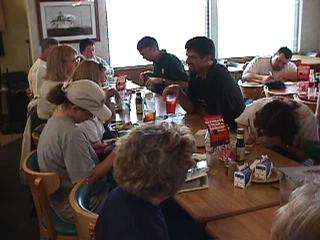 Still MORE, these from Therapetic......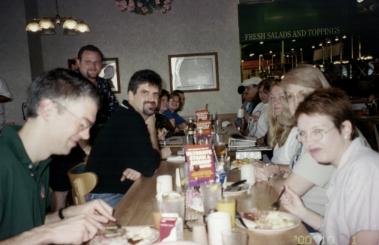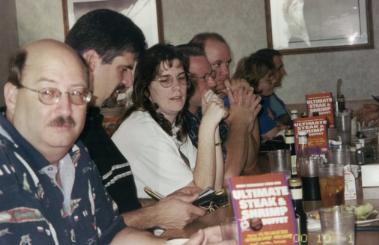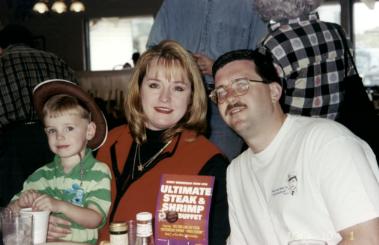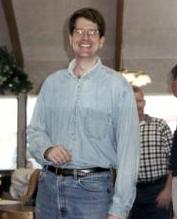 Adam, Jan, Allan Newsome - Jim Clark
See Y'all NEXT YEAR, it's gonna be
BIG!!!!