See if your favorite person, TV series or motion picture is available: video/DVD/books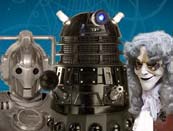 Michael J. Fox made two movies in 1985, "Back To The Future" and this one. It wasn't easy. As noted in the Monstervision host segments for "Back To The Future," Fox had to work the movie-shooting schedule into that of his popular tv-series. So, how does this one compare to that Mystery Science Theater 3000 movie "I Was A Teenage Werewolf" (which they actually liked)? Well, it has its moments. And James Hampton of "Hangar 13" is fun as Fox's father, who has been putting off telling him that he would start growing a lot of hair with the onset of puberty...especially during full Moons. But then the script-writers just went nuts. Fox starts turning into a friendly werewolf whenever he wants, including broad daylight (riding on top of a speeding van), and during basketball games where none of the other actors seem to know how to play the game...
Over the years, there have been a number of werewolf and wolf man movies, but did you know that Bela Lugosi of Dracula fame starred in the first one? Lon Chaney Jr was his victim, and went on to become the best-known wolf man of the 1940s & 1950s in various sequels. Michael Landon starred in I Was A Teenage Werewolf and played the character so sympathetically (he said he was an outsider in school and identified with the misunderstood werewolf), it became a surprise hit. So will "Teen Wolf" ever become a classic? Well, last time I checked, it wasn't available on video, let alone DVD, so there doesn't seem to be a whole lotta demand for it as yet. Now here's Joe Bob Briggs with those drive-in totals:
HOWLING AT THE MOON
It's hard to believe but yes, a movie called Teen Wolf (1985), was actually a big hit at the boxoffice. Perhaps it was because Michael J. Fox was the star. After all, he was at the peak of his fame the year it was released. But maybe the real reason for the film's success was simply this: teenagers want to see movies about themselves and especially films that deal with those awkward high school years when everyone feels like an nerd. It's even worse when you're a werewolf and can't control your hormonal urges. Like Scott Howard (Michael J. Fox), the typical high school loser. When this would-be basketball star gets agitated, his ears turn pointy, his fingernails become claws, and he responds to high-pitched dog whistles.

Teen Wolf not only inspired an animated television series but a sequel as well - Teen Wolf Too (1987), in which Jason Bateman takes over in the Michael J. Fox role. But we're here to talk about the original Teen Wolf, this week's main attraction on MonsterVision and here are those drive-in totals, courtesy of Joe Bob Briggs:
"We have: Motor vehicle roof-surfing.
Two werewolf transformations.
The old Jello-down-the-girl's-blouse trick.
Party-dress-ripping.
Beer-can munching.
Werewolf breakdancing.
Wolf bowling (no relation to dwarf tossing).
One fistfight.
Three cheesy basketball sequences.
Two and a half stars."

Teen Wolf (1985)
Saturday, February 7 at 10:30 p.m. ET
Teen Wolf is available from Amazon.com - anyone out there have printed host segments?
Seen on MonsterVision 3/7/97 and 100% Wierd on 2/7/98
MonsterVision host segments coming someday (?)
© 1998 Turner Network Television, Inc. A Time Warner Company. All Rights Reserved. Legal/Privacy Notice
Teen Wolf Too
After Michael J. Fox saw the box office results of "Teen Wolf" in 1985, he went on to make two popular sequels to "Back To The Future." But the studio wasn't done with "Teen Wolf," so they turned to another teen star on a popular tv series, Jason Bateman, as another member of the family who finds out he's a werewolf. Teen Wolf Too is not available on VHS or DVD, but maybe somebody has it on Betamax...it's your move.
Weekly World MonsterVision ... February 1998

Saturday 2/7/98

Teen Wolf (1985) at 10:30 p.m.
Those awkward teenage years are even worse when you're a werewolf and can't control your hormonal urges. Like Scott Howard (Michael J. Fox), the typical high school loser. When this would-be basketball star gets agitated, his ears turn pointy, his fingernails become claws, and he responds to high-pitched dog whistles. Rating: TV-PG.

Following Teen Wolf is Joe Bob's Last Call Flick:
The Fly (1986) at 12:45 a.m.
David Cronenberg's ooey, gooey remake of the 1958 sci-fi favorite with Jeff Goldblum as the ill-fated scientist who experiences weird side effects after he shares his genetic transporter with a ......well, you know. Rating: TV-14-V.

Following The Fly is 100% Weird:
Trog (1970) at 3 a.m.
Joan Crawford as an anthropologist? Yes, and what a stern taskmistress she is. Watch her subject an innocent troglodyte to rock 'n roll music and table manners. The special effects department obviously were confused about which direction to take on the title creature: He has the body of a caveman and the head of a monkey. But no matter. Joan, in her final film, is the main attraction. Listen to her passionate delivery of lines like "I implore you to let me use my hypo-gun!" Rating: TV-PG.


---

Saturday 2/14/98

Excalibur (1981) at 11 p.m.
Okay, so there aren't any monsters in this grandiose epic from director John Boorman but there are wicked sorceresses and magic spells and macho swordfights and orgies and all sorts of pagan rituals to keep your interest. Think of it as a bloodier, more adult version of the King Arthur myth and you'll have a good time. It's also thought-provoking. For instance, it raises questions like how can you have sex while clad in full body armor?
Rating: TV-PG.

Following Excalibur is Joe Bob's Last Call Flick:
Swamp Thing (1982) at 2:20 a.m.
How often does a monster get to play the good guy? Not often enough. So would you please turn out and support Ray Wise (a Twin Peaks alumnus) when he mutates into that burly green guy called Swamp Thing. Directed by Wes "Scream" Craven. Rating: TV-PG.

Following Swamp Thing is 100% Weird:
Tomahawk Trail (1950) at 4:40 a.m.
Renegade Apaches launch an unrelenting attack on a lone cavalry division which is under the command of an inexperienced West Point graduate. Things look pretty grim until Sgt. Chuck Connors steps forward to save the day. Look for Harry Dean Stanton in one of his earliest roles. The music score is by Les Baxter who is now enjoying a musical revival thanks to his numerous exotic and fifties cocktail albums. Rating: TV-PG.



---

Saturday 2/21/98

Maximum Overdrive (1986) at 11 p.m.
Life at a small-town truck stop gets very hazardous when shock waves from a passing comet transforms a parking lot full of machines and vehicles into mobile man-crushers. This horror fantasy starring Emilio Estevez and Pat Hingle marks the directorial debut of Stephen King (he also wrote the screenplay), with a soundtrack by AC/DC. Rating: TV-14-LV.

Following Maximum Overdrive is Joe Bob's Last Call Flick:
Creepshow (1982) at 1:20 a.m.
Vengeful cockroaches, walking corpses, and fungus from outer space are some of the lovely sights on display in Creepshow (1982), an affectionate tribute to the E.C. comics of the fifties, directed by George Romero ( Night of the Living Dead ) from a screenplay by Stephen King. The film opens on a dark and stormy night with an angry father tossing his son's horror comic into the trash can: a sequence which becomes the framing device for a quintet of gruesome tales rendered in a macabre, tongue-in-cheek style. Rating: TV-14-LV.

Following Creepshow is 100% Weird:
Queen of Outer Space (1959) at 4:15 a.m.
In the year 1985, 26 years in the future, four American astronauts crash-land on Venus and are taken prisoner by an army of man-hungry alien women who look like Las Vegas showgirls. Zsa Zsa Gabor, with her Hungarian accent and slit skirt wardrobe, takes top acting honors in this camp classic featuring leftover spacesuits from Forbidden Planet, the giant spider from World Without End, and the rocketship from Flight to Mars. The well-known science-fiction author (Ben Hecht) who wrote the novel this movie's based on tried and failed to have his name removed from the credits. Zsa Zsa plays a freedom fighter, not the Queen. Rating: TV-PG.



---

Saturday 2/28/98

Immortal Combat (1993) at 11:00 p.m.
Yet another maniac is plotting to take over the world using biological warfare techniques and superhuman warriors created in her secret laboratory on a remote Caribbean island. The mad scientist is played by Meg Foster in a scene-chewing performance that deserves some kind of special drive-in award. Roddy Piper and Sonny "The Streetfighter" Chiba play Los Angeles detectives who uncover her diabolical plan.TV-14.

Following Immortal Combat is Joe Bob's Last Call Flick:
Superbeast (1972) at 1:35 a.m.
Deep in the jungles of the Philippines, a female pathologist stumble upon the secret laboratory of - yes, you guessed it - a mad scientist who wants to introduce her to someone who is tall, dark, and horrible. TV-PG.

Following Superbeast is 100% Weird:
Reckless Kelly (1994) at 4:00 a.m.
Anybody remember Yahoo Serious, the Australian comedian who made his much-publicized American debut in Young Einstein in 1988? Well, he's back in another odd mixture of farce and fantasy, playing the spirit of Ned Kelly, an infamous outlaw from Down Under. In case you're wondering, Yahoo's slapstick antics make Jim Carrey look subtle. Rating: TV-14.



---

Saturday 3/7/98

She (1965) at 10:00 p.m.
Ursula Andress is "She Who Must Be Obeyed" (her full title), a 2,000 year old queen from the lost city of Kuma who remains youthful by bathing in the Flame of Eternal Life. When she meets rugged adventurer John Richardson, she recognizes him as her long-lost lover from a former lifetime. John, however, isn't too excited about jumping into those funny blue flames. Christopher Lee co-stars as Billali, a high priest who enjoys presenting human sacrifices for the Queen's delight, and Peter Cushing plays Major Holly, the only character immune to the insanity around him. Robert Day directed this lavish Hammer production which inspired the sequel, The Vengeance of She. Rating: TV-PG.

Following the 1965 version of She is Joe Bob's Last Call Flick:
She (1985) at 12:35 a.m.
Sandahl Bergman, who some of you fondly remember from Conan the Barbarian, is back in a no-budget, apocalyptic sci-fi adventure populated by big blonde Amazons, hippie vampires, and chainsaw-welding warriors. Oh yeah, even Frankenstein makes a guest appearance. Music by Rick Wakeman and Motorhead. Rating: TV-PG.

Following the 1985 version of She is 100% Weird:
She (1965) at 3:00 a.m.
An encore presentation (no host) of the R. Rider Haggard fantasy-adventure starring Ursula Andress as the eternally youthful ruler of Kuma. Where is it? Well, it's a lost city somewhere in the desert where the extras like to break into wild, tribal dances every few minutes. Rating: TV-PG.



---

Saturday 3/14/98

The Seventh Sign (1988) at 10:30 p.m.
What if the fate of mankind depended on Demi Moore? Well, it does in this apocalyptic thriller and she proves more than willing to shoulder the burden. It all begins when she rents a room in her garage to Jurgen Prochnow who is not what he appears to be. As Demi begins to question the identity of her mysterious lodger, she finds herself being drawn into a nightmarish scenario in which she is plagued by strange religious visions and freak acts of nature predicted in the Bible's book of Revelations. Rating: TV-14.

Following The Seventh Sign is Joe Bob's Last Call Flick:
Look Who's Talking Too (1990) at 12:45 a.m.
Kids say the darnest things, especially in this sequel to Look Who's Talking in which tiny toddlers candidly reveal their deepest thoughts. Expect lots of doo-doo jokes and cheap shots at inept parents. The voices of the babies are provided by Roseanne Barr, Damon Wayans, Bruce Willis, and Mel Brooks. As an added bonus, John Travolta gets to perform a gratuitous dance routine. Rating: TV-PG-L.

Following Look Who's Talking Too is 100% Weird:
Demon Seed (1977) at 2:45 a.m.
Julie Christie becomes imprisoned in her own home by a highly intelligent computer brain named Proteus IV which has a strange request: It wants her to be the father of their child. Oddball romance or a robot's wildest rape fantasy? You decide in this underrated sci-fi thriller from director Donald Cammell (Performance). The weird electronic music is by Ian Underwood and Lee Ritenour. Rating: TV-PG. If the kids come in, just tell them you were watching Smart House



---

Saturday 3/21/98

Buffy the Vampire Slayer (1992) at 10 p.m.
A high school cheerleader discovers she is descended from a courageous vampire hunter from the Dark Ages which probably explains her expertise at battling bloodsuckers. Kristy Swanson plays the somersaulting Valley Girl who takes on the evil Uno (Rutger Hauer) and his nocturnal followers. Donald Sutherland, Luke Perry, Candy Clark, and Paul Pee-Wee Herman Reubens round out the quirky cast. Based on a popular comic strip which also inspired the current television series. Rating: TV-14.

Following Buffy the Vampire Slayer is Joe Bob's Last Call Flick:
Red Sonja (1985) at 12:30 a.m.
Conan the Barbarian inspired a whole slew of spear-chuckin' wannabes but this one leads the pack. Why? Because it has the same dang Conan crew. It stars Arnold Schwarzenegger and Sandahl Bergman, is directed by Richard Fleischer, and is based on the pulp writings of Robert E. Howard (creator of "Conan"). Just for novelty's sake, Sly Stallone's ex, Brigitte Nielsen, is tossed into the mix along with a nutty plot about a magic talisman. Rating: TV-PG-L.

Following Red Sonja is 100% Weird:
Missing Link (1989) at 2:45 a.m.
Set during prehistoric times, this oddball production from former hairdresser Jon Peters follows the world's last ape man as he wanders the plains of Africa, defending himself from wild animals with his trusty stone axe. The special effects makeup is by Rick Baker (An American Werewolf in London). Narrated by Michael Gambon, the star of Peter Greenaway's art-house drama,The Cook, the Thief, His Wife & Her Lover. Rating: TV-PG.



---

Saturday 3/28/98

NO MONSTERVISION SCHEDULED. PRE-EMPTED BY TURNER CLASSIC MOVIES WEEKEND ON TNT.


---

Saturday 4/4/98

It Lives Again (1978) at 10:30 p.m.
Kathleen Ryan's worst fears about her troubled pregnancy are confirmed when she gives birth to a killer baby with sharp fangs and deadly claws. Her horrified husband, Frederic Forrest, convinces her to flee with him and the child to a hidden research facility where other mutant babies frolic in their cages. Meanwhile, the government issues an all-points-bulletin alert for the fugitive couple. Larry Cohen's highly political follow-up to It's Alive co-stars John Ryan, Andrew Duggan, John Marley, and Eddie Constantine. Rating: TV-14.

Following It Lives Again is Joe Bob's Last Call Flick:
It's Alive III: Island of the Alive (1986) at 12:45 a.m.
After several gruesome attacks, a brood of mutant babies are considered a threat to society and exiled to a deserted island. The third in the popular "It's Alive" series, Island of the Alive stars Michael Moriaty of Troll as a paranoid nutcase who thinks the killer tykes have been unfairly exploited by the media and organizes a good will mission to the island. Talk about a bad idea! Written and directed by Larry Cohen. (Black Caesar, The Stuff)Rating: TV-PG-L.

Following It's Alive III: Island of the Alive is 100% Weird:
The Swarm (1978) at 3 a.m.
A dark cloud of killer bees are headed toward Houston with one purpose only - to stick their poisonous stingers into every cast member of this Irwin Allen disasterpiece. The special guest victims include Henry Fonda, Olivia de Havilland, Michael Caine, and Richard Widmark. A past MonsterVision movie. Rating: TV-PG.


---

Watch for these great titles on MonsterVision in the upcoming months of 1998:
Stephen Spielberg's The Goonies

Joe Dante's Gremlins

And Joe Bob's favorite World War 2 / sci-fi / UFO / monster movie, Zone Troopers

Back to Monstervision
or check out
MonsterVision host segments for Howling 3


Elvis has left the building, and he took Joe Bob with him.


Entire page above © Bill Laidlaw for Sci-fans.com - not a Time Warner Company. All Rights Reserved

---

Weekly World MonsterVision descriptions
© 1998 Turner Network Television, Inc. A Time Warner Company. All Rights Reserved. Legal/Privacy Notice