Lon Chaney

Between them, Lon Chaney, Sr. and Lon Chaney, Jr. made over 300 movies, about 150 each. Born Alonso Chaney on 4-1-1883 to deaf-mute parents, Lon learned early on to communicate in pantomime and facial expressions. This came in handy when he began his career as a silent film actor in 1913. At age 19, he went on the road as an actor in a play he wrote with his brother. 16-year-old Francis Cleveland Creighton joined the traveling show in Oklahoma City and they were married a year later when she became pregnant. They eventually went on the road with small companies that would often go broke, leaving them stranded somewhere. Lon and Cleva would perform on street corners while little Creighton would collect coins from the crowd and steal sandwiches. Eventually they made it to California in 1910 and found fairly regular employment as entertainers from San Francisco to Los Angeles.
In 1913, Cleva entered a theater where Lon worked as manager and attempted suicide. Little Creighton was placed temporarily in a home for children of "divorce and disaster" and Lon found himself unemployable due to the scandal so turned to acting in silent movies, staying in Hollywood the rest of his life. His first film for Universal Film Manufacturing Company (now Universal Studios) was a one-reeler (about 8 minutes long) "Poor Jakes Demise." In 1915, the divorce became final and Lon married his second wife. Creighton returned to live with his father and stepmother. By 1918, Lon had made over 100 films for Universal and asked for a raise. He was refused and left, eventually offered his first major role in a William S. Hart feature, "Riddle Gawn," which he called his first big break. In 1924, he played a man who fled to a circus in "He Who Gets Slapped." It was a big success and led to a series of film contracts with MGM for the next 5 years. In 1927's "London After Midnight" he played both a vampire and a Scotland Yard inspector.

He appeared in a wide range of roles in all genres, mainly early Westerns, but it is his unforgettable horror movies that most come to mind. So that he would look realistic in The Hunchback Of Notre Dame (1923), as Quasimodo, he designed and wore a hump and harness weighing 70 pounds. In "The Penalty" (1920) as a legless criminal, he had his legs tied tightly up behind him so that he could walk and jump only on his knees. The makeup he designed and wore in The Phantom of the Opera (1925) was so intense, people were said to faint at the unmasking scene. Even today, fans consider it the best version of the scene ever filmed.

Chaney virtually invented monster movie makeup, and was known as "The Man of a Thousand Faces" (which was used as the title of a 1957 bio-pic of him starring James Cagney). He even wrote the chapter on the art of movie makeup for Encyclopedia Britannica. In 1915, Chaney directed six movies, as well as writing two of the screenplays, but he preferred acting. Some of his best films of the 1920s were directed by Tod Browning, who was set to direct him in his second sound movie, Dracula, when he died suddenly of bronchial cancer just one month after the release of his first sound movie, a remake of his 1925 silent "The Unholy Three." Critics speculated that his voice must not have worked well for sound, but he played a ventriloquist in that final film, doing five different voices in it. The day of his funeral, MGM stopped all production for the day out of respect. Phantom Of The Opera was re-released as a sound movie by having someone lip-sync record the opera scene, and record a sound track with a pipe organ the studio bought just for that purpose. Chaney's scenes remained silent. The Cagney movie is not completely accurate, but does include the attempted suicide of his first wife (she took poison and survived, though it ruined her professional singing voice). She had been depressed over the lack of verbal communication in her marriage with the silent film star.
Lon Chaney, Jr.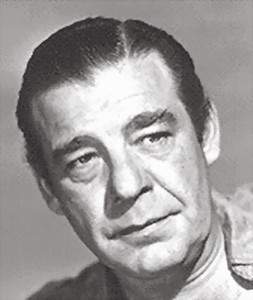 Creighton Tull Chaney was born 2-10-06 (died 1973), and made movies at RKO under that name 1932-35 to avoid being accused of trading on his father's famous name. He had been born lifeless and 2 months premature, but his father ran outside and dunked him in the icy water of Oklahoma's Belle Isle Lake to revive him, then made an incubator out of a shoebox lined with cotton. He recovered, and made his acting debut at age 6 months in one of his father's plays. But later Chaney Sr. forbade him to enter the unstable world of acting during his lifetime. After a series of only bit parts, the studio convinced him to take the name Lon Chaney, Jr. "I tried for three years to make a go of things without capitalizing upon dad's name, but the cards have been stacked against me. If I had only myself to think of, I would battle it out to the end. But I'm getting older every year and I don't think it's right to make my family suffer just so I can fight for a principal".

Despite his famous father, he played in mostly forgettable roles until 1940, when critics applauded his sympathetic portrayal of Lennie in "Of Mice And Men," reprising the role from the West coast version of the play in 1939. The same year, he tried to use his father's makeup kit for a role in "One Million B.C." but the unions wouldn't let him do his own makeup. Then came a role in 1941's The Wolf Man for Universal in which he is bitten by Bela Lugosi (in the title role) and becomes a werewolf himself, leading to a number of sequels in the starring role himself. In the 1950s & 1960s, he made over 60 TV appearances, then his Universal monster movies were rediscovered by a new generation, largely thanks to Forrest J. Ackerman's magazine "Famous Monsters of Filmland." Though he continued to make Westerns, crime-dramas and comedies, most of his career veered toward monsters and sympathetic characters:
Lon Chaney Jr's movies
Most Dangerous Game (bit role in 1932 version of story of big game hunter who goes after humans on his private island, including Fay Wray)
The Three Musketeers (12-chapter serial, 1933)
16 Fathoms Deep (1934)
A Scream In The Night (1935)
Undersea Kingdom (12-chapter sci-fi/fantasy serial, 1936)
Secret Agent X-9 (12-chapter serial, 1937)
Charlie Chan on Broadway (1937)
Mr. Moto's Gamble (1938)
Road Demon (1938)
Of Mice & Men (1939)
Charlie Chan & the City of Darkness (1939)
One Million B.C. (1940)

Man Made Monster (1941, as a man invulnerable to electricity and able to kill with a touch thanks to mad scientist Lionel Atwill. Re-issued in the 1950s as Atomic Monster)
The Wolf Man (1941, starring Bela Lugosi, with Claude Rains as Lon's father)
Ghost Of Frankenstein (1942, as the monster, with Bela Lugosi as Ygor)
The Mummy's Tomb (1942, as Kharis the mummy, reprised in 2 sequels: The Mummy's Curse and The Mummy's Ghost, both in 1944)
Calling Dr. Death (1943)
Frankenstein meets the Wolf Man (1943, as the Wolf Man)
Crazy House, Calling Dr. Death (both in 1943)
Son of Dracula (1943, as Dracula)

Weird Woman (1944)
Ghost Catchers (1944)
Cobra Woman (1944)
Dead Man's Eyes (1944)
House of Frankenstein (1944, as the Wolf Man)
The Frozen Ghost (1945)
Strange Confession (1945)
House of Dracula (1945, as the Wolf Man)
Pillow Of Death (1945)
Abbott and Costello meet Frankenstein (1948, as the Wolf Man)
16 Fathoms Deep (1948)
Captain China (1949)
The Life of Riley (1949, unaired TV-pilot)
Once A Thief (1950)
Bride Of The Gorilla (1951)
The Black Castle (1952)
Schlitz Playhouse of Stars, (1952 episode, The Trial)
Tales of Tomorrow (1952 TV episode, as Frankenstein)
Raiders of the Seven Seas (1953)
The Black Pirates (1954)
Big House U.S.A. (1955)
The Indestructible Man (1956)
The Cyclops (1957)
Hawkeye & The Last of the Mohicans (26 episodes, 1957)
The Defiant Ones (1958, supporting role)
Face of the Screaming Werewolf (1959, Mexican)
The Devil's Messenger (1959, released in 1962, as the Devil)
Number 13 Demon Street (14 episodes, 1959)
The Alligator People (1960, as victim of a mad scientist)
The Phantom (1961, unsold TV pilot)
The Haunted Palace (1963)
Spider Baby (1964, released in 1968 as Cannibal Orgy, about a chauffeur who cares for a psychotic family) Opening title sung by Lon Chaney himself in style of The Monster Mash. Written/directed by Arthur Hill
Witchcraft (1964, UK)
House of the Black Death (1965)
Dr Terror's Gallery of Horrors (1966, a.k.a. 1967's The Blood Suckers)
The Monkees (1966 episode, Monkees in a Ghost Town)
Hillbilly's in a Haunted House (1967)
Buckskin (1968)
Fireball Jungle (1970)
The Female Bunch (1971)
Dracula vs. Frankenstein (1971, a.k.a. The Revenge of Dracula) Final film of both Lon Chaney and J. Carrol Naish--in the title roles--is a B-movie finally released in 1973 when Chaney died



As per his request, his body was donated to USC for medical research when he died, in hope of helping others. His grandson maintains the official www.LonChaney.com website, with biographies of both Gramps and Lon Chaney, Sr.
When Lon Chaney and Glenn Strange were starring in "Frankenstein Meets the Wolf Man," they were asked to leave the studio commissary and eat lunch somewhere else because their makeup "offended the other customers."

Phantom Of The Opera page

Hunchback of Notre Dame page

Bela Lugosi page

Boris Karloff page


The Hunchback also co-stars in past Monstervision feature Mad Monster Party


© Bill Laidlaw. All Rights Reserved. That's my 2˝˘ worth