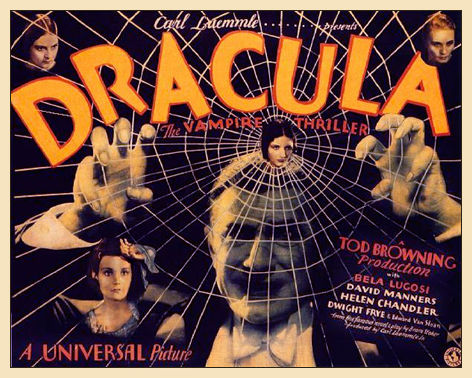 This most famous of all vampire movies is rightly considered the grandfather of modern horror films, with direction by Tod Browning (helped by cinematographer Karl Freund) and with Bela Lugosi as the spectral caped bloodsucker, the role he would be identified with the rest of his life. (He got the part after Lon Chaney Sr.'s death just a few months prior to production.) Universal Studios considered Browning's original cut horrible, and Browning in turn claims that Universal destroyed his film during editing. The film is less than scary today, the story disjointed and cobbled together from a hodgepodge of Bram Stoker's original novel and the various stage verions, authorized and unauthorized, that had been produced on both sides of the Atlantic. But when it was released, it drew down the wrath of censors everywhere, including the PTA in this country, and was banned outright in several foreign countries. With David Manners as Jonathan Harker, Helen Chandler, Edward Van Sloan, and Dwight Frye as Renfield. (Frye would also play Frankenstein's assistant later the same year.)

Dracula (1931, Spanish version)

This Spanish-language version of the classic vampire story was filmed on the same stage, using the same sets as the more famous Bela Lugosi version, but with a Spanish cast directed by George Melford (who spoke no Spanish!) headed by Carlos Villarias in the Lugosi role. It was produced by Paul Kohner, who would end up marrying the female lead, Lupita Tovar. George Robinson's great cinematography, and the more understated acting style of this cast, has made it famous and beloved among Dracula purists.

Dracula's Daughter (1936)
This sequel to the ground-breaking vampire film stars Gloria Holden as a cruel lesbian torturer, afflicted with her father's curse, who seeks help from a psychiatrist (Otto Kruger) but can't resist using a bullwhip on her beautiful female slaves. Novelist Anne Rice claims this film as the inspiration for her "Interview with the Vampire" novels. With Nan Gray. Written by Garrett Fort.

El Vampiro (1957)
Fairly predictable Mexican stake-through-the-heart flick, "El Vampiro," that was acquired and retooled by producer K. Gordon Murray for release in the states in 1968. Mexican producer Abel Salazar plays the creepy Count Duval. With German Robles, Ariadne Welter, Carmen Montejo. Directed by Fernando Mendez.



Sorry, I haven't swiped a clip from Joe Bob's hosted DVDs of any of these movies. I'm afraid of the warnings:

The Vampire (1957)
Low-budget neck-munching as scientist John Beal takes a strange concoction left behind by his dead colleague. With Coleen Gray, Kenneth Tobey, Lydia Reed, Paul Brinegar. Directed by Paul Landres, best known for his TV work on "The Lone Ranger" and "Sky King." Alternate title: "Mark of the Vampire."

All 4 reviews © 2000 & 2001 Joe Bob Briggs. All Rights Reserved. Not an AOL Time-Warner Company in this lifetime.

For this and other movie reviews by the artist formerly known as the host of MonsterVision, go to Joe Bob Briggs.com
Turner Classic Movies had "Billy The Kid vs. Dracula" starring John Carradine as Dracula, in January 2007:
In June of 1965, William Beaudine agreed to direct the last two films of his career - Billy the Kid vs. Dracula and Jesse James Meets Frankenstein's Daughter. According to biographer Wendy L. Marshall in William Beaudine: From Silents to Television, "...it was loyalty that persuaded him to direct two burlesque horror-westerns for Joe Levine's Circle Productions. Each one was filmed in eight days at the Corrigan Ranch in Simi Valley, and at Paramount Studios. Carroll Case was the producer and Sam Manners the production supervisor. Beaudine had directed television shows for both." Billy the Kid vs. Dracula and Jesse James Meets Frankenstein's Daughter were produced specifically for the drive-in circuit.

"They were made for fun," said Manners. "Carroll Case felt Bill would do the best job on them, and I'm sure [Levine and Case] felt they could make money with them. That was part and parcel, and is always part and parcel, of whatever's being done. Levine expected to clear more than $5 million on each film."

Beaudine liked to work with actors he had previously directed in other films or television shows and assembled a supporting cast for Jesse James Meets Frankenstein's Daughter that included Jim Davis as Marshal MacPhee (Davis had worked with Beaudine on the TV series Rescue 8), Steven Geray as Dr. Frankenstein (Geray had appeared in Beaudine's Paris Playboys [1954]) and Nestor Paiva as the saloon owner (Paiva had been featured in Beaudine's TV series, The Adventures of Rin Tin Tin).

Cal Bolder, who plays Jesse James' sidekick Hank Tracy and the monster Igor in the film, recalls in an interview with Michael Barnum how he was cast in Jesse James Meets Frankenstein's Daughter: "The producer of the film saw me in a television role. I was working pretty steady in TV at that point. He wanted me to come in and read for the part, which I did. It only took about a week to shoot the movie...when you were where I was, and wanted to work and get exposure, then you took just about anything that came along...In fact Jim Davis, who played the sheriff in the film, had been around Hollywood for about 20 years and I managed to get billing above him - and nobody had ever heard of me! Including Jim Davis."

As for his transition from Hank Tracy to Igor in Jesse James Meets Frankenstein's Daughter, Bolder said, "They really shaved my head. They said to me "We'd like for you to shave your head and for that we will give you an extra $1000. And we will give you a professionally made wig for you to wear to go out on auditions with." So I did half the film bald, except for that rubber tape around my head which was made to look like stitching. As it was I got several more roles later in shows where they wanted me to be bald, such as a couple of The Man from U.N.C.L.E. episodes and a Daniel Boone. So it actually worked out well for me."

Estelita Rodriguez, who billed herself as Estelita for most of her career, hadn't made a feature film since Rio Bravo in 1959 when she accepted this role. It would be her last film. She died of influenza shortly after it was completed.

William Beaudine, often referred to as "One-Shot Beaudine" because of his reputation for only shooting one take of each scene, had one of the longest directing careers in the history of Hollywood. He entered the film industry in 1909, working as a gopher for D.W. Griffith, and reached his artistic peak during the silent era with Little Annie Rooney (1925) and Sparrows (1926), two Mary Pickford films. His real forte was B-movies and by the 1940s he was specializing in programmers in every genre, churning out Monogram westerns, Bowery Boys comedies, and exploitation films such as the notorious Mom and Dad (1945), which was a tawdry melodrama masquerading as a sex education film and made a fortune for producer Kroger Babb.

Jesse James Meets Frankenstein's Daughter was the last film shot at the Corrigan Ranch, near Chatsworth, California. It was owned by Ray Corrigan who created a screen alter ego known as Crash Corrigan and appeared in such popular movie serials as Flash Gordon (1936) and Undersea Kingdom (1936). He became a popular western star shortly thereafter and specialized in oaters up until the mid-forties. His final film was It! The Terror from Beyond Space (1958) in which he played the title alien. It was a direct influence on Ridley Scott's 1979 breakout sci-fi thriller Alien.

Ray Corrigan sold his ranch to Bob Hope directly after the completion of Jesse James Meets Frankenstein's Daughter.
Mad female scientists are a rarity in the science fiction/horror genre and Jesse James Meets Frankenstein's Daughter is one of the first films to capitalize on this. Lady Frankenstein (1971) would exploit this plot angle more prominently with Rosalba Neri's Tania Frankenstein taking a distinctly sexual interest in her creation.

Jesse James Meets Frankenstein's Daughter would prove to be the final feature film for Narda Onyx (Dr. Maria Frankenstein), Estelita Rodriguez (Juanita) and Cal Bolder (Hank/Igor).
Narda Onyx worked more frequently in television than in feature films and appeared in episodes of The Adventures of Jim Bowie (1956), 77 Sunset Strip (1959), Have Gun, Will Travel (1960), The Beverly Hillbillies (1963), and The Man from U.N.C.L.E. (1964). She only made three film appearances, Gaby (1956), Hitler (1962), and, of course, Jesse James Meets Frankenstein's Daughter, which was her most memorable role.

Estelita Rodriguez was a Cuban actress who specialized in playing Mexican senoritas in a number of Westerns in the forties and fifties, several of which featured Roy Rogers. She never really escaped her stereotyped screen image as a 'spitfire' and died at the young age of 38. She was married four times; one of her husbands, actor Grant Withers, committed suicide shortly after his divorce from her.

Cal Bolder, whose real name is Earl C. Craver, was born in Elkhart, Kansas and later attended Wichita University where he played football. After college, the 6'3", 240 pound Craver served his country in the Korean War and then settled in Southern California.
Bolder was working as a cop for the Los Angeles Police Department when he was discovered by an agent whom he had stopped for speeding. He was encouraged to audition as an actor and almost immediately won small roles in several television productions. Among them were Adventures in Paradise (1960), Gunsmoke (1962), Honey West (1965), The Man from U.N.C.L.E. (1966) and, his most famous appearance as Keel in an episode of Star Trek (1967).
Cal Bolder retired from filmmaking in the sixties and became a novelist. His first book, The Last Reunion, was about the investigation of a serial killer stalking the residents of a small town in Washington. He died of cancer in January of 2005.

Carl K. Hittleman, the screenwriter of Jesse James Meets Frankenstein's Daughter, had been associated with two previous films that featured Jesse James as the main character - I Shot Jesse James (1949) which Hittleman produced for director Sam Fuller and The Return of Jesse James (1950) which was based on a story idea by Hittleman.

Jesse James Meets Frankenstein's Daughter and Billy the Kid vs. Dracula weren't actually the first horror westerns ever made despite some claims in the publicity materials. The Beast of Hollow Mountain (1956) featured western star Guy Madison as a rancher who sets a trap for the prehistoric creature that's been feeding on his cattle. And Curse of the Undead (1959) featured a vampire gunslinger (Michael Pate) who challenges the town's preacher (Eric Fleming) to a showdown.

How could a movie title like Jesse James Meets Frankenstein's Daughter (1966) ever live up to the delirious scenario it promises? It's the sort of film that's more fun to imagine than to actually see but that didn't stop the filmmakers from building their creation from spare parts and unleashing it on a public that couldn't resist a wacky premise like that. Roger Corman, king of the quickie exploitation programmer, built a cottage industry on this approach: Create the title first and then make the movie. It's a formula that worked and produced such memorable marquee items as Attack of the Crab Monsters (1957), The Viking Women and the Sea Serpent (1957) and Rock All Night (1957). Some of the films were even unexpectedly good, displaying an oddball charm and knack for black comedy - The Little Shop of Horrors (1960), A Bucket of Blood (1959). Jesse James Meets Frankenstein's Daughter, however, was not the brainchild of Corman but a gimmick hatched by Joe Levine's Circle Productions. Combining two genres which were in a state of decline in the mid-sixties - the Western and the Horror film - screenwriter Carl K. Hittleman brought together two of the West's most famous outlaws and paired them with some infamous horror royalty. The results, Billy the Kid vs. Dracula (1966) and Jesse James Meets Frankenstein's Daughter, were designed as a drive-in double feature from the get-go with Carroll Case serving as producer on both and 73-year-old William Beaudine handling the directorial chores.

Neither film was strong enough to warrant a solo release but as a double bill they proved to be an irresistible and profitable combo which quickly recouped their low-budget production costs - both films were shot in eight days on the ranch of former serial star Ray "Crash" Corrigan (Flash Gordon) in Simi Valley, California. While it may be difficult to find an enthusiastic admirer of either film, most trash film aficionados tend to favor Jesse James Meets Frankenstein's Daughter over its co-feature, despite John Carradine's presence as Dracula in the latter (Carradine often referred to Billy the Kid vs. Dracula as his worst movie which was quite an admission for a man with more than 200 film credits to his name). The reason for this is simple: Narda Onyx! As Dr. Maria Frankenstein, she gives new meaning to the term "over the top" as she tears into her risible dialogue with wild-eyed abandon. Whenever she in on-camera, you can bet the scenery will be chewed if not swallowed whole.

Jesse James Meets Frankenstein's Daughter gets everything wrong from the start beginning with its title. Dr. Marie Frankenstein is not the daughter of Baron Frankenstein but his great-granddaughter and the reason she and her brother Rudolph (Steven Geray) have relocated from Vienna to an unnamed town in the southwest - Transylvania, New Mexico? - is because of its frequent electrical storms. Apparently Europe didn't have those and they are needed to power Maria's brain experiments. After running out of brain donors - mainly children abducted from local families - Maria acquires a new lab rat in the form of Hank Tracy, a sidekick of Jesse James's who has been injured in a gunfight. She transforms Hank into Igor, a mindless slave to her will, but nothing seems to go right for our genius. Her attempts to seduce Jesse fail miserably - he prefers the Mexican villager Juanita (Estelita Rodriguez) - and even her own brother betrays her by intentionally botching almost every experiment. In a climax that prefigures the much more sexually explicit Lady Frankenstein (1971), Maria finally gets the rough treatment she craves from her own creation.

This was the last feature film directed by William Beaudine who got his start in the film industry in 1909, doing odd jobs for producer/director D. W. Griffith. You can't exactly say Beaudine went out in a blaze of glory but Jesse James Meets Frankenstein's Daughter has a certain loopy charm if encountered in the right frame of mind (drunk, stoned, semi-conscious or on the verge of suicide). Yes, it has long, dull stretches, the sets are pitiful, the action sequences are lame, the acting borders on the somnambulistic except for Ms. Onyx and the basic horror/western gimmick never gels. Then again, it's hard to resist a movie where the mad scientist has a temper tantrum and angrily turns on its troublesome creation, yelling "Igor, go to your room!" If only Narda Onyx could have been in every scene - and with Ed Wood directing instead of William Beaudine!

Producer: Carroll Case
Director: William Beaudine
Screenplay: Carl Hittleman
Cinematography: Lothrop Worth
Film Editing: Roy V. Livingston
Art Direction: Paul Sylos
Music: Raoul Kraushaar
Cast: John Lupton (Jesse James), Narda Onyx (Dr. Maria Frankenstein), Estelita Rodriguez (Juanita Lopez), Cal Bolder (Hank Tracy/Igor), Jim Davis (Marshal MacPhee), Steven Geray (Dr. Rudolph Frankenstein). C-88m.

Compiled by Jeff Stafford
SOURCES:
William Beaudine: From Silents to Television by Wendy L. Marshall
"Cal Boulder Meets Frankenstein's Daughter" by Michael Barnum, www.horror-wood.com
IMDB
TM & © 2007 Turner Classic Movies
A Time Warner Company. All Rights Reserved.
Billy the Kid versus Dracula
was originally slated to begin production in 1961 with Joe Breen in the director's chair.
According to assistant director Howard W. Koch, Billy the Kid versus Dracula was shot in only five days.
Interiors for the film were shot at The Producer's Studio in Hollywood.
Exteriors were lensed at Corriganville, Hollywood stuntman Ray "Crash" Corrigan's ranch in California's Simi Valley. Other films that used the same location include King Vidor's Duel in the Sun (1946), John Ford's Fort Apache (1948), Sam Fuller's The Baron of Arizona (1950) and Henry Koster's Biblical drama The Robe (1953).
During production, John Carradine would walk off the set during his lunch breaks to visit a Melrose Avenue bar in full Dracula regalia.
Billy the Kid versus Dracula was shot back-to-back at Corriganville with Jesse James Meets Frankenstein's Daughter (1966), also written by Carl K. Hittleman and directed by William Beaudine.
During shooting, John Carradine protested that Dracula would never use the word "vampire," and so substituted the word "undead" where the V-word appeared in the script.
Cinematographer Lothrop Worth admitted that, although William Beaudine had a reputation for speed, he required rest periods between scene takes.
The film's score, credited to Raoul Kraushaar, contains cues from the Republic serial The Purple Monster Strikes (1945) and Edgar Ulmer's Daughter of Dr. Jekyll (1957).

Prior to its March 30, 1966 release, 12 minutes were cut from Billy the Kid versus Dracula.
Billy the Kid versus Dracula and its co-hit Jesse James Meets Frankenstein's Daughter were marketed as having been filmed in "Shockorama," allegedly "the newest in terror-tainment."
In a 1990 interview with Filmfax magazine, Virginia Christine had nothing to say about Billy the Kid versus Dracula.

John Carradine was born Richmond Reed Carradine in Manhattan's Greenwich Village on February 5, 1906. Raised in Poughkeepsie, Carradine's mother was a surgeon and his father an attorney who also dabbled in painting and poetry.
Carradine's early years were spent as a budding painter and sketch artist. Working his way to New Orleans, he made his regional theatre debut in 1925, later joining a Shakespearean repertory company.
Relocating to Los Angeles, Carradine had a habit of strolling Hollywood Boulevard while reciting passages from Shakespeare, a custom that resulted in the nickname "the Bard of the Boulevard."
Carradine made his first films billed as "John Peter Richmond," officially changing his name to John Carradine only when he signed a contract with Fox in 1935.
Early roles for Carradine were bits in the Universal horror films The Invisible Man (1933) and The Black Cat (1934).
From 1936 on, Carradine became a stock player for director John Ford, with memorable appearances in Ford's Stagecoach (1939) and The Grapes of Wrath (1940).
John Carradine had worked for director William Beaudine twenty years earlier, on the cut-rate Monogram chillers Voodoo Man (1944) with Bela Lugosi and The Face of Marble (1946).
In Universal's The Mummy's Ghost (1944), Carradine's murderous high priest stalks reincarnated Egyptian princess Ananka, a role that went to his Billy the Kid versus Dracula costar Virginia Christine in Ghost's sequel The Mummy's Curse (1944).
Late in life, Carradine played melancholy werewolf Erle Kenton in Joe Dante's horror satire The Howling (1981). The character name was a coy reference to Carradine's House of Frankenstein (1944) and House of Dracula (1945) director Erle C. Kenton.

William Beaudine had begun his long career in motion pictures in 1909, earning $10 a week by sweeping sets and emptying cuspidors at New York's Biograph Studios.
Relocating to Hollywood, Beaudine was an extra in several silent films by D. W. Griffith as he worked his way up to the position of assistant director. By 1915, Beaudine had graduated to helming comic shorts and, by 1922, his first feature.
As a silent film director, Beaudine worked with Hollywood's biggest stars, including Rudolph Valentino, Theda Bara and Mary Pickford. In 1926, Beaudine directed Pickford in the eerie Gothic orphan drama Sparrows, filmed on a massive swamp set built on the Pickford-Fairbanks Studio lot in Hollywood. Beaudine's plans for retirement were nullified by the October 1929 stock market crash. With his savings wiped out, Beaudine was forced back to work for whatever meager salary was offered. Earning far less than he had before the Great Depression, Beaudine worked quickly to finish films. His reputation for speeding through a film shoot and usually capturing scenes in one take inspired the nickname "One Shot."

Beaudine directed Dracula (1931) star Bela Lugosi in four movies: The Ape Man (1943), Ghosts on the Loose (1943), Voodoo Man (1944), and Bela Lugosi Meets a Brooklyn Gorilla (1952).
William "One-Shot" Beaudine ended his career directing episodes of such TV series as The Green Hornet and Lassie. In his final years, Beaudine worked as a licensed real estate agent. He died on March 18, 1970, at the age of 78, considerably shy of his projected death at age 100.

Billy the Kid versus Dracula star Chuck Courtney was the son of Elizabeth Courtney, a costumer for Columbia Pictures. She reportedly fitted Marilyn Monroe for a gown in which the actress hoped to remarry baseball player Joe DiMaggio prior to her untimely death on August 5, 1962. Beginning with bit parts in The Asphalt Jungle (1950), Five Against the House (1955) and Tea and Sympathy (1956), Courtney moved on to stunt work, with credits extending from Stanley Kubrick's Spartacus (1960) to Mom and Dad Save the World (1992). A 22-year-old Chuck Courtney had been the star of William Beaudine's earlier oater Born to the Saddle (1953), alongside former Frankenstein monster Glenn Strange. On the long-running series The Lone Ranger, Courtney played Dan Reid, nephew of Clayton Moore's masked lawman. Courtney played a featured role in the earlier western-horror hybrid Teenage Monster (1958). Courtney was a favored actor of John Wayne and Robert Conrad and received supporting roles in several of their vehicles. In 1994, Courtney was the recipient of The Golden Boot Award for his significant contributions to westerns on both the big and small screens. Debilitated by a series of strokes that left him all but speechless, Chuck Courtney took his own life in his North Hollywood home on January 19, 2000. He was 69.

Iowa-born actress Virginia Christine was no stranger to fright films, having appeared in Universal's The Mummy's Curse (1944) and House of Horrors (1946), as well as the sci-fi classic Invasion of the Body Snatchers (1956).
In 1964, Virginia Christine began her long run as Mrs. Olson, old world pitchwoman for Folger's Coffee in a series of television ads that lasted until 1971. In 1970, Christine's hometown of Stanton, Ohio, celebrated its bicentennial by redesigning its water tower to resemble a coffee pot.

Second-string villain Bing Russell was the father of actor Kurt Russell. A veteran of many westerns, the elder Russell also played bits in the sci-fi classics Tarantula (1955) and The Deadly Mantis (1957).

Cast as "backwoods female pill-slinger" Doc Hull was Olive Carey, widow of actor Harry Carey, in her last film role. Carey's son Harry Carey, Jr., who had costarred with John Wayne as one of The Three Godfathers (1948), contributed a cameo appearance to Billy the Kid versus Dracula as a stagecoach wagonmaster.

George Cisar, who plays ill-fated firewater salesman Joe Flake, was a veteran of such spookshows as The War of the Worlds (1953), The Werewolf (1956), The Giant Claw (1957) and Attack of the Giant Leeches (1959), as well as several Elvis Presley vehicles.

Seen briefly as an Indian squaw who falls victim to Carradine's perambulating revenant is Charlita Roeder, who had starred opposite the original Count Dracula in William Beaudine's Bela Lugosi Meets a Brooklyn Gorilla (1952).

A 38-year-old John Carradine wore graystick in his hair as Bram Stoker's undying Count Dracula, a supporting player in the Universal Studios monster rally House of Frankenstein (1944). Hewing closer to Stoker's description of the character than had Bela Lugosi's Slavic branding of the role in 1931, Jack P. Pierce's makeup afforded Carradine a distinguished, aristocratic aspect that helped to distance the actor from his Bohemian turn as French serial killer Bluebeard (1944) a year earlier. Twenty-one years after Carradine hung up the beaver hat of his bogus "Baron Lajos" in the sequel House of Dracula (1945), he again stepped into the storied bloodsucker's opera cloak for Billy the Kid versus Dracula (1966). This time around, Carradine's hair was a suspicious squid ink black, no doubt to give the then 59-year-old actor a more youthful and vital look. Or at least that was the plan.

Plagued by arthritis through the last act of his fifty year career in films, Carradine looks frail here, and stooped under the weight of a satin-lined cape (a shortcoming aggravated by having the actor wear ruffled cuffs and a plush red necktie that recall his turn as the elegant cardsharp of John Ford's Stagecoach in 1939). This is not to say the actor doesn't give his all in the part, and what joys there are to be taken from the threadbare Billy the Kid versus Dracula are credited to his ripe and ready (but mostly ripe) performance. Carradine growls and scowls like a terrier, barking orders ("I demand privacy!") and dealing rebukes ("You clumsy idiot!") to the hayseed locals of the philistine hamlet he has invaded. (The use of red key lighting when Dracula is in attack mode makes Carradine look like he's mesmerizing a rotisserie chicken.) Pretending to be the uncle of silver mine heiress Melinda Plowman, Carradine's "Uncle Joseph" brings to mind Joseph Cotten's "Merry Widow Killer" in Hitchcock's Shadow of a Doubt (1943) and the scenes in which Dracula pledges his undying love at the bedside of his "niece" carry a discomfiting incestuous charge.

Support players Virginia Christine (as a fearful but resourceful immigrant) and Olive Carey (as a "backwater female pill-slinger") bring levity to the lethargic proceedings with both intentional and unintentional laughs but Chuck Courtney's Billy the Kid is a dull nonstarter. As conceived by Carl K. Hittleman, the former boy outlaw has reformed himself to the extreme of being a bland nonentity, seeming more inconsequentially white-bread than Audie Murphy in The Kid from Texas (1950). Courtney is such an unpersuasive (and perpetually self-deprecating) hero that viewers would be forgiven for hoping that Dracula (oddly never so named in the script) get away with it. Sadly, the Undying Count is defeated yet again in the final frames, impervious to Billy's non-silver bullets but kayoed by being hit in the face with the empty revolver. It's an ignominious end for the Undying Count and this film's biggest laugh.

Producer: Carroll Case
Director: William Beaudine
Screenplay: Carl K. Hittleman
Cinematography: Lothrop B. Worth
Film Editing: Roy V. Livingston
Art Direction: Paul Sylos
Music: Raoul Kraushaar
Cast: John Carradine (Count Dracula), Chuck Courtney (William 'Billy the Kid' Bonney), Melinda Plowman (Elizabeth Bentley), Virginia Christine (Eva Oster), Walter Janovitz (Franz Oster), Bing Russell (Dan 'Red' Thorpe). C-73m.

Director of photography Lothrop B. Worth had previously lensed I Was a Teenage Frankenstein (1957).

Compiled by Richard Harland Smith
SOURCES:
John Carradine: The Films by Tom Weaver
William Beaudine: From Silents to Television by Wendy L. Marshall
"John Carradine: He Loved Acting and He Was Good At It" by Raymond Stanley
(www.classicimages.com)
www.britmovie.co.uk
IMDB
en.wikipedia.org



Elvis has left the building, and he took Joe Bob with him.