15161 was the hit count as of 8-4-2015 at 10:20 pm
A Freedom 21 Sailboat Is Available in Sarasota, FL
Length: 21'.8 Beam: 8' Draft: 2 feet
Type: Daysailor / Racer
Roller furling Jib
Mainsail/ Carbon fiber free standing mast
Hull: Fiberglass
Interior: Cabin with 4 Bunks
Roomy cockpit (4-6)
Engine: 8 HP Honda outboard
Location: Waterfront Restaurant in Sarasota
at Dock A-3 (Southside of Marina 2 miles south
of Stickney Point Road behind the Waterfront Restaurant)
Asking: $3500
Contact: Ted Jennings 941-927-773
This is a great comfortable sailing boat for shallow Florida waters.
Good racing record with Siesta Key Sailing Club
Ted Jennings sgatelab@yahoo.com
I have sailed with Ted on this boat many times and can attest to it being an excellent boat in every detail.
I sailed in many races with Ted Jennings. The sails are excellent - with a very large roller furling genoa jib and fully battened mainsail and the 8 hp Honda outboard works very well. This boat is in excellent condition as he states. (Milton Thrasher - 941 966-9172 - mthrasher@verizon.net)
Siesta Key Sailing Club will start the 2015-2016 Racing Series on November 3, 2015
Google "Siesta Key Sailing Club" to learn more about this group of senior sailors and their small mini-cruisers that race 4 months of the year on lower Sarasota Bay below Point Crisp.
We try to get in 8 races in each of 4 months but the winter months often have too heavy winds to allow that to happen.
We have 10 mini-cruisers that race on reverse handicaps. That means that the slow boats start first and the faster boats have to catch up so that ideally all boats finish near the same time making for a more interesting race.
This club has been going for over 28 years and Commodore Charles Kilbourne remains the Commodore after all these years. You will find the history of the club in the main on-line records found with Google.
Emirates A380 and Jetman Dubai Formation Flight | Emirates Airline Watch how an Emirates Airbus A380 and a Jetman Dubai duo flew together in a breathtaking formation flight over Dubai to make aviation history, in this exclusive behind the scenes video. Jetman fly along side of Airbus A380 My current project is a 36" Hampton One-Design Sailboat for R/C
These Hamptons are Racing Off Norfolk, VA near where I used to live in 1942 to 1945. They were a glorious sight!
Got to PhotoShow of Hampton One-Designs.
Frames for the 36" Hampton One-Design are $175 plus shipping. Checks can be made out to Milton Thrasher, 4258 Hearthstone Drive, Sarasota, FL 34238 941 966-9172 mthrasher@verizon.net

Google "Winifred Lake Union Dreamboat" for many photos of Winifred.
My full metastatic melanoma story follows the part about my laser cut frames.
Tampa Bay Ship Model Society Activities at the September 22, 2015 Meeting

Click for
Panart- Mantua
boat model kits.
Go to www.rccraft.com for small (22" typically) mahogany runabouts that are built from kits like Japanese ITO kits of the 1950s. They are fitted out with custom made hardware, electric lights, motors and flags but without r/c. They are priced around $400 each which is a huge bargain considering the many hours it must take to finish these fine models.
I brought home one of the ITO model boats in 1952 from when I was there as an Ensign on the USS Nicholas DDE 449. It was a beautiful model with all the details as shown on the RCCraft.com web site for less than $100 in those days!
Go to classic-collectables.com for more ITO-type models including submarines.
Click for Japanese ITO - Type Boat models found on line.
My Attempt To Establish An AMYA IOD Model Sailboat Class
My first experience with a free sailing group was with the Mill Pond Model Boat Club in Port Washington, NY where Ainse Ballantyne was the guru at the time.
In 1972, I owned and raced a 32' 5" International One-Design Class sailboat and made a 48" model of it with the idea of rigging it for radio control. I took it to one of the Mill Pond Model Boat Club meetings and told them how I proposed starting an AMYA IOD Class with R/C at 48". That was long before r/c had really caught on.
They scoffed at my ideas saying that r/c would never work and free sailing with vanes or Braine Gear is the only way to go and that you need a boat boy on the other side of the pond!
I told them that reliable electronics are coming on and how I worked at IBM where we already had a desk top PC called "Jib Prime" that could run APL programs, a special language. That was in 1972.
They were heavy into the AMYA A Class boats with vane steering that were even larger - up to 72". Later, I offered 72" Vanja A Class fiberglass hulls.
In 1994, I moved to Sarasota, Florida upon retiring and contacted the AMYA with my proposal. I was told I had to have 20 owners who were AMYA members and run class races to start the IOD Class. My proposal was published in one of the AMYA Quarterly Magazines but it attracted very little interest. There was a current argument that there were already too many classes.
I built several very good 48" IOD models shown later on this web site. I made a fiberglass mold of the best one. I sold over 30 hulls to those who finish them for R/C. I sold 5 finished, ready to race ones to the wives of the real IOD owners as presents. Internet had come along and that helped me significantly to get publicity for these models. Now they are shown on YouTube which attracts a new buyer now and then. Click for Kendall Allcott's IOD Model "Joyce". People contact me asking for frames for "the Joyce" as they call it.
I never could get a group together to have IOD Fleet races so the idea died on the vine.
Of course R/C was popular by then and today few people are building from scratch and buying ready to race boats.
I think I have found most of the large J-Boat model builders since that business has virtually dried up. I get an odd order or two now and then from places like the BVI and Puerto Rico!
I AM REBUILDING MY LASER CUT FRAMES WEBSITE
I am rebuilding my web site that features laser cut frames for any model boats that plans are available for. There is a new way that makes it easier to find models and plans than on the original web site.
I inadvertently deleted the original web site. Fortunately,the origin images were saved in the online Angelfire files for rebuilding this web site.
Separate section were saved which you can now link to. The links to these sections are included below. I will rebuild the top part of the new website with my most popular models. They will include many large J-Boat model frames and deck houses, 74 and 48" Aphrodite, Baby Bootlegger, Chris Craft 16', 32' Cruiser, Number Boat 22 and Swallow runabouts, Yacht America and some other power boats.
The recently launched new J-Boat Topaz will be added as soon as I find the lines and photos of her.
I offer laser cut frames for all models in 36", 48", 60" and 1/16th scale for the Americas Cup models.
Click for Frames and Plans
Click for J Boat Deckhouses
Click for 74" Aphrodite Model
Click for 48" Aphrodite Model
Click for Rebuilding of 74' Aphrodite
Click for J Class Assoc's 9 J Boats and replicas being built
Click for Janice Chick's 2008 Summer aboard Endeavour
Click for A Class Vanja 73" Model

Click for Vanja and other models
Click for 48" Int'l One-Design and Etchells Class
Click for Steam Powered Models
Click for Saving sculptures with 3D Printing
Click for Amazon's model boat books
Click for Yankee One Design model
Click for SailsETC Models by Grahm Bantock
Click for Herb Miller's Tug Boat PhotoShow
Click for Sailing Yacht Lulworth's restoration

I now offer 48" IOD fiberglass hulls with 3" deeper keels for r/c racing for $195 plus shipping. I have a new mold created from one of my original 48" hulls. It provides full hulls joined from two halves so that lead shot ballast can be poured deeper giving more stability than the original hulls.
RC Control for up to 150% Overlapping Genoa Jibs
Charlie Blume's diagram and discussion show how to control an overlapping Genoa on a pond sailer. The system works better than anything I've seen. Operation: The drum servo is controlled by the left rc transmitter stick. When the stick is centered, the sail is full out. With full left stick, the sail is in to port and full right stick, the sail is in to starboard. The drum revolutions must provide enough line to cover the distance from full in on one side to full in on the other. Most drum servos have about 3 1/2 revolutions from lock to lock. Make the drum diameter large enough to provide the length needed.
As with full size genoas without a whisker pole, full out loses a lot of efficiency, but for reaching and beating it improves boat speed. Also in my opinion, it works best with a 110-120% overlap but not so much for a 150% Genoa! It looks good on a scale model though.
The attached a photo is of a model Charlie Blume rigged a long time ago. It is a much more complicated system. The model is 5' long and displaces 53 lbs.
Aphrodite 48" and 74" continues to be one of my most popular models
Click for the
Aphrodite Photoshow of Bill French's 48"model
.
Here is Bill French's 48" Aphrodite made from laser cut frames I provided. He is doing a marvelous job with it.
Some of the hardware Bill French uses is from "Wet Goose", owned by Ken Valk and listed lower on this web site as a good source.
The standard deck fittings and the sockets for the roof mounted handrails are beautiful solid brass.
The mast and boom fittings will mostly be from "Cornwall". The compass is from Cornwall.
The winch is a hybrid of wheels from an ugly winch I had laying around and built a good looking body for them. I designed and built the engine telegraphs. The stanchions for the mahogany outer handrail are 1/8" brass rod with brass washers on the deck. I think I have everything I need except a brass searchlight. Cornwall has one but it has been backordered for several months.
I continue to use the .dxf files created by Ralph Perkins. He works to any level of detail you want. Contact him at Oldforedecker@hotmail.com to start for new models. Note Ralph's deck houses for J-Boats which I show with J Boat frames.
Herb Miller in Marathon, FL builds models from frames he provides. Contact Herb for models built to any level of completion you want at HerbMiller32@hotmail.com. Phone 305 304-4970. Herb points out that my model frames are the best in the business due to the T-Rails provided that assure proper spacing and alignment with perfect fits of the notches to the width of the 1/8" of clear white birch plywood.
MEMORY STICKS FOR MODEL BOATS ARE AVAILABLE AGAIN!
I provide Memory Sticks of my many files upon request for $75 including shipping.
There are over 5,000 files taking 2.8 Gigabytes on an 8 Gigabyte memory stick provided post paid.
Call 941 966-9172 or mail | 4258 Hearthstone Drive, Sarasota, FL 34238 | mthrasher@verizon.net
36" Box Rule Models Race At San Francisco and in the UK
This is a UK Model Yacht Association national class which is particularly suitable for lakes with restricted depth and sheltered wind conditions. It offers virtually complete freedom in design provided that the boat in racing trim and with the exception of fittings, rig and sails, fits completely into a rectangular measurement box 37" long, 9" wide and 1l" deep. Designs with simple rigs are ideal for youngsters to rig and race. The measurement of these boats takes only a few minutes and is simplicity itself. Despite the freedom that the rule permits, many boat designs stay competitive for many years. Braine Gear steering was normal but vane steered free sailing 36"s made a comeback in 2003.
Ernie Mortensen of La Jolla, CA provided the photos and information about the 36" Box Rule Models. Click for the
36" Box Rule Photoshow
Bluenose fishing schooner beat Gertrude L. Thebaud for the Lipton Int'l Fishing Challenge Cup
This set of lines were provided by the Tampa Bay Ship Model Society. They were scanned from a Chapman book that seems authoritative. I provide laser cut frames using these lines at 48", 60" and other sizes upon request.
Gertrude L. Thebaud, the 132' American fishing and racing schooner was built in Essex, Massachusetts in 1930. She is the celebrated racing competitor of the Bluenose. She was designed by Frank Paine, built by Arthur D. Story for Louis A. Thebaud, and named for his wife, Gertrude L. Thebaud. In their first meeting at Gloucester, Massachusetts, in October 1930, the Gertrude L. Thebaud bested the Bluenose 2-0 to win the Sir Thomas Lipton International Fishing Challenge Cup. However, in 1931, Bluenose won two races to none, and again in 1938, three races to two, Bluenose defeated the Gertrude L. Thebaud to remain the undefeated holder of the International Fisherman's Trophy.
I have the lines drawing for the Bluenose and Gertrude L. Thebaud and provide laser cut frames for both at 48", 60" and 1/16th scale models for $175, $225 and $325 plus shipping. Other sizes also available by special order. See the 1/16th scale model Bluenose that is bigger than a car!>
BRIEF HISTORY GERTRUDE L. THEBAUD
Schooner (2 masts) 132.6' Loa × 25.2' × 12.2' draft. 137 tons. Hull: wood. aux engine 180 hp Design: Frank Paine. Built: Arthur D. Story Yard, Essex, MA 1930.
Built from the generosity of Lois Thebaud, a Franco-American summer resident of Gloucester, Massachusetts, for whose wife the schooner was named, Gertrude L. Thebaud. She was the last of the Gloucester-built Grand Banks fishing schooners. Although the era of the sailing fisheries was clearly in its twilight, the impetus for Thebaud was the prospect of capturing the International Fisherman's Trophy from the Nova Scotia fleet. As were all vessels that sailed in this competition, Thebaud was built for fishing. Although fast, well found, and ably skippered, her reputation as a fisherman was modest. She sailed in two series against Gloucester's archrival, Bluenose. In 1931. Under Captain Ben Pine, she lost in two straight races. Seven years later, in the last contest for the trophy, she won two out of five races between October 9 and 26, 1938.
Despite her average career as a sailing fisherman, Gertrude L. Thebaud was well liked and proved to be an outstanding ambassador for the port of Gloucester. In April 1933, she carried a delegation to Washington, D.C., to plead on behalf of the hard-pressed fishing industry before President Franklin D. Roosevelt. When the president visited the ship, he was accompanied by Britain's Prime Minister Ramsay MacDonald. In July of that year, she sailed to Chicago to be part of the Massachusetts state exhibit at the World's Fair. Four years later, she was chartered by the Arctic Explorer Donald B. MacMillan and sailed as far north as Frobisher Bay with a crew of thirty-seven professors, students, and professional crew. Chartered to the U.S. Coast Guard during World War II, she served as flagship of the coastal defense fleet.
After being sold to William H. Hoeffer of New York in August 1944, she departed Gloucester on May 29, 1945. She ended her days as a cargo vessel in the Caribbean. Three years later, in February 1948, she was accidentally driven onto a breakwater at La Guaira, Venezuela, and broken up.
From Howard L. Chapelle, American Fishing Schooners. Thomas, Fast and Able.
Milton Thrasher's Biography:
Model Boat Builder and Provider of Laser Cut Frames for Model Boat Builders
Milton retired to Sarasota, FL in 1994 after 35 years in sales and marketing at IBM in the National Accounts Division at White Plains, NY. While working at IBM, he built a Star Class 3909 and a Jet 14 which he raced at Lake Hopatcong YC in NJ and Island Heights YC on Toms River, NJ. He campaigned his Comet and Star Boats on the Chesapeake and Long Island Sound for 14 years. Milton served as a US Navy Officer aboard destroyers during the Korean War and attended Submarine Officers School before being discharged in 1954 from active duty. He remained in the US Naval Reserve for 10 years doing summer cruises from ships based in Newport, RI and Brooklyn, NY.
He sailed and raced the family's Pearson Ariel with the Long Island Sound MORC fleet for 8 years. He then bought International One-Design #1 which was Cornelius Sheilds' original IOD that he started the IOD Class with in 1936. Each year he reworked her in his back yard before the sailing season and raced with the IOD of Long Island Sound Fleet for 5 years before doing long distance races on larger yachts.
Upon retiring to Sarasota in 1994, Milton started the Sarasota Model Yacht Club to race r/c Soling One Meter Class models. He then started building 48″ 48" IOD fiberglass models and hulls for builders to finish. When the mold wore out, he offered band sawn frames for the IOD and Vanja A Class Models. He started offering laser cut frames for any boat you have plans for in 2008. He has carved and built model boats since the age of 10. The photo of his Larchmont O Boat motel that he built at Penn State is shown on the left. He owned 19 full size boats with only 2 being power boats. Milton started offering laser cut frames for any boat in 2008 with a short period of reconsidering how they should be presented. He has resumed again starting in August 2015.
Last posted 8-30-2015
AMERICAS CUP WORLD SERIES TO REPLACE EXTEME 40's WITH FOILING GC32's IN 2016
Click on
SailingWorld.com
to see the video that explains the change to GC32's and other important events!
The Extreme Sailing Series has announced plans to make the change to the foiling GC32 for next year's series. Extreme Sailing Series.
Extreme Sailing Series™ owners and organisers OC Sport, who recently announced a switch of racing platform to a foiling yacht, can now confirm that the Series will fast track to the GC32 catamaran to replace the existing Extreme 40 fleet in time for the 2016 season, as part of a long-term strategy and collaborative partnership with The Great Cup BV.
The Extreme Sailing Series was launched in 2007, having developed the one design Extreme 40 catamaran which has been in use for all nine seasons. This year's eight event tour is travelling through Asia, Europe, and Australia, with the format highlighting 'stadium' short-course racing in front of the public.
The Extreme Sailing Series, the world's leading Stadium Racing Series, will celebrate its tenth season in 2016 with the introduction of a fleet of foiling GC32 catamarans, which will see the world's top sailors 'flying' in front of thousands of spectators at premium venues around the globe. The 2016 season will again feature a full grid of professional and brand-backed sponsored teams racing at iconic venues as diverse as Saint Petersburg, Cardiff and Sydney.
The super-light GC32 foiling catamarans can reach speeds of almost 40 knots (46mph) and, like the bigger yachts used in the America's Cup, they appear to 'fly' over the water as they lift off the surface and accelerate. The switch to foiling will also bring forward a refresh of the Extreme Sailing Series format, which will now incorporate Pro-Am racing on short courses, and open water racing where venues permit. But the Extreme Sailing Series will continue to remain true to its core proposition – the hugely successful Stadium Racing concept pioneered by OC Sport since 2007, which has changed the way sailors, sponsors, media and fans engage with sailing.
Today's announcement of a switch to GC32s from the start of the 2016 season is part of a longer term commitment by OC Sport and The Great Cup BV (builders of the GC32s), as Laurent Lenne, CEO of the company behind GC32s, summarised: "Together we aim to develop the GC32 as a global and accessible class for both professional teams of all levels and private owners wanting to experience high speed big boat foiling and racing, and we will use the powerful marketing platform of the Extreme Sailing Series to achieve our objectives. "The Great Cup and OC Sport are conscious of the differing needs of the different kinds of team, and we will work together to meet these in the best way possible – without necessarily trying to force that all from one package." The common strategy defined by OC Sport and The Great Cup aims to enlarge the market for foiling boats, to make it more dynamic, and to take events to new territories that remain of commercial importance to the long-term stakeholders of the Extreme Sailing Series and to the existing and future owners of GC32s.
Importantly for the development of the sport and the foiling market, OC Sport and The Great Cup have a shared vision of developing a global sporting pyramid, with the mid-term introduction of a series of feeder events providing a clear path to the Extreme Sailing Series, which will remain at the top. Both partners are also working on launching an annual GC32 World Cup, accessible by all existing boats. Andy Tourell, Event Director of the Extreme Sailing Series, elaborated: "The mid-term plan is to organize several GC32 continental circuits for professional teams and private owners, who could later access the Extreme Sailing Series global circuit. It is a very exciting time for both the Extreme Sailing Series and the GC32 class. We have always looked for ways to innovate in our sport and, once again, we are breaking new ground for sailing – both through the development of such a global sporting pyramid, and by fleet racing these foiling boats on our stadium courses – which has never been done before. "OC Sport will continue to work with the Teams and our Partners to ensure the long-term success of the Extreme Sailing Series is guaranteed, especially through our research and development efforts. The coming years will be a hugely exciting time for the sport – for the sailors, teams, sponsors, boat builders and for us as event organizers."
The Gothenburg AC World Series You Tube Video Is Available Online
A great second regatta @acwsgot the Land Rover team is in second overall after two events. Watch the
Gothenburg Wrap UP Video.
My Metastasized Melanoma Assessed After CT Scans of My Abdomen and Chest
After 4 Keytruda infusions, there are no signs of it working for me.
Dr. Luis Chu suggested that I discontinue Keytruda and start on Yervoy. He asked me to go to Moffitt and speak to Dr. Andrew Broil, Medical Oncologist on Thursday, October 8th for his advice. I met with Dr. Broil and he advised continuing with Keytruda for 4 or 5 infusions before making any change. He said he has had patients that took as much as two months before the Keytruda started working.
I called Merck's Keytruda number found on www.keytruda.com on October 14th to see if they could tell me how to determine if Keytruda is working. That is because the CT Scan report showed I have a tumor in my iliac, a nodule on my adrenal gland and multiply pulmonary nodules. I am to have another CT Scan after the 5th infusion to see if there are any changes.
My Merck Case number is 1-14017626138. Angela is to call me back if she can find a medical person in the Merck Health Care group who will talk to me about the darkening of my melanoma rash and the new side effects of burning eyes and slight increased in weight.
She will forward the information I gave about my case to Dr. Luis Chu via e-mail at lchu@flcancer.com and will also send it the Dr. Andrew Brohl of Moffitt.
The results are described briefly:
There is a significant 3.1 CM (1.22") melanoma mass in the right External Iliac chain (small intestines) and multiple suspicious pulmonary nodules measuring up to 8 mm in the lungs. And there is a right adrenal module. Metastatic melanoma disease is suspected.
Dr. Luis Chu of Florida Cancer Specialist scheduled me for Yervoy infusions every 3 weeks starting Friday October 9th. But I held off from that and had a total of 5 Keytruda infusions.
I will have another CT Scan on November 13th to see if the tumor in my Iliac is reduced. That is the only way they can tell if Keytruda is working for me or not.
He suggested I contact the head of Moffitt Cancer Center's Medical Oncologist to see if there is a better treatment such as a trial That they would suggest. I contacted Dr. Jonathan Zager to arrange an appointment with the Medical Oncologist that he would suggest.
The expectation is that Yervoy's side effects will be more likely to be worse than those from Keytruda.
So far, I have not experienced any significant side effects of Keytruda other than burning eye sensations which are attributed to the inflammatory nature of the Keytruda by Dr. Broll of Moffitt Cancer Center.
My spirits continue to be positive as I expect there is a new trial that I may be eligible for although I was considered too old for many of the earlier ones.
Milton
Milton Thrasher's Metastasized Melanoma Is Treated With KEYTRUDA
This is to alert others about the dangers of Melanoma and tell others about the new Immuno Therapies, KEYTRUDA, YERVOY and OPDIVO and their costs. Fortunately, my Aetna Medicare PPO insurance is covering all of it except for the minor co-pays as shown in the billing record on the left.
OPDIVO is provided is infused every 2 weeks and works something like KEYTRUDA which is infused every 3 weeks.
For cancer patients living in the vicinity of Sarasota, FL, there is an extensive set of cancer support groups at Lakewood Ranch that provides all manner of support and information. Go to www.centerforbuildinghope.org for the form to provide your contact information so that a qualified persons can tell you of the many services provided for your specific situation. I have attended 6 sessions of Patient Support Groups and found them very helpful.
Unfortunately, they hired an absolute crook - Carl Ritter to be CEO for $365,000 per year. He had taken over a $ million in salary while his CARBIZ company was failing. He had them buy the failed "Brides Dresses for Cancer Patients" business that did not cover its expenses. He set up a company to handle the credit cards for 16% when the industry standard is only 2%. So they fired him and his two daughters who were also over paid. Now he is suing the Center for Continuing Hope for $140,000 which he claim he is owed. What sleeve bag!
I looked into the treatment that Dr. Steven Rosenburg of the National Cancer Institute developed of taking T-Cells from Melanoma Tumors of a patient, multiplying them in the lab and then re-infusing them into the patient after modifying them to make them stronger. This has worked well for some but Moffitt's Dr. Broll and Dr. Chu say I am not a candidate, partly by being 86 which and some other factors that they did not explain.
I just found on-line that when the melanoma bumps on my leg break open and the dark fluid is released, it must be very careful washed away as it can be harmful to me and others. This was a question we asked of Dr. Chu's nurse. She told us that no studies have been done on that. I will take a print out of that for our next meeting.
So far, I have no side effects as reported by over 1/3 of those in a 400 person study that were so severe that they had to discontinue Keytruda. My only complaint is that it make me want to take naps all day!
I was first diagnosed with Melanoma in July 2014 by biopsy
I first noticed what I thought was cancerous in February 2014. My primary care physician thought it was only an infected ingrown toe nail. I went to a podiatrist who unfortunately had had no experience with melanoma. After three visits, in July I asked her to biopsy it. The report came back that it was an ulcerated melanoma, 1.2mm thick. Had I insisted on a biopsy in February I my not have gotten into the serious problem I have now!
I went to Moffitt Cancer Center in Tampa, FL where Dr. Jonathan Zager of the Cutaneous Melanoma Department treat me. After diagnosing it further, he excised my right great toe back to the first joint. Melanoma was found in my sentinel node and two others. Then, he took 24 more lymph nodes and some of them also had melanoma in them. I was Stage IIIC. From there, I continued treatments at Moffitt until it was found in my system and had to be treated by medical oncologists as In-Transit Melanoma, the worst kind.
The Moffitt Melanoma Doctors and Oncologists Board evaluated my case as very serious and recommended KEYTRUDA to start as soon as possible because of the seriousness of my case.
After some delay in getting my Aetna Medicare PPO insurance to cover the KEYTRUDA immunotherapy medication, I met with two doctors in Sarasota, FL which was only 10 miles from home versus 54 miles to Moffitt.
I have had two infusions of Keytruda under Dr. Luis Chu at the Florida Cancer Specialits. I will continue infusions every three weeks as long as my body responds to the Keytruda.
An Israeli University has just reported that a cure for melanoma is within reach!
Click on
Announcement
for the full story of claim that melanoma can be cured!
My melanoma appeared first as a black spot under my right great toe nail. It was originally thought to be caused by an in-grown toe nail. The great toe was excised to the first joint on August 15th, 2014 along with the sentinel lymph node and 2 others. They were found to have microscopic amounts of melanoma causing me to be rated as Stage IIIC, metastasized melanoma. On September 11, 2014 24 more lymph nodes were taken. One or two more were found to have melanoma. So a total of 4 and possibly 5 have melanoma.
Then in April 2015 my melanoma broke out as a large rash area on my right leg that establishes it as In-Transit melanoma which is very serious.
When taking my first KEYTRUDA infusion, Julie, the moderator of 2 Center for Continuing Support sessions I attended was taking Chemotherapy at the FL Cancer Specialists in Sarasota. And, the lady who provided comfort things to patients was the receptionist at the Lakewood Ranch Center for Building Hope that I met the day before. What a small world it is after all!
Disappointedly, the Health Newsletter below states that only one in four (25%) respond to KEYTRUDA. Even so, it is the best alternative offered compared to YERVOY and OPDIVO. They are less effective and have similar side effects. I had developed a high sense of urgency since KEYTRUDA was indicated as the best treatment over 5 weeks ago!
My case was presented to the Moffitt Melanoma Board 5 weeks earlier. They recommended KEYTRUDA be started as soon as possible because my melanoma is an especially aggressive type!
Dr. Chu confirmed that 1% or less of his patients have experienced serious side effects which is a big relief. Immodium is indicated if diarrhea develops which is the most likely case.
Dr. Chu confirmed that my melanoma rash on my leg and abdomen will become fiery as the white and T cells fight the melanoma cells and eventually disappear. As of Augusts 31st, it is becoming more inflamed so we think the Keytruda is working!
Because Dr. Chu was out of town until July 27th, I had an appointment with Dr. Steven Mamus of Director of his Sarasota and Bradenton Cancer Centers.
He recently attended a seminar on KEYTRUDA, YERVOY and OPDIVO Immuno therapy drugs.
He addressed my concerns about KEYTRUDA side effects. He expected to start my treatments within 3 weeks. He wanted to see me once a week until he started the infusions. I decided not to wait three weeks and found Dr. Luis Chu had returned and would start me the next Friday!
Continuing Dr. Mamus's comments:
He advised that KEYTRUDA is not TOXIC and very different from YERVOY, the first Immunotherapy Drug released 7 years earlier. The KEYTRUDA side effects are different than those of YERVOY.
KEYTRUDA's many possible serious side effects are reported on the www.keytruda.com web site. His patients have not experienced significant side effects! He gives his patients medicine to prevent many of the possible problems. I was relieved to learn that because the side effect issues had me very concerned. WWW.KEYTRUDA.COM states that 10% of users cease taking it due to side severe effects and that 36% of a 411 patient study had at least one serious side effects.
Aetna insurance coverage confirmed by my calls to them and Merck that I will have 100% coverage by Aetna. This was confirmed twice by letters from Aetna as long as I maintain my insurance coverage payments.
Felica's phone number is 855 257 3932. She told me my KEYTRUDA prescriptions would be fully covered without copays by me if KEYTRUDA is ordered through the Merck Pharmacy by my doctor and his cost would be reimbursed by Aetna and he should not order through other pharmacies. My Merck Case Number is 534239992. My Aetna Case Number is 29423268.
Moffitt had held up treatment without telling me why while they confirmed that I would not have copays. They confirmed to me on July 15th and that I could start infusions on July 17th. Because I received no returned phone calls after my several calls asking for my status for a week before that, I decided to have KEYTRUDA infused in Sarasota if possible.
Merck wrote to me that I am not eligible for their $5000 Copay because it was not needed. My Aetna insurance said I am 100% covered for as long as I take KEYTRUDA. The delay was unnecessary because Aetna had previously approved me for 100% of all costs! Felicia of Merck called me on July 20 to re-confirm that Aetna will pay 100% of the cost of KEYTRUDA infusions for as long as needed. Felica told me that it must be ordered through Merck's Pharmacy and no other source.
I was told by Moffitt that there would be 4 infusions, 3 weeks apart. But, I will get as many infusions as needed for as long as my system responds.
I was was told it costs $12,500 per month and for as long as I respond.
The melanoma rash blisters will become inflamed and enlarged while the white and T cells fight the cancer cells. The blisters should fade after the battle is won.
It is not known if KEYTRUDA will increase my longevity because there is not enough history.
If I did nothing about my Melanoma, I could expect to live at least two years.
Per the Healthline Newsletter below, there is only a 25% chance that my body will not respond to KEYTRUDA and probably only a 10 - 15% chance to have a complete remission if it works at all. It would not be called a cure. Is it worth the risk of all the side effects or should I await a better drug? That is probably not the right question. Maybe there is a way to improve my chances that it will work for me.
Milton Thrasher c/o mthrasher@verizon.net 941 966-9172 I continue to update this web sight as I gather more knowledge.
My Keytruda infusions started on July 30, 2015. As of September 2, 2015, I have experienced no side known effects! Lucky me!
I had my 2nd infusion on Friday, August 21. Dr. Chu was not available to evaluate if the Keytruda is working by investigating the changes in my rash that have become more pronounced and read. That is the only way they can tell if I am benefiting from the Keytruda. The melanoma rash is changing so I think I am one of the lucky ones (1 out of 4) that it is working for! At that time I will ask him to consider surgically removing several spots on my abdomen that look similar to the melanoma rash on my leg.
My blood work show that my body is not suffering any from the Keytruda thus far. The following week blood work was cancelled because I am doing so well in all of my tests!
Ken Burn's "Cancer: The Emperor of All Maladies"
This is a 6 hour PBS Show on 3 DVD's available from Amazon.com for $29 including shipping. The third DVD at 1.26 minutes tells how T Cells have been extracted from patients' tumors and modified in the laboratory, then re-infused into the patient. This is another way to enhance the immune system. That has been done that at M D Anderson in Houston and several other Cancer Hospitals with great success. I will ask Dr. Chu if he will do that for me and if not, I will ask Dr. Zager at Moffitt if he can arrange that.
Melanoma Article from "Patient Resource" Winter 2014/2015 - a Free Issue
HealthlineNews Keytruda Just One of a New Class of Cancer Drugs to Restart the Immune System... The FDA's recent approval of Keytruda could be the start of a golden age of chemotherapy drugs that target the PD-1 pathway.
New drugs to treat cancer come along pretty regularly, and, to gain approval, each one must outperform the current standard treatment. But the share of patients who respond to a new drug can be modest, and the months of life they gain by using it are, sadly, often counted in the single digits.
Now, there's hope among researchers and pharmaceutical companies that a drug approved by the Food and Drug Administration (FDA) earlier this month will pave the way toward bigger gains against cancer. The drug, pembrolizumab (Keytruda), is designed to treat melanoma skin cancer, which kills almost 10,000 Americans a year. One in four patients responds to the drug, and many go into a long remission.
Keytruda and others still in the FDA approval pipeline disrupt a process by which cancer cells tell the immune system not to attack them as intruders. The drugs are already being tested on kidney, bladder, and small cell lung cancers and could eventually be used against an even wider range of cancers.
Related News: Emerging Treatments Offer Hope for Patients with Small Cell Lung Cancer »
PD-1 Is Pretty Darn Hot
Keytruda and a handful of other drugs that target the same process are "the hottest area in cancer research," according to Dr. Antoni Ribas, an expert on cancer immunotherapies at the University of California, Los Angeles.
"This is I think the beginning of what will be a fairly significant change in the way that we treat multiple types of cancer in the years and decades to come," agreed Dr. Evan Lipson, an assistant professor of oncology at the Johns Hopkins University medical school.
Scientists have long known that cancer somehow tricks the immune system in order to grow and spread. About 15 years ago, researchers discovered the PD-1 pathway that is the basis of Keytruda and other new drugs. The work built on research on a separate but related pathway that resulted in the drug ipilimumab (Yervoy).
You can Learn More About the Melanoma Drug Yervoy by searching internet with Google. It is still offered by Keytruda is said to be more effective.
We can imagine the immune response as like a car at an intersection, looking for a green light telling it to move forward and attack cancer cells, or a red light telling it to remain stopped, Lipson said.
There are a series of lights that calibrate the immune system's response. Cancer cells have devised ways to turn green lights red, escaping the immune system's attack. (PD-1, a protein on the surface of T-cells, is one potential red light, turned on by PD-1 ligand, or PDL, on the surface of the cancer cells.) Now scientists have learned to turn those lights green again, unleashing the "tremendous power of the immune system," Lipson said.
"This is I think the beginning of what will be a fairly significant change in the way that we treat multiple types of cancer in the years and decades to come." — Dr. Evan Lipson, Johns Hopkins University
The current optimism comes from observations that green lights on this particular pathway send a lot of cancer-fighting traffic through. And the traffic keeps on coming, so patients remain in remission for longer.
"People have tried to activate anti-tumor immunity in the past, but the approach that seems to work well is to block these paths," said Dr. Arlene Sharpe, an immunologist at Harvard Medical School.
More PD-1 Drugs Likely on the Way
Keytruda, made by Merck, is the second drug developed to target the PD-1 pathway. The first was Bristol-Myers Squibb's nivolumab, which is already on the market in Japan as Opdivo, but the company hasn't yet received the FDA's okay to sell the drug in the United States. Bristol-Myers Squibb doesn't think Keytruda is different enough from Opdivo: The company has sued Merck for patent infringement.
The competition among drug companies is good news for patients because it means that more drugs of this type are being researched.
As for why Big Pharma is so keen on anti-PD-1 drugs, the usual suspects are to blame: their price point and the potential size of the market.
Keytruda will sell for roughly $12,500 per patient per month, making it the 6th most expensive drug on the market, according to the trade publication FiercePharma.
More patients will queue up for the drugs for each type of cancer they successfully treat. On their own, they can only free T-cells to fight cancer if the T-cells are already in a cancerous tumor. This is more likely to be true in melanoma, bladder cancer, kidney cancer, small cell lung cancer, and head and neck cancers. Together, those cancers account for at least 300,000 new patients per year in the United States, according to the National Cancer Institute.
Drug manufacturers, doctors, and patients hope that more patients will respond to the drugs if they're used in combination. Complementary drugs could send more T-cells to the tumor or create more green lights along various immune pathways within the tumor.
"This is a tremendously exciting breakthrough for many of the patients being treated in oncology, and whenever a drug like anti-PD-1 is as successful as it's been, researchers and pharmaceuticals and patients want to get on board that train and try to maximize the effect of the drug for all of us," Lipson said.
Even so, introducing new drugs takes time. As of now, only melanoma patients can get Keytruda outside of clinical trials. But because these drugs are so popular, there are clinical trials testing more advances in melanoma treatment and trying anti-PD-1 drugs on patients with other types of cancer.
Learn More: Trials for New Cancer Treatments Reach Only a Tiny Fraction of Patients »
by Taboola Promoted Links
4 Billionaires Say: Something Big Coming Soon In U.S.A
Healthline's mission is to make the people of the world healthier through the power of information. We do this by creating quality health information that is authoritative, approachable, and actionable.
Join more than 30 million monthly visitors like you and let Healthline be your guide to better health.
This website is certified by Health On the Net Foundation. Click to verify. Copyright © 2005 - 2015 Healthline Networks, Inc. All rights reserved for Healthline. Healthline is for informational purposes and should not be considered medical advice, diagnosis or treatment recommendations. Terms of Use | Privacy Policy
Cancer Support Groups meet at the Center For Building Hope, 5481 Communications Parkway in Lakewood Ranch.
The Lymphedema Network Group meets on August 6th 3:30 - 4:30 and possibly on the 2nd Thursday, 3:00-4:30 p.m.
Learn what you can do that might prevent it and what to do if you develop it. Facilitator: Sherry Ireland, PT/CLT
5481 Communications Parkway, Sarasota, FL 34240 (941) 921-5539
Sarasota Memorial's STAR® Certified health professionals provide a 3-part series at Health Square.
The nationally recognized, evidence-based Survivorship Training and Rehabilitation program helps cancer survivors physically and emotionally to heal from the side-effects of chemotherapy, radiation, surgery or other cancer therapies. The program focuses on improving not only symptoms, but also personal wellness and quality of life through nutrition, exercise, relaxation and educational services. Join SMH professionals for this 3-part series to learn more about the program as well as some tips and techniques to survive cancer better.
Center For Building Hope in Lakewood Ranch, FL - 941-921-5339
I attended several sessions at the Center for Building Hope in Lakewood Ranch, FL and was told that they paid Carl Ritter's salary of $355,000 per year after 3 large raises even though their finances were very shaky. Then I found the full story in a series of articles on the Sarasota Herald Tribune of how he was fired on August 1 and his two daughters and a man who he brought along from the failed used car business where he got a huge salary and bonuses while the business was failing. Click for the
full story
.
At one of the Men's Support Group Meeting, we were told that there would be some cut backs in services as they regroup. The Men's Group will not be affected however.
See the telephone directory whitepages for Center for Building Hope-Lakewood.
Go to the Center For Building Hope at 5481 Communications Pkwy, Lakewood Ranch , FL 34240-8476.
From University Parkway going East, turn right on Lake Wood Ranch Blvd. Go a long way to the end and turn left to 5481 Communications Parkway. Center for Hope is the first entrance on the right. Use Google Earth or a GPS to find it.
It is a new fairly large building with a canopy type overhead of the driveway with classrooms.
Ms. Andrea Feldmar, LMHC is the Program Director. Troy is their Website Manager.
Call them at (941) 921-5539.
All Health Square events are free and open to the public. Call The Help Line for Ms. Theresa Briton 941 917-7777
and Sarasota Memorial Health Center for Ms. Inger 941 302-4271
The September 2015 Center for Building Hope Calendar for the Lakewood Ranch location follows. Click for a smaller version to be seen on iPads and iPhones: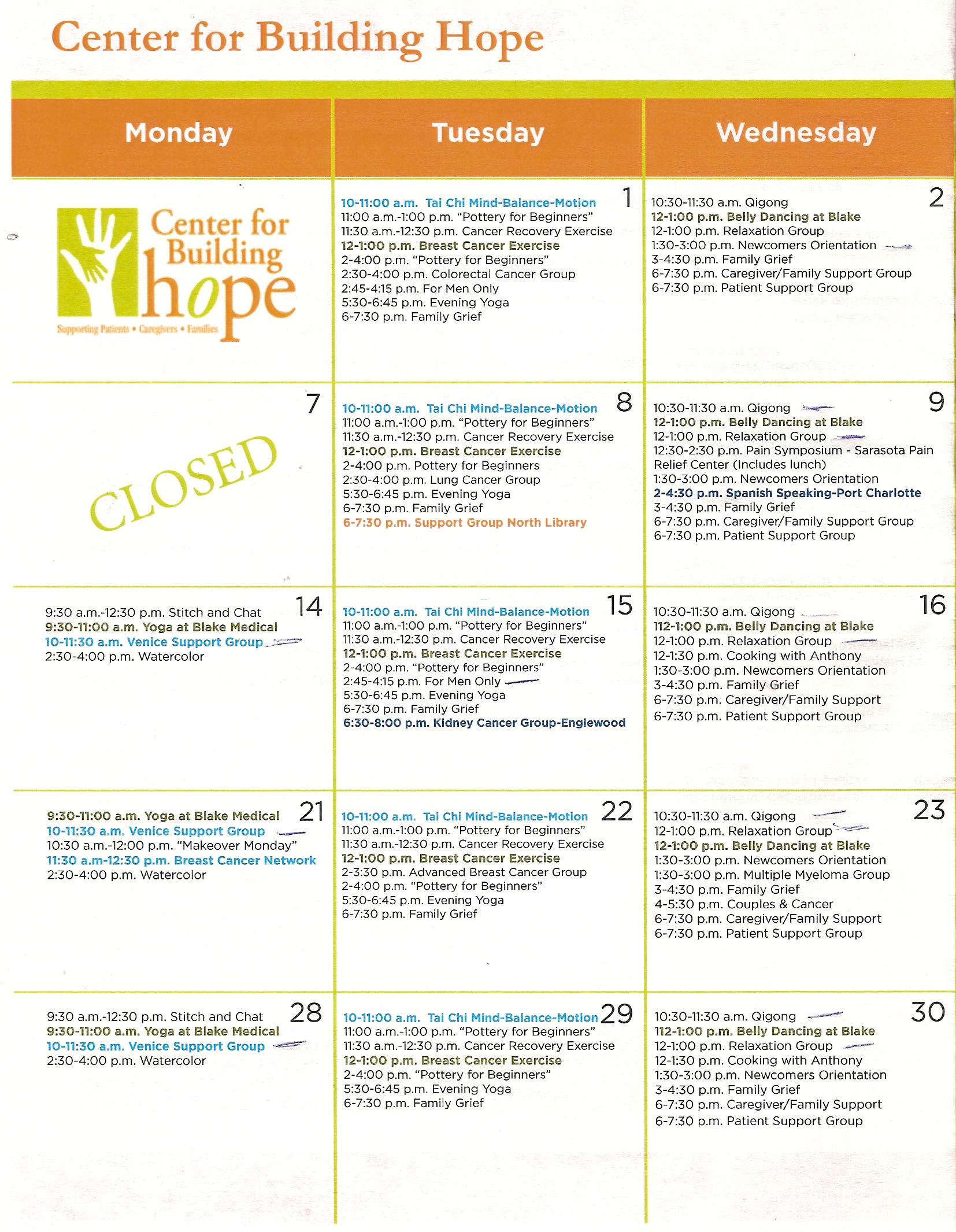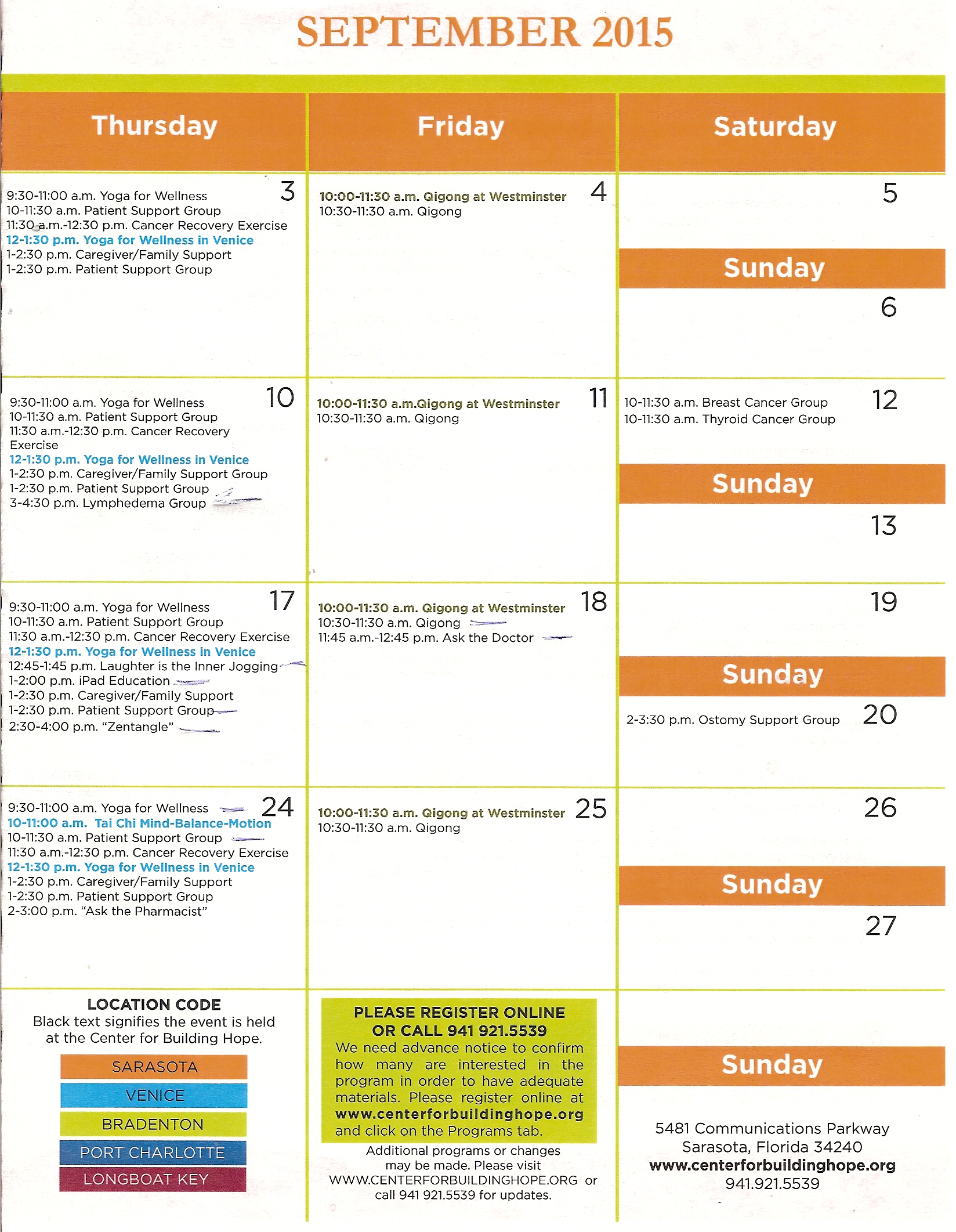 Ask for the Center for Building Hope calendar for Venice. They have comparable programs that may be closer for you.
I attended the Cancer Support Group 10 - 11:30 Meeting at Jacaranda Trace main building Room 218 on Monday July 20, 2015. There were 5 women and 1 man who had been meeting for a number of years. Two were care givers whose spouses had died. But, they enjoyed the company of the group that they continued. The moderator is the lady I met on Friday at the Lakewood Ranch Meeting. The distance from my home seemed further than Lakewood Ranch so I may not be a regular there. But, it is a good meeting with a lot of cancer knowledge and helpfulness.
FDA approves Opdivo for advanced melanoma
December 22, 2014
The U.S. Food and Drug Administration in Decemmber 2014 granted accelerated approval to Opdivo (nivolumab), a new treatment for patients with unresectable (cannot be removed by surgery) or metastatic (advanced) melanoma who no longer respond to other drugs. Melanoma is the fifth most common type of cancer in the United States. It forms in the body's melanocyte cells, which develop the skin's pigment. The National Cancer Institute estimates that 76,100 Americans will be diagnosed with melanoma and 9,710 will die from the disease this year.
Opdivo works by inhibiting the PD-1 protein on cells, which blocks the body's immune system from attacking melanoma tumors. Opdivo is intended for patients who have been previously treated with ipilimumab and, for melanoma patients whose tumors express a gene mutation called BRAF V600, for use after treatment with ipilimumab and a BRAF inhibitor.
"Opdivo is the seventh new melanoma drug approved by the FDA since 2011," said Richard Pazdur, M.D., director of the Office of Hematology and Oncology Products in the FDA's Center for Drug Evaluation and Research. "The continued development and approval of novel therapies based on our increasing understanding of tumor immunology and molecular pathways are changing the treatment paradigm for serious and life-threatening diseases."
Other FDA-approved treatments for melanoma include ipilimumab (2011), peginterferon alfa-2b (2011), vemurafenib (2011), dabrafenib (2013), trametinib (2013) and pembrolizumab (2014). Opdivo is being approved more than three months ahead of the prescription drug user fee goal date of March 30, 2015, the date when the agency was scheduled to complete its review of the application.
The FDA granted Opvido breakthrough therapy designation, priority review and orphan product designation because the sponsor demonstrated through preliminary clinical evidence that the drug may offer a substantial improvement over available therapies; the drug had the potential, at the time of the application was submitted, to be a significant improvement in safety or effectiveness in the treatment of a serious condition; and the drug is intended to treat a rare disease, respectively.
Opvido is being approved under the FDA's accelerated approval program, which allows approval of a drug to treat a serious or life-threatening disease based on clinical data showing the drug has an effect on a surrogate endpoint reasonably likely to predict clinical benefit to patients. This program provides earlier patient access to promising new drugs while the company conducts additional clinical trials to confirm the drug's benefit.
Opdivo's efficacy was demonstrated in 120 clinical trial participants with unresectable or metastatic melanoma. Results showed that 32 percent of participants receiving Opdivo had their tumors shrink (objective response rate). This effect lasted for more than six months in approximately one-third of the participants who experienced tumor shrinkage.
Opdivo's safety was evaluated in the overall trial population of 268 participants treated with Opdivo and 102 participants treated with chemotherapy. The most common side effects of the drug were rash, itching, cough, upper respiratory tract infections, and fluid retention (edema). The most serious side effects are severe immune-mediated side effects involving healthy organs, including the lung, colon, liver, kidneys and hormone-producing glands.
Opdivo is marketed by Princeton, New Jersey-based Bristol-Myers Squibb.
The FDA, an agency within the U.S. Department of Health and Human Services, promotes and protects the public health by, among other things, assuring the safety, effectiveness, and security of human and veterinary drugs, vaccines and other biological products for human use, and medical devices. The agency also is responsible for the safety and security of our nation's food supply, cosmetics, dietary supplements, products that give off electronic radiation, and for regulating tobacco products.
Milton Thrasher c/o mthrasher@verizon.net 941 966-9172
Build Your Own Boat Model With These Few Instructions
Click on
YourBoatArt.com
for a custom illustration of
YOUR boat
---
Advertisements above this line are not part of this web site
This web site offers a well known sail boat class model boat kit for those with a yen to build one for themselves in many sizes.
Very accurately cut band sawn frames guarantee that your model will be true to the designer's lines.
Study these models to see if you agree how beautiful they are. Whether it will be your first or perhaps another one of many boat models you have built, you will enjoy building one of these models.
IOD models with band sawn frames and detailed instructions
---
Click for
IOD's - The Big Little Class History
.
Three IOD 36" model kits with band sawn frames and parts
Three IOD 36" model kits with detailed instructions, band sawn frames and parts
are offered for plank-on-frame sailboat model makers.
The detailed Daniels and Tucker 198 page manual entitled
Model Sailing Craft is included and many step-by-step photos. Other IOD models as shown below remain available.
1) Exact to-scale models display models with the same lines of the real boats. This approach is not intended for in water sailing. The cockpit area can be modified to match the IOD constructon drawing shown below. The parts shown in the next layout are included with each kit.
Click on the pictures to enlarge them. Back to return.
2) Radio control models with 3" deeper keel than to scale. The deeper keel than to scale is necessary for stability.
The IOD 36" frames are set up as they will appear when mounted on a building board, ready for planking.

Click on the pictures to enlarge them. Back to return.
Other sizes available:
13", 18", 24", 30", 33.4", 36" to-scale, 36" r/c, 36" fin and bulb, 48".
Other sizes by special order.
To study the various parts that will be included with each kit, double click on the lower right corner of the above image to bring up an arrow box. That lets you click again for an even larger image. Click Back to return

3) Radio control models with fin keel and spade rudder replacing the full keel of the original design. Even more stablity is provided by the deep fin keel to compete with other AMYA 36" Class conforming models.
See Victor Model Products and Star 45 Class web sites for a of fin and bulb keels.
The typical 36/600 model has plumb stem and stern with longer waterline and as much as 18 to 22 inch deep keels. Thus, the IOD 36" fin and bulb model will be at a disadvantage to these more modern models except in light air when its less whetted surface gives it a distinct advantage. Many clubs race various types within the 36/600 Class rules.
Click for earlier IOD 48" R/C Model Assemby Manual.
This web site is being updated to add IOD 36" documentation.
Click for AMYA 36/600 rules and contact information.
Click on the pictures to enlarge them. Back to return.
IOD 36" Kit Features
Call for prices as they are not yet determined

Band sawn alone are $125 plus shipping.
Planned parts for IOD 36" kits * Band sawn frames and parts
* 1/8" x 3/8" basswood strip planking
* Number 9 lead shot for r/c kit
* Deep fin and bulb keel for r/c kit
* Pre-cut aluminum mast and boom
* Stainless steel wire rigging
* Ripstop nylon sail material
* Wood display stand
* Class insignia and name plate
* CD-Rom with Daniels and Tucker "Model Sailing Craft"
and Thomas Houle's "Building and Racing Radio Controlled
Model Sailboats" that explain the buidling process.
* Easy to follow illustrated instructions and plans
* Parts will include:
Cuddy cabin bulkheads and coamings
Seats, cockpit floor,
Companionway hatch
Mast crane and stay strut
Aluminum mast and boom

Boom crotch
Foredeck grab rails
Tiller
Additional parts will be added as suggested by customers. Some being considered are mountings for radio control equipment, sails and possibly miniature Harken hardware.

Planking materials, lead shot for the r/c deep keel models, and fin and bulb keels for the may be provided by special order.
The many IOD model builders are being surveyed for their ideas as to what more should be included.

Click for IOD 36" and 48" Assembly Manual

This takes a moment or two to load due to its many pages.

This is a 30 page on-line manual originally written for finishing IOD
fiberglass models. It has lots of information not otherwise available.

Milton Thrasher
mthrasher@verizon.net
941 966-9179
IOD 36" profile overlaying construction drawing
The strictly to-scale model profile in red is overlays the construction drawing. It shows how the frames in the cockpit area will be modified so that modelers can finish that area like the real boats.

Double click on the lower right corner of the drawing to enlarge it for better viewing. Look for a small arrow box to click on for an even larger image.

Other International One-Design Model Yachts