Laser Cut Frames and Parts for Aphrodite Model Boats
RC Boat Magazine provided this article on 74" Aphrodite model by James Delaney from their web site
It is different from what appeared in RC Boat Volume Two that was type set and reformatted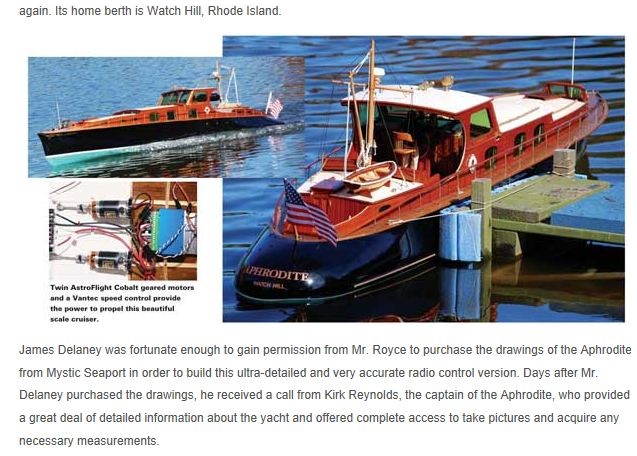 RC Boat, Volume Two features Aphrodite in "From the Stern" section. It was type set in a different format

The 74" model boat at the dock is Jim Delaney's 74" model as is his dock! The crew in the pilot house are doll house dolls!
Jim Wangard, Editor of "Classic Boating" picked up his 74" Aphrodite laser cut frames

Aphrodite laser cut frames, decks and cabins are available at 74" and 48". 55" and 37" are being considered.

An Over-The-Top New Year's Project is the 74" or 48" Aphrodite Commuter Launch of 1937

It is among the most beautiful boats with a name to match. Many of the Aphrodite's styling elements, most notably the shapely stern, have found their way into recent custom designs. Workshops will be humming this winter as modelers can now recreate the entire hull with the cabins from laeer cut parts. As impressive as the 74' commuter is, these shouldn't be anything tricky about its construction using laser cut frames and parts. Between the forward and two aft frames, all stations are spaced equally. At this summer's boat shows, we will be looking forward to seeing everyone's handiwork.
Jim Wangard took many photos of the 74" Aphrodite frames and parts to include in a page or two of a future issue of "Classic Boating" with the story of the laser cut Aphrodite frames for model builders in various sizes.
Jim provided the photo on the right of me setting up the torpedo style stern section frames. They are very cleverly designed so that five curved pieces can be secured at two levels with bracing pieces that hold them ridgedly. You can put high density foam between the frames and cover it with fiberglass if you don't want to plank them. If you want an Aphrodite visor cap like mine, let me know so I will order a batch of them at $25. Tell your wife it would be a great thing to have while working on your Aphrodite.
Jim Wangard wants to do the Lake Tahoe Lodge's 55' Thunderbird tour boat as his next boat. I will provide the laser cut frames at 55" that will include the deck house that can be planked and painted to appear like the polished aluminum you see in the YouTube video . Another good YouTube is this one of her underway .
James Delaney's 74" Aphrodite that is featured in RC Boats Volume 2 rear pages section inside the back cover. This is a new publication which plans 4 volumes this year and does not currently have a subscription plan. It is at Books-a-Million now but not on-line. I picked up 8 copies in case people want them. Send me $13 by PayPal to my email address to cover the $7.99 price plus Priority Mail shipping.
Jim Delaney spent 1200 hours building his motorized Aphrodite model. He used 1/4" plywood for the frames. He got permission from Mystic Seaport to make only one model from plans they sold him with approval from Charles Royce, the Aphrodite owner. He had several conversations with the boat's professional captain, Kirk Reynolds, who was very helpful. He suggested I contact Mr. Charles Royce at one of the investment firms in Manhattan mentioned for him in "The Many Lives of Aphrodite" to be sure that he is comfortable with the promotion my laser cut frames and web site are giving his fine yacht.
Jim built his 74" Aphrodite in 2009 and has shown it at many wooden boat shows each year since. He showed his new Gar Wood 60" Miss America with two V-12 working gasoline engines that list for $5600 each in a YouTube that is on-line now. There is another YouTube of his bench testing of these motors. His other YouTube is of a 1927 Hacker Craft, 60" x 16" beam powered by a Conley single overhead cam V8 with 4HP.
Jim Delaney and Jim Wangard both suggested that the Chris Craft 16' Miss Step plans may be available from Mariners Museum in Newport News, VA. Register for the museum at www.mariner.org for their complete collection of Chris Craft plans.
She is the classic powerboat that once ferried President Franklin D. Roosevelt to Hyde Park during WW II. The model is on permanent display at the Ocean House in Watch Hill, RI. Click for the Aphrodite model by Centerbrook Architect's master model maker.
Order "The Many Lives of Aphrodite" from www.bookfinder.com or www.amazon.com for about $42 for the other book by the same author as "Boats by Purdy". It has a lot of information and photos to help you perfect your model making of the Aphrodite.
The commuter yacht Aphrodite was built in the depths of the Great Depression by the Purdy Boat Company for Jock Whitney, one of the richest men in America. She hosted such show business personalities as Shirley Temple, David O. Selznick and Tallulah Bankhead. She served in the Coast Guard during World War II, where she served as an escort to the "Queen Mary" and a chase boat for PT boat trials. She has long been admired for her beautiful lines. Not once, but twice, the boat was rescued from near-certain scrapping, and today she continues to astonish viewers. This is her story, told by a descendant of the Purdy family, and accompanied by many photographs of her lives and her rebirth.
The laser cutting of 3 sets of 74" and 1 set of 48" frames for this famous boat model were delivered last week! See the 74' Aphrodite express cruiser photo show for many photos not seen elsewhere. Franklin Delano Roosevelt rode this yacht from Hyde Park to Manhattan at 60 mph down the Hudson River during the war. She was restored recently at the Brooklyn Boat Yard in Maine for the second time. She is now owned by Mr. Royce, owner of the 5 Star Ocean House Hotel in Westerly, RI. She is now in Maine for the winter and will return to Watch Hill, RI in the spring.
The restoration was done frame by frames without any plans. Surprisingly, Jim Wamgard was able to provide the lines drawing unbekownsts by the boat yard. I called to announce that I was able to provide the lines and will make frames for model builders. They provided very detailed photos of the restoration process which I made a PhotoShow of it for those who may want to see how it was done.
Click to return to the home page .