Pike County MS Magee-Varnado Heritage
Family Reunion!
Charlie Varnado, Sr. & Elvie Magee Varnado
1864-1936 ****** 1863-1922
Magnolia, Pike Co., MS
THE STORY OF A MISSISSIPPI SLAVE MASTER'S DAUGHTER:
AN EXPERIENCE IN MISSISSIPPI AFRICAN-AMERICAN GENEALOGICAL RESEARCH
by Willie L. Robinson
As I recall, my interest in genealogy had started to develop as early as age ten when I was living in the small rural community of Quentin in Franklin County, Mississippi in the first half of the 1950s, although I had no idea about what it was called at the time. Almost forty years passed and many of my relatives and others who could have answered many of my genealogy questions had passed away before I decided to do something about a desire I had had for so long. As a genealogist, this experience is certainly better late than never for me.
When I completed the genealogy course I took at Volunteer State Community College in Gallatin, Tennessee, and started my research in 1992-93, I didn't know what to expect in terms of what I might find doing my African-American genealogical research. My hope was for me to realize enough success to justify the effort that would go into learning more about my Mississippi family roots. Now after more than thirteen years of research, genealogy has provided avenues to many rewarding experiences for me.
Although the ten week course was interesting and Shirley Wilson, my teacher, had prepared me well, I still had no idea of the amount of information that awaited me in my search for a better understanding of the past as it relates to me, and to other family members. At this point, I am very pleased with the understanding I have gained through my research. I wish everyone who is doing research now, and who decides to do it in the future, as much success and enjoyment as I have realized in the past few years.
Through the review of basic research documents like census records, tax records, death certificates, etc., I quickly realized that the information my efforts produced was well worth the time I put into my research. My efforts produced an ancestor tree that included all of my 2nd great-grandparents with the exception of one set. Other than learning the birth place of her parents, I have been unable to find anymore information on my maternal grandfather's mother's line. I am pleased with the results of my work, and proud to display the ancestor tree, and show the outline descendant tree I produced using the Family Tree Maker software. Much of my research is done at the Mississippi Department of Archives and History in Jackson, and at the Tennessee State Library and Archives in Nashville.
Lenora Amos Robinson Keys
1924-1969
My mother is Lenora Amos. Her parents are Leah Arnold (1888-1961) and Frank Amos (1887-1948). Leah's parents are Eliza Haney (1857-1946) and Edgar Arnold (1868-1947). Eliza is the daughter of Nancy (b. abt. 1835 d. aft. 1880) and Damon Haney. Both Nancy and Damon were born in Mississippi, probably Copiah County. Edgar's parents are Leah Gordon (1845-1879) and Allen Arnold (1843-aft. 1893). Both Leah and Allen are believed to have been born in Copiah County, Mississippi. Leah died in Copiah County, and Allen was living in one of the Mississippi counties of Copiah or Franklin when he passed away.
Frank's mother is Martha Owens (b. abt. 1871 d. aft. 1900) and his father is Alexander Amos (b. 1863). Martha was born in Mississippi but the names of her parents are not known. Alexander is the son of Jane (b. abt. 1820 d. aft. 1910). Both were born in Virginia, and Jane was living in Brookhaven, Lincoln County, Mississippi.
Edgar Arnold
1868-1947
My father is Willie Ivy Robinson. He is the son of Narsis Bailey (1901-1938) and Thornton Edgar Robinson (1888-1933). The parents of Narsis is Mariah Hardy (1872-1946), and Eugene Bailey (1871-1946). Mariah is the daughter of Mahalia Haywood (b. abt. 1848 d. abt. 1881), and John Hardy (b. abt. 1847 d. abt. 1900). Mississippi is the birthplace of Mariah and she died in that state. John was born in Alabama or Mississippi and he died in Mississippi. Eugene's parents are Charlotte (b. bet. 1835-1841 d. aft. 1912) and Jacob Bailey (b. bet. 1815-1818 d. aft. 1880). The family resided in Amite County, Mississippi in 1870, and in 1880 thet were living in Franklin County.
Willie Ivy Robinson
1923-2000
The parents of Thornton Edgar are Elizabeth Dunn (b. abt. 1851 d. 1926), and Ivy Robinson (b. abt. 1847 d. after 1910). Elizabeth's parents are Elizabeth and Thornton Dunn (b. abt. 1808 d. after 1870). Elizabeth was born in Mississippi and Thornton was born in Louisiana. The parents of Ivy are believed to be Amanda (b. abt. 1822 d. aft. 1880) and Robert Robinson (b. abt. 1810 d. aft. 1880). Amanda was born in Kentucky and Robert was born in Georgia. In 1880, they were living in Pike County, Mississippi.
Thornton Edgar Robinson
1888-1933
After completing about as much research as I could at the time on the ancestors of my parents, I started to research my wife's family and extended that line far beyond what I have reached in my search for my roots. Anyone who has done African-American genealogical research realizes the frustration encountered in this area of research due to the absence of records as a result of that dark period in American history known as slavery. It is, however, a Mississippi slave master-slave relationship of the 1860s resulting in miscegenation that has lead me far beyond any point I ever imagined I would reach when I decided to do genealogical research. The baby girl was named Elva Magee, and she was also called Elvie. The information presented here represents just a small part of The Elvie Magee Varnado Story.
John Otis & Lula Mae Robinson Varnado
In the 1940s
For many years I have heard Lula Mae Robinson Varnado, my mother-in-law, describe the mulatto lady in the picture on the wall of the living room of her home in Jackson, Mississippi, as being the daughter of the slave master. Opposite the picture of Elvie Magee Varnado on the same wall hangs the picture of her husband, Charlie Varnado, Sr. Both Elvie and Charlie were born in Pike County, Mississippi, and they were living there when they passed away. Charlie is the son of Margaret Hornsby who was born around 1835 and died after 1880. His death certificate shows his father is Harry Varnado. Lula Mae is the daughter of Mamie Crump and Curtis Robinson.
As best as I have been able to determined at this point, this Varnado family starts with Harry Varnado. Not much is known about Harry. The only documentation I have been able to find on him is that of his son's death certificate. That document shows only that Harry was Charlie's father. No other information is given about Harry on the death certificate. However, it is believed that he was a slave of Varnado descendants of Leonard Vernadeau of Limoger, France. Leonard was born about 1717, and he died in the Orangeburg District of South Carolina around 1795. Leonard's father, Leonard Henri Vernadeau, was born in France around 1682. Some of Leonard's descendants settled in Southern Mississippi, in the area that is now Pike County. Family tradition has also given Frederick Harris as the name of Charlie's father.
Varnado Family Reunion Scene 1994
Magnolia, Mississippi
Elvie was born on April 1, 1863, and she died on July 30, 1922. Charlie was born on November 6, 1864, and he passed away on July 30, 1936, fourteen years to the day after the death of his wife. Information that Charlie provided for Elvie's death certificate proved to be very helpful to me in my research of the Magee family line some sixty years later, as immediately after I started it became obvious that this area of research would be very interesting.
From Elvie's death certificate, I learned early in my research on her family line that the man who fathered her was named Magee. Her death certificate shows "Obie Magee" as the father as provided by her husband Charlie. The 1880 Pike County Census shows an "Obed Magee" residing in the county. I had not considered the possibility at that point of the slavemaster's having another name, as I soon reached a dead end in my search for information on him.
On Saturday following Thanksgiving in 1997, Leslie Varnado, Sr., a grandson of Elvie, and a brother of my father-in-law, the late John Otis Varnado, Sr., lead me to the remote location of a cemetery in rural Pike County off Highway 48 east of Magnolia. I had heard talk of the cemetery for years, but I had not considered its importance to my research until that day. Leslie was seventy-five years old at the time of our visit to the small graveyard. He was born on January 30, 1922, exactly six months before Elvie's death. Leslie's home is located a half mile from the cemetery.
The location of the cemetery has been known to Varnado family members for many years; and like the picture, I have heard reference made to it many times. It is referred to as being located on the "Old Walker Place", a term that started to make sense to me after my first visit to old grave site and reading the inscription on one of the tombstones.
After reaching the burial site on that pleasant November day, I saw two large tombstones, and two small ones. The small ones have the initials J.O.M. inscribed on them. Another one is that of Mollie Magee, wife of John A. Walker, the man for whom the place is known by Varnado family members. The fourth one, which is broken in two places with one piece, the top piece, missing, is that of Solomon Obed Magee. He was born on November 3, 1816, and died on April 27, 1881. Seeing this name, it became clear to me that this was the location of the final resting place of the man I had known as "Obie" and "Obed", the slave master.
Tombstone of Solomon Obed Magee
1816-1881
Pike County, Mississippi
Mary J. "Mollie" Magee, wife of John A. Walker, is Solomon Obed's daughter by his first wife, Mary J. "Polly" Ellzey, daughter of William Ellzey and Ester Sibley. Mollie's tombstone inscription shows she was born on May 27, 1850, and died on July 14, 1912. Her mother died about the time she was born. The two small tombstones may belong to Jacob Obed Magee, and Jeptha Obed Magee, as the 1860 census shows a Jacob O. in Solomon Obed's household; and he may have had another son, named Jeptha Obed Magee, by second wife Eliza Ginn, daughter of Jeptha Ginn and Penina Magee. The conclusion is Solomon Obed had two sons who died young. Eliza, by the way, is Solomon Obed's second cousin.
Elvie is the daughter the slave master fathered with a slave named Rachel. Rachel is the name of the mother as shown by Elvie's death certificate. Elvie's mother is believed to have been the slave of Solomon Obed. Both the 1850 and 1860 slave schedules show S.O. Magee, as he is also known, owned slaves. One female was about the same age as Rachel as indicated by the Pike County Census of 1870, the first census year most African-Americans in the South were enumerated by name. The 1860 Pike County, Mississippi Slave Schedule shows S.O. owned a total of seventeen slaves, ranging in age from one year to forty-three years.
Varnado Family Reunion Scene 1998
Pike County, Mississippi
Elvie and Molly had a sister-sister relationship to some extent. Leslie remembers being told as a child by elder family members that Molly used to "correct" Elvie's children when they referred to her as "Miss Molly", by saying "...no, it's Aunt Molly, not Miss Molly, I'm your aunt".
Leslie Varnado, Sr. in 1997 with Mollie's Gravestone in Background
Magnolia, Mississippi
Molly and John A. are known to be the parents of a son, Jeff Davis Walker, born about 1869. Not much is known about Jeff Davis. He may have died before reaching adulthood. Oscar Alford, born March 1874, is also their adopted son. Likewise, not much is known about Oscar. After Molly's death in 1912, John A. went to live with her nephew, Eugene, and his family in Laurel. John A. died on October 19, 1923, while living in a home for soldiers in Beauvoir, in Harrison County near the Mississippi Gulf Coast. His body was return to Pike County for burial. John's mother's name is Hester Adams and Elijah Walker is the name of his father.
Zedekiah Magee is the African-American man to whom Rachel was married, and Elvie was a member of his household in 1870. It is very important that Charlie provided accurate information showing "Obie Magee" as being Elvie's father. Had Zedekiah been listed as being her father, important information about Elvie's heritage would have been lost forever.
After being listed in the 1870 census, neither Zedekiah nor Rachel has been found in the census of 1880. However, the January 18, 1873 edition of the Magnolia Gazette reported a Zed McGee was found dead in the county a few days earlier. According the newspaper, Zed McGee, colored, was found dead on the side of the road somewhere near Holmesville. Death was determined to have been caused by intemperance, the newspaper reported. Zedekiah and Zed are likely one in the same person. Zedekiah was born around 1817, and Rachel was born about 1827. They were born in Mississippi.
Ned Magee, son of Zedekiah and Rachel, was born around 1851 and he is Elvie's half brother. Many African-Americans with the Magee surname and roots in the Rose Hill Community of Pike County, descend for from Ned Magee. Ned died in 1948 after living to reach the age of about ninety-seven years.
Ned Magee
1851-1948
Ned's wife is Precilla Barnes. She was born in Mississippi in 1859, and she died in Pike County in 1924. The names of Precilla's mother and father are Louisa and Jerry Barnes. Louisa was born in Mississippi and Jerry was born in North Carolina. Ned and Precilla are the parents of at least nine or ten children.
Precilla Barnes Magee
1859-1924
Another child of Zedekiah and Rachel is Edith Magee, who was born around 1849. She married Jerry Collins and to this union at least three children were born. They are Jerry Collins, Jr. born around 1873, Emma Magee born April 1880 and Martha Magee born September 1882. Like her brother Ned, Edith, affectionately called "Aunt Edie", lived a long life. The year of her death has not yet been determined, but when she died she had lost her eyesight.
Sometime in the latter part of the late 1860s or early 1870s, the Baptist church in the Rose Hill Community was destroyed by fire understand suspicious circumstances. The building that replaced the destroyed structure, Rose Hill Missionary Baptist Church, was constructed on its present located, land donated to the congregation by Solomon Obed Magee.
The church history shows "Obet Magee" was a member of the African-American place of worship. He served as deacon at the church after moving his membership from the church in the area where he had worshiped for many years. John A. Walker, his son-in-law, handled the legal matters relating to the transfer of the property for the church to be constructed. The document is dated May 15, 1873.
Rose Hill Missionary Baptist Church

Established 1867

Magnolia, Mississippi

The late Thelma Inez Marshall McEwen, wife of the late Reverend Houston McEwen, and a descendant of Rachel and Zedekiah Magee, documented much of the church history. Mrs. McEwen was a former school teacher. The history mentions Zedrick Magee as being one of the pioneers who with their axes cut down trees and made timber to build the the first church building within two years after African-American experienced freedom from slavery. It is believed that Zedekiah and Zedrick are also one in the same person.

The 1880 Pike County Census shows mulatto Elvie living in the home of Solomon Obed and his wife Eliza. She is listed as a servant, and it is believed that she helped care for her father during the final days of life, as his 1881 obituary shows he died of dropsy following a long illness.

Elvie was likely present at the burial of S.O. that late April day in 1881. Within two years following his death, Elvie was married to Charlie Varnado, Sr., son of Margaret Hornsby and Harry Varnado, and they had started their own family. Apparently, Elvie and Charlie passed the directions to the location of the cemetery down to their descendants. Their first child, Dewitt Varnado, was born on May 5, 1883.
Charlie Arthur Varnado, Jr.

1896-1985

Another son of Elvie and Charlie is Charlie Arthur Varnado, Jr., who was born in 1896, and died in 1985. He married Luberta Stewart, daughter of Georgia Anne Dillon and Alexander Stewart. Georgia Anne's mother is Elmira who was born in Mississippi about 1842, and her father is George L. Dillon who was born in Georgia about 1840. Alexander's parents are Dora Reeve and John Alexander, both born in Louisiana.
Luberta Stewart Varnado

1900-1964

To the union of Luberta and Charlie, Jr. was born John Otis Varnado, Sr. in 1920. John Otis married Lula Mae Robinson, and it is from this couple that my wife and two children descend. Charlie Jr. and Luberta are the parents of eleven Children. In addition to John Otis, their other children are Theodis, Leslie, Alton, Julius, Bernice, Mary, Clay Lee, Minnie, Nona Elva, and Georgia, who died young.
Rear view of Charlie Jr.'s home in the 1980s

Magnolia, Mississippi

After learning the full name of Elvie's father, I went to the internet to search for information on Solomon Obed Magee. In January 1998, I received the information I needed from a genealogist who lived in Middle Tennessee at the time. In addition to providing information showing the name of Solomon Obed's father, he also provided the name of his paternal grandfather.

Solomon Obed's father and grandfather are William Willis Magee, Sr. and John Magee, Jr., respectively. William Willis, Sr. was a well respected baptist minister in the area. William W.J. Magee is the son of Solomon Obed with Mary J. Ellzey. His name seems to be a combination of the names of his grandfather and great-grandfather.

William W.J., Elvie's half brother, is the only son of Solomon Obed to live to reach adulthood, and pass the Magee name on to the next generation of the family. He married Talitha A. Clementine Ginn, and they had two children, Eugene P. and Mamie. Eugene, like his father before him, had no brothers and therefore was his father's only male heir. He married Katie Dickey in Pike County in 1897, and they were the parents of at least three girls, Wilhemina, Eugenia and Ary. In 1920, Eugene and his family were living in Laurel, Jones County, Mississippi.

Other than Ary, nothing is known about the family after the 1920 census. The Family History of Peter Quin, edited and revised by Jerome P. Hafter, 1963-1970, shows Ary was or had been an army officer living in Jackson, Mississippi. She had one daughter. This writer does not know the name of the father of Ary's daughter.

The information about Solomon Obed's father and grandfather was a good start that has lead me to other published materials that show a family line of the slavemaster that connects to many other generations and to some famous individuals in history. I certainly had not expected to make such connections when I first set out on my mission.

Based on several books I have read, information I have acquired from the internet, and Family Tree Maker CDs, Elvie Magee Varnado, wife of Charlie Varnado, Sr., descends from William the Conqueror through his 6th great-grandson Edward III, King of England, and a Scottish couple named Marian McDonald and Patrick MacGregor. Of course, information exists to extend this family line far beyond William the Conqueror, as this line is well documented. The Magee connection to William the Conqueror is shown in McGehee Descendants, Volume I, by Ethel C. Woodall Grider.

The Conqueror, also known as William I, was King of England from 1066 to 1087. Edward III reigned as King of England from 1327 to 1377. Marian is a 19th great-granddaughter of the Conqueror, an 11th great-granddaughter of Edward III, and a 7th great-grandmother of Elvie. Patrick's genealogy shows he is descendant of Kings of Scotland and Ireland, including Erc, King of Dalreda, County of Ulster, who died around 474 A.D., and Eochy I, Biude, King of Scots from 609 to 629.
Varnado Family Reunion Scene 1996

Harvey, Illinois

Results of my research suggest that William, son of Patrick and Marian, changed his name from MacGregor to MackGehee after the family came to this country in the 1600s. Some researchers believe the name of this son of Patrick and Marian was Thomas MackGehee. It is from MackGehee that Magee, and other variations of spelling of the name, derived. John Magee, Sr., father of John Magee, Jr., is the first of Elvie's ancestors to use the Magee surname. He had at least five siblings who also went by Magee.
Varnado Family Reunion Scene Late 1970s or Early 1980s

Magnolia, Mississippi

John Sr. was born in Edgecombe County, North Carolina around 1742, and he died in that state in Duplin County about 1802. His son, John, Jr., was born in Sampson County, North Carolina in 1760, and he had migrated to Mississippi when he died in Pike County around 1826. John, Jr. is the first of Elvie's Magee ancestors to live and die in Mississippi. William Willis was born before the family left North Carolina, and thus, Solomon Obed is the first generation of Elvie's Magee line to be born in Mississippi.

I know I have documentation of the kinship of Elvie to Solomon Obed. I would like to emphasize that from that point, my research is base on the published works of other researchers and authors; and I therefore can not vouch for its validity in its entirety. I have not however, used information that has appeared to be questionable in reaching my conclusion of a family connection to William the Conqueror, which of course, remains a theory.
The Willie L. Robinson Family 1999

Carrollton, Georgia

Based on the information I have acquired, Elvie is a 20th great-granddaughter of King Edward III, and a 28th great-granddaughter of William the Conqueror. She is a 2nd great-grandmother of my children, Carla Elise Marie Robinson and Willie Curtis Robinson, born 1966 and 1983, respectively. My wife is Mildred Marie Varnado Robinson, Elvie's great-granddaughter. Elvie's descendants are many. One goal of this research is to include information on as many descendants of Elvie and Charlie as possible.

In 1934, Professor Horace Mann Bond and his wife Julia Washington Bond left Nashville, Tennessee, and relocated to Washington Parish, Louisiana, a part of the state bordered by Mississippi on two sides. Under the auspices of the Rosenwald Fund, the couple lived in a small farming community and studied the operation of black schools in the area. Before going to Louisiana, Professor Bond had worked at Fisk University in Nashville.

During the couple's stay in the Star Creek community of Washington Parish, they became familiar the culture and much of the history of the area. Coincidentally, John Magee (1792-1877), a second cousin of Solomon Obed Magee, had settled in the area and many of black residents there were his descendants. Professor and Mrs. Bond keep good notes in their dairy and documentation of their stay in southeastern Louisiana has been published in The Star Creek Papers - Washington Parish & the Lynching of Jerome Wilson, published in 1997.

Elvie's kinship to Jerome, the victim of the lynching, is fourth cousin once removed. The book's editor is Adam Fairclough. The Lynching of Mack Charles Parker has a reference to the Louisiana Magee descendants. The Late Professor and Mrs. Bond incidentally, are the parents of Julian Bond, who wrote the forward for the book.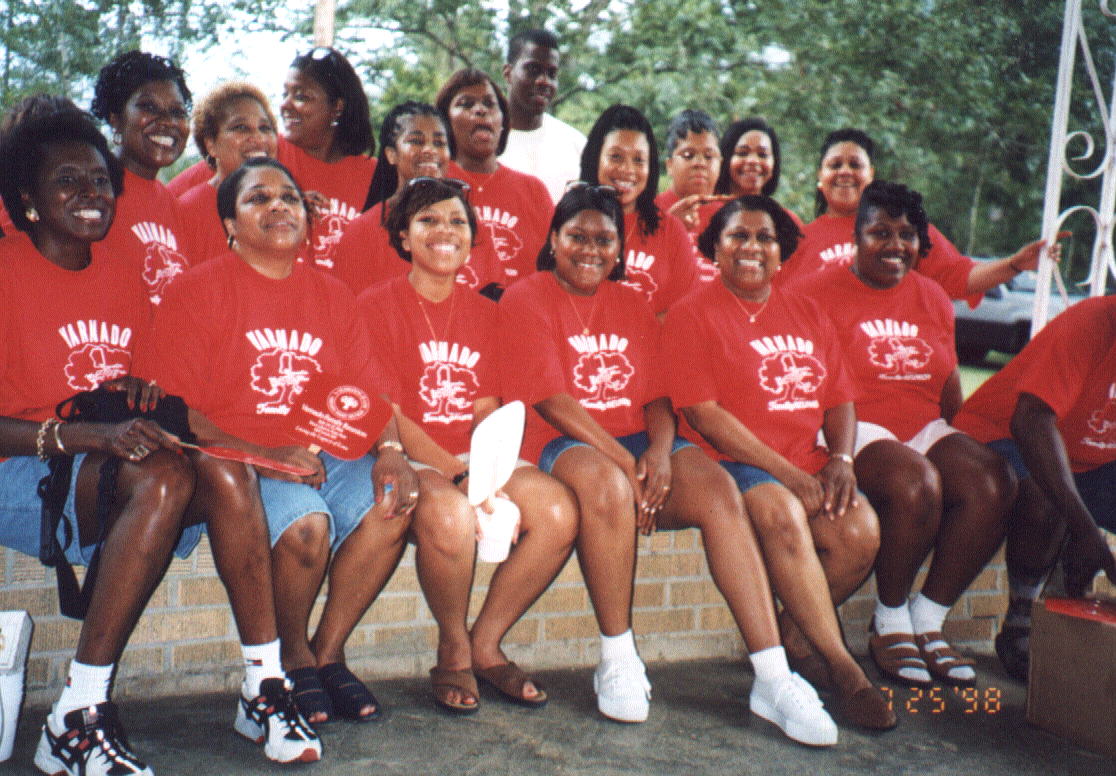 Varnado Family Reunion Scene 1998

Magnolia, Mississippi
Alice and Natasha, Granddaughters

of John Otis and Lula Mae, 1993

Jackson, Mississippi
Kim and Alice, Great-granddaughter and Granddaughter

of John Otis and Lula Mae, 1995

Jackson, Mississippi

Mildred Marie is the second child born to John Otis and Lula Mae. The other children of John Otis and Lula Mae in order of their birth are Jerry Wayne (Marilyn Deambra Jones) of San Francisco, CA; Alice Rae (Dennis L. Harden) of Jackson, MS; Wilma Grace (the late Alex Butler II) of Jackson, MS; John Jr. (Carolyn C. Stamps) of Jackson, MS; Phillis Wanda of Jacksonville, FL; Shirley Ann of Jackson, MS; Sharon Victoria (Andrew D. Porter) of Atlanta, GA, and Jacqueline Eloise (Wilton Charles Jackson) of Jackson, MS. In addition to grandchildren Carla Marie and Willie Curtis, twelve other grandchildren and one great-granddaughter descend from John Otis and Lula Mae. Their off-springs also include two grandchildren and four great-grandchildren by marriage.
John Otis Varnado, Sr.

1920-1995
Reunion of the John Otis Varnado, Sr. Family

Jackson, Mississippi in 1989
The 2009 Varnado Family Reunion

Jackson, Mississippi on Thanksgiving

My search continues, and I welcome contributions from anyone who makes a connection with any name in my database. Pike County families include BARNES, BRUMFIELD, CASTON, COLLINS, CONERLY, CONEY, COOK, COTTON, DILLON, DOWNS, ELLZEY, GINN, GREEN, HORNSBY, LANE, MARSHALL, MOSES, RICHARD(S), ROBINSON, SIMMONS, SMITH, STEWART and TAYLOR, to name a few. I am also willing to share information I have with others. Either way, I would like very much to hear from you. Please tell your family and friends how to locate this website, and do return for another visit in the future.

Please Sign Guestbook

LINKS