Grave Site of Solomon Obed Magee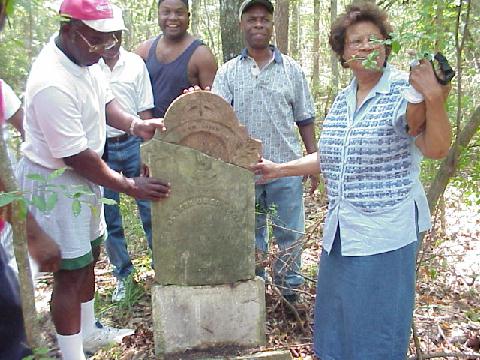 MISSING PIECE OF TOMBSTONE FOUND
As part of the 2000 Varnado Family Reunion activities, a visit was made on July 28, 2000 to the rural Pike County, Mississippi site where slave master Solomon Obed Magee (1816-1881) and other members of his family are buried. Mary Varnado Stewart (pictured at right) a great-granddaughter of Solomon Obed, found the missing part of his tombstone. It was located within five feet of the grave near a tree and it was covered with years of leaves.
Another tombstone covered with leaves was also found later that day. Although it has not yet been identified positively, it may be that of Solomon Obed's first wife, Mary Jane "Polly" Ellzey Magee, or one of his young sons, Jacob Obed Magee of Jeptha Obed Magee. Attempts will be made to identify the other tombstone, and locate others, on future visits.

DATE DEVELOPED: 15 October 2000
LAST UPDATE: April 02, 2016
This site is developed and maintained by Willie L. Robinson
LINKS OF INTEREST
ROBINSON, VARNADO & Other MS Family Research
PIKE COUNTY, MS MAGEE-VARNADO HERITAGE
In Loving Memory of Willie Ivy Robinson
Selected African-American Marriages of Pike County, MS
Tennessee Colored Pension Applications for CSA Service
Photos of the 2009 Varnado Family Reunion
Ancestors of Leslie Varnado, Sr.
Photos of the Homegoing Celebration for Leslie Varnado, Sr.

Email: wlr0819@aol.com