Peter Lorre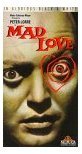 Peter Lorre was born Laszlo Lowenstein on 6-26-1904 in Hungary, died 1964. Unhappy as a bank clerk, he received stage training in Vienna. After various forgotten roles onstage for 7 years, Fritz Lang cast him in "M" (1931), as a psychopathic child-killer being hunted by both the police and the Mob. The German film was a world-wide success, but two years later Lowenstein fled Germany when the Nazis rose to power. He made a film in Paris in 1934, then was cast in Alfred Hitchcock's British film "The Man Who Knew Too Much" the same year, in which a girl is kidnapped to keep her parents from testifying.

In 1935, the actor with the bulging eyes, melancholy expression, at once sinister and yet pathetic, came to the attention of Hollywood. His first two U.S. movies that year, were "Crime & Punishment" (about a man haunted by a murder he committed), and "Mad Love," the famous Hands Of Orlac story about a mad doctor (Lorre) who performs a hand transplant for a pianist but the hands were from a killer and have a mind of their own. Peter Lorre was now firmly established as a horror/villain actor, and the film itself has been remade at least three times that I know of: "The Hands Of Orlac" (1960, with Donald Pleasence & Christopher Lee), "Hands Of A Stranger" (1962), and "The Hand" (1981, see MonsterVision review & host segments, starring Michael Caine as a cartoonist whose severed hand goes on a murder spree, though I suppose that's more a remake of another Lorre film "The Beast With 5 Fingers"). The most recent remake is "Idle Hands" (1999), in which Devon Sawa plays a teen pot-smoker who can't control his hand's murderous impulses. It ran on the SciFi Channel 2 years later.

Peter Lorre's only film in 1936 was "Secret Agent," described by Leonard Maltin as "one of Hitchcock's oddest films." But the following year, Lorre made five films, including his first two as Japanese detective Mr. Moto. In 1938 & 1939, virtually all of Lorre's films were "Mr. Moto" movies, until Japan's expansion into large areas of China in late 1938 began turning public opinion against Japanese people, killing the eight-movie series after the ironically titled "Mr. Moto Takes A Vacation" (1939). One year after Lorre's death one more Mr. Moto film was made, "The Return of Mr. Moto" (1965), starring a miscast Henry Silva as the Oriental detective.

Peter Lorre's remaining movies were mostly horror or film noir characters:
I'll Give A Million (1938), a comedy with John Carradine as an eccentric millionaire/hobo

Strange Cargo (1940), escapees from Devil's Island meet a prisoner who thinks he's Jesus Christ

Island of Doomed Men (1940), as a man who traps unsuspecting victims for slave on his island

Stranger On The Third Floor (1940), a "sleeper, with one nightmare montage that's a knockout"

You'll Find Out (1940), his first with Boris Karloff and Bela Lugosi is a haunted house comedy with Kay Kyser & his band
The Face Behind The Mask (1941), well-done film of man disfigured by fire who turns to life of crime wearing a mask

Mr. District Attorney (1941), low-budget movie made 2 years after popular NBC series of same name debuted

They Met In Bombay (1941), Clark Gable movie with Lorre as the "money-hungry cargo-ship captain"

The Maltese Falcon (1941), third version of B-movie that went nowhere the first two times (1931 & 1936) made Humphrey Bogart & Sydney Greenstreet into overnight stars, with Lorre as the evasive underworld character Joel Cairo. It was John Huston's first movie as director, which he also scripted. The studio wasn't quite sure why the public liked these 3 odd actors who had never clicked before individually, so they reteamed for several other movies

All Through The Night (1942) Bogart as spy hunter, Lorre as spy in New York

In This Our Life (1942), cameo only, Bette Davis as histrionic husband-stealer

The Boogie Man Will Get You (1942), door-to-door salesmen go into a house but don't come out - Boris Karloff is using them in his "experiments." Lorre as town sheriff & loan shark

Invisible Agent (1942) remade by John Carpenter as "Memoirs Of An Invisible Man" (1991)

Casablanca (1942), originally set in Veinna, the Nazi occupation of North Africa brought a quick rewrite and reteamed Bogart, Greenstreet & Lorre

The Constant Nymph (1943), small role in Charles Boyer - Joan Fontaine romance

Background To Danger (1943), a "slam-bang WW2 story with George Raft swept into Nazi intrigue in Turkey; terrific car chase caps fast-moving tale," with Lorre and Greenstreet

The Cross Of Lorraine (1943), WW2 B-movie with Lorre as Nazi, Hume Cronyn as a POW camp informer. Jean-Pierre Aumont, Gene Kelly

Passage To Marseille (1944), talky WW2 film with Bogart, Greenstreet, Claude Rains & Hans Conried

The Mask of Dimitrios (1944), starring Lorre & Zachary Scott, with Sydney Greenstreet, based on the novel "A Coffin For Dimitrios"

Arsenic & Old Lace (1944) based on a long-running Broadway play that starred Boris Karloff, about 2 sweet old ladies who kill gentleman callers with poisoned tea. Lorre plays cringing assistant to escaped convict (Raymond Massey) who wanders into the mad house. Stars Cary Grant in Karloff's old Broadway role

The Conspirators (1944), similar to "Casablanca," with Greenstreet, Paul Henreid, Hedy Lamarr

Hollywood Canteen (1944), essentially a filmed all-star show for the GIs, one of best bits is by Lorre & Greenstreet

Hotel Berlin (1945), WW2 version of soap opera movie "Grand Hotel"

Confidential Agent (1945), Lorre as an enemy agent during Spanish Civil War, with Charles Boyer & Lauren Bacall

3 Strangers (1946) Greenstreet, Lorre & Geraldine Fitzgerald hold a winning sweepstakes ticket in a bizarre story written by John Huston & Howard Koch, neither of whom directed

Black Angel (1946) murder-mystery written by Cornell Woolrich, starring June Vincent

The Chase (1946) mild melodrama written by Cornell Woolrich about veteran (Robert Cummings)

The Verdict (1946) Greenstreet is a Scotland Yard detective forced into retirement so he commits "perfect crime" to show up modern methods

The Beast With 5 Fingers (1946), semi-remake of "Mad Love" this time has Lorre confronting severed hand on crime spree. Robert Alda, J. Carrol Naish

My Favorite Brunette (1947) Bob Hope sequel to his "My Favorite Blond" (1942) has Lorre & Lon Chaney (their first movie together) as mobsters

Casbah (1948) Lorre is best part of this remake of "Algiers" as a crafty inspector on the trail of jewel thief Pepe LeMoko (Tony Martin), with Yvonne de Carlo (later Lillie in The Munsters)

Rope Of Sand (1949), thief tries to reclaim hidden treasure, with lots of interferance. Burt Lancaster, Paul Henreid, Claude Rains, Sam Jaffe

Double Confession (1950, UK) innocent man tries to frame someone else fearing he'll be suspect in his wife's mysterious death

Quicksand (1950) auto mechanic (Mickey Rooney) borrows $20 from boss's cash drawer to take out a girl, Lorre as menacing, sleazy arcade owner

The Lost One (1951, German) Lorre co-wrote, directed and stars as a world-weary researcher whose girlfriend is suspected of passing secrets to the other side during WW2. Based on a true story, Lorre's only film as director.

Beat The Devil (1954) Director John Huston and Truman Capote co-wrote this spoof of The Maltese Falcon, and filmed it on location in Italy. It was ahead of its time in 1954 but has a faithful cult following. Bogart, Lorre, Jennifer Jones, Gina Lollobrigida, Robert Morley

20,000 Leagues Under The Sea (1954) Walt Disney's film didn't skimp on special effects, and is considered one of the best movie versions of a Jules Verne story ever made. Stars Paul Lukas and Kirk Douglas as scientist and sailer captured by Captain Nemo (James Mason). Universal had previously filmed the story in 1916, two decades before becoming known for monster movies in the 1930s. Lorre's best scene is when he and Kirk discover that the submarine's ballast is collection of gold treasure from shipwrecks

Congo Crossing (1956) adventure movie set in Africa

Meet Me In Las Vegas (1956) cameo only

Around The World In 80 Days (1956) Lorre is just a supporting character in this all-star version of Jules Verne's story, with over 40 cameos by top Hollywood stars

The Buster Keaton Story (1957), starring Donald O'Connor

Silk Stockings (1957) Cyd Charisse and Fred Astaire star in remake of Ninotchka

The Story Of Mankind (1957) Lorre plays Nero and Vincent Price plays the Devil in Irwin Allen's odd but popular story about mankind on trial. John Carradine, Agnes Moorehead (later Endora in TV's Bewitched), Ronald Colman, Cedric Hardwicke, Hedy Lamarr, Dennis Hopper

The Sad Sack (1957) Jerry Lewis movie without Dean Martin, Lorre appears in last segment of disjointed film as an Arab

Hell Ship Mutiny (1957) Jon Hall stars as boring ship captain in the South Seas

The Big Circus (1959) Do you think clowns are creepy? Peter Lorre plays one in this movie, with Vincent Price, Red Buttons and Steve Allen. "Big-top action and intrigue." And you thought Spawn had a scary clown

Scent Of Mystery (1960) an Englishman and a sour cab driver (Lorre) try to keep an American heiress from being murdered. Various scents were pumped into the theater to give audience clues during showings. This was the only movie ever released with Smell-O-Vision and the director didn't make another film for almost 20 years. It has only been seen once on TV, when MTV ran it in 1980 along with scratch-and-sniff cards in a convenience store promotion. The original tagline didn't help: First they moved (1895)! Then they talked (1927)! Now they smell!

Voyage To The Bottom Of The Sea (1961) Producer/director Irwin Allen's movie led to a TV-series with a completely different cast. This one stars Walter Pidgeon of Forbidden Planet as the Admiral of a high-tech sub. Also stars Lorre, Frankie Avalon, Rob Sterling, Michael Ansara and Barbara Eden.

Tales Of Terror (1962). Richard Matheson mined four Edgar Allan Poe stories for this trilogy starring Vincent Price, who appears in all three. Lorre plays a vengeful husband walling up adulterous wife in one of segments. With Basil Rathbone, Joyce Jameson

Five Weeks In A Balloon (1962). Irwin Allen's version of another Jules Verne novel stars Lorre, Red Buttons, Fabian, Barbara Eden, Barbara Luna, with Herbert Marshall

The Raven (1963) by Richard Matheson, inspired by an Edgar Allan Poe poem. Magicians Lorre and Vincent Price take on colleague Boris Karloff in a climactic sorcerer's duel

Comedy Of Terrors (1963) by Richard Matheson. Dishonest undertaker (Vincent Price) drums up business by going out at night and helping the grim reaper along, with reluctant assistant Lorre. When the landlord (Basil Rathbone) threatens to foreclose, he simply becomes the next night's victim. And all the while, Vincent keeps trying to give poison to sickly father-in-law Boris Karloff. Vincent Price said that one night when they were filming on location, the three stars went into a local resturant and the other diners soon left, "We closed the place"

Muscle Beach Party (1964), Lorre has cameo in this second in the Frankie & Annette "Beach Party" movies, screen debut of Stevie Wonder

The Patsy (1964). A bellhop (Jerry Lewis) is conned into taking place of a popular comedian killed in plane crash. One of Jerry's least interesting films was Lorre's final movie, he died of heart seizure

~~~~~~~~~~~~~~~~~~~~~~~~~~~~~~~~~~~~~~~~~~~~~~~~~~~~~~~~~~~~~~~~~~~~~~~


Peter Lorre movies previously, all times EST:

Note: Listings for Turner Classic Movies start at 3am/6am EST each morning & end at 5:59am EST


Arsenic and Old Lace (1944, Lorre as a mad doctor employed by psychotic Raymond Massey)
Last seen 9/28/2007 on Turner Classic Movies

The Beast with Five Fingers (1946, remade as The Hand starring Michael Caine)
Jan 2, 2008 @ 7:45/10:45am EST on Turner Classic Movies

Casablanca (1942, Bogart, Greenstreet, Lorre, Paul Henreid)
Jan 17, 2008 @ 5pm/8pm EST on Turner Classic Movies

The Chase (1946, wife of a killer tries to escape from her home. Robert Cummings)
Last seen 3/31/2007 on Thrillermax

The Conspirators (1944 in WW2 Lisbon, Lorre, Greenstreet, Paul Henreid) 
Thu, Jan 10, 9am/12pm EST on Turner Classic Movies 

The Cross of Lorraine (1943)
Last seen 3/27/2007 on Turner Classic Movies

Jules Verne's Five Weeks in a Balloon (1962)  
Dec 28, 2007 on Fox Movie Channel

I Was an Adventuress (1940, jewel thieves in Europe's plush social circles)
Last seen 9/25/2007 on Fox Movie Channel

M (1931)
Last seen 12/17/2006 on Independent Film Channel

Mad Love (1935, a murderer's hands are transplanted with a mind of their own)
Jan 2, 2008 @ 6:30/9:30am EST on Turner Classic Movies

The Maltese Falcon (1941, Bogart, Greenstreet & Lorre)
Last seen 6/13/2007 on Turner Classic Movies
 
Muscle Beach Party (1964, starring Frankie & Annette)
Last seen 2/16/2007 on Encore Love Stories
Last seen 7/15/2007 on Turner Classic Movies

My Favorite Brunette (1947, starring Bob Hope, with Lorre & Lon Chaney)
Last seen 5/29/2007 on Turner Classic Movies

The Raven (1963, Vincent Price, Boris Karloff, Jack Nicholson)
Last seen 9/29/2007 on Mystery
Last seen 9/29/2007 on Movie Plex

Silk Stockings (1957)
Last seen 5/29/2007 on Turner Classic Movies

Strange Cargo (1940, Devil's Island escapees meet a prisoner who says he's Jesus Christ) 
Fri, Jan 11, 6am/9am EST on Turner Classic Movies  

Tales of Terror (1962, Lorre, Vincent Price, Basil Rathbone)
Last seen 8/10/2007 on Turner Classic Movies

20,000 Leagues Under the Sea (1954)
Last seen 6/30/2007 on Turner Classic Movies

Voyage to the Bottom of the Sea (1961)
Jan 6, 2008  1:30 am on American Movie Classics

Peter Lorre is available on video and on DVD, and even books


TV ad, voices of Peter Lorre, Frank Nelson & Paul Winchell


More Peter Lorre video clips on YouTube


Hollywood was well known for hiring actors, writers and other creative people but limiting their creativity. When the fantasy movie "Secret Life of Walter Mitty" became a big hit, mogul Samuel Goldwin tried to hire the author James Thurber as a staff writer. At the time, Thurber was getting by writing and cartooning for The New Yorker magazine. Goldwyn offered $500 a week, an enormous sum in 1947. Thurber wired back "Mr. Ross has met the increase" (Harold Ross was editor of The New Yorker). Goldwyn offered $1000/week. "Mr. Ross has met the increase." Then $1500/week, then $2500/week (that's about $18,972/week today), with the same response. After some time passed, Goldwyn offered $1500, forgetting how high he had gone previously. Thurber wired back, "I'm sorry, but Mr. Ross has met the decrease." It was all fiction on Thurber's part, of course. Ross would no more have paid $500/week then give away free pencils. In fact, when New Yorker staff writer Dorothy Parker was reminded that she was late on an article once, she replied, "Someone else was using the pencil."


Mystery Playhouse starring Peter Lorre (15 radio eps)
Kolchak, the Night Stalker Page (Darren McGavin)

Visit Edgar Allan Poe page

The Organite music has been moved to the old Radio Listings page page

Or would you prefer to hear the Phantom of Monstervision play Toccata And Fugue on his Pipe Organ?

Click here for Boris Karloff
Animated graphics (c) 2003 by The Animation Factory.

By the way, how are you this

This page © Bill Laidlaw.