Bewitched

Classic TV's "Bewitched" debuted on the ABC network on September 17, 1964. It lasted eight seasons, through July 1, 1972. Although it wasn't television's first special-effects comedy, it sparked a trend for supernatural sitcoms in the 1960s, even beating NBC's Star Trek in the ratings. Produced and directed by William Asher, the director of various beach party movies (and husband of the show's star, Elizabeth Montgomery), "Bewitched" was a totally fresh television concept inspired by the 1942 film "I Married a Witch." The premise of this series deals with what could be viewed as an interfaith marriage between Samantha--a non-stereotypically beautiful witch--and Darrin--an uptight mortal who insists that his wife refrain from using her magical powers. Much of the appeal of this highly rated program is due to its mixture of childlike fantasy and sophisticated social satire. With Darrin working as a copywriter, the show pokes fun at the mad men in the highfalutin' world of advertising as well as modern suburban life of the time.
Also adding to the show's cosmopolitan tone is the presence of two renowned theatrical actors, Maurice Evans and Agnes Moorehead; portraying Samantha's metaphysically separated parents Endora and Maurice. Both were long-established stage actors and Evans would write his own lines when the script called for a Shakespearian quotation.

A fascinating aspect of this series as it continued into the 1970s was its duality. Not only did two actors (Dick York and Dick Sargent) consecutively play Darrin; two actresses played nosy next-door neighbor Gladys Kravitz (the second one had previously starred as Miss Duffy on network radio's Duffy's Tavern, the direct ancestor of the tv series Cheers), and two actresses played Louise Tate, the wife of Darrin's boss, Larry. To this day, it is still quite rare for a sitcom to have this many substitutions in its main cast of characters without changing the characters' names.
*******************************************************************************
Jennifer Love Hewitt is a long-time fan of the late Elizabeth Montgomery, the original TV-series and the recent movie. As star, executive producer and director of the 9/25/09 season 5 opening episode of "Ghost Whisperer," she plans to inject as much of Bewitched into the show as possible. It will be set 5 years after last year's final episode. She's had a baby, delivered in a scene with "intense ghost activity." And they worry that, like little Tabitha, the baby (now a 5-yer-old boy) will have her abilities. She says it will turn out that he doesn't have her specific gift, but "People should pay attention to him, because he is a very special kid in every shape and form." She also plans for the boy to have an "unusual nanny." She is hoping to get Shirley MacLaine (75), who played Endora in the 1975 movie. Shirley's familiar with "The Ghost Whisperer" and her agent says she is awaiting a script, "It's definitely possible." I wonder if Michael Caine is too busy for a guest shot?
*******************************************************************************
"Bewitched" first aired on Nick at Nite on September 4, 1989.

Visit the "Extras" link on TV Land's Bewitched website for downloadable goodies (if this link doesn't work anymore, check the Stevens Trunk link at www.Bewitched.net), as well as sights and sounds of Bewitched and other Nick / TV Land series and the recent movie. And don't forget to watch "Bewitched".
Here is a classic episode: #138 "The No-Harm Charm" Darrinís brochure for the multi-million dollar Omega Bank mistakenly lists the bankís assets as $100. Larry suggests he take some time off. Darrin thinks he has Uncle Arthurís magic charm for protection and he sets out to salvage the Omega account (the lucky charm turns out to be a decorative bolt Uncle Arthur unscrewed from the top of a lampshade).
There was a 2-part ep. inspired by "It's A Wonderful Life." It starts with #126 - When one of Darrin's old girlfriends returns to steal him away from Sam, Endora sends him back in time to before he had met Samantha, to see if he could be happy without her.

Syndicated reruns of Bewitched began running again on individual tv stations nationwide on 9-20-99. They are not following original broadcast order. They don't list ep titles / descriptions on the syndicator's website, but they do have general info and the show's original 1960s biographies (so none of actors are refered to in past-tense), and it starts with the sights / sounds of the opening color credits at Sony's Bewitched website.

Bewitched and I Dream Of Jeannie are sometimes seen on super station WGN

Japanese Bewitched (1st episode, 1966) I don't speak Japanese but the character that is most recognizable is the Japanese version of neighbor Mrs. Kravitz


Bewitched or Elizabeth Montgomery movies in previous years:  
 
Bewitched (2005, Nicole Kidman, Will Ferrell, Shirley MacLain, Michael Caine)
Sat  Apr 21  08:20A & 7:10P on Starz
Thu  Jun 21  12:40A & 11:30P on Starz Kids and Family
Sun  July 1  08:00P & 2:50A on Starz Comedy
Tue  Jul 10  10:35A & 7:10P on Encore Love Stories
Tue  Jul 24  10:40A & 9:30P on Encore

On the Set: Bewitched (25 min, 2005)
Tue  May 29  04:45A on Wam!
Sun  Jul 22  09:35A on Encore Love Stories

Bewitched (1945) about a woman (Phyllis Thaxter) with multiple personalities on death row
(not currently scheduled)

Curious George (voices of Will Ferrell, Drew Barrymore, Dick Van Dyke, Eugene Levy)
Sat  Jun 16  06:30A on Cinemax
Fri  Sep  7  06:00A on HBO Plus
Fri  Sep  7  02:50P on HBO Family
Sat  Sep  8  11:00A on HBO Comedy

Dead Calm (Kidman 1989, psychotic terrorizes a couple aboard their sailboat in the Pacific)
Sat  Jul 21  01:00A on American Movie Classics

Elf (2003, Will Ferrell as a man raised by Santa's elves)
Oct 25, 2006  05:20P & 2:00A on Starz Edge
Dec  2, 2006  11:00A & 6pm on USA Network

I Married a Witch (1942, Veronica Lake as the witch in our modern world)
Sat  Jun 16, 2007 on Turner Classic Movies

The Interpreter (Kidman 2005, UN worker believes she's overheard an assassination plot)
Thu  Aug  2  02:40P on Cinemax
Sat  Sep  8  11:30P on More Max
Mon  Sep 10  03:45P on Thrillermax

Making of "The Interpreter" (15 minutes)
Thu  Jun 28  08:00A on HBO Signature

A Killing Affair (1977 Montgomery, oolice detectives fall in love while working together)
Mon  Apr 16  05:00A on Mystery

Night at the Roxbury (1998, Will Ferrell comedy based on Sat. Night Live skits)
Sun  May 27  08:20A & 4:35P on Flix Movie Channel
Thu  Aug  9  05:05P on Showtime
Fri  Sep  7  09:00A & 7:30P on Showtime #2
Sun  Sep  9  12:30P & 8:00P on Showtime Showcase
Sat  Sep 15  06:15A & 5:00P on Showtime Showcase

The Peacemaker (1997 Kidman, George Clooney)
Sun  Jun 24  03:30A on TNT

Practical Magic (1998, witches become the focus of an investigation after their magic misfires)
Thu  Aug  2  06:15P on HBO

The Producers (Mel Brooks 2005 remake, with Ferrell, Nathan Lane, Matthew Broderick)
Fri  Sep 21  10:00A on Cinemax

Mrs. Sundance (1974 Elizabeth Montgomery, a 1976 remake is showing on Encore Western channel)
Wed  June 27  09:00P on Movie Plex
Thu  Sep 13  1pm/4pm EST on Fox Movie Channel

Sins of the Mother (1991, Elizabeth Montgomery)
Fri  June 1  05:45A on Lifetime Movie Network

The Stepford Wives (2004, Nicole Kidman, Bette Midler)
Sun  Jul  1  01:00P on FX Network

With Murder in Mind (1992, as a scarred crime victim seeks man she's sure tried to kill her)
Feb 12, 2007 on Lifetime Real Women

Biography: Elizabeth Montgomery (1933-1995)
Wed  Sep 12  09:00A, 3:00P & 4:00A on Biography Channel

The more recent Bewitched movie was directed by Nora Ephron and starred: Nicole Kidman, Will Ferrell, with Shirley MacLaine, Michael Caine, Jason Schwartzman, Kristin Chenoweth, Heather Burns, Jim Turner, Stephen Colbert, David Alan Grier.
"A real witch stars as the lead in a remake of 'Bewitched,' which costars an egotistical actor (Will Ferrell, essentially doing his "Anchorman: The Legend of Ron Burgundy" character from the previous year) trying to revive his career. Inspired by the 1964-72 TV series." The movie didn't do that well at the box office, though the actor doing Uncle Arthur as Paul Lynde deserves his own spinoff movie. Maybe he will get smart

Also showing occasionally: Twilight Zone episode "Two" in which an American soldier (Charles Bronson) and a paranoid Russian soldier (Elizabeth Montgomery) unexpectantly meet while foraging for canned food in an American town after World War III poison gas has killed everyone else

Another interesting site for color pictures and sounds is the unofficial: www.Bewitched.net

The Dr. Bombay episode on NBC series "Passions" starring Bernard Fox aired 9-17-99. A character in the non-comedy daytime serial named Timothy - sidekick to the evil 300 year old witch Tabitha (played by Juliet Mills of Nanny & The Professor, despite the name this character is no relation to Tabatha of Bewitched) calls for Bombay in the traditional Bewitched way and poof, there he is in safari outfit for a 2 minute cameo. Then the mean-spirited soap opera went on with it's regular plot. 7-7-01 & 7-14-01 TV Guide issues had a cover story/fictional diary from Passions. The actor who played Timothy has since passed away. Georgia Engel (Ted Baxter's girlfriend in Mary Tyler Moore Show) will join the cast of Passions on June 28, 2007, for 6 episodes as a good witch who is just as powerful as bad witch Tabitha. Inspired by the Wizard of Oz parody play "Wicked," she will be an old classmate of Tabitha's and "Now she is the most powerful of the good witches. In fact, she out-Glinda's Glinda." Also joining the cast, on June 21, is dwarf actor Danny Woodburn (last seen on the TV series Seifeld), as a new character called Demon Elf. I'm guessing he's no Glinda. The series Passions ended its 9-year run in 2008.

By the way, TVG has reported that the ad firm Princeton Video Image shows how good it is at product placement using existing video by placing a box of modern SnackWell cookies box in the kitchen of Abner & Gladys Kravitz from an episode of Bewitched. "But," asks TV Guide, "can they replace Dick Sargent with Dick York? Until then, we'll take our classic reruns without modern-day voodoo."

Here's a bit of witch trivia you probably don't know:
Remember when Darren & Samantha visited Salem for several episodes? The studio set for Bewitched had burned down so these episodes were filmed on location (a first for the series, and popular in the ratings). In 1890, an American silversmith designed a small souvenir spoon with a picture of a witch on it for the bicentennial of the Salem Witch Trials. The memento became very popular and soon inexpensive silver-plated souvenir spoons were being made nation-wide for the tourist trade. Small souvenir spoons had been made for tourists in European cities before 1890, but they were solid silver and therefore much more expensive. Some early souvenir spoons decorated with fragile enamel have sold for as much as $1200 at auction, according to Martha Stewart.com

Fun Fact:
The house that appears in the Jerry Lewis movie "Hook Line & Sinker" (1969) was reportedly the same one used in the Bewitched TV series

Episodes by Title and Description

Bewitched Biographies

Previous Bewitched broadcasts on TV Land

More magic sitcoms: I Dream Of Jeannie, The Ghost & Mrs. Muir

A statue of Bewitched's Samantha Stephens stands in Salem, Massachusetts, courtesy TV Land channel, the town famous (or infamous) for its 17th century witch trials. They also have a statue of Mary Richards (Mary Tyler Moore) in Minneapolis, and plan someday to have one of Ray Walston on Mars (it may take a while).



Fun facts:

Barbara Eden's real name was Barbara Jean Moorhead. She took her stepfather's name of Huffman, then Eden at the suggestion of her first agent. She is not related to Agnes Moorehead (real name), who played Endora on Bewitched at the same time as Eden starred in I Dream Of Jeannie as an astronaut's genie/wife. Agnes Moorehead attended Muskingum College in New Concord, Ohio, the same college as astronaut John Glenn. Screen Gems was acquired some time back by Sony, and big-screen versions of Bewitched and I Dream Of Jeannie were announced, but so far only Bewitched has appeared. By the way, Sony colorized the b/w episodes for release on DVD and they outsold the b/w version DVD so the original non-colorized version was dropped from production and is hard to find now. See colorized 1st-season still from DVD at right. Sony has licenced Bewitched to India (Meri Biwi Wonderful, 2002), Japan (Oku-sama wa majo: My wife is a witch, 2004) and Chile & Argentina (La Hechizada, 2007) using local actors. It was so popular in Japan, the tv-series there is credited with the "magic-girl" genre of anime (Japanese animation). Columbia Pictures had announced an I Dream Of Jeannie movie for 2008, but writer/director Gurinder Chadha appeared to have no knowledge of the original TV-series and was fired according to insiders after turning in a "dark" story treatment completely unlike the sitcom. There has been no replacement or script announced yet.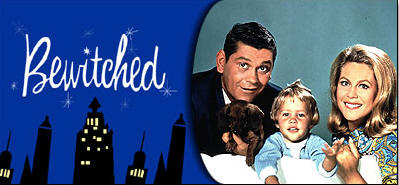 TV's 100 greatest catch-phrases

Technical archive for Screengemsnetwork.com (if it's still there)

This webpage © Bill Laidlaw. All rights reserved. Oh my stars