THE EZRA MARTIN CAMPBELL FAMILY

Pioneer Ezra Martin Campbell (left) A penciled handwritten note on the reverse side of the photo reads: "Ezra martin Campbell." The History of Polk County, Iowa states of: E M (Ezra) Campbell, the father of Thomas Hugh Campbell. "CAMPBELL, E. M. - Farmer, section 30, P. O. Ashawa. Was born in Indianapolis, Indiana, March 13, 1848, and in 1853 he came to this State, settling in Guthrie county. He resided there until 1872, when he removed upon his present farm, and has since resided here. Owns 248 acres of land, well improved, good buildings and well located. It is one of the best grain and stock farms in the township. He was married in Guthrie county, December 30, 1869, to Miss Mary C. Roberts, who was born in Montgomery county, Indiana, November 1,1855. They have four children: Eva T., Thomas H., William H. and Ella R."
Hugh Campbell, the father of Ezra Martin Campbell was born in Virginia. Ezra Campbell's mother was born in Indiana. Hugh Campbell's obituary states the following about him: In 1853, Hugh Campbell, with his family, became settlers in Cass Township, where he took up one hundred and sixty acres, on section 3, and forty on section 9. He was a native of Virginia, although of Scotch descent, tracing his pedigree back to the semi-royal house of the great McCallum More, Duke of Argyle.
He was born in Rockbridge County in the "Old Dominion," but moved to Guthrie County, from Indianapolis, Indiana. He married Cynthia Kimberly on 5 June, 1828, in the latter city (Marion, Indiana) in 1828, and by whom he had 11 children. Cynthia Kimberly died on 21 April 1878 at age 67.
The children of Hugh & Cynthia Campbell are as follows:
Isabell Martha Campbell-born 1830-died 1890 Married Richard Gilbert
Charles M Campbell-born 19 May 1832-died 24 Nov 1906. Married patricia Hosier
Catherine Campbell-born 1834-died 1876 Married Nathan Linebach/Leinbach
George Campbell-George Campbell, resident of this community for three quarters of a century passed away Wednesday of last week, March 23, 1927 at his home southeast of Panora. He was born at Indianapolis Indiana on January 27, 1837, thus making his age at the time of death 90 years, 1 month, and 24 days. He was 4th of 11 children born to Hugh Campbell and Cynthia Kimberly Campbell. He first came to Iowa in 1852, he and his father making the trip from Indiana for the purpose of locating a home in this section. They returned to Indiana and in September 1853, the family came to Guthrie County where they took up a homestead on the site now occupied by the Homer Canady farm. Mr. Campbell enlisted in Co. I, 29th IA Inf. in 1862 and served with the Union forces throughout the remainder of the Civil War being mustered out in 1865. On April 29, 1866 he was united in marriage to Miss Mary Ann Batschelet, and on May 1 moved to the farm which they have since made their home. To them were born three children, all of whom survive. They are Zenas Campbell of Navasota Texas, Mrs. Grace Allen of Panora and Clarence Campbell of Elgin Illinois. Funeral services were held at the Freedom church last Friday afternoon. Interment was made at East Cemetery.
William H Campbell-Capt William Campbell was born Nov. 4,1840 Indianapolis Indiana. 1853 he accompanied his parents to Guthrie County in Western Iowa. Married Nellie Ambler on 20 March 1878 at Henry, Iowa Capt William Campbell, served in The 4th Iowa Infantry. In 1891-92 Capt. Campbell served in the upper house of the territorial council. William was a lawyer. He was appointed by Governor Steele as one of the three commissioners to select the site for a college, for the newly opened Oklahoma. William died December 4,1919.

Capt William Campbell was born Nov. 4, 1840 Indianapolis Indiana. One of eleven children born to Hugh and Cynthia (Kimberly) Campbell. 1853 he accompanied his parents to Guthrie County in Western Iowa. William enlisted in June 1861, in Company C, Fourth Iowa Infantry. He took part in 27 battles besides many skirmishes. Pea Ridge, March 6,7, & 8, 1862 For a more indepth look at Captain Campbell's military record refer to PORTRAIT AND BIOGRAPHICAL RECORD Page 399 Captain Campbell came to Oklahoma in December, 1899.locating Northeast quarter of section 14, township 19, range 2, Logan County. He had filled a soldier's declaratory in July by attorney. In 1891-92 Capt. Campbell served in the upper house of the territorial council. William was a lawyer. He was appointed by Governor Steele as one of the three commissioners to select the site for a college, for the newly opened Oklahoma. William died December 4,1919. Booth Bertha and William were active in the Congregational Church. Bertha supported a missionary in a foreign field.

Mary Jane Campbell-born 1839-? Married Henry Tyler
Hugh Campbell Jr-born 1843-died in 1861. Killed in the Civil War. Hugh Jr enlisted in Company "C" 4th Infantry, and succumbing to Fell disease, was the first death of the regiment. This sad event occurred in Rolla, Missouri.
Ezra Martin Campbell-born 1858-died in 1916. Married Mary Cassandra Roberts.
Sarah Campbell-born 1845-died in 1858 She died young.
Albert Campbell-born 1853-died 1929. Married Hannah Wiggins
Austin Morris Campbell-born 1853-died 1929-Married Nancy Shepherd.
Hugh Campbell Sr. died at his home, in Cass township, on the 10th of June, 1854. He is spoken of by his neighbors, as a hard worker and of a deeply religious turn of mind, as is characteristic of the race from which he sprang, and was well loved by all who knew him. He was buried near Penora.
Top-right: Thomas Hugh Campbell with his parents,Ezra Martin Campbell and Mary Cassandra Roberts Campbell.
Below: Polk County Iowa-1872-This was the year Ezra Campbell purchased his 248 acre farm, just three years after his marriage to Mary Cassandra.
Writing some of the family history of the Welsh "Davies-Roberts" clans, I found myself pondering the fact that the Welsh Revival had leaders among the group from both the Davies and Roberts families. Evan Roberts was a coal miner and a blacksmith, who at 26 years of age believed that he had a definate call to ministry. His brother Dan Roberts eyes were healed, and he traveled around Wales, holding revival meetings. Annie Davies was a gospel soloist with the Evan Roberts team. She joined the team early on, remaining with Evan through out the missions he under-took. Her ability as a singer and sensitivity to the atmosphere of the Spirit of the Living Christ in their services often brought the congregation to tears. She was most well known for her rendering of the love ssong of the Welsh Revival, "Here is love vast as the ocean."
Sovereign Lord: I have heard the report about you. ADONAI, I am awed by your deeds. Bring your work to life in our own age, make it known in our own time; but in anger, remember compassion. (Habakkuk 3:2) "For Zion's sake I will not keep silent, for Jerusalem's sake I will not remain quiet, till her righteousness shines out like the dawn, her salvation like a blazing torch." (Isaiah 62:1)
Before white settlers arrived, Sac and Fox Indian tribes lived on the 432 square miles of modern Jefferson County. White and Indian mingled well. Following the Black Hawk Purchase, which was acquired by the first treaty of Sept 1, 1832; doors opened wide to white settlement in 1833. Indians were soon crowded out by newcomers. The area's first school was established in 1837 with 18 students.
Entire neighborhoods migrated here from Virginia, Pennsylvania, Indiana, Kentucky and Ohio. Swedish immigrants added their influence beginning in 1845 to form their first settlement west of the Mississippi in Lockridge Township. Other ethnic settlers were the French coming to Cedar Township with Germans and Polish to Walnut Township. The railroad came to Jefferson County in 1858.
Walnut Township where the Campbells lived, was organized from portions of Jefferson and Des Moines in January 7, 1860, just 12 years before they purchased their property and moved there. The Walnut Creek area in 1871 is described by an early pioneer settler in Walnut Memories by Roma Arndt: "The depot was the only building, outside of a few shanties. The wild flowers grew in profusion and were very beautiful. Wild strawberries were picked by the tubsful..."
Walnut Township had no river running through it but Walnut Creek, with its two branches flowing in a winding course through different localities on the east side, and meeting a short distance before passing out through the east line about two miles north of the southeast corner, water and drain all that portion of the township.
The thickest settlements are along the east side and in the vicinity of the above mentioned streams, and some good and well improved farms are found throughout that locality.
In the eastern and northern portions are found a good many small ponds, which, while they are sometimes convenient for stock water, are rather too thick in certain localities to be profitable for farming and good road purposes.
The Guthrie County Census for 1860, supplies data on the Campbell family as well as the Roberts. It is likely that the families were acquainted with one another, for many years. In the Cuthrie County 1860 Census notes on the Campbells, Ezra Martin Campbell is 12 years old, and his birthplace listed as Indiana. His mother Cynthia Campbell, was 49 years old, which gives her a date of birth of around 1813, and her birthplace was Ohio. He had a number of brothers and sisters. His father is not listed in the census at this time.Mary Cassandra Roberts is listed as 6 years old, and her birthplace was Indiana.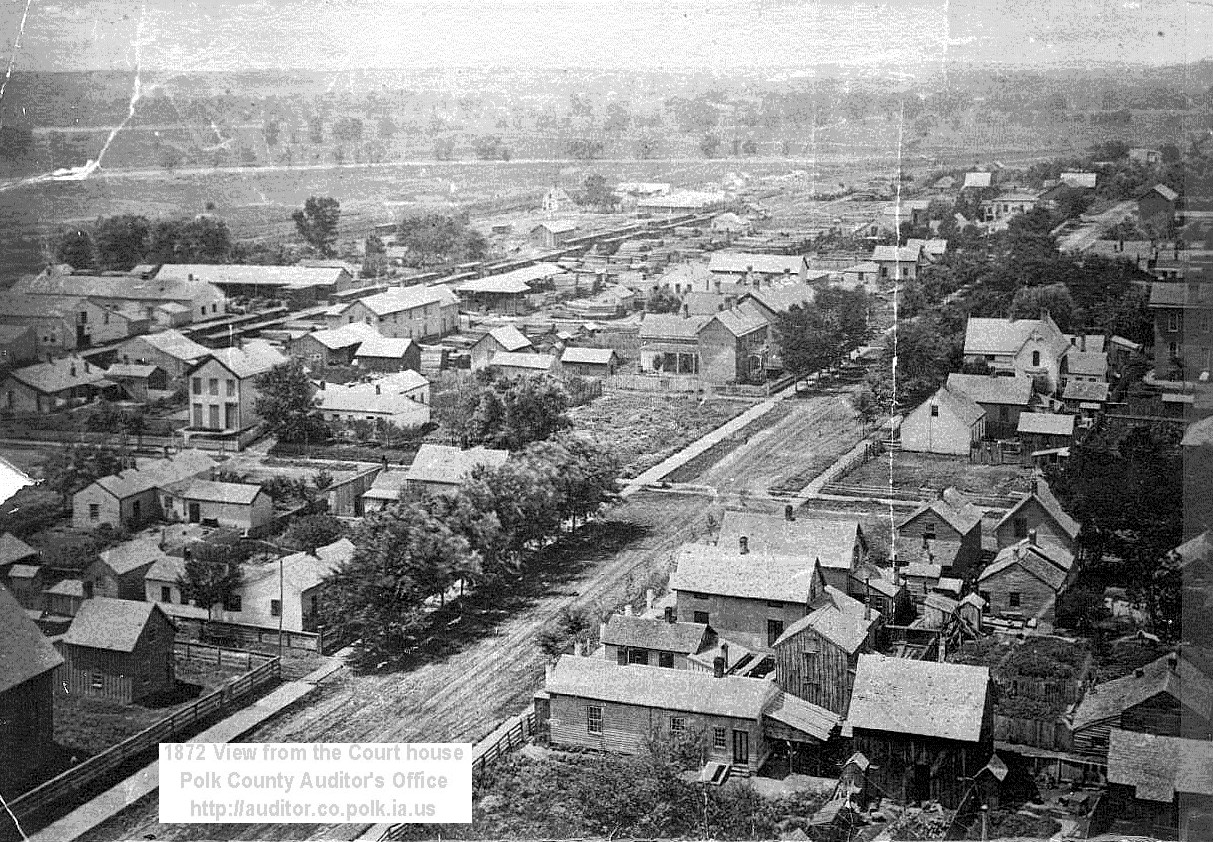 Ezra Martin Campbell
died November 10, 1916 and is buried in Woodlawn Cemetery, Ferndale, Whatcom County, Wa. His wife, my great grandmother
Mary Cassandra Roberts,
born November 1, 1853, died February 5, 1934, and is also buried in Ferndale, Wa, in the same cemetery.
Thomas Hugh Campbell, born in Iowa, in 1872. Married Caroline Frederika Pedersen. They owned a farm at 1111 Meridian Road, in Laurel, Washington.
My paternal grandfather, Thomas Hugh Campbell (the son of Ezra Martin Campbell and Mary Cassandra Roberts Campbell) fell in love with and married Caroline (Carrie) Frederika Pedersen, the daughter of Christian and Mary Pedersen,of Sleswig Holstein, Denmark. My paternal grandmother, Caroline "Carrie" Frederika Pedersen Campbell, was Danish, and petite of stature. A real dark haired beauty, her appearance resembled that of her younger brother and sister. Born on September 18, 1876 in Sleswig Holstein, Denmark, she immigrated to America at 16 years of age, traveling to Albert Lea, Minnesota, where she resided in Freeborn County. Albert Lea village was platted by Charles C. Colby and recorded on the 29th of October 1856, in Dodge County.
The first term of public school began in December 1857 in a small log building. Martin V. Kellar, a pupil in this school, reflected with the following account: "…three small windows furnished the light, for seats three long slabs from Ruble's mill were made into benches without backs; a wide slab resting on substantial wooden pegs in the north wall was the only desk; an old fashioned box stove, was all of our furniture. No bell sent forth its pleasant notes announcing that Albert Lea had a school, for the only bell yet heard in this county was on the old brindle cow. School was called by vigorous pounding on the window with a book or slate…. Our most serious problem was the scarcity…in books." (Curtiss-Wedge, p. 146-147) According to the federal census of 1860, the population of Albert Lea village and township was 262. By 1880, the city of Albert Lea's population was 1,966 individuals. From a modest beginning, Albert Lea grew into a flourishing village.
With the passing of time, young Caroline (Carrie) Frederika Pedersen was hired by a judge's family to act as the governess of his children in the beautiful Pacific Northwest. At the turn of the century, a governess was a woman who resided at one place and traveled to another home to teach (a "daily governess"); or a woman who lived in a household in order to teach the children and serve as a companion to them (a "private governess"). It was common in well-off European families, or those of European descent, prior to World War I, and especially in the countryside where there was no suitable school nearby. Parents' preference to educate their children at home—rather than send them away to boarding school for months at a time—varied across time and countries. Governesses were usually in charge of girls and younger boys; when a boy was old enough, he left his governess for a tutor or a school. The judge's family purchased a pony so that she could take the children out riding or give them riding lessons. As the story was related to us by a family member of their own great aunt, Carrie Pedersen was out riding on the property one day, when she met young Thomas Hugh Campbell, born: 22 APR 1872 in Iowa, the son of a family that owned a neighboring farm, adjacent to that of the judge's family. Caroline Pedersen's sister, Christine Pedersen, married a man by the name of Ray Dills. Carrie Campbell died October 5, 1972, and is buried in Woodlawn Cemetery, Ferndale, Whatcom County, Wa.
Photographs here are of my grandfather, Thomas Hugh Campbell as an infant, and an adult. His family home in Laurel, Washington. And he and his Danish wife Caroline Frederika Pedersen's three children: Helen, Alta Campbell and little brother Philip Thomas Campbell. Lower page: Caroline (Carrie) Frederika Pedersen's parents Martin and Mary Pedersen and Carrie's sister Christine and their brother, and Philip Thomas Campbell in Bellingham, Washington. Sepia tone photo is of Thomas Hugh Campbell. The boy is Philip Thomas Campbell and the two girls are Philip Thomas Campbell's older sisters, Alta Campbell Smith and Helen Campbell Bellingar. The photo of the man at the top-right is of his father, Thomas Hugh Campbell and their family home. Top-left: The Ezra Martin Campbell farm in Laurel, Washington.
Thomas Hugh Campbell died July 19, 1946. The newspaper obituary reads:
CAMPBELL, Thomas H., age 72 years, a resident of 1111 Meridian Road, passed away at his home Friday morning, July 19, (1946) after a lingering illness. Mr. Campbell was born in Iowa and had lived in the Laurel district for the past 46 years. He is survived by the widow, Carrie; two daughters, Mrs H.elen Bellingar, Mrs. Alta Smith, both of Seattle; one son, Philip, of Bellingham; six grandchildren; two sisters, Mrs. Henry Smith of Bellingham, Mrs. Eva Wilson, in Montana; one brother, William H. Campbell, of Route 1, Ferndale. The body rests at the Monroe Funeral Home in Ferndale where funeral services will be conducted Monday, July 22, at 2 p.m. with Rev. Edward Shipman officiating. Internment in Woodlawn Cemetery.
THE DANISH HOMELAND
The Jutland Peninsula is a long peninsula in Northern Europe, in which Schleswig-Holstein forms the southern part. The Duchy of Schleswig was originally an integrated part of Denmark, but was in medieval times established as a fief under the Kingdom of Denmark, with the same relation to the Danish Crown as for example Brandenburg or Bavaria had to the German Emperor. Holstein had as a German fief been part of Germany, and was eventually established as a single united province. Schleswig and Holstein have at different times belonged in part or completely to either Denmark, Germany, or been virtually independent of both nations. The exception is that Schleswig had never been part of Germany before the Second War of Schleswig in 1864. For many centuries, the King of Denmark was both a Danish Duke of Schleswig and a German Duke of Holstein.
Prior to the Austro-Prussian war, Sleswig possessed a Danish custom-house on the Eider, Danish preachers, teachers, with Danish troops occupation of Schleswig. German soldiers and officers were brought into Danish garrisons, and Danish was the language of the Church and schools. However, the Austro-Prussian War of 1866 ended with Schleswig, Holstein, and Lauenburg annexed to Prussia and became the province of Schleswig-Holstein.
Left: Christian & Mary Pedersen & Children: Caroline Frederika Pedersen-Woodlawn Cemetery
PHILIP THOMAS CAMPBELL & ARDELLE RUSSELL HOPPE CAMPBELL
The boy in the photograph above, next to the photo of his father, Thomas Hugh Campbell, with sisters Helen (Bellingar) and Alta (Smith), and a face like the kids on the Campbell soup can, is my Dad, Philip Thomas Campbell. The family calls him "Boppy." The photo (left) is Caroline Frederika Pedersen's family, top row: Caroline with her brother, 2nd row, her father and mother, and younger sister Christina.
Philip Thomas Campbell was born at the family homestead of his parents, Ezra Martin Campbell and Mary Cassandra Roberts Campbell, in Laurel, Washington. He grew up in Laurel, and attended school in Bellingham. He married my mother, Joan Ruth Hoppe in 1942. She was the daughter of Victor Hugo Hoppe, and Ardelle Russell Hoppe, and according Michigan Marriage records, they married on July 15, 1915 in Kalamazoo,Michigan. Victor Hoppe, whose birthplace is noted as Ohio, was 31 years of age and his bride who was 25, was born in Michigan, according to this state record. The grooms father is listed as B. Hoppe and his mother as Roda S Hanks. The bride's father is listed as E.G. Russell, and her mother as Mary Ann Hartman.
VICTOR HUGO HOPPE
Victor Hugo Hoppe was born to Rabbai Bernhard L. & Rhoda Susanna Hoppe on October 1, 1886 in Salem, Ohio.
Rhoda Hoppe is listed in Ohio and Washington state records under the name varients of Rhoda Susan or Roda Susie Hanks, a name reflected in her own Washington state death certificate. Rhoda Susan Hanks Hoppe aka Sarah Rohan Hanks died on 27 December 1925 in Bellingham, Whatcom County, Washington, at 76 years of age. Sarah Hanks Hoppe's death certificate records the spelling of her name as "Rhoda S. Hoppe." Cemetery records state that she also went by her middle name "Susanna," or "Susie."
She was born Rhoda Susanna Hanks in 1847 in Venango County, Pennsylvania. Her family moved to Youngtown, Ohio when her widowed mother Julia Boyle Hanks married John Thompson Parker.
Rhoda Susanna Hanks married Bernhardt Hoppe in 1874 and six children were born to the couple, four of whom survived and are listed in the 1900 Census. The couple had been married for 27 years at the time of the 1900 census.
Bernard Hoppe who was born in Germany and immigrated in 1860, was the son of Brunhard Hoppe, (Ohio records) who was born in Germany. Bernard/Bernhardt Hoppe died on 22 July 1913 at Coyahoga/Cleveland, Ohio. He is buried in West Park Cemetery in Cleveland, Ohio. Following her husband's death, Rhoda Hankes Hoppe went to live with her son and his wife. Rhoda Hanks Hoppe is buried in Bayview Cemetery, Bellingham, Whatcom County, Washington state. Her tombstone reads: Rhoda Susanna Hanks Hoppe Born 1847-Died December 26, 1925. The Washington state death certificate of her son Victor Hugo Hoppe for May 26, 1955, Bellingham, Washington, lists her name as Susie R. Hanks, and her husband's name as Bernard Hoppe.
PROFESSOR VICTOR HUGO HOPPE'S ACTING & TEACHING CAREER
Victor Hugo Hoppe earned his master's degree at the University of Michigan, and became drama coach at Western Washington University, where he taught Shakespeare. His student, Angus Bowmer; started the Ashland Shakespearean Festival. Angus Bomer was in school for a long time after, he kept coming back.
Professor Victor Hoppe's daughter Joan states: "Dad was really his mentor. He (Angus) was in practically every play. During the time he was in school, he was in every play that dad did. I'm sure that's what inspired him to start acting." Angus Bomer credited Professor Hoppe with that, he wrote a book. Joan Campbell, Professor Hoppe's daughter recalls memories of her own early acting experience with the following words: "Another funny thing. My dad wrote the script for the Tulip Festival, which went on for years. So I got to be [on] the float. I always got to be [on] the queen's float. I was a page or something, that was because my dad wrote the [program]. I said I didn't participate in any of his plays, but I did one time. It must have been when I was five years old, probably, Kindergarten or First-grade, and I was going to be a fairy in Midsummer Night's Dream I thought, "Oh, boy, I'll probably have a gorgeous costume." I was the moth! My mother dyed some cheesecloth gray and that was my costume. My friends had these lovely costumes. That was a blow. But I got to be part of it. I think I even had one speaking line."
Special Collections Oral History Program
Joan (Hoppe) Campbell
Campus School, 1922-1930
WWU, 1934-1937, "Special Normal Diploma"
Campus School parent, 1951-1965
Date of Interview: September 16, 2005

The Washington state death certificate records Victor Hugo Hoppe's death date as 1955. My grandmother, Ardelle Russell Hoppe was the daughter of Edwin G Russell & Anna Hartman, the daughter of Jesse Hartman born 08 March 1821 and Lydia Gearhart born 09 July 1825. Jesse Hartman was the son of Frederick Hartman and Elizabeth Best. Lydia Gearhart was the daughter of George Gearhart and Rebecca McPherson.
Edwin Russell was born: 20 February, 1850. He was the son of John Russell & Eliza Kirk born: 24 Jan 1824. (Died: 19 Jan 1931 at 80 years of age. (Michigan Death & Burials-1800-1995) Eliza Kirk was the daughter of Jason Kirk, the son of Thomas Kirk and Hannah Cadwallader. Jason Kirk was born: 28 Sept 1779 at York County, Pennsylvania. Jason was a stone mason by trade. He married Mary Spencer, born: 1786 in Pennsylvania and died: 11 April 1827. He purchased 100 acres of land in Lumber City, PA. Jason Kirk died: 22 April 1868. Mary Spencer was the daughter of John Spencer and Susanna Lightfoot.
THE KINGS OF THE CADWALADR LINE
Cadwaladr, King of Meirionydd (Born c.AD 460) (Latin-Catuvelladurus, English-Cadwallader) Nothing is known of King Meirchion Meirionydd's son, Cadwaladr, but he was a contemporary of King Arthur, living in the late 5th century. August Hunt theorizes that the two are identical since Cadwaladr means "Battle-Leader."
Cadwallader, Cadwalader, or Cadwaladr is a given name and surname of Welsh origin. It was most notably held by Cadwaladr, a seventh century king of Gwynedd, who was the last Welsh king to claim lordship over all of Britain.
King Cadwadadr Fendigaid of Gwynedd: Surnamed the "Blessed" died probably in 664 a British King. Cadwaladr the Blessed was the son of King Cadwallon of Gwynedd and his wife, Alcfrith, sister of King Penda of Mercia. He was only about a year old when his father died in AD 634. Civil War ensued and the baby's followers were forced to flee the kingdom with him, as the throne was seized by one Cadfael ap Cynfeddw, of unknown origin. Tradition says he was ill for much of his de jure reign, during which time the Civil War in Gwynedd continued on and off. This was not helped by a widespread famine, followed by a plague, that swept through the country at the same time. Cadwaladr first appears in the historical record in 1136, when following the killing of the lord of Ceredigion, Richard Fitz Gilbert de Clare, he accompanied his brother Owain Gwynedd in an invasion of Ceredigion. They captured five castles in the north of Ceredigion then later in the year launched a second invasion, inflicting a heavy defeat on the Normans at the Battle of Crug Mawr, just outside Cardigan. In 1137 they captured Carmarthen.
The last king of the Britons, Cadwaladr ap Cadwallon, died on pilgrimage to Rome; this was the first entry in the Brut y Tywysogion. His body was brought back to Wales and buried in his church at Eglwys Ael which became named after him, as Llangadwaladr. He was succeeded in the throne of Gwynedd by his son, Idwal Iwrch, but he may have had two other children, Gwrgan and Hywel. Ifwr may well be mythical - or a misspelling of Idwal. Cadwaladr's name appears in passing in serious historical works, such as those by Davies. Built Abergavenny in the county of Monmouth, Wales, and its castle.
He was the son of Cadwallon, king of Gwynedd, whom he succeeded in 634. He obtained great fame by the heroic exploits which he performed in the defense of Wales against the Saxons and holds a high place in Welsh tradition and poetry. According to the prophecy of Merlin, he is one day to return to the world to expel the Saxons from the land. He came, in time, to be regarded as a saint, hence his surname the "Blessed." Undoubtedly, many Cadwal(l)aders today are descended from those ancient kings. The banner of King Cadwaladr was emblazoned with the red dragon, and even today Wales bears the red dragon on its heraldic symbol. The name CADWAL(L)ADER in Welsh means "Valiant in Battle" and rings with its Celtic sound.
The Flag of Wales is Y Ddraig Goch (English: The Red Dragon), consisting of a red dragon passant on a green and white field. As with many heraldic charges, the exact representation of the dragon is not standardised and many renderings exist.
The flag incorporates the red dragon of Cadwaladr, King of Gwynedd, along with the Tudor colours of green and white. It was used by Henry VII at the battle of Bosworth in 1485 after which it was carried in state to St. Paul's Cathedral. The red dragon was then included in the Tudor royal arms to signify their Welsh descent. It was officially recognised as the Welsh national flag in 1959.
THE WELSH CADWALADERS & THE DAVID FAMILIES
Hannah Cadwallader was the daughter of David Cadwalader and Hannah Davis. Hannah Davis was born 1716 in Uwchalan, Chester, PA. Hannah Davis was the daughter of John David born 1690 in Radnorshire, Wales-died 1736 in Uwchlan, Chester, Pa & Elizabeth Harris,daughter of Daniel Harris & Sibyll born: 1689 in Wales-died Uwchlan, Chester, PA. Hannah David was born abt 1716 in Uwchlan, Chester, Pa. She married David Cadwallader on 10 Nov 1743.
Her father, John David who was born in Radnorshire, Wales, was one of a number of Quakers from that area to Pennsylvania.
The Radnorshire Quakers: Following the restoration of Charles II to the throne there were forty Quakers in Cardiff Gaol at the same time, and twenty in the gaols of the counties of Denbigh and Flint. Large numbers of Quakers were imprisoned in Merionethshire, and 650 of their cattle seized. The prison at Montgomery was so full of Independents, Baptists, and Quakers, that the gaoler was obliged to put some of them in the upper garrets.
The diaries of men such as George Fox, Richard Davies, John Griffith, Besse's "Sufferings of the Friends, record the religious persecutions endured by the group. In the 17th century the persecution of Quakers was severe, with fines and frequent illegal imprisonment. George Fox, the founder of Quakerism, visited Radnorshire three times. Thirteen hundred Quakers were released from prison in 1686 by James II; and in 1689, when William of Orange took the throne, toleration was extended to the Quakers and other Protestant dissenters. The success of the first Quakers who came to America brought others even after persecution ceased in England. The most numerous class of immigrants for the first fifteen or twenty years were Welsh, most of whom were Quakers with a few Baptists and Church of England people.
When William Penn was planning the settlement of Pennsylvania, he promised Welsh Quakers land in the new colony and sold them 40,000 acres. This was known as the "Welsh Tract" and included present townships of Haverford, Merion, Radnor and part of Goshen. Among the purchasers was a Richard Davies who bought 5,000 acres and in turn sold them to "Friends of Radnorshire in Wales." These Friends settled what eventually became known as Radnor Township
Early Welsh Quakers who came over around 1683 settled in areas west of Philadelphia, and the town names of Bala Cynwyd, Merion, Narberth, Haverford, Bryn Mawr, and Radnor are all areas where these early Welsh Quakers settled and named towns. Evans, Jones, Rees, Roberts, Pugh, Griffith, Thomas, Meredith, Cadwallader, Lloyd and Lewis are some of the common names of these early settlers He purchased 100 acres in Uwchlan, Chester County, Pennsylvania, and settled there in 1715.
Uwchlan means "upland" or "higher than or above the valley". Its old spelling was Ywchlan. It began to be settled about 1712, after the older eastern parts of Chester County had been populated. John CADWALLADER bought 250 acres in Uwchlan 2 June 1715 and gave a small piece for a meeting house and burial ground. A meeting house was built, in what later became the village of Lionville. Early settlers included the brothers Griffith JOHN and Samuel JOHN, both said to be Friends ministers, the sons of John Philip and his wife Ellen. Early Welsh settlers in Uwchlan were David CADWALLADER and our John DAVID. *Hannah Cadwallader, born: 16 Feb 17478 at Chester Co, Pennsylvania. She married Thomas Kirk on 21 October 1773 in Warrington, PA. Hannah Cadwallader died: 29 June 1783-5.
*Note: "100 Years at Warrington, York County, Pennsylvania Quakers," comp. by Margaret B. Walmer (Heritage Books) p.60. (2) "York County, Pennsylvania Church Records of the 18th Century," Vol. 3, ed. by Marlene Stewart and F. Edward Wright (1991) p.43. Warrington Monthly Meeting.
Birth: Timothy Kirk of Newberry, York Co., PA. Marriage to Hannah Cadwalader: (1) 21 Oct 1773. (1,2) Warrington, York Co., PA. (2) 21 10th mo. 1773. Signing under the bridal couple were Timothy, Sarah Kirk; Hannah, John Cadwalader; Jonathan Kirk; Abigail Cadwalader; Mary Kirk; Ruth Williams; Lydia Cadwalader; William, Jacob, Timothy Jr., Isaac, Exekiel Kirk; Cad. Evans; Elizabeth Kirk; Samuel Leves; Samuel Wickersham; Thomas Penrose; Caleb Kirk; Richard Wickersham; Benjamin, Ruth Walker; Jacob, Mary Cook. Also witnessing were Abel, Ann Walker; Isaac Griffith; William (2), Susanna Penrose; George Chomlee; John, Mary Machlan; Jonathan, Amos Jones; John Harrey; Rebekah Morthland; Isaac, Susannah, Joseph Deaves; Miriam, Riccord, Jediah, Jane, Lydia Hussey; William McMillan; Richard Wickersham; Joshua, Jane (2), Amos, John, Hannah Davies; Joseph Elgar; William Nevett; Hannah Kirk; Hannah Steer; Sarah Cadwalader; Hannah, Sarah, Margaret, Amos. Jacob Williams; Rebecca Thomas; Joshua, Rachel Hutton
THE DAVID FAMILY OF EWCHLAN TOWNSHIP-CHESTER, PA
DAVID: Jenkin David was listed on the tax lists beginning in 1715. He owned tract 72, having purchased it from David Lloyd. He died sometime before 1752. He had a daughter Martha and a son Evan. Evan David, wife Rachel, inherited and sold tract 72. John David was on the tax lists beginning in 1715. He acquired tract 2 from David Lloyd in 1715. His wife was Elizabeth and they had 11 children, 10 of whom were mentioned by name in John David's will of 1736. Hannah m. David Cadwalader, son of David Mary m. David John, ?son of Samuel Rachel m. Joshua John, son of Griffith John m. Hannah John, dt. of Griffith Elizabeth m. Jonathan Worrell Sibilla m1 Edward Williams m2. William Kirk Amos m1. Elizabeth Meredith m2. Agnes (Jones) Abigail unmarried Ruth m. Jacob Williams Daniel d. 1784 Benjamin m. Hannah Davis, dt. of Samuel William Kirk was the son of Alphonsus and Abigail (Sharply) Kirk. Elizabeth Meredith was the daughter of John and Grace (Williams) Meredith. Amos Davis' second wife was a widow, Agnes (Jones) Brown.
A 1792 deed lists the following heirs of John David: David and Rachel John Jacob and Rachel Williams Abigail Davis Timothy and Mary Kirk Thomas and Abigail Penrose Jesse and Lydia Voare Thomas Kirk John and Hannah Davis Joel Davis John Davis Elisha Davis Thomas and Ruth Mendenhall William and Grace Bennett Jesse Davis Amos Davis Isaac Davis Of these, Mary Kirk, Abigail Penrose and probably Lydia Voare were children of David Cadwalader, Jr. Ruth Mendenhall and Grace Bennett were daughters of Amos and Elizabeth (Meredith) Davis. Joel, Isaac and Elisha Davis were sons of Amos Davis, and Jesse and Amos Davis probably were also.
There was a Hugh Davis who died at Uwchlan in 1743. He was perhaps a brother of John. Hugh's will included a bequest to Elizabeth, widow of John Davis. Others named in Hugh's will were his wife, Ann; Mary, wife of Hugh Pugh; Sarah, wife of Thomas Thomas; Dinah and Hugh, children of Richard Richards; Edward, son of Jonathan Jones of Merion; and Ruth, wife of David Jones. John David's unmarried daughter, Abigail, left a will in 1795. She named the following: brother Benjamin's wife, Hannah, and children Mary, Elizabeth, Hannah and John; sister, Mary John, wife of David John, and their daughters, Elizabeth and Sarah; niece Elizabeth, wife of Jonathan Jones; and cousin Hannah Edwards. Thomas David acquired 400 acres (tracts 47, 48 and 49) from David Lloyd in 1715. He died in 1722. Thomas David's will, witnessed by Samuel John, Thomas John and Hugh Davis, named his wife, Elizabeth, his son-in-law and daughter, John and Mary Evans, and his grandson, Thomas Evans, a minor. He left "the plantation I now live on" to his grandson at age 21, the other 200 acres to John and Mary Evans. For his descendants see under John Evans. David Davis, named on tax lists beginning in 1718, probably owned tracts 77 and 78. David Davis of Uwchlan died in 1742. His will named his wife, Margaret, and children Mary Watkin, Thomas Davis, Sarah Phipps and Elizabeth, wife of Philip Davids or Davis. The will specified that Philip and Elizabeth were to care for Thomas Davis. This will was witnessed by Jonathan Pugh and Awbry Roberts. Philip David's will of 1776 named his wife, Elizabeth, and children David, Philip, Miles, Jerman and Sarah, wife of Myrick Davis. There was probably some connection with the Jerman family. Philip David's daughter, Sarah, was named in the will of Walter Jesse, a relative of the Edward Goff who acquired John Jerman's land. In 1732 Philip Davis purchased 208 acres from Grace Lloyd. He disposed of 50 acres but left the rest (tract 93) to his son Miles. Miles Davis, wife Ann, had a son Rowland Davis, who was a blacksmith in 1813. In 1762 David Davis, wife Elizabeth, sold tracts 77 and 78. This was probably the son of Philip David. This David Davis had children: James (or Jerman) Mary, m. John Adams of East Whiteland Elizabeth, m. Methusalah Davis, Nantmeal merchant Martha, m. Samuel Byers of Charlestown Isaac DAVIS: Aaron Davis married Deborah, daughter of Samuel Hibberd who owned tract 42. Benjamin Davis was a freeman from 1765 to 1769 and was listed in 1798 with 100 acres. This land has not been located. Daniel Davis was listed on the 1765-1774 tax lists with 100 acres. This land has not been located. David Davis. See under DAVID. Edward Davis was a freeman in 1779. Elijah Davis, wife Rebeckah, owned part of tract 1 for a year or so prior to 1809.
Griffith Davis, wife Sarah, shoemaker-cordwainer, owned tract 49 from 1778 to 1784. Hezekiah Davis was a freeman in 1774. Hugh Davis. See under David. Israel Davis owned tract 77 about 1790. James Davis, along with Griffith Davis, owned tract 49 for a time. James, a shoemaker, died before 1784. Jerman Davis was listed on tax lists form 1765 to 1769 with 50 acres. This land has not been located but see under David. John Davis was a freeman from 1766 to 1769. Methusalah Davis owned tract 85 from 1812 to 1813. He married Elizabeth, daughter of David Davis. Miles Davis. See under Philip David. Rowland Davis. See under Philip David. Thomas Davis acquired a mill on the Brandywine next to tract 52 in 1791. In 1809 he acquired tract 83.
EDWIN G RUSSELL & ANNA HARTMAN RUSSELL
Edwin G Russell was born in 1851 and died on 19 Jan 1931 in Kalamazoo, MI (Michigan Death Records & Burials-1800-1995) He married Mary Ann (Anna) Hartman (born May 14, 1858). (Estimated birth date-Michigan Census-1910-1920) Edwin's employment is listed as "freight clerk."
My grandmother, Ardelle R Russell (Hoppe) was born in Kalamazoo, Michigan on May 29, 1890-Died: October 6, 1983 at Edmonds, Wa. The siblings born to Edwin G Russell & Anna Hartman Russell include:
Guy Russell,
John Ray Russell,
Rena Russell,
and Evelyn Russell.
Ardelle Russell Hoppe Edwin G. Russell was the son of John Russell and Ruth Griest. Edwin was born on Feb. 20, 1850 and married Anna Hartman on January 24, 1880. Michigan census records for 1920 list the household members, one of which was 21 year old Evelyn Russell. That same year, Evelyn Russell went to reside in Bellingha, Wa in the home of Victor H Hoppe and wife Ardelle,Victor Hoppe's widowed mother Rhoda Hoppe and their 2 year old daughter Joan. (*See note: Victor Hoppe-above)
Ardelle Russell Hoppe, was affectionately known to my family as "Ning." Victor Hugo Hoppe,her husband and my grandfather died in 1955, and is buried in Green Acres Memorial Park, Whatcom County, Washington.
My Dad, Philip Thomas Campbell (right) worked for PAF, (Pacific American Fisheries) in the Fair Haven district of Bellingham, Washington for many years. Pacific American Fisheries, Inc., was one of the world's major salmon canning operations, operating on Puget Sound and in Alaska between 1899 and 1965. As one of the world's largest processors of Pacific salmon, PAF claimed a global market and had operations of regional, national, and international significance.
In the 1960's Dad transferred to Peter Pan Seafoods in Seattle, where they purchased our family home in Edmonds, WA. The Bellingham PAF property was sold to Port of Bellingham in 1966 and became the Alaska Ferry Terminal. PAF's old brick building was renovated in 1994 and currently houses the Bellingham Amtrak Railway Station and Greyhound Bus Depot.
THE KIMBERLY-CAMPBELL LINEAGE IN ENGLAND & COLONIAL AMERICA
The progenitor of the Kimberly family in America was "Thomas Kimberly," the son of Abraham Kimberly and Katherine Howe, who were married October 4, 1602. Thomas was baptized at Wooten-Sub-Edge, County Glouchester, England, on June 24, 1604. He was married Mary Seabrook, born: 31 JAN 1601 in Wingrave, Buckingham, England. Died-1673 in Stratford, Fairfield, CT.
Mary Seabrook was the daughter of Robert Seabrook and Alice Goodspeed who were married: 14 SEP 1596 in Wingrave, Buckingham, England. Thomas Kimberly had two siblings named: Elizabeth Kimberly, born. 1606, England, Gloucester, Wotton Under Edge; died. 1606, England, Gloucester, Wotton Under Edge and John Kimberly, born 1606, England, Gloucester, Wotton Under Edge; died. 1606, England, Gloucester, Wotton Under Edge.
The date of Thomas Kimberly's arrival in the American Colonies is unknown, but he was one of the founders of New Haven, Connecticut in 1638. Thomas is listed among the "Names Of The Proprietors Of New Haven, CT,. In The Year 1685; He was chosen corporal of the Train Band (Military Company) in August 1642. And clerk for the Military Company in April 1655. He was Marshall of the New Haven Colony 1643-1611. He later relocated to Stratford, Connecticut and married Alice Awood/Atwood, King's Stanle, Gloucestershire, England; who died October 10, 1659, New Haven, Connecticut. One of their children was our ancestor Abraham Kimberly.
He married Hannah Preston in 1654/1655 New Haven, New Haven, Connecticut. She was born 1634, New Haven, New Haven, Connecticut, the daughter of William Preston and Mary Seabrook who was born: 1601, New Haven, New Haven, Conn. Hannah Preston Kimberly died: 21 Oct 1701, of, Albemarle, Chowan, North Carolina. William Preston was baptized on January 23, 1590, in Giggleswick, Bucks County, England, the son of Adam and Isabel (Braithwait) Preston, (born in 1569 in Giggleswick, Yorkshire.)
His first marriage was to Elizabeth Sale on October 11, 1613, in Chesham, Buckinghamshire, Bucks County, England. They were the parents of eight children, five sons and three daughters. Elizabeth was baptized June 8, 1590, the daughter of Edward and Elizabeth (Gifford) Sale. Elizabeth died February 22, 1634, in Chesham, Bucks County, England, probably about 44 years old.
Within the year, William married a second time to Marie (Mary) Seabrook. She was born about 1601, the daughter of Robert Seabrook. With his new wife and four of his children, William Preston left London in September of 1635 aboard the "True Love," captained by John Gibbs, and set sail for America. Listed as passengers aboard the ship were: William Preston, aged 44; wife, Marie Preston, age 34; Elizabeth Preston, age 11; Sara Preston, age 9; Marie Preston, age 6 and John Preston, age 3. Missing from the family on the voyage were his sons, Edward and Daniel. The "True Love" landed in Boston, where the Prestons remained briefly, before moving on to Watertown, then Hartford, and finally settling in New Haven, Connecticut, in 1639. The Preston surname is of French origin, having been written as "dePreston." After the Norman conquest French families flooded into the country and became the Feudal lords appropriating much of the land.
William and his second wife, Mary, were the parents of four additional children, all born in America.
William Preston was one of the followers of John Davenport and Theophilus Eaton, who first settled in the Massachusetts Bay Colony, were soon disillusioned, and set out to form their own settlement on the shores of Long Island Sound in Connecticut, naming it Hartford. There were thirty-three families forming the group; along with William Preston, was Benjamin Fenn who had married Sarah Baldwin, and John Astwood, who had married her widowed mother. Arriving soon after was another large group, led by Peter Prudden, which included William East, who would later become the second husband of Mary Baldwin.
William Preston signed the Fundamental Agreement in New Haven in 1639. But he was known to be back in Hartford again by 1642. Perhaps he owned land in both places. His first child by his second wife, Mary, was born in New Haven in 1640.
In 1642, the Hartford Court records indicate he was living there when he was an officer of the court, and as such was called to take into his custody James Hullet, Thomas Gilbert, George Gibbs, Lydia Bliss, and to keep them in gins, with coarse diet, hardwork, and sharp corrections. In 1643 he was living in New Haven once again when twins were born to his wife. The Prestons appeared to remain in New Haven until Williams' death in 1647. His will was made in New Haven on July 9, 1647, and mentions the children of both of his marriages.
William died in 1647 about 57 years old.
Abraham Kimberly moved to Chowan, North Carolina by 1668. He died there in Feb 1709 Albermarle, Chowan, NC, when administration was granted on his estate. Abraham's widow returned to Connecticut with their three surviving children, whose birthes were entered in the Stratford, Connecticut records. The surviving son Abraham Kimberly became heir of his grandfather Thomas Kimberly.

Abraham Kimberly lived in Stratford until 1711, when he became an original proprietor of Newton, Connecticut, which was incorporated as a town in 1711. Abraham Kimberly Jr. married Abigail Fitch, (born 4 March 1672, Newton, Fairfield, Conn.) the daughter of Thomas Fitch and Abigail (Goody) Goodrich. Their daughter Hannah Kimberly, born January 19, 1698, married James Hard.
My Aunt Alta provided us with genealogy information which expounded on Capt. Ephraim Kimberly, (1738-1795) (Company of the 2nd Connecticut) a recognized patriot of the Daughters of the American Revolution Society. Ephraim Kimberly's parents were Gideon Kimberly (B. 1706-Newton, Fairfield, Conn. and Mary Osborne. (b. 26 August 1715 Stratford, Fairfield, Conn.)
The History of the Fitch Family records the following information concerning Thomas Fitch, of Bocking, Co. Essex, England. He married in Essex to Ann Reeve on August 8, 1611. They were the parents of the four prominent Fitch brothers who came to New England – Rev. James, Samuel, Capt. Joseph and Capt. Thomas (the eldest).
Samuel Fitch was schoolmaster in Hartford, Conn., as early as 1650. He served as Deputy (Representative) for Hartford to the General Court (Legistlature) in 1654 and 1655. He married Susannah, widow of William Whiting, of Hartford, and they had two sons.
One of the sons, Thomas Fitch; lived in Wethersfield, Connecticut. Thomas was a Nonconformist who came to Dorchester in 1636 from London. A tailor by trade, he had been an apprentice in London. In 1638, he was one of the New Haven Colony founders, and was admitted as a Freeman in Nov 1639. On Sept. 15, 1680, he married Abigail Goodrich, the daughter of Ensign William Goodrich who was born on 13 February 1621.
He married Sarah Marvin on 4 October 1648 in Connecticut. Ensign William Ethrem Goodrich died on 19 November 1676 at age 55. William was born at Bury St. Edmund's, a town of West Suffolk, pleasantly situated on the River Lark, 26 miles NW of Ipswich. It received its name from Edmund the martyr, who on Christmas day, 856 AD, was crowned here as King of the East Angles. When Sarah Marvin was 16, she married her soldier husband, who was about 10 years older than she was. When her husband died, she received L100 personal estate, and one third of the real estate during her natural life. William Goodrich, son of John, born 1632; came to America probably at the same time as his brother John. The first entry on the Connecticut Records relative to him is of his marriage on 4 October 1648 to Sarah Marvin of Hartford. He was not admitted a freeman of Connecticut until 15 May 1656, and was probably younger than his brother John.
He was deputy from Wethersfield in the General Court held at Hartford 15 May 1662 and also one of the grand jury. He is officially mentioned in the Colonial Records of Connecticut, Vol. II, p.17: "Mr. Samuel Wells is confirmed in the place and office of Lieutenant to ye Train Band of Wethersfield, and William Goodrich, Ensigne." He was in the General Assembly at Hartford 11 May 1663. He was also called "Ensign William Goodrich" in 1676, just after the close of King Philip's War. William died 1676 and his widow married Capt. William Curtiss of Stratford, Connecticut where she died in 1702.
After William died, Sarah married Capt. William Curtis of Stratford, Connecticut. In 1697, she made out her will, in which she left her four sons four oxen, a horse and four 2-year old heifers to be divided equally among them. She had quite a bigot of livestock, so also gave her son-in-law,Robert WELLS a 2-year old steer; and her granddaughter, Abigail Fitch a 3-year old heifer.
When William Goodrich was 10 or 11-years old, his father made out his will. It left L100 apiece to his three sons when they should reach the age of 21. However, William the Elder and John left for America at ages 15 or 16.
They arrived in America in 1635. On 26 MAY 1637, William Goodrich was among the 26 soldiers who took part in the capture of the Indian fort at Mystic, in the Pequot Campaign. He is referred to in one history as a "hero" in that campaign.
Sarah Marvin, was born June 5, 1662 and died Nov. 8, 1684. She was the daughter of Matthew Marvin and Elizabeth Gregory. Matthew Marvin, born before 26 March 1600 in Great Bentley, Essex Co., England, died 20 December 1678 in Norwalk, Fairfield Co., Connecticut; married about 1622 Elizabeth Gregory, born about 1604 in Great Bentley, Essex Co., England, died May 1640 in Hartford. Hartford Co., Connecticut.
Sarah Marvin was born on 27 Dec 1631 in Great Bentley, Essex, England, was christened on 27 Dec 1631 in Great Bentley, Essex, England, died on 16 Jan 1702 in Stratford, Fairfield, CT, at age 70, and was buried in 1701-1702 in Stratford, Fairfield, CT. William married Sarah Marvin on 4 Oct 1648. They had three children, of whom only Abigail survived. It is believed that Abigail was raised by her maternal grandmother, Mrs. Sarah (Marvin) Goodrich. Abigail married Abraham Kimberly. The probate of Thomas Fitch in 1704 mentioned the daughter Abigail, the wife of Abraham Kimberly.
Children of Gideon & Mary Kimberly were as follows:
Sabra Kimberly born 8 July 1736-Newton, Fairfield, Conn.
Ephraim Kimberly born 1738
Phebe Kimberly born ?
Mabel Kimberly born 1745 Wilton, Conn
John Kimberly born 1749 Wilton, Conn
Sarah Kimberly baptized 24 June 1753 Wilton, Fairfield, Conn.
N.N. Kimberly baptized 2 February 1758 Wilton, Fairfield, Conn.
Gideon Kimberly was the son of Abraham Kimberly (born 15 March 1675 in Albermarle, Chowan, North Carolina-Died: March 1728 in Newton, Fairfield, Connecticut. He was the son of Abraham Kimberly Sr. who was born 1630-in London, Middlesex, England) and Hannah Preston (born 1637-in New Haven, Connecticut.) On May 11, 1696 in Stratford, Conn. Abraham Kimberly married Abigail Fitch (born 1682) in Wethersfield, Hartford, Connecticut.
Children of Abraham Kimberly & Abigail Fitch
Hannah Kimberly born 19 January 1698 in Stratford, Fairfield, Conn.
Abigal Kimberly born 25 April, 1699 in Stratford, Fairfield, Conn.
Abraham Kimberly born 29 April 1702 in Stratford, Fairfield, Conn.
Abiah Kimberly born-1704 in Newton, Fairfield, Conn.
Gideon Kimberly born-1706 in Newton, Fairfield, Conn.
Sarah Kimberly born-1708 in Newton, Fairfield, Conn.
Mary Kimberly born-1711 in Newton, Fairfield, Conn.
Returning to the life of New England patriot Capt. Ephraim Kimberly, he married Mary Riggs at Wilton Connecticut on April 5,1769. Another source lists this marriage date as 5 May 1769. Upon his return from military service in the American Revolutionary War, the U.S. Government granted a 300 acre land parcel to Ephraim Kimberly. Ephraim (sometimes spelled Ephriam) Kimberly received three hundred acres of Congress Lands from the United States Congress for his service in the American Revolution.
During and following the American Revolution, the Confederation Congress promised many soldiers payment for their military service in land in the Ohio Country. Prior to 1794, it appears that no veteran actually formally claimed the land to which he was entitled. Numerous veterans had sold their claims to various land companies, including the Ohio Company of Associates. These veterans preferred to receive money rather than the land.
In 1794, Kimberly petitioned the United States Congress for his land, and on April 8, 1794, the Congress granted him three hundred acres of land in the Seven Ranges. Kimberly, a squatter, already illegally resided on this land before he received the U.S. Congress' approval. While many veterans failed to relocate to modern-day Ohio and to claim their land, others, starting with Kimberly, sought to enhance their fortunes on the frontier. The transfer of the property from the federal government to Kimberly was the first deed recorded in Jefferson County, Ohio. He lived on the bank of the Ohio River near Indian Short Creek.
We've expanded the Campbell/Kimberly history to include the Fitches-England, the Quaker-Freegrace Adams and others.
William Preston
Isabel Braithwaite
Thomas Fitch
*This is the research file of Alana Campbell, wife of Thomas C Campbell of Washington state. Tom Campbell is a descendant of the Kimberly/Campbell families. He is the grandson of Victor H Hoppe & Ardelle Hoppe. Grandson of Thomas Hugh & Caroline Frederika Campbell and great grandson of Ezra Martin and Mary Cassandra Roberts Campbell.
Tom & Alana Campbell 5214 South 2nd Avenue, Everett, Washington 98203-4113
Telephone (425) 391 8487
Tom Campbell is married to Alana and lives in Washington state. They have six children.
The Historic Frank R Killien Home
The Sign of the Prophet Jonah Hits Chicago!
William Goodrich
Main
Back
Page 11
Email: adazio@lycos.com