---
---
Playacar 2003
with updates for my return trip August 2006!
Ellyn in Paradise
~ Iberostar Quetzal Resort ~ Playacar ~
---
---
~ Ellyn's Playacar ~
~ Trip Report ~
a solo journey to the Iberostar Quetzal Resort
Trip Report with thoughts, photos, and links
from the beautiful Mexican Riviera
---
---
~ Saturday August 23rd ~ 30th, 2003~
~ Iberostar Quetzal ~ Tucan ~
---
.......another solo trip to paradise!
---
A week at the Iberostar Quetzal Resort is more than just a visit to the Mayan Riviera. It is a spiritual retreat and an experience in cultural diversity. The Iberostar is not only an upscale vacation resort, but it embraces the concept of living in harmony with nature, protecting the environment and at the same time providing luxurious accommodations, amenities, and experiences to all who enter their realm.
The resort is a charming eco-preserve with natural waterfalls, lush tropical vegetation, and cenotes; with wildlife freely roaming the jungle. The jungle is a vibrant tropical rainforest with monkeys playing in trees, coral colored flamingos splashing in a pond, peacocks strutting everywhere, a giant tortoise meandering on a rock, iguanas sunning themselves, chickens, pelicans, toucans, parrots, a yellow tabby cat, several animals that looked like a cat-rat and other wildlife roaming everywhere you look.
The Iberostar Quetzal/Tucan is a large complex divided into many unique areas. There is the tropical rainforest, the jungle with long winding paths to traverse, a beautiful sprawling pool with a center island and fountain, an adult pool with a swim-up bar, kids pool, activities pool, lush gardens, a beautiful wide beach with white powdery sand, swaying palm trees, and shady thatched palapas dotting the beach and pool, and the Caribbean Sea with its' palette of teal, aqua, sea foam green, and blue. There is a fitness spa with massages, facials, manicures, pedicures, spa treatments and mud wraps. There is a world class diving center, areas with bicycles, scooters and kayaks, and lobby bars to relax, enjoy a cocktail, or people watch.
There are tours available to Xel-Ha, Tulum, Xcaret, Cancun, down the coast of the Riviera Maya, and everywhere in between. There is nightlife, entertainment, and a disco named Mascara on the property that comes alive every night at 11:00 p.m. with a good blend of techno trance, hip-hop, Latin and World Beat. The D.J. is very good, the sound system incredible, the music loud and pulsing, and the drinks at both disco bars are great. Security at the club is excellent. The only thing unpleasant about the disco is their smoke special effects which are always on!
The resort consists of two sides; Tucan on the right, and Quetzal on the left. Each side has quite unique decor. You have full access to both sides and all amenities, restaurants, bars, lobbies, and activities within and you'll consider both sides as one huge resort.
Resort rooms are located in tropical colored three story bungalows stretching from the lobby to the beach on both sides of the jungle rainforest and the pool and other common areas.
There are four paths to the beach. The two outer paths are paved and easy to navigate. The two inner ones are long winding, meandering jungle paths and they are very unique. I walked them both several times a day, to observe wildlife, nature, and people. The two inner jungle paths are also extremely different experiences at night; with their gentle lighting, walking alone through the jungle is extremely peaceful and enlightening.
For five glorious days the weather was beautiful, especially since this is hurricane season and they had predicted storms all week. I enjoyed azure blue skies, puffy clouds, aqua teal water, white powdery sand, gently swaying palms, and a hot blazing sun for five of my seven days. It was a great week! Let's start at the beginning…
My adventures in Playacar ~ August 23rd thru 30th, 2003 ~
Checking in at Lambert International Airport in Saint Louis was stress free. The security people were very friendly, yet thorough, and I was drinking coffee and eating overpriced airport food less than six minutes after leaving the car. I had booked my vacation online at American Airlines Vacations dot com and not only did I get an extra 11,000 miles for booking online, but the luxury of experiencing a normal flight time (9:30 a.m.) and a movie!
The flight was pleasant and the movie was so-so, but once I saw the teal water over Isla Cancun I was happy. I once again got a green light, and was amazed that no one approached me with coupons or time-share pitches. I had on dark shades and walked briskly out the door wheeling my luggage behind me. I also did not have Apple or Funjet tags (time-share shark magnets) on my bags! I was absolutely staggered by the heat and intense humidity when I stepped outside. I found a desk that said Olympus Tours and got in a comfortable air-conditioned van for Playacar. It is 71 kilometers (44 miles) south of Cancun and took a short while to get there, but I enjoyed the ride and saw some interesting areas that actually looked like I was in a foreign country and not just a tourist destination. It was nothing like Cancun and I could catch glimpses of how people really lived in Mexico. The stop before mine was the Iberostar Paraiso and I took a look, knowing IBQ would be equally gorgeous.
The driver spoke a little English so I talked to him about the area, and his family, and learned a lot in the short drive between Iberostars. Playacar is unlike anywhere I have been. It is a gated community of about 8 resorts, beautiful homes and magnificent condominiums, a championship golf course, shopping area and pristine white beaches. I was expecting this to be "Cancun South", but imagine my surprise when we pulled into this gated community, and then again into a gated resort, and I saw no cars on the road and no peso buses flying by at 85 mph and it was blissfully peaceful.
The Quetzal Lobby is magnificent, truly beautiful with marble evrywhere and I could hardly take it all in. I knew there was an equally beautiful lobby on the Tucan Side and more resort to experience there as well. I noted the beautiful lobby bar, tropical birds in the trees and more. There were shops and I noticed one called the Tequileria which sold tequila and shot glasses that ranged in price from $10 to several hundred dollars a bottle. I saw tequila with a scorpion on the bottom. I also noticed in one shop suntan lotion priced at 210 pesos and dental floss was 70 pesos. (*note to myself…move to Playa ~ open a Wal-Mart!). After wandering a minute I approached the reception front desk and someone brought me a welcome drink ~ a Miami Vice, with tropical fruit garnishes in it. I had written the resort a nice email to request a particular room and I was delighted to receive it.
I was assigned a lovely room on the second floor of the Quetzal side in building 21 with a partial ocean view.
The bungalows are three floors with an open stairway and the buildings have a thatched roof. I opened the door and my luggage arrived a minute later. Five minutes later someone knocked at my door with a bottle of tequila and a fruit plate.

Now this is the life!


My room was quite lovely: there was a king-size bed, a ceiling fan, an AC that worked quite well and shut off when the patio door opens, a couch that surely could be used as a child's bed, a makeup vanity with a chair, a writing table with chairs, an in room safe that was electronically encoded and very secure, and other appointments and furnishings that were very nice. There was a television with CNN in Espanol and regular CNN, and MTV Latin America, Cartoon Network, WB, TNT and a few other channels, but my first thought was who watches television in paradise? Of course with two days rain I was glad to have it and actually enjoyed MTV LA.

There was a sliding glass door that opened to a nice balcony with a table and chairs, and a pullout clothes-drying rack which came in handy. It overlooked a pavilion they used for aerobics and dance lessons, and was near the world-class scuba diving center with a partial view of the sea and the beach, and was just fine. There was even a nice breeze! I had an ice machine on my floor.

The bathroom was spotless, with red hibiscus petals on the counter, tissue paper carnations everywhere, and more amenities in my room than I have ever seen! There was soap, lotion, bath gel, sewing kit, shower cap, shoe shine kit, comb, shampoo, and more. The huge walk-in shower was marble and big enough for a family. There were dual showerheads, shampoo and shower gel dispensers and new fluffy white towels. It was incredibly nice and the hand held shower was a wonderful addition to the regular shower. The bathroom had a hair dryer that worked quite well.
The only thing lacking was an alarm clock but after visiting the Playa Message Boards I knew to bring one. The room had a small refrigerator they call a mini-bar filled with bottled beer, bottled water, and cans of soda that was filled every day (all free). The first day I left a tip and a note that said "Mas agua por favor" and my mini-bar was always full. I made sure to not only tip the maid daily and to leave her a note that said thank you for great service (in Spanish), but to find her in the hall, and shake her hand, smile, and thank her sincerely every day.

My room was impeccably cleaned very early every day. I left the sign on the door on my way to breakfast at 7:30 a.m. and I was delighted to return to a spotless room filled with adorable towel swans, hearts, and bunnies. They were full of lush red flowers, petals, green leaves from philodendrons, and chocolate candies as well.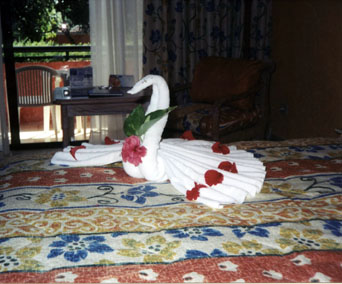 At the desk I met up with some new friends I met at the airport: Tom, his daughter Darci, and her younger brother Ryan who probably partied more than anyone else at the entire resort. They were really cool people and a lot of fun.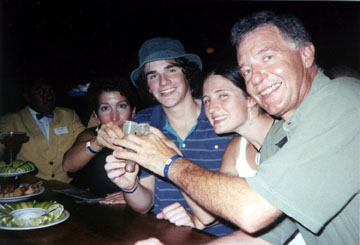 Saturday as I walked to the Mexican Buffet I noticed that many local vendors had set up tables of wares, jewelry, pottery, and statues on both sides of the theater. Most were very expensive (compared with Mercado 28 in Cancun) yet people were buying them. There were two men doing paintings using spray paint cans as their airbrush, crumpled brown paper as a brush, rusty tin cans to make circles, and pesos to make tiny circles. I have never seen anything like this. The pictures he created in mere minutes were interplanetary galactic cosmic worlds incorporated palm trees, moon and suns and Mayan Architecture. They were fantastic, and people were buying several at a time. They were $20 USD each yet only 2 for $30. They looked fantastic and I could not take my eyes off them. People stood and watched them create one after another in only minutes.
Afterwards, I ate at the buffet (Restaurant Cozumel ~ Quetzal Side) and I was amazed at the food and touched by the incredible service. There truly was something for everyone. Authentic Mexican food was to be expected, and American favorites as well, but because of the huge European clientele, there were meats and cheeses, and fish, and a variety to suit any palette. There were small steaks, and pork, and grilled chicken, and whole turkey, and sushi, and delicious desserts, breads, etc. This was one of two huge sumptuous buffets you could partake in, and there were four specialty a la carte restaurants that you could make reservations at for at least 2 other nights. I had stopped by the desk before dinner on Saturday and made three reservations…the outdoor Steak House (La Marimba) for Sunday, the Italian Restaurant (La Gondola) for Tuesday, and the Mexican Restaurant (La Hacienda) for Friday. The people working the reservation desks were very friendly and eager to accommodate everyone and I was allowed three reservations since I was dining alone and flexible to the day or time. All three restaurants I selected were excellent choices. I was given a preprinted ticket for admission to these dinners so I put them in the room safe. I also knew not to make an a la carte reservation for Saturday Night since it was Mexican Buffet or Thursday night, as it would be Lobster Night! After dinner I stopped by the Internet room (2 on the Quetzal side and 2 on the Tucan side) and used Hotmail to tell everyone I arrived safe and was having a blast (rub it in that I was in paradise). I told a girl in there to make sure she encoded her password before she put it in Hotmail, and to make sure she logged out of Hotmail as well as the session (she didn't). I logged on after her and her Hotmail username and password was still there. (*keystroke hackers could nab your password but this girl made it too easy). The @ sign is tricky to find so make sure before you put your two ten peso coins in and the countdown timer begins that you know where it is. I also found 20 pesos in the computer room so I enjoyed a free session.
Saturday I wandered into the theater and met up with Darci and her family. They introduced me to Alberto, my new favorite bartender, who proceeded to blend incredible drinks and create unique shots for us. The bars were set up quite attractively with limes arranged flowerlike on tiered platters, and pretty garnishes as well. They use nice glassware and add tropical garnishes to their drinks, and they poured good quality alcohol in their beverages. They considered Cuervo Gold the 'bar tequila' when back home that is top shelf to me. They quietly keep incredibly good alcohol available for those that asked and we enjoyed shots of Don Julio Tequila at all the bars. This tequila was quite pricey in Playacar and PDC and the airport as well. The aged Don Julio was like $71.00 USD so I was surprised the resort poured it for those that asked. Tips were unexpected but greatly appreciated throughout the resort yet the service was so impeccable that tips seemed warranted.
Saturday Night we enjoyed the show and noted how cute the Star Friends' male dancers were and looked forward to meeting them at the pool and beach. Darci and I went to the disco and the entertainers were all there, the music was great ~ loud club mix ~ Eminem, 50 cent, Nelly from my home town, Techno, Trance: with lots of people, everyone dancing, having a great time. There was a full bar on each side of the club with excellent friendly bartenders making terrific drinks. We met Wilbur and Alex from the Star Friends, and some of the other entertainers. Afterwards, it was an incredible experience to walk through the jungle to my room, and although it was a long winding walk with wild animals all around me, I felt totally safe, and very peaceful.
Sunday, surprisingly, I got up very early. I wanted to experience the world famous pool towel game that everyone described on the Internet. The pool is pretty large but there were no towels on the chairs yet. I quickly figured out, the towel game is played on the beach with the shady palapas, where I was lured to instantly. At all the other resorts I ever stayed in, the heart and soul of the resort took place at the pool, with the beach being the peaceful diversion. The ever-present hourly pool games, and activities usually kept me grounded at the pool over half the day at RSC or CPC in Cancun. But at this Iberostar, the jungle is the soul and the beach is the heart! What an incredible immense beach.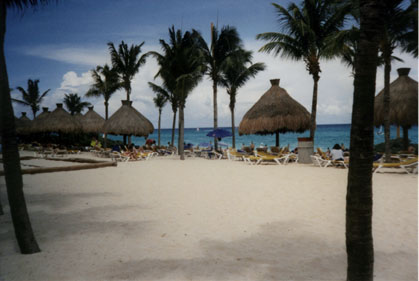 It was a beautiful well-kept beach with crystalline white sand opening to the aqua teal expanse of the Caribbean Sea. The beach had hundreds of comfortable beach loungers, swaying palm trees, and many shady palapas. I won the towel game since I was up so early and found a nice shaded palapa (at the beach) to park all my stuff. I checked out a towel the night before and left my towel card (all week) so I could just exchange my wet towel for a dry one every night. My lounge chair held my snorkel, tube, magazine, flip flops, suntan oil, sunscreen, lip block, sunglasses, reading glasses, water camera, regular camera, a hat, bottled water, and a book. I surely looked like the tourist I was.
I walked back through the jungle on the Tucan side past Koi Ponds and was offered a table near the water where I enjoyed a delicious breakfast. You can eat breakfast at the beach in one of the restaurants, but it is an abbreviated version of the two buffets by the lobbies. The beach restaurant had eggs and other things, but I walked all the way back to the Tucan Buffet and was glad I did. There was more food than you can imagine. I started with raisins and dried apricots, and fresh fruit to 'say I ate healthy' but the Omelet Station was beckoning me. I had a huge omelet con queso made to order, crescent rolls, and bacon; and that was just for starters. They had Mexican food, waffles, French toast, breads of every variety, fresh hand blended juices, potatoes, fish, lox, meats and fruits and cheeses and pastries, any kind of cereal you can imagine, and enough foods to satisfy any culture. My favorite was the fresh cold orange juice from the machine by the coffeemakers. Next to the coffeemakers I also found delicious espresso with hot milk. I read the Cancun Edition of the Miami Herald that arrived at my front door every morning.
I started down the path towards my palapa to begin the fun in the sun ritual I look forward to every year, and started greeting everyone. The Americans I greeted were very friendly, stopping to talk, exchanging tales, and always smiling. Walking thru the jungle is where I learned the meaning of the word 'Euroscowl'. I had notice that the resort was perhaps 50% European this week. Many of the ladies from England were very nice, but the rest of the European people I said hello to did not return a greeting or a smile, and turned their heads. A lot of the people from the US noticed that phenomenon and many people said to me, it was refreshing to bump into someone who spoke English and was friendly. Everyone noticed the aloofness of the Europeans we encountered. I decided that I would speak to them anyway and I did! It was so funny. I would stop and ask them where they were from, or some other thing and it was amusing. There were people from Germany, France, Russia, Portugal, Switzerland, Holland, and many other nations. Also most of the Europeans smoked themselves into oblivion! They walked with cigarettes dangling from their mouths, talked with cigarettes, smoked before meals, smoked during meals, smoked after meals, smoked on the jungle paths, smoked at the pool and smoked at the beach, and worse than anything, they smoked during the shows! They always lit a fresh one before the old one was finished. Call me crazy, but you are out in paradise with fresh tropical air, and the incessant cigarettes with the ash hanging off the end looked ridiculous. I never saw so many people (mostly Europeans) smoking in my life. That was my main complaint about the week, and I just avoided the smoke like the plague that it is.
I spent the day at the beach and got a lot of sun, met a world of people and had a wonderful time. There is a really nice bar right on the beach (one side faces beach and the other side faces the pool) with great drinks, soda and water, and delicious ice cream cones for the guests as well. The bar will blend you incredible drinks, but at the beach you should ask for one with vitamins if you want alcohol since there are a lot of kids there. I had a Bloody Mary the minute the beach bar opened and it was delicious. Made from scratch with salt, a lime, it had all the right touches.
All around me was a flurry of activities, yet I did not partake in them. I tanned in the sun, played in the sea, gave the bartenders some practice, and enjoyed my palapa all morning. There were pool activities and games with the Star Friends, tennis pro (Peter) rustling up people for a tournament, salsa lessons, free bicycle tours to Playa Del Carmen at 11:00 a.m. and 3:00 p.m. daily, pottery painting by the pool (really fun way to pass a couple of hours on a rainy day), spa services such as facials, and pedicures, free scuba diving lessons in the pool, kayaking, a mini club, a maxi club, massages by the pool, a fitness center with spa Jacuzzis (one hot, one cold) and shopping in Playacar, a few blocks away. People were shooting pool, firing air rifles (to win certificates) doing Spanish lessons, riding banana boats, parasailing, jet skiing, sail boarding, and participating in more activities than I could ever do in a month; and all I could do was bask in the sun on a lounger.
I did a lot of people watching this week and noticed one thing about the Iberostar Beach. On the beach there were dozens and dozens of topless women. Women who should not appear topless were roaming the beach and many wore thongs that consisted of a string up their rear area and afforded a lumpy view of cellulite for people seated who happened to look their way. Some of the topless ladies looked like mounds of baked Alaska when they were laying down and I worried for them that their breasts might melt in that hot sun (all that silicone). I was not shocked or offended, but as a lady, I did not want to see all those flabby breasts. I am quite sure with all of the many kids at the resorts, their parents did not want them to see them either. No doubt some wives weren't too thrilled when their husbands took a walk on the beach. What really disturbed me in this age of predators, was all the little girls naked or without tops. They say that Playacar and PDC is a haven for Europeans and that with them comes their traditions. Apparently, the concept of topless is their norm. And chain smoking cigarettes is 'cool'. And being rude to Americans is acceptable.
After a wonderful lunch in a beachside buffet restaurant serving something for everyone, I enjoyed the sea. I watched the life and activity on the beach, noting the cruise ships on the horizon. I saw Cozumel clearly in the distance in front of me across the Caribbean and watched the fishing boats, people parasailing, and beach vendors trying to make a peso. I talked to everyone. A home made ultralite glider flew over my head. It was a beautiful day. I was sitting on a lounger way down by the edge of the sea, which is a long deep beach walk from the beach bar and I noticed there were ladies serving drinks on the beach. What a nice touch. They would wander the beach with crowd favorites like Margaritas, and Pina Coladas, and Miami Vices, and Sea Breezes and pass them out. Another cool touch was an ice cream man came to the pool every day. He wheeled around the pool dressed in white, passing out frozen ice cream bars to anyone who wanted one. Just like home only free! Kids delighted in seeing the ice cream man. There also was a balloon vendor clown on the beach and in the buffets.
Sunday afternoon I spent time wandering the jungle taking pictures, and watching a family of monkeys playing in the tree and running across the thatched roof of a covered walkway. There were two baby monkeys that were so tiny they could fit in my hand. They hung from their tails, and amused the crowd that gathered. There were many people chattering about the monkeys in many different languages and that was weird. People all talking to their families at the same time, in German, Russian, Swiss, English, French and Spanish.
I stopped by the flamingo pond and took pictures and watched the waterfowl and flamingos gathered there. I enjoyed watching the tourists and their family dynamics, and I especially enjoyed watching the many groundskeepers, who never seem to stop working. They prune, snip, cut, machete, paint, sweep, rake, mop, swab, clean, and repair every waking moment. I have never seen a harder working, kinder or more service oriented culture anywhere like Mexico. Everyone that worked at the Iberostar was friendly, kind, and genuinely enjoyed their jobs and had a warm "Hola" for every person they encountered. Of course it works both ways. I only habla un pocito Espanol, but that did not stop me from getting to know the housekeeper, towel personnel, chefs, bartenders, waiters, and maitre d. They are just as important as the Star Band, and Star Friends Team and it was great talking to people and learning about life in Playa. Not the tourists' view of life in Playa, but the employees' perceptions of life in Playa. Very interesting.
Sunday night I went to La Marimba the specialty Steak House. I was greeted with a Miami Vice, and soon they brought out a huge bloomin' onion (like Outback Steak House serves) and then I ordered a Sirloin. It was very good. Served with baked potato, small corn on the cob, breads, and dessert. It was a really enjoyable dinner. Sunday's show was great, and the disco was a blast. We danced with the Star Friends and stayed up too late.
Monday I awoke very early and no one was out yet. I enjoyed another beautiful day at the beach, and then hung out at the pool a while. I signed up for the poolside massage and it was wonderful. It was very relaxing and only 350 pesos (plus 35 peso tip = 385 pesos). They put it on my room bill and I used my Visa at checkout to get the best rate of exchange. If you pay in USD at checkout it is 39 dollars, but if you use Visa you get the true rate of exchange (over 11 pesos per $1.00 USD converts back to 35 dollars)(*charge everything you can ~ in pesos). After my massage, a young man came up to me and said he was lost. He spoke only Italian and I felt so sorry for him. He had on a beret, had longish shaggy hair, dark glasses and was dragging his carry-on case. He said he just arrived and could not find his suite. I walked this poor guy 4 buildings away up to the third floor and used my bad Spanish to ask the maid to help me find his room. Then he removed his hat, his sunglasses, his bad wig, and his coat and it is Carim, one of the Star Friends Entertainers who then says: "gotcha!". I was so embarrassed, but it cracked my up.
Spent the afternoon at the swim up bar and met other people from Saint Louis. Made a new friend Daryl from Philly. At the adult bar, I was introduced to a good drink called Mohito from Cuba made with lime, fresh mint leaves, Vodka, and other things.
Realizing that I had enough sun for the day, I decided to walk to Playacar's shopping area, several blocks away. I had been warned how expensive this area was, but I actually found this to be a very pleasant experience. There were very neat, clean shops with nice merchants and vendors. I found an old Ladatel Card in my wallet (*Ladatel Phone cards are the only way to go and do not expire) and put it in a Tel Mex phone to see if it had minutes. Wow, it had 30 pesos left on it so I called my parents, and then called my son for free!
Later I enjoyed the dinner buffet, and stopped to talk to my new Star Friend Amigo, Wilbur, a.k.a. Elvis who was dressed like the King. Then I watched the Star Friends show, and hit the disco. The Star Friends did an incredible job with the pool activities, an even better job with their shows which were fun, entertaining, and well done, but more important, they were visible everywhere and took the time to get to know you and talk to you whether you were 3 years old or 90. They were warm and kind and friendly to everyone and a nice group of people. They also had a Star Band that was absolutely fantastic. They played at the show, and after the show, sometimes at the pool and at the beach during the beach party . What a great talented band, playing an enjoyable blend of songs, and a lot of Latin Music that was sizzling.
Monday overnight it rained and Tuesday I awoke to a gentle mist. It was not a pretty day, but I found a palapa, and had breakfast and went to the beach. It was sunny for a while but I got a lot of reading done under my palapa when it did not stop raining later in the day. I watched the beach activity and windsurfers but the thunder got wilder and the lightening was vivid (over Cozumel area) and I went to the room. People were still swimming, kayaking, and sailing in the lightening, yet the parasail operators wisely did not operate. From my balcony I watched an aerobics class, and I noticed the bad weather did not stop most folks from continuing their activities. People still went on their tours, or went to PDC or Playacar. Before dinner I had drinks with friends in the lobby bar where the service is terrific. The servers wander the room all the way out of the bar to the lobby couches and serve beautifully blended tropical drinks in nice glassware. They have entertainment in both lobby bars and I rotated between the Quetzal Bar and the Tucan Bar since they had different architectures and were both lovely. The best kept lobby bar secret is the Cappuccino machines they have. Tuesday night I had dinner at La Gondola, the Italian Restaurant. I ordered spaghetti and it was okay. Nothing exciting. What was exciting was the incredible antipasto buffet to select from before dinner. There was a wedding party celebrating in the corner (fourth wedding I saw there this week) and everyone was having a nice time. Everyone was dressed nice, the place was air conditioned, the service was excellent, and the antipasto was wonderful. I noticed a really huge selection of meats, cheeses, olives, caviar, capers, etc. Dessert was great!
Tuesday night was 70's music at the Disco so I did not stay long. That's okay, I planned to get up early anyway. I did not find out until the end of the week that the Entertainers, and the locals all go to town (2 minutes by cab) to the nightclubs there. Maybe next time I will do that.
Wednesday was a sunny glorious day that made up for all the rain on Tuesday. I had a great day at the pool and beach, eating, drinking, and trying a lot of cool drinks. I had my picture taken poolside with a huge Iguana (translated that means: there goes another $7.00 dollars). Today they had a huge Sangria Beach party with delicious Paella served out of four foot wide fry pans, and serving homemade Sangria! Carim was dressed as Santa Claus (in 100 degree heat) carrying a sign saying: 'Santa is on vacation' and then Santa showed up at the beach party. The entire Star Band was set up and they were playing Latin music on the beach. It was wonderful and everyone was dancing on the beach and having a great time. The band is really good and it was refreshing to have a live band on the beach instead of canned music at other resorts. Not only did they have the Star Band, but they had 5 Mariachis playing in the buffets and entertainers in the lobbies, or just strolling and they were great as well.
On my way to the dinner buffet, I noticed they had set up an archway and a new statue was there. I had to look twice before I realized it was a person. He was covered in stucco (looked like white concrete) beard, moustache, and all and wearing long flowing white robes. I only realized it was a person when a small voice said: "hey lady, will you help me. I'm lost." Yes, it was Carim again. They are always in costumes, or up to something in order to drum up excitement for the evening's shows. I got a drink and stood back watching kids and grownups alike stop to look at the new fountain and statue and then seeing it 'come alive'. He had hoses in his sleeves and water came out of two fingers and also his shroud if he was leaning forward. Funniest thing I've seen (not counting the lost man routine). Wednesday night, someone from the restaurant asked me to go to PDC with him after work, but I was ready to collapse. I even skipped the show and disco and went to sleep early. There is so much walking it is exhausting. The jungle is long and meandering, but it is so full of life and energy, and wildlife, and lush vegetation, that it is an enjoyable walk. It is not smooth, so after a day, everything aches if you are not in shape.
Thursday was another beautiful day in Paradise, with blazing sun. I walked all the way to the end of the beach (quite a distance) to the rock outcropping to snorkel. I did see a few fish and there were very few people here and it was very peaceful, and fun to snorkel. At noon I took a Salsa class by the pool in the pavilion and learned a little. Then later on the beach they played a game called the Mr. Banana game. It was a Mr. Iberostar Contest and they tried to find the good looking guys to participate. Darci's dad Tom got roped in to doing it and so did Daryl and a few other people we had met. It was fun, the guys wore bananas around their neck and posed and strutted. There was a really good looking guy from Portugal who got my vote, but the winners were the husbands of the judges and not very cute.
I met a huge group of people that afternoon and we hung out on the beach. They were buying things from the beach vendor and something quite touching happened. They were all haggling and agreed on the prices and one guy tipped the beach vendor two bucks and got some of his friends to do the same. I could not believe what I saw as most people continue to haggle, or they are very rude to the beach vendors. This vendor was very touched by the gesture and pulled out a small silver frame with a picture of her baby and gratefully smiled at the group as she showed her picture. That was very humbling for me to think of this girl on the beach in 94 degree heat trying to make a living and how touched she was by the kindness of others.
Thursday night the dinner buffet was incredible. Along with all the meats and cheeses and other offerings, tonight was Lobster night. The chefs had sliced lobster tails into thick slices and were grilling it (shells and all)! It was delicious. The show that night was a Latin show and was entertaining. All of the shows were good. Some were really funny and they had audience members up there before them doing silly games. After every show, the Star Band plays Latin music and everyone goes up to the front of the theater to dance a while before heading to the disco. We did shots of Don Julio at the disco and tonight the DJ continued the theme with loud smokin' Latin music at the club. Tonight I was asked to go to a club in PDC, but I was too tired and just stayed at the disco.
Friday was to be my last day in paradise and I woke up very early ready to get started. It was storming and rainy and I could not believe my eyes. I was glad I knew to bring a poncho from home and I fashioned a rain hat out of the heavy duty clear bag from the trash can. I walked to the beach and wandered the jungle with my water camera. I stopped into the beautiful lobby bar on the way to breakfast and the bartenders were still setting up and jokingly told me to make my own drink!
I had a great breakfast and was joined by a Star Amigo. We talked for a long time and I really enjoyed it. It was still pouring so I walked over to the health club and rode the bike and stair machine for a few minutes. Then I talked to Peter the tennis pro and a few of the other Star Friends. It was raining so they were planning indoor activities, they told me. I was thinking of doing the games (casino games in both lobbies for prizes) and then getting a facial, but since I had a poncho I decided to go to PDC and see what was going on. Iberostar has 24 hour taxi service at both sides and it is a flat rate of 40 pesos to PDC, which is only 3 kilometers to the start of 5th Avenue. If paying in USD it would be $4.00 (the exchange was over 11 pesos but they don't take US coin anywhere in Mexico).
I enjoyed the short cab ride to PDC and shared the cost with someone I met in the lobby. Although it was raining, I loved PDC. It was fun, and people were in the streets, and I walked down to the beach. I only regret that I didn't discover PDC, or explore it until my last day. There were so many shops, and even more bars and cantinas lining both sides of the streets. Everywhere people were eating and drinking and shopping and hooting and hollering. In the rain! I bought a beautiful Pareo for my next trip. A week before I left I got an email from Barry Launius at Caribbean Colors who is a Playa regular, and message board amigo from my home state. He is a watercolor artist who does Caribbean paintings in pastel washes with an island flavor. He asked me to say hello for him to a gallery owner that shows his work. I made it a mission on that rainy day to find that gallery. It was a pleasure to see his work displayed in a gallery and not just online. I said hola for Barry and visited with Netti for some time.
I had heard things about 5th Avenue about vendors hustling, but I thought the town was charming with real character. There was music playing, and people sitting in one Cantina after another. Delicious smells of mesquite wafted in the rain freshened air. People were shopping, drinking, eating, and laughing in the rain; and I thought PDC was delightful. I went in to most of the stores, and took a few pictures. I watched the waves pick up out at sea, and I walked the entire length of 5th Avenue in both directions. I ventured a couple blocks away from 5th Avenue, just enjoying my last day. During the leisurely ride back to IBQ, I had a nice talk with the cab driver about his family, his job, and the homes in PDC. I learned there are 650 taxi cabs in Playa del Carmen. I thought PDC was great and I want to check out the Cantinas by day and the Clubs by night when I come back.
I got back to IBQ and it was still raining. People were in the lobby, drinking, playing blackjack, roulette, and bingo for prizes in the bar. The Star Friends did their best to entertain the guests during the rain, and they also showed movies in the theater. Since I had dinner reservations at the Mexican restaurant, I skipped the games and movies. La Hacienda, the Mexican restaurant was really nice. I saw a familiar face, Daryl, from the swim up bar, and some other new friends in there. They brought me a Margarita in a beautiful cobalt blue glass and recommended tacos made Mexico City style. While waiting for my dinner, they offered an appetizer buffet with salads, taquitos, and more. Dinner was great; I had three small tacos with mounds of delicious grilled pork and pieces of grilled pineapple on flour tortillas, served with fresh Guacamole and Pico de Gallo and more dessert than I needed. While walking off dinner I met up with Lisa and Chris from my home town.
We were standing by the front of the lobby watching it rain and a bellman drove by with the covered luggage golf cart. We asked him, since it was raining, if he would drive us from the Quetzal side to the Tucan side lobby. Once we got in the cart, I asked him for a tour of the grounds. I was semi-kidding, but he drove us up and down all of the soft-lit paths winding through both sides of the resort. It made me realize how large the resort complex was and the ride was pretty entertaining, especially when other carts were coming our way on the narrow paths. Afterwards we headed for the theater where they played a hilarious couples game on stage, and then to the disco for the last of the drinking and dancing.
All too soon Saturday morning dawned and it was time to leave. Early that morning I settled my room charges for the massage and put them on my Visa in pesos (*you get the true rate of exchange that way ~ much better than settling in USD). I held onto my towel card and my room card until actual check out, which took no time at all. The bellman was prompt and he jogged down 2 flights of stairs with my 3 bags and carted me off to the lobby.
The Cancun Airport was wall-to-wall with people Saturday, apparently all of them were flying on American Airlines. They were sprawled from the far left wall of the terminal all the way to the far right American Airlines counter. It took 90 minutes to get through the line and the flight was boarding as I cleared security. It severely cut into my duty-free shopping time!
On the flight home I thought about the Iberostar Quetzal and what a lovely resort it was. I especially enjoyed the tropical rainforest and the eco-jungle with its' amazing wildlife. I was impressed by the incredible service from so many extremely hard working friendly people who continuously strive to please every guest at every moment. Thanks to the Star Band, and especially the Star Friends Animation Team for making my visit to Playacar an experience I will always remember!

---
---
update for 2006
~ Saturday August 19th ~ 26th, 2006~
~ Iberostar Quetzal ~
---
.......a return to paradise!
---
Although I was just in Playa Paraiso in March, I needed a vacation like yesterday. My flight was to leave at 7:00 a.m. but due to world events, I had to get to the airport early. I set my alarm clock for three-ten a.m. and ten minutes later the power went out. Here I was at midnight running around looking for candles and setting my cell phone to turn itself on in order to wake me up. Amazing that a cell phone can even do that! Then right as I dozed off, the power came back on and in the wee hours I had to re-enter all 16 hours of reality TV I had set to tape. No way would I miss Big Brother, Young and the Restless, Rock Star Supernova, or any thing else!
My cab came on time and I was at the airport by 4:30 a.m. with my luggage full of shampoo and lotion and make-up. I pictured my clothes soaked with the orange glow of sun tan gel and soaked in cream rinse and even envisioned my makeup all broken and crumbly, but I had to have all my stuff!
Security was swift and the people were pleasant. I was enjoying breakfast at Starbucks 3 minutes later. Yes I brought a digital camera, mp3 player, and cell phone in my purse through security and I also rolled a full heavy carry-on full of books and magazines and other weighty stuff. My luck continued when I boarded the plane and had the entire row to myself. I had cold orange juice, a nice warm blanket and pillow, a trashy novel, and 57 newly downloaded tunes on the mp3 player. Life was good. The flight left 25 minutes early (that never happens) and arrived early as well.
The Cancun Airport was wonderful. No problems and I arrived at the resort rather early. I wanted to be by the Caribbean Sea and was given a room on the second floor in building 21 with a sliver of an ocean view; although I sure wanted a junior suite. I was brought a fruit basket and a tee shirt, and an envelope with my dinner reservation slips that first day. I had arrived at the resort very early and could not wait to unpack and run to the beach. I had missed the feel of sand in my toes and the color of the sea!

The week went fast and was very relaxing. The weather was only so-so, but still, it was better to be on the beach sipping a Margarita at 10 a.m. than to be sipping bad coffee at the job in saint louie!
I spent a lot of time laying in the shade of a Palapa, reading tabloid after tabloid in search of baby Suri, and talking to people from all over the globe. I went to Playacar with a cold, and found it very restful to just gaze at the sea, watch the people parasailing, and doze in the sun. In short, I did virtually nothing this week, and didn't feel guilty admitting that either.

I made my three dinner reservations through email and was delighted to find the reservation tickets slipped under my door. Although I did miss the kindness and charm of Loreto and Susana at the Paraiso Del Mar, I was treated very well by the Iberostar Quetzal with a very nice room, and advance dinner reservations. I had picked the Japanese Restaurant for Sunday, the Mexican Restaurant for Tuesday, and the Steakhouse for Thursday.
The Japanese Restaurant was really good. It was quite similar to the Japanese Restaurant at the Paraiso Del Mar/Beach. The Teppanyaki Pits seemed smaller though. They started with drinks, Sake, Wine, or whatever! I decided what I wanted from the menu so they knew how much steak, chicken, octopus and shrimps to bring out. Most people do order the Stir Fry and select one, two, three, or four of the above. I had just the chicken and steak and I was happy with my choice.
They came out with plates containing several delicious pieces of Sushi, ginger, and sauce. California rolls, salmon, octopus, crab, all sorts of wonderful Sushi. And then a nice rolled warm washcloth was served. For being in Mexico, the Japanese meal and all the amenities seemed very authentic.
The chef entered the pit and he is surrounded by mounds of small pieces of steak, shrimp, octopus and chicken in one area. There were piles of rice, and a dozen eggs in another area, eggplant, zucchini, and other vegetables in another area, etc. While preparing the items to begin cooking they bring out more food. I had battered tempura vegetables. Others had soup. Most had the veggies.
The chef made the fried rice and one of the chefs did a trick with the eggs, ours just made the rice. They scrambled a dozen eggs, fried the rice, divided it into bowls and served it around the table. It was delicious! They served more wine and more drinks. While eating the fried rice (who can wait and save it till dinner?) they started cooking the vegetables and slicing dicing and julienning faster than Ron Popeil.

They then cooked the meat, chicken and fish and on the end of the heavy long steel spatula, the chef went around the table and knowing exactly what everyone ordered, he delivered mounds of meat into each plate. More than you could want. I had chicken and steak and it was excellent. Really good tasting steak and chicken at that! I was so full I could bust! For dessert I had some wonderful battered banana fritter thing with ice cream and chocolate syrup.
Monday and Tuesday the weather was not as glorious as usual, yet the darker and cloudier it got, the more magnificent the colors of the sea became.

There were times I covered myself with my Pareo and was actually chilled in paradise, yet I could not take my eyes off the sea. I wasn't getting tan, but it was so beautiful on the beach.

I spent a lot of time walking the grounds and enjoying the jungle like atmosphere. This huge Iguana was roaming the paths, as were peacocks, flamingos, agoutis, and several pretty wild monkeys. The Quetzal jungle paths are very well lit and the wildlife is abundant, considering this is a luxury resort.

On Tuesday night I had a wonderful dinner at the Mexican Restaurant. I ordered Tacos al Pastor, (not on the menu but no problem) and ate so much from their appetizer buffet, I didn't even need dinner. I had Mexican Coffee and wandered around the resort.

Sunday, the weather was not wonderful, but still there were people on the beach. One of the dancers from the shows had donned a waitress costume and walked around the beach taking drink orders. As he turned his back to walk away, the astonished customer got an eyeful. It was hilarious!

The Star Friends spent a lot of time drumming up interest in the shows. They dressed up like Santa Claus and showed up at the beach party, dressed as magicians and mimes, and were very visible throughout the resort.
I was tired all week, and had a cold, and felt bad that I only made it to one show. The last night, while roaming the grounds, I had met Magnolia and her husband Gary, from the Iberostar Board and they were a very nice couple. I sat with them at the show and enjoyed both the show and the company.
I seemed to turn in early every night while trying to shake the cold I came to Mexico with. The benefit of going to the room early is being able to rise early and see the glory of Playacar without the people.
The same held true for the end of the day!

Here is one from Friday, the day before I left, where the sun was actually shining! Yeah! Two sunny days in a row!

Wednesday, I went into Playa del Carmen with a couple of nice ladies I met during the week. We split a cab, and although it was raining lightly, shopping was fun. They are doing a lot of work on Fifth Avenue, especially at what is becoming the official entrance. A lot of painting on the storefronts and the addition of a few really nice stores compliment the area. I enjoyed watching the ladies I was with trying to get a bargain on what was being touted as genuine Tanzanite and Australian Opals. I truly hope the beautiful jewelry she purchased was authentic, but at least it was really lovely with the colors of the Caribbean Sea sparkling in the glimmer of sun that followed the rain.

When I returned to the resort from PDC, I headed straight for the buffet. It was wonderful and I especially enjoyed the table set up for a Mexican Buffet every night. There was always something good to eat, and the desserts were great. I never could eat just one dessert! After dinner a few nights, I visited the flea market they had set up by both sides of the theater. All of the same vendors from the Paraiso Del Mar/Beach/Lindo/Maya were there and I talked to many of them. I bought my mom a beautiful pair of Sterling earrings after playing the barter game. He started at $60.00 US and I went back two different evenings to think about it. I don't know if I got a good deal, but for $12.00 dollars US they were beautiful and I was happy to have finally bought something.
When I first arrived at the resort I headed straight for Harrisons Jewelers and was getting frustrated there. My cousin wanted a Larimar Sandal exactly like mine and I was on a mission to find the perfect one. It took several years to find mine, as I went to the Harrisons at the Quetzal in 2003 and to all four Harrisons on the Paraiso Complex grounds in 2004 and 2005. Every time I looked they were sold out, and in 2005, I finally found mine at Playa Fiesta 05! Finding the one for Linda was proving to be more difficult. Versilia had sold me mine at the Paraiso, and was now working at the Quetzal. She went to so much trouble to help me find the perfect Larimar Sandal and I could not be more grateful. She personally went to their office and went through all of the pendants there, and then closed her shop and walked me over to the Riu Harrisons to go through all of his sandals. I walked to Playacar Harrisons and I have to say, each and every Larimar Sandal I saw was full of dark black occlusions. Something was odd about that, and I was about to give up when Versilia called my room and told me she called all of the Harrisons in Playa Paraiso and found one at the Maya. She went and got it and on the night before I left Playacar, sold me the perfect Sandal. She went above and beyond the call of duty and my cousin was sure happy when she picked it up.
---
---
Please visit my other Playa and Cancun Pages!
There are more pictures on the photo page from this trip.
Ellyn's Cancun and Playa Paradise
Cancun Impressions, Photos, Tips, Thoughts, and Links
Ellyn's Cancun Online Photo Album
Trip Report ~ Iberostar Paraiso Beach ~ 2004, 2005, 2006
Trip Report ~ Royal Solaris Caribe ~ 2002
Trip Report ~ Royal Solaris Caribe ~ 2000
Trip Report ~ Royal Solaris Caribe ~ 1999
Trip Report ~ Crown Paradise Club ~ 1998
---
---
---
---
---
---
It will make my day!
---
---
You are visitor number

free counter by Andale
copyright© september 8th, 2003 ~ Last updated april 3rd, 2012
~ ellyn hloben ~ webmaster ~