---
Sunday August 2nd, 1998........paradise calling
---
Our flight left Lambert Saint Louis International Airport at 8:50 a.m. on a glorious Sunday morning, calling for a very early check-in at the airport. So why was I on the internet in the middle of the night lurking the message boards?
...Cancun Anticipation Syndrome is the only answer that comes to mind....
We arrived at the airport 2 hours early and check-in was a breeze. The flight was smooth, and as it was a Charter, the Amaretto being served at 9:00 a.m. was a treat.
Drinks were flowing and the passengers were so upbeat.
Corey and I lucked out and got bulkhead seats on both flights. TWA served a delicious hot breakfast and the next thing I knew we were flying over the familiar aquagreen-teal-turquoise waters of the Caribbean Sea.
Ahhhhhhh Paradise!!!!!!!!!
This time immigration was swift and painless. It took only seconds. We got the green light at customs, and then we were on our way to an air-conditioned van sent by Apple.
We checked in at the hotel and were told that the room would not be ready until three...
I recognized a bellhop from last time and he graciously went upstairs to see if indeed our room was ready. We secured a very early check-in (tipped him a couple of bucks even though Apple says no tipping) and discovered a lovely fruit basket in my room as I was a repeat customer.
At some point that day I noticed that I managed to not only lose my driver's license, but my son's as well. I spent an hour at the hotel trying to deal with the situation, and asked to speak with the operations manager, Jennifer, who I had e-mailed a few times. She told me to let her handle everything and to relax. She called the U.S. Embassy (do we really have one there?) or some Consulate, who said I did not need a photo I.D. to leave Cancun, just my immigration papers.
She called the airport lost and found, and of course, the I.D.'s did not show up. The Apple Reps at the hotel said they would call the airport twice a day and wrote up a report and supposedly would try continuously to find my I.D.s...
I just bet they tried.
I found my three amigos by the pool that my son and I were meeting: Kim and John and their son Ryan from Ohio. We had met them three years ago on one of our trips to Cancun and planned this reuniun. They got the room next to us. We had so much fun with them last trip we arranged to do it all over again. Cancun has a way of bringing people together! And the most beautiful place to keep them in!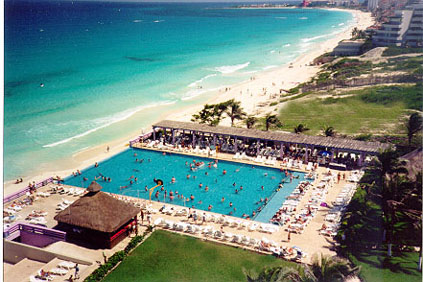 So we sunned our buns until dinner time, looked for staff that might remember us, and walked on the beach and oooohed and ahhhhed as if we had never been there before.
The hotel is beautiful, with lovely grounds, a wonderful open-air atrium with magnificant tropical birds, and a perfect beach.
I wasted no time in getting my hair braided.
Disaster number two!
Seriously, the beauty parlor at the Crown Paradise has the best braider. Alex is so fast at braiding that he is a hoot to watch. Of course he yaks too much so this time it took 2 hours. I had the braids put in because, what the heck,
I AM A TOURIST....
and it does look kind of islandy cool. But this time, he said fifty bucks USD for the whole head, instead of 35 last year...I didn't argue at all and he did the a fabulous job. It still looked great a week later! My hair is long and thick and hot, and it is such a great feeling to spend a week on vacation without giving another thought to your hair.
When I went to pay, things changed...I had asked in advance if he took Visa.... Next thing I know he tells me there is a special extra charge to use the Visa, in addition to a service charge to put it on my hotel bill. And even though the Hotel uses 8.5 exchange he multiplied by 8.875 and told me to sign a bill for over 500 pesos. I am not stupid, but I must have had a HUGE "T" on my forehead (tourista) I guess. I signed it quietly and stuffed a few bucks in Alex's pocket for a tip and promised to bring him some eats (as he pointed out that I was all-inclusive, he was starvin', and it wouldn't cost me a thing.)
I went screaming in usual Ellyn fashion to the front desk where they informed me they divide by 8.00 pesos to convert back the pesos that Alex figured..... and that Alex had managed to scam me. I went back in there and took him dos hamburguesas from the grill and got chummy with him and while he was talking, I wrote on the bill still sitting there: 50 US and illegal service charge to use VISA.
I was planning to call Dateline, Visa, and anyone who would listen, because I was hoppin' mad.
I noticed the dollar to peso to dollar scam, but doubt others would. The front desk took care of me, though, and I would recommend Alex highly, just pay in cash and make your deal in advance.
Lesson learned..
Monday morning began with a complimentary copy of the Miami Herald outside my door. By 6 a.m. I had taken our stuff down and staked out 5 beach chairs by the pool in our usual spot. We checked out several huge towels and went to eat.
We dined outdoors on a lovely patio overlooking the pool and the sea. The breakfast is awesome at the Crown Paradise. The most delicious orange and grapefruit juices, coffee, croissants, doughnuts, waffles, etc. awaited us. I had a huge fluffy three egg omelet con queso and mounds of fresh fruit, two kinds of juice, coffee and more. There is no way to go hungry at this hotel! Or thirsty!
We were pool-side shortly after that. Now I am 48 years old and am embarrassed to mention this, but the activity dudes/entertainers that work there are worth staying there just to look at...LOL.... ladies, they are young and all of them are muscular, very tan, with long, long flowing hair, are talented, energetic, and have great personalities as well.
So Kim and I decided to enjoy the 'view' that day and eat all we could eat and drink all we could drink and flirt with the Cabana Boys.
Our teenaged sons took off looking for senoritas and seeing how much alcohol they could sneak....Corey is sixteen and a half and tall, and convinced everyone he was an hombre (oh lordy) so I closed an eye to his sipping and in return, he was pretty well-behaved this trip. He started at 9 a.m. with water basketball, and every hour after that he participated in a different activity with the pool dudes....
They did water volleyball, water polo, water football, beach volleyball, you name it they did it. Every day. My son got very tan and quite strong from all the activity. He even found a Mayan Princess (cute teen on vacation) to have lunch with, and ditched mom for the day....
At 4 p.m. they begin the highlight of the day-Tequila Volleyball. The rules are, if you miss a shot, or cause a shot to not get over the net, or touch the net, or for no reason at all, you have to drink a long swig of tequila/margarita stuff.
EVERYONE MISSES
.........and everyone gets buzzed.
Even though it is adults only, Corey had an adult wristband, convinced the staff he was 18 and played every day. Monday, they all played except me, I had plans for Monday evening to go to the DeliMart for drinks with friends.
I was a bit annoyed with my son and the rest of the group for not joining me at the chatter's meeting. After spending four months on the internet getting to know online amigos at www.cancunmx.com, meeting Rich and Michelle, Cig and Melissa and Saias was something I truly looked forward to.
I took the peso bus (4 pesos) downtown (yes by myself) and the driver had me get off at the Rainforest. I started walking and fending off offers for cabs. I saw in the horizon the hue of the FACB and knew I was nearby.
I wistfully smiled at no one in particular, a little sad that I was thinking of ole' cheesehead Tim (my pal from the message board) and wishing he were here (to buy me drinks, natch) and chat about the fabulous midwest. After asking every cabbie in sight "donde esta DeliMart" and getting strange looks, I walked in circles, totally lost. I was too smug to have just e-mailed or phoned RaM or Cig for directions.
I was determined to find it on my own and finally I saw faces that looked cyber-familiar!!!
Meeting Rich and Michelle, Saias, Melissa, Cigman, John, Jon and Angela was so wonderful. It was only my first full day and already I had closure to my curiosity. They were exactly as I pictured them, and warm and friendly.
It felt like we were all old and dear friends, and now we really are.
We were all a little disappointed at the small number of chatters that said they would be there, yet did not make it. Cigman produced a cellphone (yes, they have those in paradise) and we called 'Wendy in Texas' (in Cancun) at the hotel she was staying at. We said hi and how much we missed her and Michael.
The DeliMart was fun, two-fers are the happy hour specialty, and you must drink them fast as they melt very rapidly. We had pizzas, yakked on and on, and took pictures. Lots of good vibes, great conversation, and hugs....Meeting the Chatters was the highlight of my trip. Cigman drove me to a bus stop and dropped me off just as the bus arrived...
Cig, by the way, is the only man in Mexico, other than cab drivers and bus drivers, that does not drive a Volkswagen. I have never seen so many V.W.'s in my life and I used to be a hippie.
Tuesday we spent the day at the beach. The hotel has the most beautiful beach, smooth white sand, tealgreenturquoise waters, and the biggest brightest sun up in the sky. The water was rough so we were careful in the sea, and the sun was blazing hot, so we slathered on sunscreen.
Kim and I noticed a few ladies sunbathing topless that had no business being topless (not a pretty sight) and after arming ourselves with a few drinks of the day we went topless for about twenty minutes (as there was no one at the beach) and when we woke up 20 minutes later, there were millions of people and kids and high above us at the pool overlooking the beach we could hear our kids making fun of us and pointing us out to all their pool amigas.
End of that adventure.
Even though we have been to Cancun before, and have been warned not to buy from the vendors, we bought a lot of silver on the beach. It was all stamped .925 or Taxco or Sterling and none of it has tarnished after a week in the sea and pools.
We had so much fun with the silver vendors. We smuggled them Pina Coladas and hamburquesas and papas fritas in exchange for good deals.
(They were probably laughing at the stupid touristas for days). In the previous years it was bad silver. I think this is definitely the real stuff and probably is stolen from their day jobs (they work the beach some days and at the mercado the other days). If it is not real, we had a blast buying it anyway.
Tuesday I called Melissa and booked our tours to the bullfights. The kids had met some little ladies and insisted on staying at the hotel Tuesday night. We went shopping at Flamingo Plaza and had dinner at Planet Hollywood.
We were taking pictures outside with our hands inside the handprints and an Antonio Bandaras look-alike came up behind Kim in the photo and pressed into her ~ lambada style. He was 'dropdeadlatinhandsome' and her husband John was not amused, but we got some great photos with him!
Not to be outdone, the next day I found a hunk to get my picture taken with as well.
Problemo number three: minor, though annoying. Melissa had my wrong Visa number (didn't know that at the time) and called with the sad news that there was a *slight*problem* with my Visa. I thought: Oh great, now my new friends in Mexico must think I am a US deadbeat with a bad Visa.
I called her back with the correct number and this time there was "no problemo". On Wednesday, Saias delivered the bullfight tickets to me personally.
I rounded up our group and we were off to the bullfights on a peso bus. It was very, very, very hot at 2:15 in the afternoon in downtown Cancun. There is no shade anywhere in the ring. We were ushered in to a seedy stadium (I loved it- so traditional) where there was so much commotion in the ring they were tossing free Dos Equis beer into all ten of our hands-kids hands as well.
We *won* tee-shirts and hats and took pictures and it was so blazing hot we were scorched and parched. They offered us a chance to sit in the wet zone where you get soaked and we coldly answered: thanks but no thanks, and found our own seats.
Within 2 minutes we scooted over to the wet zone where a gent with a power washer blasts the crowd (you have to see it to believe it) continuously. So we were scorched, and blisteringly hot, but we were drenched periodically.
The relief lasted only a minute or two before we were parched again
What a riot!!!!!!!!
They asked for volunteers from the audience and Kim raised her hand. She had to catch a pig and although we got great pictures, they never delivered on the free beers she won.
Some men fought a baby bull and then there were two hours of pageantry and traditional dance and horseback riding. The actual bullfight was very educational. I was wide-eyed amazed and shocked by the bullfight. The matadors wore pink spandex tights and my son and Kim's son were rooting for the bull. I believe they in their own teen sick minds wanted to see the matadors sliced up a bit. They were very disappointed that the bull didn't draw blood on the spandexdudes who they called Barney (purple lamè matador costume).
I got phenomenal pictures of the event.
Needless to say the bull lost his battle, and he got put through some extremely painful gouging and goring before he was killed. This is NOT for the squeamish. I felt anguish at times and sad for his pain, but respectful of the tradition. I was told that there are butchers there on premise, and that he is immediately butchered and that the meat is distributed to the poor. So out of respect for the animal rights activists on the Cancun Message Board, I ordered Chicken for dinner that night.
Thursday I woke up with my lip three times the size it should be and blistered from the sun at the bullfights. Benadryl reduced the size to only twice as big. Not only that, but I got a little bit sick from eating so many meals a day and mixing all those free drinks!
Although I was uncomfortable, I was more upset with the fact that I couldn't eat all I could eat or drink all I could drink. It served me right, I travel so much and never ever, ever have had a thing go wrong. This trip was sobering for me. I just popped Benadryl and Nuprin every six hours, and looked at the sea, or walked on the beach or gazed at the magnificent full moon over Cancun.
There was so much going on at our hotel. Great shows every night, craft carts and a live donkey in the lobby for atmosphere (and to sell wares), an open-air atrium, excellent food, and the people were so nice.
Soon we had to say goodbye to our dear friends.
Sunday at the airport I spent an hour trying to get someone who spoke English, or would help me try to find my I.D. cards before my plane took off. I went to lost and found and Customs and Immigration, and finally walked next door to a different building and pleaded and was admitted.
I ended up screaming and crying hysterically at my frustration of not speaking much Spanish and not getting anywhere at all with anyone I spoke with.
In an office, a man who spoke no English, made a feeble attempt to rifle a drawer to find my two licenses.
What an omen, THERE THEY WERE!!!!!!!! If my lip wasn't so blistered I would have kissed the man and he was creepy. The drawer was full of passports, and other personal effects. Why didn't they mail them back to the people? Or give them to the US Consulate, I wonder. Why did the Apple Representative tell me he had called the airport dozens of times to find them for me with no luck, and I walk into an office and there they are........
We had a wonderful flight back, another delicious hot meal, and when the pilot tipped his wings for a traditional final pass over the sea, I cried.........