Ellyn's Cancun Trip Report
Royal Solaris Caribe
July 31st through August 7th, 1999
---
Saturday morning........return to paradise!
---
My alarm rang annoyingly at 5 a.m., disturbing the predawn stillness as well as my sleep. Then I realized what day it was and I was wide-eyed awake. Today my son Corey and I were leaving for a glorious week in sunny Cancun.
The weather was beautiful~a perfect day for flying. Check-in at Lambert International Airport in Saint Louis was easy as we had "been there~done that" so many times we had everything organized and ready for the agents.
The flight was smooth, the hot meal TWA prepared was adequate, and our moods were upbeat.
Even though we'd been to Cancun many times, our excitement level was still high.
Seeing the familiar "7-shaped outline" of Isla Cancun from miles above stirs feelings of exhilaration in me. The view of powdery white sand and deep aqua-turquoise-teal colored sea from an airplane is too magnificent for words.
Clearing immigration was a breeze, so we dragged our suitcases over to customs. People came out of everywhere, attempting to distribute pamphlets, coupons, flyers, leaflets, timeshare info, etc., just like every other year, but we walked on by this time.
This was my fourth time entering Mexico and we were rewarded in customs with a gleaming green light.
After a very short ride in an air-conditioned Apple Van we arrived at our hotel ~ The Royal Solaris Caribe.
We were really excited. In previous years we stayed at the Crown Paradise Club and enjoyed it there, but this resort was even prettier.

Ellyn's Crown Paradise Trip Report from 1998.
Instead of going to the front desk to check in, we were escorted to the beautiful restaurant ~ Marco Polo ~ where a table was set up for Apple Vacation's check-ins.
They were very nice, although it was hard to sit still and fill out their papers as we were distracted by the view. We were seated by a huge glass window overlooking the sparkling Caribbean Sea.
We were given a lovely ocean view room in the Royal Tower with a balcony on what they refer to as the first floor. Actually this is more like the fifth or sixth floor and the view is breathtaking.
I had e-mailed the hotel a few times and requested this room and received several nice messages back from them assuring me they would try to accommodate my request.
The Royal Solaris Caribe is a beautiful 5-star resort. There are two towers and guests have total access to all restaurants, services, and facilities at either tower.
The Caribe Tower is the newer of the two towers and is quite lovely.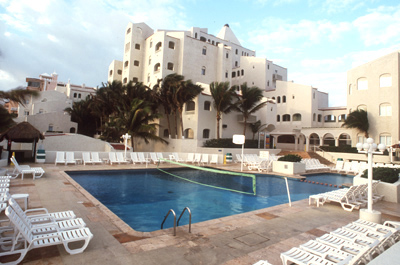 This tower has an authentic Mexican appearance, with beautiful wood throughout, and adobe style architecture. This is the quiet side of the resort and is very laid-back and peaceful. A bit too sedate for me! Although we took several photos there, and even dined at the gourmet restaurant Veneto, we did not spend much time at The Caribe Tower as all of the action takes place at The Royal Tower.
This tower is the older of the two by almost a year, but is an attractive pyramid shaped building. This is the fun side where most of the activities take place.
While waiting the short while for our room to be ready we explored the gorgeous grounds around our hotel. We took photos overlooking the Caribbean Sea
and when our room was ready we quickly unpacked and stood on the balcony overlooking the pool and the sea.
When we walked through the lobby we were delighted to see familiar faces...
Paul and Andrea
Paul, Andrea, Paul's sister Kathy, Paulie, and Erin from Pennsylvania were checking in. Last year we enjoyed getting to know them at the other hotel and had lost touch with them. What a wonderful coincidence to see old friends at a new hotel!
We wasted no time getting into swimsuits and meeting Hector the bartender.
Ahhhhhhh, this is the life!
We had dinner that first night at Las Fuentes, a very nice always changing buffet. We later went to the show and were pleasantly surprised at how professional the entertainers were. Smoke effects, special lighting, neon costumes, multimedia numbers, and roller skating dancers made the stage sizzle.
We learned that these high-kicking dancers with their many costume changes nightly, were the pool and activities staff by day. We passed on their offer to go downtown to a disco with a group from the hotel, choosing instead to rest in lawn chairs looking at the moon. There is non-stop food pool-side until 1:30 a.m. so I helped myself to a platter of incredible guacamole, salsa, and nacho chips and counted shooting stars. We met many people that night and stayed up talking by the pool until very late.
We awoke at dawn Sunday and watched the sun rise over the Caribbean Sea.
The breakfast buffet on the terrace was wonderful. Every day I started with a Mimosa (champagne and orange juice) though they offered juices of many different fruits. I had a fluffy omelet con queso loaded with vegetables, two croissant rolls, Danish, coffee, and a heaping plate of fresh fruits.
We spent Sunday by the pool and beach working on our tans, getting acquainted with new friends, reminiscing with old friends, eating, drinking, and enjoying the antics of the activities staff as they went from one activity to the next.
Corey met a new friend named Mykel who was quite the ladies man and the two of them spent the week sneaking alcoholic drinks, playing tequila volleyball and looking for senoritas.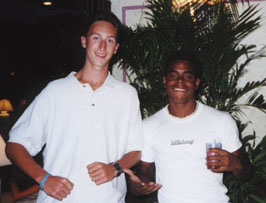 Sunday I did what all the young ladies at the resort did....... I got my hair braided out by the pool with an electric lemonade in one hand and a gin fizz in the other. The rest of the day we worked on our tans going from sea to pool to beach, participated in the pool activities, and swam in the sea.
A magnificent Mexican sunset signaled the ending of another beautiful day in Cancun, as we dined at the lovely Marco Polo Restaurant. The food was delicious and the service was fantastic!
We decided we needed a thrill and headed for the infamous peso bus for a wild ride to the Flamingo Plaza.
Monday was much like Sunday only we tanned more, ate more, played more, and drank more than we did the day before. After a third spectacular sunset we headed to Kukulkan Mall with new friends Pete and Gay from New Jersey.
Turns out these two are big bowling fanatics as is my son Corey ~ so the challenge was made as they sought out Kukulkan Bol. The one size fits all bowling shoes and the eight beat up bowling balls to choose from amused the trio as I left to shop!
Tuesday morning after another excellent breakfast we took a leisurely walk to check out the construction at the Crown Paradise Club and ended up at Los Ruinas El Rey. These are Mayan ruins in an archeological park across from Caesar's Park. They charge only 17 pesos to enter and seems to be not only Cancun's only ruins, but its' best-kept secret as well.
Tour companies tout pricey Chichen Itza and Tulum tours and never mention these authentic ruins within walking distance of the hotel zone. In addition to some well preserved columns and palaces were hundreds of iguanas ~ self-appointed guardians of the ruins.
After climbing and exploring the ruins in blazing heat we decided to head back to the hotel to our beach where we found our friends Paul, Andrea and Kathy. After a few drinks Andrea decided we should all paint some porcelain ceramic trinkets that Pedro (a pool side vendor) was selling. I selected a white plate with an Aztec sun drawn in black and opted for tempera paints in shades of coral, lavender, and teal. We spent all afternoon painting, drinking and laughing; and Pedro assured us when we picked up our finished plates later in the week, we would be pleased with the results.
Then it was time for the Ms. Solaris contest, where they encouraged all the cute young girls to enter (no they did not ask me). There were more poolside activities, silly balloon games, fun in the sun, good eats, and even more drinks.
Later we witnessed an incredible sunset even more intense and vivid than the night before.
Even though the hotel offered 11:00 p.m. nightly excursions to the most popular discos, we declined this trip in favor of the lobby bar and pool side food, and were able to arise early for a pre-dawn walk along the beach.
After a relaxing fun-filled Wednesday, we walked next door to the Caribe Tower and dined at Veneto, a lovely international restaurant.
Thursday we spent at the beach with Paul, Andrea and Kathy. Corey rented a jet ski and quickly disappeared from sight as he played follow the leader with Paul and Paulie at sea. They were pleased their 30 minute rental lasted an hour! We gals had smuggled 6 Coca Cola bribes to the jet ski guys.
Thursday afternoon Corey's amigo Mykel entered the Mr. Solaris contest and danced, flexed, and strutted for the judges. He was a crowd favorite and did pretty well for a 16 year old.
Later that afternoon we stopped by Pedro's booth to pick up our finished plates. He had redrawn the outlines and applied shellac and Andrea and I argued as to who created the best plate.
Thursday at 5:30 p.m. Señor Frogs had parked brightly painted huge buses with blaring music in front of our hotel to haul us to a free dinner, no cover charge, and festivities at their world famous restaurant.
Everyone at Señor Frogs came alive after finishing their free dinners. An energetic d.j. got the crowd to put down their forks, stand on their tables or chairs, and dance~dance~dance!
Frenzied conga lines of waiters and patrons wove throughout the room and several contests had waiters running around, pouring shots, and blowing loud whistles. Jello shots, popcorn wars, and loud music made this a fun night.
Friday we played in the sea and tried out the underwater camera.
Soon it was time for Corey's daily tequila volleyball game with Señor Alex from the activities staff. If you miss a shot you must take a shot of tequila mixture from his always full bottle.
Everybody misses!
It is a rowdy fun-filled game that everyone enjoys playing.
We took photos of and with the pool staff, Corey said his good-byes to some of his favorite pool activity gals, and then we walked to the lagoon across from the Sun Palace for the Jungle Tour we had booked.
Corey drove our thunder boat through mangroves, glades, and out to sea at full speed that was quite intense at times. After a 45 minute thrill ride we arrived at the second largest barrier reef in the world where we snorkeled in crystal clear water. Another wild speedboat ride back to the dock lasted an hour making this 2½ hour tour for $38.50 per person well worth the price.
Friday night our hotel held a lavish farewell dinner show for us. Sculpted ice, carved butter, caviar, sushi, cruise ship styled foods greeted us as we worked our way through the buffet line. The show was excellent with our favorite entertainers wearing beautiful costumes of glitter, feathers and boas.
Their farewell sendoff was heartfelt and made everyone feel very special. At the end of the show our waiters, bartenders, and chefs paraded out in their full uniforms carrying flaming platters.
The entire entertainment staff was dressed in very formal attire for a glorious finale that included a balloon drop of thousands of huge white balloons.
It was a very classy sendoff and I will always remember this evening.
As we enjoyed our room service breakfast and last sunrise the next morning, I reminisced about the week and can sum up my impressions in a few words:
glorious sunrises, white powdery sand, aquateal Caribbean Sea, drinks of the day, nonstop food, great shopping, unique tours, pool-side fun, new amigos, brilliant sunsets, and the warm hospitality of the entire staff of The Royal Solaris Caribe.
---
---

It will make my day!
---
---
You are visitor number
free counter by Andale


---
---
copyright© 1999
~ updated april 3rd, 2012 ~ ellyn hloben ~ webmaster ~