---
---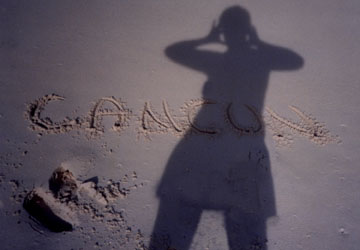 Cancun 2002
Ellyn in Paradise
~ Royal Solaris Caribe ~ Cancun ~
---
---
~ Ellyn's Cancun Trip Report ~
a solo journey to the Royal Solaris Caribe
Trip Report with thoughts, photos, and links
from the beautiful Mexican Riviera
---
---
~ Saturday August 24th ~ 31st, 2002 ~
~ Royal Solaris Caribe ~
---
.......yet another solo trip to paradise!
---
I got back late Saturday from the Royal Solaris Caribe ~ Cancun and I am exhausted, my voice is raspy and hoarse, and I have swollen feet.... which translates to:
I had a great time!
The weather was awesome, especially since this is considered the start of hurricane season and they had predicted storms all week. We enjoyed azure blue skies, aqua teal water, white powdery sand, fluffy clouds, swaying palms, crashing waves, and a brilliant, blazing sun every day.
I ate 'all I could eat', drank more than 'all I could drink', went to the coolest clubs every night with friends half my age, played in the pristine sand, splashed in the sea, flirted with the pool dudes, and had a wonderful time.
The resort was absolutely fabulous, as usual. The time share people did not even bother me this trip, other than greet me daily.
My room was spotless and my bedspread was folded into different Mayan patterns each day. I also was rewarded daily with towel swans and elephants, colorful paper towel flowers, and a dozen other daily delights that made me smile each time I returned to my room. There were chocolates on my pillow some nights, and my bed was turned down as well.
The food this visit was great! The breakfast buffet featured French Toast dusted in cinnamon sugar, homemade Belgian Waffles, pancakes the size of frisbees, and delicious omelets made to order. There was crisp bacon served at every breakfast, and they offered every variety of fruit you could imagine.
For dinner, Veneto and Marco Polo were excellent once again.
I met Andrea from the message boards in Cancun (pre-arranged) and she is delightful and very good company.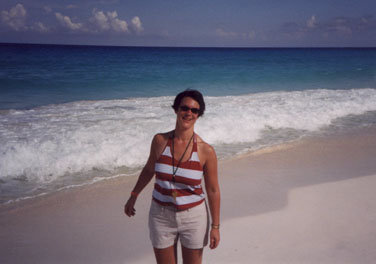 We 'tore up Cancun', specifically CoCo Bongos, Dady O's, Dady Rock, La Boom, Tequila Boom, Senor Frogs, and Pericos. Later I'll have to tell you about the Cabana Boy who is so in love with Andrea, the midget dressed as the Devil chasing a friend around Perico's, my tale of being thrown off the Peso Bus in downtown Cancun, my tour of the Cancun Prison, and a hundred other things in between.
But let's start at the beginning.
Check-in at Lambert International Airport in Saint Louis was at the East Terminal this year. There was no commotion in the airport, nor any traffic approaching it. Apple switched St. Louis Charters from TWA with its' frequent flyer miles and hot meals, to Champion Air, thus the terminal change. Check-in was easy this year, and the Apple Reps were friendly.
I had a difficult time getting through security when I asked that my 800 film and disposable camera be hand-checked. They were so busy taking away syringes, medicines, scissors, and clippers from the 'Doctor' in front of me that they refused to listen to my request. After waiting patiently for a supervisor who never showed up, they finally obliged.
The flight was smooth and the crew was hilarious. They dared me to ask a senior flight attendant in the rear of the plane something and I took the dare and earned a free bottle of Kahlua. I drank this with coffee with the in-flight meal which was actually just a bag of some sort of Chex Mix Airline Snacks tossed to passengers by the flight crew.
That's okay, I had grabbed breakfast at Cinnabon's at the airport.
Clearing Immigration and Customs at the Cancun Airport was uneventful and no problem. Since this was a charter, we landed at a totally different terminal than I had ever been to before.
I got my luggage, pushed a green light, and breezed past the time-share hustlers, coupon pushers, luggage wranglers, and the various other Cancun Airport Denizens that prey on tourists.
The Apple Van took us the short distance to the resort and I was ready for a good time. I had written the resort staff nice emails; and an online friend wrote them on my behalf to request a particular room for me, so I was anticipating getting at least some of my requests fulfilled. Check in at the hotel was stressful and I wasn't prepared for a problem.
They'd already assigned me the Caribe Tower on the first floor and could not offer me a balcony, nor an ocean view, and they had no king beds. That would be fine had I not requested exactly the opposite when I wrote. I wanted to be in the Royal Tower in an ocean view room on the seventh floor with a king-sized bed and a balcony.
They were able to produce a copy of the request I had emailed them and said: "Come back in a day or two and we can try to change your room".
I was really frustrated and tried not to cry. I showed them an e-mail they wrote me, but it didn't help. I told them I was a promoter and had created several Royal Solaris Caribe web pages and I answer over a dozen emails a day about their resort. I also told them that people from the resort had even contacted me. I had e-mailed them my pages some time ago and they were very excited with them and e-mailed me to make sure I let them know when I would be there and they would do something special for me.
I guess I was expecting a friendlier "Welcome Back" than I received.
Last trip I did not get my request either at first. I stood at the front desk determined to wait until they would accomodate me and after 45 minutes of waiting, a room became available (in fact two rooms). I was offered a lovely room on the fifth floor with an ocean view and he was also able to give my new online friend Andrea the exact same suite on the opposite side (lagoon view). We both had huge balconies, king-size beds, and fridges filled with Sol Beer, bottled water, and cans of soda.
Check out the view!
Since the new room would not be ready for over an hour, I decided to relax, have a good time and forget about the delay. I went looking for my old Entertainment Team Amigos. I knew Ricardo and Chucho had gone to RSC Los Cabos, but found out Freddie was gone as was Ira, Nataelia, and Tara. Alex quit to persue dancing full-time, Enrique is also gone, and the team is just not the same. The new kids are energetic, very nice, quite entertaining, and the activities are still a hoot. Max is still there and I met Jimmy who is muscular, tanned and a real hottie. Armando is hilarious and went to the clubs with us every night. Paco is cute and seemed quite smitten with Andrea. It took just a day to get to know the new staff and hang out with them. I really miss those resident cuties Enrique and Ricardo and the zany Chucho and a lot of the spark of the old team is missing.
I set off to find Andrea from Canada and introduce myself. We had been e-mailing for over a year and since we both seemed to end up traveling alone, we planned to hang out in Cancun the same week. Andrea is a hoot, and she is a lot like me (only younger). We both have offbeat personalities, have short hair the same shade, so naturally a few people thought I was her mom.
I grazed at the pool area snacks, had some drinks, and then we took a walk along the beach. We noticed a roped off area with sticks and signs and assumed the hotel was protecting baby sea turtle eggs. I had been in Cancun once when the eggs all hatched and all the hotel guests came out at dusk to protect the hatchlings as they made their way into the sea single file under the light of a full moon.
We ate outdoors at the pool-side grill and the steak was delicious, and the wine was flowing. What a pleasure to dine outdoors overlooking the sea.
We were exhausted and hung out in the lobby bar, drinking, chatting, and people watching.....and we were so jealous at how much fun the loud table behind us was having. Those folks were partying hard.
Later, I sat on my balcony, gazing at the near full moon, listening to the waves, sippin' a Sol, and enjoying the ambiance.
I woke at 6 a.m., staked out lawn chairs and enjoyed the quiet.
Later I walked along the beach..... Very few people were out ~ just me and the island.
Andrea and I met up for breakfast and I had a delicious omelet, orange juice, coffee, bacon, and a mound of fresh fruit.
I played for hours in the sea and it was exhilarating. The brilliant white sand gleamed against the soft teal of the sea. The sky was blue with only a whisper of a cloud.
Afraid of missing out on something, later I headed back to the pool to drink dirty monkeys, kamakazees, slammers, blue margaritas, and whatever else they handed me.
We met lots of people today: the 'wild group from last night', Danielle and her friend, Carol, Pauline and Shane. Pauline and Andrea had emailed a few times and it was fun connecting with all of the people from the Cancun message boards that came the same week.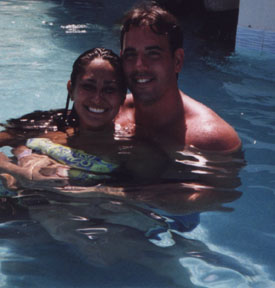 We all made plans to meet later at the Italian Restaurant for dinner. Seemed funny to be eating Italian food in Mexico someone said.
Met up with Pauline and Shane for drinks in the lobby bar and after watching a little of the Comedy Show with Andrea, we boarded the double-decker party bus for La Boom and Tequila Boom. We had both been there-done that quite a few times and warned the people on the left side of the bus to lean away from the window, as the swaying palms would smack them in the face as the bus driver whizzes by them in a double-decker bus. This particularly sour dude in the seat in front of us rolled his eyes at us like we were morons making this up and not 20 seconds later... whooosh! boom! smack! He got it right in the head! We laughed ourselves silly.
La Boom had an awesome sound system and I love techno trance music. I danced by myself and with anyone nearby. The people we were with preferred Tequila Boom which was playing hip-hop and hard-core rap. Well cool, I like rap even better, so we went next door. We danced to Eminem and Ludicrus with some wild men in the crowd. We all were cracking up at some nasty fat girls dancing on the stage, and at one point I thought I spotted Enrique (formerly with RSC) in the crowd. If not him, it was some other hottie in mirrored shades and a white tank top. We only stayed until 2:30 and had snacks in the hotel lobby with our new friend Carol and her kids.
Monday was much like Sunday ~ meeting new friends, enjoying good food, drinking poolside, enjoying the weather, the sun and the sea, pool games and the clubs. I drank at the swim-up bar with Jose, my favorite bartender from my last trip, met J.D. from the message boards, and ate lunch with Andrea in the hut by the Royal Tower. I headed over to the hill between the towers for my massage after lunch, and enjoyed an excellent, blissful one-hour session with Bobbie.
Today they had funny pool side games and people were willing to do the most outrageous things for a cheap tee shirt it seems. I played in the sea with my snorkle and mask, but saw only sand in the sparkling clear water, as I was too lazy to swim or walk a short distance to Club Med which has a lovely reef.
Back at the pool they had a fashion show with 'one size fits all' wraps. I enjoyed looking at their beautiful wares.
I went shopping at Flamingo Plaza with some gals from the resort I bumped into at the bus stop and went to Jimmy Buffett's Margaritaville to browse. In one shop I bought a Ladatel Card for 100 pesos and made quite a few calls to the US.
I got back at the hotel after dark and found Andrea, Pauline, and Shane at Marco Polo's and joined them for dinner and drinks. At 11 p.m. we rode the party bus to Dady O's where they were playing World Music/Techno/Trance and danced myself into oblivion. The music was really loud and hypnotic and the place was crowded. I watched a muscular, tanned sweaty man clad only in leather pants gyrate in slow motion on a podium high above the crowd. We only lasted until 3:30 a.m. and came home on the peso bus and ate sandwiches in the lobby.
Tuesday was the Miss Solaris contest at the pool one girl that entered was beautiful. I found out she was from my home town and she and her handsome new husband were very nice. They actually hang out at the same Mexican restaurant back home that I do so maybe we will run into each other again one day.
Before I met Andrea at Marco Polo for dinner, I took the bus to Kukulkan Plaza to buy Cancun Cologne in the Shell Scent for my mom. It is awesome cologne, smells like the beach, and available at Ultra Femme in Cancun.
Tuesday Night's club was our favorite club ~ Coco Bongos and was going to be the highlight of our vacation. Revealing too much about the club would ruin the "Oh Wow" look newcomers get when they first walk in to the club. The owners describe it as 'Circue du Soleil meets Studio 54'. I always say it is a high-tech multimedia frenzy of a circus with confetti, bubbles, balloons, videos, live acts, trapeze, men in costumes, a near-nude man in a g-string in an incredible aerial act, dancers, singers, whistles, water, and the loudest, greatest sound system I have ever heard! Great music and an awesome experience! Just remember there is one fire exit for 1800 people. What a hoot this club was!
Andrea had a cold and we had to leave earlier than we both would have liked. After a couple hours we left to find the bus home. We picked the absolute wackiest bus on earth to get on that night. The bus was rusty, old, and falling apart and it was totally full of loud, goofy-acting drunk people and other characters. There was a lot of commotion considering it was the middle of the night. A very scruffy local man got on at one stop carrying the most beat-up guitar I have ever seen and proceeded to do rousing renditions of La Bamba, Macarena, and other recognizable tunes. It was a wild ride home.
Wednesday I slept late ~ 7:30 a.m.! Wow, 4 hours of sleep finally! I spent the morning snorkeling on the beach and had a wonderful time talking to everyone from the peddlers to the jetski operators.
The vendors were out and I bought four beautiful silver bracelets (all stamped Taxco .925 and Sterling). They wanted $27 US each and were half that in the mall. I got the four for $20 total and watched someone hand over $15 bucks for just one. They were beautiful, too! Although I am not usually a shopper, I bought another Pareo after the fashion show they had pool-side.
I had a delicious burger, and the best guacamole I've ever had with homemade tortilla chips and salsa. We played in the pool all afternoon!
They held another contest today. This time to name a new Mr. Solaris. I took many pictures today, as they had more than the usual amount of contestants. Nothing out of the ordinary until a bald-headed young man disrobed down to a stripper's g-string. Only he did not have a stripper's body and the crowd roared at his saggy rear end as he danced and stutted. Not a pretty site here folks! And he won!
At four I had to get out of the sun as I was getting toasted. I enjoyed a Sol Beer from the fridge that magically kept refilling, and sat on the balcony for an hour laughing at some parasailers that almost hit the building, while listening to and watching the crashing waves, swaying palms, and soaring sea birds.
Then I went up to the sixth floor overlook in time to witness another majestic sunset!
Wednesday evening we had drinks in the lobby with a nice couple from Chicago named Osseni and Andrew we had met this week.
We enjoyed getting to know them and asked them to join us at the club. They were too tired they said. Andrew stayed in the lobby for just one more drink and his wife went upstairs to sleep. Andrew got a second wind and decided quite innocently to go to the club with all of us at 11 p.m. and we felt guilty all night. We went with the Entertainment Team from the resort to Dady Rocks. It was fun, not as wild or busy as the last time I was there, but the staff likes it there and Andrea found her a sweetie from the staff to dance and smooch with.
Meanwhile, Andrew somehow knew the owner of Dady Rocks so he got a few of us into Dady O's for a little while with no additional cover charge. We partied with all the people from the resort and back at Dady Rocks we watched a sixteen year old do fiery tequila shots and not throw up. By the end of the night he was calling me "kewl mom". Andrea and I also joked about kidnapping Andrew all night and we told him he better buy roses for his wife from a vendor in the club.
We left the club and bumped into a whole group of people from our resort, as well as Armando from the Entertainment Team at the bus stop in the middle of the night. Armando kept smacking the guy sitting in front of me on his rear so it looked like I did it. It was all quite hilarious until the guy got angry (with me).
Thursday morning I walked along the beach and spent the rest of the morning sunning with friends. I was getting a pretty good tan. Back at the pool there was another fashion show and I met even more people to hang out with. They played a wacky pool game which was a blindfolded banana eating contest. After they got their blindfolds on, the emcee took everyone quietly out of the game except for one man. He ate banana after banana while the emcee egged on the 'other contestants' to hurry up. This went on for several rounds until he emerged the winner. Poor guy never knew what happened and was no doubt sick all night.
Carol and I decided to go shopping at Mercado 28 which is a long bus ride downtown. We were busy talking at the bus stop and even though I know better, we actually got on the wrong bus. I asked "Mercado Viente Ocho" and he smiled broadly and said "Si, si", all the while laughing to himself at what he had planned for us. I had been to the Mercado a few times and knew where to get off the bus. When I spotted the street, I hollered "Alto" which should mean "Stop" in Spanish, but for some reason that day it meant "keep driving and screw with the stupid tourists". Twenty minutes later we were all alone on the bus and he began driving up and down seedy residential streets and stopped in the middle of nowhere and he got off the bus and said "shooo shooo" in Spanish and threw us off the bus with waving motions of his hands. Now Carol is a cop in Philly, a detective at that, and she was getting angry. But it didn't take a detective to realize he did this on purpose just to be mean-spirited.
I screamed at him to give us back our dinero, and he laughed at us and ignored us. I tried to tell some man that we had just been robbed and were lost and stranded. We were very angry at this point. He abandoned his bus and we were stranded. Somehow a sympathetic driver took us to within a mile or so of the Mercado with no additional charge and we enjoyed a lovely walk in blistering 93 degree heat before we reached our destination.
We tried to forget about the incident by shopping. I bought some 'genuine' Oakley sunglasses for 50 pesos and a couple cheap trinkets, and Carol bought out the market.
I took this shot of two precious children at the market sipping juice out of a piece of fruit in the hot afternoon.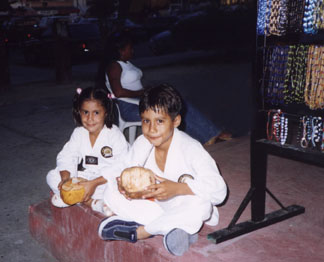 The ride home was uneventful, but my feet were puffy, I was tired and my voice was raspy from the ordeal.
We went to dinner and at 11 p.m. we took the Senor Frogs Party Bus to their club. Carol, Andrea, and I danced with a variety of men, and one in particular cracked us up. He took his shirt off and when he hugged Carol, all the glitter from her shirt stuck to his entire body. Carol met a fine young man shortly after that!
Friday was just like the other days.....I drank a lot, ate too much, played at the pool, enjoyed the beach, and since I was puffy and tired, I drank water, coffee, and fruit juice; and tried not to drink too much alcohol. I met a new friend on the beach who had just arrived. Kharyne was also traveling alone and was very nice. I introduced her to all of the new friends I had made. I met another person traveling alone named Glen and talked him into calling Andrea's room with a prank call. Then Carol, Kharyne and I decided to go to the Cancun Police Station for grins. Carol is a detective, and she was promised a tee shirt by a Cancun Cop she flagged down in the middle of the street late one night. She was determined to get some patches and a tee shirt. We walked up the patio to the front door and there were over 30 policemen and 1 policewoman in the middle of a meeting/training session. They stopped what they were doing and were quite amused with us, that we had the nerve to interrupt their meeting. They spoke little English, but got Carol a tee shirt, they sold her some patches, and then they flirted with us. We had a tour of their office, the jail and the holdover area. We took photos, and flirted with some of the cute ones.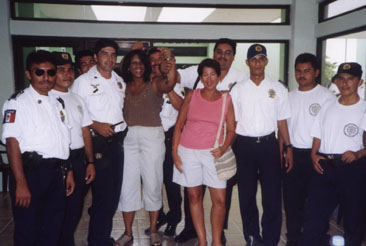 The man in charge was really cute in fact. By the way, the jail is made out of concrete, and the two holdover cells are outside in a dingy open-air courtyard. It is basically two concrete slabs with thick rusty bars that I wouldn't cage a dead animal in. Let this be a warning to all. It isn't a nice place. The guys were nice, though and they gave us a ride in their police car to La Isla Mall and dropped us off right in front.
Now that's better than a cab. What service!
The mall was new and reminded me of City Walk at Universal Studios in L.A. and we enjoyed the afternoon shopping. After changing clothes, we took a wild cab ride to Pericos (all the way down by Mercado Viente Ocho!) What was loco was putting six people and a driver into a cab that only holds four, especially when the driver insisted he would take only four. A nice tip in US money works wonders and he even agreed to come back for us in a couple hours. Perico's was a riot! The staff was costumed and they played Mexican music on a Marimba, with all kinds of commotion going on. It was like a show, with hat and costume changes, and the waiters were dressed like Banditos. Their heads were wrapped with scarves and they carried drinks atop their heads stacked high on trays. The food was authentic as well as excellent. The decor was like a colorful villa and they had a house band. A strolling Mariachi Group also came in. The mixed drinks were wonderful and Carol had flaming tequila shots as well.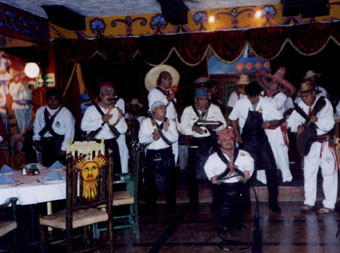 There was a midget who was dressed like El Diablo in a red devil's costume who was chasing Valerie around the room while she was squealing. Waiters and cast members dragged us away from our meals to do the Mexican Hat Dance. Perico's was fun, the entire evening was very entertaining, we took many photos, and we enjoyed the company of all our new friends.
We got home at 11 and everyone left for the club.
Morning came and I realized it was Saturday ~ time to leave paradise. I watched dolphins splashing near the shore and was happy I awoke early. I spent the early morning walking along the beach and saying my wistful goodbyes.
I was searched extensively at the Cancun Airport. They made me put my eyelash curler in my suitcase. Did they really imagine this lady from Saint Louie would hold up their aircraft by waving an eyelash curler in the aisle? At X-ray I got searched by two people and my carry-on was again checked. They had a problem with a nail clipper I did not remember I had. They let me keep it. When I got to the gate I was randomly picked and they ran a wand over me and went through my makeup and stuff once again. They made me remove my shoes from my swollen feet and it took a while to get them back on.
I met some very nice people at the airport during my long two hour wait for the flight. The flight home was fine and the same flight crew as my outbound kept my spirits up, even though I was leaving Cancun. The Captain even made an announcement about any items left on board going to the flight attendant's garage sale. That was an inside joke since the crew all told me they got laid off that day and this was their last flight with Champion.
Arriving in Saint Louis, exhausted, I talked to some more nice people waiting for their luggage. It turned out to be an online amiga ~ Nicole from the Cancun Phorum Web Site and her adorable new husband at the St. Louis Airport.
That was a pleasant ending to a delightful week. I had a wonderful vacation and cannot wait to return to Cancun ~ my island paradise!
---
---
Please visit my other Cancun Pages!
Ellyn's Cancun Paradise
Cancun Impressions, Photos, Tips, Thoughts, and Links
Trip Report ~ Royal Solaris Caribe ~ 2000
Trip Report ~ Royal Solaris Caribe ~ 1999
Trip Report ~ Crown Paradise Club ~ 1998
Ellyn's Cancun Online Photo Album
---
---
---
---
---
---
It will make my day!
---
---
You are visitor number

free counter by Andale
copyrightę september 6th, 2002 ~ Last updated april 3rd, 2012
~ ellyn hloben ~ webmaster ~