---
Ellyn's Cancun Trip Report
Royal Solaris Caribe
October 28th through November 4th, 2000
---
.......another Saturday in Paradise!
---

I stayed up late Friday night, dreaming of Cancun, but unable to sleep. Dawn came shortly after that. When I remembered I was leaving soon for another exciting week in beautiful, sunny Cancun, I forgot all about it being 5 a.m.!
The weather was cold and crisp ~ a perfect day for getting out of Saint Louis. Check-in at Lambert International Airport was easy, as I had done so many international trips that by now I had everything organized, and all of my documents out and ready for the agents to inspect. I was a little apprehensive about traveling alone, but by the time I got on the plane I had several new amigos.
The flight was smooth after we burst through the clouds, the hot meal TWA prepared was pretty tasty, and my mood was upbeat.
Even though I had been to Cancun many times, my enthusiasm level was soaring higher than the plane. This was as exciting as the very first time.
As the plane neared the airport, I saw the familiar outline of Isla Cancun that resembles the number seven. Seeing the snow white sand and teal-green, aqua-turquoise colors of the Caribbean Sea from an airplane always makes me smile.
Clearing immigrations was a breeze and I managed to not lose my I.D. for the first time in years. I wheeled my suitcases over to customs and made it through there in no time. It is hard to believe I have never encountered a red light in all my trips into Mexico.
People came out of every corner, attempting to distribute timeshare information, pamphlets, coupons, flyers, and leaflets, just like every other year, but I walked on by.
After waiting impatiently for a lone traveler who never showed up at the Apple Van, we urged the driver to take off. Following a very short ride in an air-conditioned vehicle I arrived at my hotel...
~ The Royal Solaris Caribe ~
Since I had stayed here before I knew what to do next: I left my luggage at the curb with the friendly bellmen, grabbed my swimsuit out of my travel bag, and took off exploring! I couldn't wait to get settled in, grab a drink, and jump in the sea! In previous years we stayed at The Crown Paradise Club and enjoyed it thoroughly, but after last year, I preferred The Royal Solaris Caribe!

Last year's adventures at The Royal Solaris Caribe

My 1998 Crown Paradise Trip Report
I headed for the beautiful restaurant ~ Marco Polo ~ where a table was set up for Apple Vacations check-ins in lieu of going to the front desk. They were very pleasant, but regretful that they had no ocean view with a balcony on the seventh floor in the Royal Tower. They offered me the Caribe Tower instead. I could have most of my four requests, but not all.
Since I had e-mailed the hotel a few times and requested this room and received several nice messages back from them assuring me they would try to accommodate my requests, I politely asked to see a manager who was finally *able* to help me.
I still had to wait a short while for my room to be ready, so I headed for the pool to see who was there from last year. The grounds around the hotel are truly magnificent, with lush red Hibiscus in bloom everywhere. Music always fills the air, and the pool is the heart of many of the activities during the daytime.
The hotel is always sparkling clean and immaculate and the place looked even prettier this year. The floors are so shiny you see your own smiling reflection!
I headed back to the front desk, and they informed me that my room was ready. In no time, I was standing on my glorious balcony on the seventh floor in the Royal Tower, overlooking the sparkling Caribbean Sea. In this wonderful room was a huge king size bed with a view that was incredible!
The Royal Solaris Caribe is a beautiful 5-star resort and I could have been perfectly happy in the Caribe Tower, or with a lagoon view that affords a spectacular sunset every night, but I was delighted when I was able to get the room I wanted.
There are two towers and guests have total access to all of the many restaurants, bars, pools, shops, services, and facilities at either tower.
The Caribe Tower is the newer of the two towers by one year and is quite attractive.
This tower has adobe style architecture with an authentic Mexican appearance, with beautiful dark wood used throughout. It also has a courtyard containing an impressive fountain. This is known as the quiet side of the resort and is very laid-back and peaceful.
I took many photos there, and had dined at the gourmet restaurant Veneto; however, I did not spend much time at The Caribe Tower as most of the action takes place at The Royal Tower.
photo Rich Herrin
This tower is the older of the two (by one year), but is an attractive pyramid shaped building and is known as the happenin' side where most of the activities take place.
It overlooks a huge free-form pool that has a swim-up bar, all-day activities and food available in several locations.
I wasted no time getting into my swimsuit, meeting five of the hardest working bartenders on the island and looking for two new friends I had met over the Internet. For the past couple weeks I had been e-mailing someone from a Cancun Message Board who was arriving the same day with several friends. He gave me clues on how to spot them, and it took very little time to find a loud, lively group of people at the pool-side swim-up bar. Elizabeth and Rob were so much fun and their friends were too.
When the sun went down over the Royal Tower Pools, (earlier than when I usually went in July) everyone headed for the two huge Jacuzzis located in the Caribe Pool area that overlook the Caribbean Sea. I not only got to know Elizabeth and Rob, but met another wonderful couple, Mike and Inez, who got engaged during the week. I met other people traveling alone, Eleanor, and Vinnie, and by five p.m. forgot that I actually WAS alone! I had instant friends all over the hotel. I talked with everybody I met that week: time share salesmen, gift shop owners, hotel guests, housekeeping staff, locals, bartenders, and anyone else I encountered.
I enjoyed dinner and the show Saturday and was delighted that many of the same people from last year were still there on the Sports and Entertainment Team. The show was fantastic and I marveled at how professional the entertainers were. Special lighting, smoke effects, dazzling costumes, and lively musical numbers made the show a success.
These dynamic dancers with their many costume changes nightly, are the pool and activities staff by day. They work from eight a.m. until eleven p.m., and after performing their shows, they somehow find the energy to take guests downtown on a party bus to a different nightclub/disco every night.
After the show I said "hello" to the entertainers I knew from previous visits, and later that night we took the party bus to Christine's. Although the club is sleek and very elegant, it was not very crowded and extremely dark. They also used an intense haze effect so that I could not see anyone very well. The sound system was great and watching the hottie entertainers from our hotel dancing atop the huge speakers was the only thing I enjoyed about the club.
We took the "peso bus" back to the hotel that night and checked out the food that was available by the pool. They serve food out there continuously until 1:30 a.m.! I helped myself to guacamole, salsa, and nacho chips and counted shooting stars. I had met many people that day and stayed up talking by the pool until very late.
I awoke at dawn Sunday and watched a magnificent sunrise over the Caribbean Sea. I took a walk on the beach and a swim in the sea.
The breakfast buffet on the terrace was terrific. I started with a glass of orange juice, though they offered a variety of different exotic fruits juices. I had a heaping plate of fresh fruits, then a huge fluffy omelet con queso loaded with vegetables, two croissant rolls, Danish, and coffee.
Sunday I did what most of the ladies at the resort did......I got my hair braided by the pool with a piña colada in each hand. I also got a cool Henna Tattoo on my ankle. When I went to the safe to get my money to pay for the braids, I encountered a nice young couple: Kerry and Bryan.
They let me hang out at the nightclubs and discos with them and we had a blast! Their friendship helped make my week the best ever!
I spent Sunday by the pool and beach working on my tan, getting acquainted with new friends, reminiscing with old ones, eating, drinking, and enjoying the antics of the activities staff as they went from one activity to the next. They were doing hilarious beer drinking games, and Olympic Team activities that would continue into the evenings show.
Watching the Pool Crew and the resident hunks was my favorite activity!
An announcement was made about a double wedding taking place on the hill between the two towers, and several people grabbed their cameras to attend the event. Our new friend Rob put a bow tie on his sand-covered body and stood up for the wedding party, and guests attended in swimsuits. The wedding was lovely, with cake and champagne. It was a double wedding and the brides, a mother and daughter, wore their dresses the next night as Halloween costumes!
Kerry, Bryan, Eleanor and I decided we needed a thrill and headed for the infamous "peso bus" for a wild ride to the Kukulkan Mall. We shopped a while, bought Ladatel Cards and made phone calls home for under a buck a minute! We took snapshots besides the Spanish movie marquees, bought souvenirs, and headed back for dinner.
A magnificent Mexican sunset signaled the ending of another beautiful day in Cancun, as we dined at the lovely Marco Polo Restaurant. The food was delicious and the service was fantastic.
The show that night was hilarious, and involved Olympic silliness that had men taking off their shirts, ladies removing their bras, watches, and more as teams vied for compiling the most of a particular item.
After the show everybody headed for the lobby, and then to Dady O's for another late night.
Monday was much like Sunday only I tanned more, ate more, played more, and drank more than I did the day before. At ten a.m. I headed for the hill between the two towers for my massage with Debby. This was so incredibly fantastic, quite possibly the very best massage I have ever had. Her massage table overlooked the sea, and with the waves crashing gently in the background and the Salsa music playing in the distance, was the most peaceful experience I have ever had. I did not want the hour to end.
When I was done I headed for the beach and encountered a vendor who decided I really needed that silver bracelet he was peddling. After hanging out on the beach, I ended the day in the huge hot tub at Caribe.
When I got back to my room, I was delighted to find a beautiful tee-shirt on the bed ~ a gift from the hotel because I was a repeat visitor there. Later that evening I received a fruit basket, and a bottle of Champagne chilling. That really meant a lot to me!
We all ate at the Mexican Fiesta Dinner Show
and then danced and drank in the lobby bar. At eleven, the bus left promptly for La Boom! The sound system is awesome, with loud intense techno-trance world beat pulsing music on one side, and disco-rap-rock on the other. We floated back and forth between the two clubs, La Boom and Tequila Boom! I danced non-stop!
When I got back to the hotel, very late, workers were very busy transforming the hotel into something quite spectacular! The next day was Halloween!
Tuesday morning after another excellent breakfast I checked out what they had done to the hotel. It was incredible how they wrapped the entire front desk, lobby bar, and several other areas from floor to ceiling in some sort of material or paper and covered every surface with "jewels" and trinkets and candy! Everyone was in costumes ~ from the front desk staff to the pool bartenders and the activities team. The mood was quite festive! They also celebrate Los Dias de los Muertos November 1st and 2nd in Mexico, so the decorations reflected that holiday as well.
At the pool they had a costume contest for the little kids which was won by an adorable little boy dressed as the red teletubby. They had a "demonstration" on how to make popular Cancun drinks, where the guests and staff ended up doing shot after shot. I hope they had only water in those bottles. It was hysterical and I learned how to make a slammer! I spent the rest of the day playing in the sun until it was time to head for the hot tub overlooking the sea.
Later I witnessed an incredible sunset even more intense and vivid than the night before.
Shortly after dusk, hotel guests started to appear in the lobby decked out in awesome costumes and wild makeup. I counted over forty guests in costumes and I was glad I had brought a gypsy dress, rhinestone studded turban, and body glitter to wear. I looked good, but I was no match for Rob, Rick, Elizabeth and her sister!
Everyone headed for the theater where this evening's show consisted of a Halloween costume contest, and some spectacular Phantom of the Opera numbers by the talented Entertainment Team! Afterwards we danced in the lobby bar until eleven, downed a couple tequila slammers, and boarded the Double Decker CoCo Bongo Party Bus for the very best club in Cancun! Kerry and Bryan, Jolene and Chris, Eleanor, Rob and Elizabeth, Dave and Colette, and many others were on the bus for one crazy Halloween ride in the middle of the night to CoCo Bongo House of Rock & Pop ~ Club and Disco.
The club is huge, with people dancing wildly on every surface of the place. They are dancing on risers, the bar, on surfaces five or more tiers up in the air, on the stage, the floor, and on the steps! The music is loud, the beat is throbbing, the songs are great! This is state-of-the-art-high-tech sound and visual equipment combined with live action that has to be seen (and heard) in order to be believed!
Simultaneously, there is a huge movie screen showing film clips high above the crowd, while in real-time there are people (stunt men) re-enacting scenes from these films on the bar and stage. At times a trapeze or cords will drop from high above and one of these characters will then be hundreds of feet above your head hanging by their ankles, or soaring through the air barely missing your head as they literally fly by. Live performers lip-synch songs dressed as Axl Rose and Slash, or Michael Jackson with costumes and mannerisms that leave the audience not knowing what to look at next. A bubble machine is emitting millions of bubbles, the music is loud, pulsating and totally awesome and all you want to do is dance all night!
Add millions of long skinny balloons, bubbles, streamers and confetti and 1800 people and you get the picture. I guess by now you realize that I loved this club! It is the very best club I have ever been to! Ever! The only negative thought floating through my mind was the fact that I saw only one exit and over 1800 gyrating frenzied bodies on five or six levels.
Halloween at CoCo Bongo was INCREDIBLE!!
Everyone was in costume, and I swear the Village People really were dancing on the bar!
When we all got back to the hotel after 2:30 a.m., we each grabbed a ham sandwich, soda, and a beer and sat outside in front of the lobby eating, talking, and laughing. It is so nice of the hotel to have food all night for those people who come home starving from a hard night of dancing. They always have a cart set up with chicken salad sandwiches, ham and cheese sandwiches, hot dogs, beer and soda.
For some reason I was able to arise at dawn after only a couple hours of sleep (again). I took an early morning walk along the beach.
After a delicious breakfast I headed for my favorite lawn chair where I spent the morning reading, tanning, and talking to everybody! Earlier in the week I had met some very nice ladies, Bonnie and Sandy, and all of their friends; and by midweek we all had favorite beach chairs we headed for daily. We had a wonderful time talking, tanning and hanging out at the pool.
After tanning all day, I looked for Kerry and Bryan to see if they wanted to go shopping. Bryan decided he needed that hat he saw at the mall, so we headed back there on the peso bus. We finished up using our Ladatel Cards on long distance, and got about 12 minutes out of a 100 peso card (as it rounds back to the start of the last minute).
After a wonderful Caribbean Dinner Show, we hung out in the lobby bar drinking and dancing until it was time to head for Dady Rock Disco. Ellie, Kerry, Bryan, Jolene, Chris and I did a slammer at the bar and sprinted for the bus. This particular night it seemed like every person on the Sports and Entertainment Team decided to go along with us.
They say this is one of their favorite clubs. It appears that Dady Rock's Staff think our Sports and Entertainment Team members are "royalty" as bottle after bottle of tequila appeared on their table. After a while several of them got atop risers and danced for the crowd of wildly screaming ladies. They got up on stage and sang and danced to a live band and a wild D.J. kept the pace going! This club was fun; with a bubble machine blowing bubbles from above, an air machine spraying confetti all over, and a variety of loud music adding to the chaos!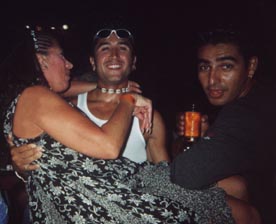 At some point the song howled: "put your hands in the air", and when Bryan did just that, a tray loaded with beverages crashed to the ground and managed to cover everyone with Margaritas before it landed! At that point we gracefully exited, and headed back to the hotel for our middle-of-the-night ham and cheese sandwiches.
Thursday morning I had breakfast with a very nice man I met in the lobby and then headed for the pool. They had a "Mexican Food Cooking Lesson" where they made huge quantities of fresh Guacamole pool-side and it was delicious!
That afternoon Bryan entered the Mr. Solaris contest and danced, flexed, and strutted for the judges. He was a crowd favorite and did fairly well, but he didn't win.
At the pool they played more hilarious beer drinking games and their usual game of tequila volleyball. We did slammers all afternoon and tanned until the sun fell.
Then a friend and I decided to go downtown to shop.
~ALL the way downtown to Mercado 28!
This is really the best market in Cancun to shop at. The prices were great and I picked up some REAL (yeah right) Oakley Sunglasses for under thirty pesos! Shot glasses for nine pesos! Really terrific bargains there!
Thursday at 5:30 p.m. Señor Frogs had parked brightly painted huge buses with blaring music in front of our hotel to haul people to their world famous restaurant for a free dinner with no cover charge. But TRUST ME, every one who goes then is home by 8:00, too tired to hang out until it really gets hopping at midnight.
Instead, Kerry, Eleanor and I dined at the outdoor grill where a beautiful buffet accompanied the grilled chicken, steak, and pork chops. It was incredible and we ate seconds and thirds! Then we went to another excellent show at 8:30 and drank in the lobby bar until it was time to get on the open air party bus at 11 p.m. to go to Señor Frogs. That time of night it was wild! Señor Frogs is not even close to being the best club in Cancun, although it was fun. It was so crowded that when I danced I could not move! An energetic D.J. got the crowd to stand on their tables and dance~dance~dance!
Frenzied conga lines of waiters and patrons wove throughout the room. Waiters were pouring shots down peoples' throats, blowing loud whistles, and the D.J. offered free Jell-O shots on stage. The music was energetic and loud making this a fun night.
Next thing I realized it was three a.m. and I headed out the front door and onto the peso bus! Back at the hotel, the hot dog cart was set up so I had a chicken salad sandwich and a Coke, and headed for my room.
Even though I found myself going to sleep at almost dawn, when the sun streamed through the window a few hours later, I was wide-awake at the pool staking out my usual lawn chair and ready for the new day!
Friday I played on the beach, enjoyed watching the pool games, and just relaxed. I tried not to think about this being my last FULL day in paradise. The day's activities included the worlds largest tug-of-war between the gals and the guys, and a lively version of the Newlywed Game, which proved that nobody really knew their partners at all!
After a lovely afternoon in the hot tub, I spent time taking pictures and packing a little.
Friday night our hotel held a lavish farewell dinner show for us. Before going into the theater I visited with some of my favorite resort entertainers.
Sculpted ice, carved butter, gourmet foods like caviar and sushi, (just like on a cruise ship) greeted us as we worked our way through the buffet line.
The show began with waiters carrying flaming platters while weaving their way through the crowd. It was a very elegant show with the men wearing tuxedos, and the ladies dressed in beautiful costumes of glitter, sequins and huge feathery headdresses.
Their farewell sendoff was wonderful and the show was fantastic. At the end of the show, all of the waiters, bartenders, and chefs paraded out in their full uniforms and graciously said farewell.
The entire entertainment staff was dressed in very formal attire for a glorious finale that included a balloon drop of thousands of huge white and black balloons. It was a very classy adios and I will always remember this evening.
After hanging out in the lobby until 11 p.m., I knew I should get to bed because I had an early flight the next morning. Instead, I boarded the bus with the rest of the partiers and headed for La Boom, where we danced until 3:30 in the morning. Tonight the club was really wild, and the music was techno, trance, world beat, salsa and LOUD!!!!! It was hard to leave, until I remembered the fact that my plane was leaving the next day, which was actually THIS day, and quickly exited on the peso bus for one last sleep. I said goodnight to the late night crew manning the hot dog cart and cheerfully took a ham and cheese sandwich to my room.
I was up early the next morning for one last delicious breakfast, one last spectacular sunrise, one last hour sunbathing at the pool, and one last hug from all my new friends. The final good-byes were really hard this year, but I was thankful I had exchanged e-mail addresses with several people. And even more thankful to have heard from several of them since I have been back! I especially wanted to say goodbye to my friends on the Sports and Entertainment Team, who not only made my entire week at the Royal Solaris Caribe extra special, they made my evenings at the night clubs exciting as well.
It was a wonderful week at a magnificent resort staffed by outstanding employees with great attitudes. What more could I ask for than majestic sunrises, snow white powdery sand, a teal green aqua Caribbean Sea, non-stop drinks, never-ending food, great shopping, sexy and attractive sports and entertainment team men to ogle, pool-side fun, new amigos, brilliant sunsets, and the warm hospitality of the entire staff of The Royal Solaris Caribe!

It will make my day!
You are visitor number
free counter by Andale


copyright© december 12, 2000
~ updated april 3rd, 2012 ~ ellyn hloben ~ webmaster ~