---
---
Playa Fiesta 2004
with updates for 2005 and 2006
Ellyn in Paradise
~ Iberostar Paraiso Del Mar Resort ~ Playa Paraiso ~
---
---
~ Ellyn's Playa Fiesta ~
~ Trip Report ~
a gathering of friends at the Iberostar Paraiso Beach Resort
Trip Report with impressions, links and photos
from the beautiful Mexican Riviera
updated for 2005 and 2006 trips!
---
---
~ Saturday July 10th ~ 17th, 2004 ~
~ Iberostar Paraiso Del Mar ~
---
.......a reunion of friends in paradise!
---
Last year I found the Iberostar Quetzal Resort charming; a lovely eco-preserve with tropical vegetation, natural waterfalls, and jungle wildlife. This year, the Iberostar Paraiso was going to be the scene of Playa Fiesta 2004 and I wanted to be a part of it, whatever it was! It turned out to be the largest gathering of online message board friends ever attempted and it was incredible. One of my favorite online friends was both our message board host and an excellent travel agent, so booking this was easy. The Iberostar Paraiso Del Mar was a good choice. Although it has a lot less jungle than the Quetzal it is truly an exciting resort with magnificent lobbies, impeccably groomed grounds, and a never-ending pool. Visualize a tropical paradise with pastel painted bungalows, lush foliage dripping with dew, coral colored flamingos preening in the sunshine and red hibiscus everywhere.
The resort is huge! Sprawling throughout the property is an enormous meandering pool with a center island, fountain, adult pool, swim-up bars, an incredible waterfall, Jacuzzi, a kid's pool, activities pool, and quiet pool. There are lush gardens, swaying palm trees, and shady thatched palapas dotting the white powdery sand beach and the Caribbean Sea sparkles in shades of teal and aqua blue. A picture postcard pier completes the beach scene with pelicans resting on the rails. Just outside one open-air lobby is a fitness center with facials, massages, manicures, and other spa treatments. Near the beach is a world-class diving center and at the pool they offer free scuba lessons. In both lobby bars you can relax and be served by talented entertaining bartenders who pour name brands when asked. With a group as zany as ours, the Del Mar lobby was a good place to watch people and a great place to connect with new friends.
This Iberostar Resort consists of two sides; Paraiso Beach on the right, and Paraiso Del Mar on the left. Each side is quite unique and both lobbies have incredible decor like something out of Architectural Digest Magazine. Guests have full access to both Beach and Del Mar amenities, buffets, air-conditioned specialty restaurants, bars, lobbies, and activities! The resort provides a free Iberobus to the town of Playa del Carmen that lets you off near town at the Aviary. There are also many tours available to Xel-Ha, Tulum, Xcaret, Cancun, down the coast of the Riviera Maya, and everywhere in between. Guestrooms are located in tropical colored three-story bungalows stretching from the lobby to the beach on both sides of the pool and the grounds. The paths are very long and the resort provides a trolley that travels back and forth between beach and lobby; however, the cobblestone paths are paved and a lot of people do walk. With gentle lighting lining the way, walking at night is extremely safe and very peaceful.
Enough about the resort, let's talk about my vacation. For seven glorious days in July the weather was fabulous ~ hot and humid with blue skies, fluffy clouds, aqua teal water, white sand, swaying palms, and a blazing sun. But even better than enjoying the great weather was meeting the large group of online amigos that mean so much to me…
So…Let's start at the beginning!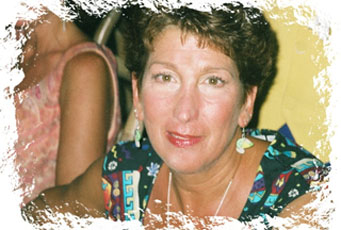 photo by sandi

My adventures in Playa Paraiso ~ July 10th thru 17th, 2004 ~
Check-in at the East Terminal in Saint Louis at Lambert Airport was easy. Security was friendly, yet thorough, and I wore my PDC PF'04 tee shirt so people would spot me. I met a group of ten people on my plane that had emailed me and visited the message board.

The flight was pleasant and the crew was hilarious. They actually served a full hot meal. On the plane I got to know a very nice couple, Mary Carol and Bill, whom I would later run into all week. I told them about the group I was meeting and invited them to the website hoping they'd join us next year. A while later I glanced out the window and saw a familiar sight ~ the teal colored sea around the outline of Cancun, and I was elated. Once again I got a green light at the airport and no one approached me with coupons. I wheeled my luggage briskly out the door and was momentarily surprised by the heat and intense humidity! I headed straight to Apple's air-conditioned motor coach bus and chatted with Mary-Carol for the entire 20-mile trip to Playa Paraiso.

The Iberostar Lobby was dazzling, with massive sculpted seashells everywhere. When I approached the reception desk I was surprised no one brought me a welcome drink, so I went over to the bar and got two! I had requested a room on the second floor with a king sized bed in building 12 and didn't get what I asked for, but I took the room anyway since it was not far from the beach. Before heading to my room, I made all three dinner reservations and selected the Japanese, Mexican, and Steakhouse restaurants.

1350 turned out to be a lovely room on the third floor of the Del Mar side in building 13. The bungalows have three floors with an open stairway and a thatched roof. My room was very inviting and beautifully furnished. I especially liked the bottle of tequila that appeared magically in my room.

Wow this is awesome!


What a nice room ~ There were two large beds, a ceiling fan, an AC that worked quite well and shut off when the patio door opened, a brightly colored couch with denim colored pillows, a table with a chair, an in-room safe that was electronically encoded and very secure, and other appointments and furnishings that were very nice. There was a television with CNN, MTV, and a few other channels, but who watches television in paradise?

A sliding glass door opened to a balcony with a table and chairs, and a pullout clothes-drying rack which came in handy. The bathroom was spotless with soap, lotion, bath gel, sewing kit, shower cap, shoeshine kit, shampoo, and more. The large bathtub was marble and there was a hand-held showerhead, shampoo and gel dispensers and nice white logo towels. The bathroom had a hair dryer that worked quite well. The only thing lacking was an alarm clock, but I knew to bring one.
My room had a small refrigerator filled with bottled beer, bottled water, and cans of soda, which was filled every day (free). I made sure to tip my housekeeper daily and I left him a note in Spanish that said thank you for great service. I tried to find him in the hall to thank him in person every day because it was such a delight to return to a spotless room filled with towel swans, hearts, elephants, and clowns sprinkled with lush red flowers, petals, and leaves. My pillow was covered with chocolate candies as well.

By evening I still had not met up with any of the PF'04-ers except for at the airport. For dinner Saturday I went to the buffet on the Del Mar side and the food was very good. I wandered around expecting to be greetec by everyone from the group, but I didn't know they were at the show at the Lindo. Sunday morning, I exchanged some pesos to use the Internet and let people know I arrived safe and I had a delicious breakfast in the buffet. I enjoyed a fresh omelet, bacon, a waffle, fresh fruit, a fried donut, Cappuccino and more. Afterwards, I walked to the beautiful beach with its' crystalline white sand, found a palapa, and gazed at the aqua color of the sea. It was a wonderful day.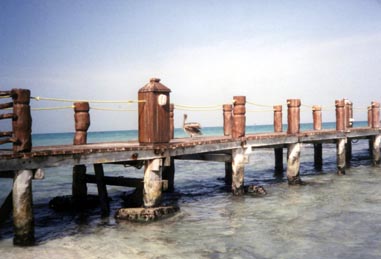 The beach had hundreds of comfortable loungers, swaying palm trees, and shady palapas. I spent the morning enjoying the sun and sea and took a walk along the shore to visit the diving center to get my raft blown up. From photos, I recognized the delightful Blanche and Rick signing up for their dives, and I was elated. I figured I only had 70 more people to find. I had lunch by the sea and really enjoyed the guacamole. The weather was beautiful and I wandered up the beach to the recently opened Iberostar Lindo and took a few pictures of the new upscale property and felt very welcome there, even with my IBP wristband.
Sunday night I dined at the buffet again and had Tacos al Pastor. Everything on the buffet was really good, but I especially enjoyed the Mexican food there. I checked out the Disco when it opened about eleven p.m. and the music was okay and the sound system was pretty good; however, they had let kids in and the atmosphere wasn't the same as Iberostar Quetzal's Disco. I went back to the lobby bar and while there, I recognized the infamous Doris and was excited that I had actually found one more person from the group. I turned in early as our meet and greet was the next morning and found chocolates on my pillow and my bed turned down. I flipped on MTV Latin America and the Osbourne's were on television unedited! I had chocolates on my pillow, tequila to drink, and a breezy patio in the Mexican Riviera. How great is that?
Monday morning I was anxious to get to the buffet and meet this rather diverse large group of friendly message board denizens that had all traveled from all directions for the same purpose. I wanted to be the first to arrive but Karen NYC was already standing outside the restaurant and Lynn in Atl appeared soon after I did. Many people showed up, all wearing the PDC PF'04 tee shirts Wes had printed up. Tami, my travel agent, and her precious daughter Hailey, and husband Tom, Doris and Vince, Doug and Nancy from Wylie, Blanche and Rick, Dan (our organizer and leader) and his wife Stephanie, Sandi and Bob, Gail and Mark, Pam and Larry…. Soon there were so many names and faces we were overwhelmed. The staff had to push many tables together to accommodate us all. Every direction I turned was someone new and I was just delighted that everyone was as nice in person as they were online. It was no longer a room filled with friendly strangers. It was a breakfast community of really dear friends and I was so excited I don't even remember eating breakfast.
Moments later, Wes arrived to surprise everyone. He's been a longtime online acquaintance, and someone I had wanted to meet for years. The meet and greet was wonderful and the conversations flowed. We had a while until dinner and the party so we went to the beach by the pier on the Del Mar side. Several people waded into the water with bread from the buffet and fed the large angelfish and a crowd soon gathered in the sea by the pier. After visiting on the beach with new friends, Lynn and I had a nice lunch. Later on I stopped by the room and it was sparkling clean and a towel elephant covered in red petals greeted me. I spent the afternoon on the beach with several people from the group and at 2 p.m. I went off in search of an ice cream cone and to help Dan and Karen set up the meeting room for our party.
After we moved tables around we set out the nametags, prizes and giveaway items. The room was huge and the items we had to give away didn't look like they would go very far. Sandi and I decided to ask the hotel for some giveaways and headed for the front desk. Bob and Wes joined us and we went to get some drinks first. We thought we'd try to procure some logo items for prizes for the party by asking our friend Loreto. She was more than kind, and very generous. She donated 5 bags filled with keepsake logo shop items, 5 Star Friend hats, and certificates for 5 Spa Massages and actually had them delivered to the meeting room. Sandi and I were truly overwhelmed by her kindness, and that of the rest of the staff. Sandi bought a gift certificate to give to Tami, and Loreto made her a certificate on the computer. She couldn't have been nicer. In addition to the many wonderful items the Iberostar so kindly donated, the table quickly filled with more items for giveaways. Dan and Stephanie had made really nice logo key chains and PF'04 Mugs, Wes donated gift certificates to his Buck-a-Meg website, Laura and Perry gave Can-Do Maps, I had some cool magnets imprinted, Nancy and Doug brought cute Flip-Flop candles, Tami and Tom brought toe rings for all the ladies that Hailey gave out, and many people donated prizes. Karen NYC made a dozen beautiful logo tote bags, and Sandi MN brought CDs she made bearing the logo as well.
After setting up the room and hunting for giveaways, Wes, Sandi, Bob and I took an extended golf cart ride around both sides of the grounds and rode and talked endlessly. It was really nice visiting with them. Wes shared the news that the countdown clock on the website was supposed to reach zero at 7 p.m. and that fireworks would go across the screen in case anyone should happen to be online. I returned to the beach in time for Doris' famous annual back shot photos, which were demure and discreet.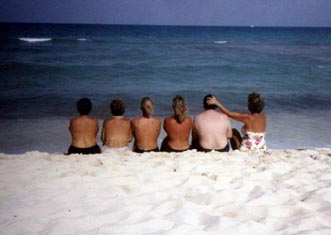 We took shots of our sand covered feet as well of the guys flexing their muscles (yeah right), and Mark and Kelli came over from the Iberostar Quetzal to hang out on the beach. Soon it was time to get ready for dinner.
Dinner was amazing. It was overwhelming to meet everyone. Here we were at the world's largest chatters meeting. It hardly seemed possible, that I was sitting with people I had known online on several message boards since 1997 and never met. I turned my head and there was Bandman. Dave is someone I have been friends with online for years and I was delighted to finally meet him. And there was Okieman (Jim), and Keith in Carrolton and his wife Tracie, and Laurie, and hubby Poor Al, and Greeneyes (Helen) and Kelli and Mark, and Mike OKC, and Blanche and Rick, and I could barely take it all in. I was thinking that anyone I would write a trip report for are already here sitting right next to me! Jon made a hilarious grand entrance and his wife and twins were good sports as he rambled on in awe and reverence of the famous Queen Doris and her hubby Bince (Vince).
At the Fiesta, Dan did a wonderful job of hosting the event; barely taking the time to drink the Mover and Shaker drink I brought him. He had devised a makeshift airport red light/green light device to facilitate a getting to know you game to give away the many unique door prizes. Dan was a fantastic host, but I do believe his game was rigged. Since he was hosting and doing all the work, we all went up front, pushed the button (and we all got a red light) and answered the questions, got our prize, and got to know each other even better! I felt like I was at a reunion of my oldest dearest friends.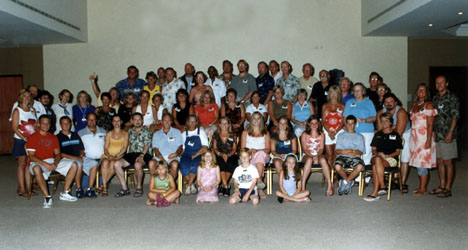 photo by iberostar staff
It was a wonderful night. I turned around and there was Palapa Scott (a message board celebrity) and his family. Everywhere I looked was someone I knew from their pictures, trip reports, travel stories, e-mails, or messages on the kind message board. We all really did know one another and it was wonderful to share this experience with each other.
Dan and Stephanie surprised Tami with a lovely PDF'04 logo necklace bearing a beautiful topaz stone and presented her with the gift certificate for a spa massage and spa facial; and Dan was presented with a cigar, an Iberostar logo beach towel set, and a special $100 gift certificate he will be able to use at a choice of internet stores. Sandi from MN started out the gifting months ago when she mailed out three personalized luggage tags to all the attendees, and I will treasure mine. There were so many door prizes that I believe everyone who didn't leave early received a prize. Cute Hailey drew number after number, but my number was just not being called. I had already won by being in paradise at the Iberostar in an air-conditioned room with free drinks with all my new friends, but I still wanted to go up and say hi. Okay I wanted a prize too. Finally my number was called and I actually won a much needed, highly appreciated, and very delightful 30-minute Spa Massage. Many thanks to the Iberostar for all the fabulous touches and for all the staff that stopped by the party to say "Hola" and party with us.
Tuesday morning we assembled at sunrise at the pier for a gathering of friends. Preacher man (Sandi's husband Bob) took on the reverential role of spiritual leader for a non-denominational service. Sandi had thought of everything. She brought a CD Player with beautiful music, and had prepared inspirational passages she had so neatly typed for the participants to read, and all the items for a beachside makeshift altar. She had loaves of bread and a bottle of wine for those who wanted to partake in Communion, and two exquisite cobalt blue wine glasses encrusted with sterling stars and moons to enhance the moment. On top of that she took this spectacular photo!
photo by sandi
Today it really wasn't about religion as we were all of so many different faiths. The morning service, although difficult to put in words, invoked feelings of unity, and closeness with each other with a sense of awe of the beauty surrounding us. There seemed to be a universal realization that it was much more than just our mutual appreciation of Playa del Carmen that brought us together. At one point in the service Dave's wife Joni sang a few songs in a voice so melodious I got chills and there were few dry eyes behind all those sunglasses. About 25 people showed up very early on that beach after a night of partying, and we were truly rewarded with something magical. At one point, all eyes turned to the sun over the sea and it was genuinely a Kodak moment taking in the beauty of it all. Afterwards we took some pictures, and hung out on the beach.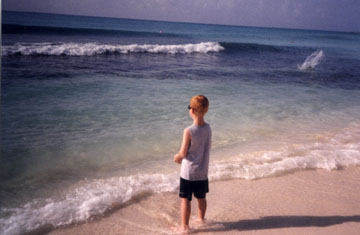 Later we had breakfast together at the beachfront restaurant and drank mimosas and reflected on PF'04 as well as the sunrise service.
Several of us had to leave this warm gathering to meet Miquel, our driver in the lobby for our planned library trip. Dan, Doug (Nancy's husband), Jon, his wife and twins, Pam (N.D.) and Larry and I set out for a day in Akumal to visit the Library (Hekab Be Biblioteca) and deliver school supplies and money. We headed south and soon saw the familiar sign.
We met Ellie, a liaison between the school and visitors, and walked in bearing gifts, checks and cash. All the young children were busy studying Spanish Grammar in a one-room crowded schoolhouse, and they stopped their lessons to cheerily say "Hola" and "Buenos Dias". We gave Carlos (the teacher) what we brought and signed the guest book. When it was time to leave, the children came outside and gathered up freshly painted signs that were drying in the sunshine and Carlos tried to line the kids up to spell out "Bien Venidos" and "Gracias".
Eighteen sweet wide-eyed innocent children were smiling warmly at us. What a universal language a smile is! The little boys in the bottom row spelling out "Gracias" started tussling and Dan said: "Ya know, boy's will be boys, no matter where ya' go". I'll never forget that sweet moment. After a brief tour of Akumal, we went to Lol Ha, a beachfront cantina in Akumal that served cold bottles of beer and delicious food. We shopped at a flea market, and waded in the gentle teal sea.
On our return trip back to the resort, our driver was kind enough to drive through Playacar for us. We returned to the Iberostar and had drinks in the air-conditioned lobby of the Lindo and admired the immense aquarium. En route to my reservation at the Mexican Restaurant, I bumped into Dave and Joni, who joined me for dinner and soon we were serenaded by three very talented Mariachis. Dinner was excellent. Our Mexican Coffee was wonderful, and the Chocolate Torte was very rich. But more enjoyable than the delicious food, was my delightful visit with Dave and Joni. I felt like I had known them for years. Later we stopped by the Del Mar lobby for the Cigar Social and it was a guy bonding thing that lasted until the disco got going. Star Friend Jaine came to party with us and we hung out until very late. I walked back to the room through the inner path and it was a long walk.
On Wednesday I had breakfast at the buffet and took the trolley to the beach. I sunbathed, fed the fish, hung out at the beach and enjoyed a Strawberry Daiquiri ~ all before 10:30 a.m. I had a lovely spa massage on the beach listening to the waves in the background and it was a very peaceful morning. It was a little stressful at the pool trying to find a chair, although most of them were unoccupied yet covered with towels and gear. The staff was playing silly pool games, so I read quietly until four o'clock when the excellent Star Friends Band was to start playing by the pool. Many of the PF'04 friends were there and we listened to the band and took lots of pictures.
Wednesday night I had an incredible meal at the Japanese Restaurant and coincidently dined with 19 members of Lee from the Star Band's family in the Teppanyaki Pit. We each had a plate of delicious sushi to start with, and then the chef entered the pit carrying mounds of beef, chicken, shrimp, zucchini, eggplant, and other fresh vegetables. Laid out in front of him were a dozen eggs, rice, oils, condiments and knives and other tools. It was spectacular to watch the chef slice and dice and create fried rice and stir fried vegetables and incredible main dishes. We had fried tempura bananas for dessert and drinks and this was the best resort meal I ever had. I met up with the PF'04 group at the show at the Lindo and Sandi's son Chris and his friend (also named Chris) and I went to the flea market they had set up outside the theater. I was amused at the way they were bartering and thought it hilarious to watch them haggle. They both were elated at the 'bargain' they got, but no doubt they paid twice what their shirts were worth. It was a wonderful day and a lovely night with the nicest of people!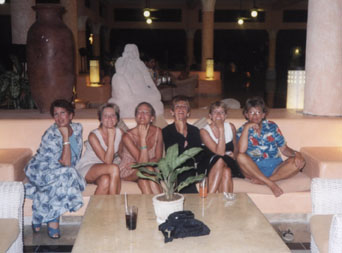 Thursday I was up early, and snorkeled and played on the beach and suntanned all morning. Later I enjoyed reading under a shady palapa. In between times I ate and drank and enjoyed the sunshine. When I had enough sun, I took the Iberobus to PDC, but didn't buy a thing. I had a great dinner at the Steak House where they served a blooming onion, salad bar, tenderloin grilled perfectly, corn on the cob, baked potato, brownie and cappuccino. It was really good. I went to the disco with Keith and Tracie and los dos amigos named Chris, and the DJ was playing really good music for a change and it was fun hanging out with such nice people. When I rode back to the room later that night, the golf cart went through some sprinklers and I got soaked.
Friday I spent a relaxing day at the beach and met two nice guys (Tyrice and Nick) who were on vacation before trying out for American Idol. They sang everywhere they went and it was great spending time with them.
All too soon Saturday morning dawned and it was time to leave paradise. After breakfast I wandered to the beach to relax in the sun for a last hour before packing and found Sandi and Blanche on the beach. What a pleasant surprise to see them! It was a good time to take some last minute pictures and say our goodbyes, even though we knew this wasn't goodbye, after the week we all shared!
On the flight home I thought about what a special week it was, meeting all of my long-time internet acquaintances. Before I arrived they were online associates and when I left, they were dear life-long friends. I also thought about how charming the Iberostar was and how everyone that worked at the resort was so friendly and genuinely enjoyed his or her job. The incredible service and the beautiful atmosphere and being with so many wonderful new friends made this week special, and I am counting the days until Playa Fiesta 2005.
---
---
---
update for 2005
~ Saturday July 9th ~ 16th, 2005~
~ Iberostar Paraiso Beach ~
---
.......a reunion of friends in paradise!
---
An entire year has passed since last year's Fiesta in Paradise and I eagerly anticipated my return to the beautiful Iberostar Paraiso for Playa Fiesta 2005! I've added a mini update instead of a full-fledged trip report. The 2005 edition would sound exactly like the one you just read. We literally re-enacted all of last year's glorious experiences all over again… only we had more fun, more people, more food, and more drinks than 2004!
I was given a lovely junior suite near the beach and a wonderful greeting from Loreto and Susana. My name was on the VIP board, and there was Champagne and a fruit plate in my room. The first night I met Lynne and Tim from England and their family who soon became a big part of the PF '05 festivities.
It was wonderful spending time with my friends again, and sharing some incredible time together during dinners, fun in the sun on the beach, and hanging out at the Lindo shows with Jaine and Lee. The actual party was fun and our Jaine led the event in the beautiful conference room. Later in the week it would become the hurricaine shelter as Emily struck right after I left Playa. The building is beautiful, with plasma screens illuminating our event. We did a pin exchange, white elephants, couples balloon pop, and more. A surprise presentation was made to Sandi's son Chris who had joined the Marines. We celebrated some birthdays and anniversaries, took some fabulous photographs, ate all we could eat, drank more than we should have, and laughed and cried and hooted and howled with each other.
Wednesday we got up early for a sunrise service on the beach. We read passages and heartfelt words and Joni sang once again. There were hugs and tears and photos, and memories were shared. We all went to the Del Mar Beach Buffet for a delicious breakfast and enjoyed the Chocolate Croissants.
I enjoyed some wonderful evenings with Dave (Bandman) and his wife Joni and daughter Heather, and we all thought the Brazillian Restaurant excellent. Late at night much of the group would hang out in the Del Mar lobby drinking and taking wacky photos.
One night we had a 'Cigar Smoker' in the Cigar Lounge (no I don't smoke). The guys smoked their hand rolled cigars and the girls smoked teeny cherry cigars from the gift shop. We drank our champagne, brandy and port and the gals had fun in the once male domain.
Thursday after spending an entire morning on the beach, we went into town and bought Fake Oakley sunglasses (Foakleys) that looked pretty good for only 8USD. We wandered Playa and enjoyed our shopping.
One of the highlights of my week was that I finally found and purchased the Larimar Sandal necklace at Harrison's Jewelers that I had been coveting for years. After I bought it, Dave bought Joni one, and several other people bought one. One night there were about 15 of us gals sporting our necklaces. We coined the term Sandal Sistahs!
Another plus is that I spent an entire day in PDC without spending a dime, and I escaped the wrath of Hurricane Emily by mere hours. The week was an incredible adventure and I enjoyed every moment of every day!
---
---
---
update for 2006
~ Saturday March 11th ~ 18th, 2006~
~ Iberostar Paraiso Beach ~
---
.......a celebration of friendship in paradise!
---
Most of you know I wanted to attend Playa Fiesta 2006 in July, but knew in February that it would not be possible due to a merger at work. So I changed my plans and booked a last minute trip for March. I met a few of my favorite people from previous years and it was a blast! I enjoyed spending a week with Sandi and Bob, Blanche and Rick, Gail and Mark, Schaela and Jessie, and Jaine, Lee, and Loreto from the Iberostar staff. I am just going to share a few snapshots and a few words of my own. Mostly a few photos. March 11th: I started my day at 3:10 a.m. in the morning and left my home in a fierce thunderstorm. I arrived very early in Cancun and was so busy yakking with a nice couple; I pushed the green button and exited the terminal, but forgot to retrieve my luggage. Security appeared from every direction and needless to say, they wouldn't let me back into the terminal. I had to wait 45 minutes till my luggage was 'abandoned' to have them 'find them' and totally search them and then give them to me outside the terminal. It was my own fault and I didn't tell anyone until now because it was so stupid. I still made the transfer, although they had to wait a while for me. Still, I arrived early at the resort and was treated to a wonderful reception drink and personally greeted by Loreto and Susana. I was given a room down from Blanche and Rick, and Sandi and Bob, on the second floor overlooking the sea.
Yes overlooking the sea!
The first look was breathtaking.
I found the gang at the adult pool and Sandi brought me a drink from Luis, a most excellent bartender. We decided to hang out at the adult pool for a couple of days because of the high winds at the beach, but Monday, I found my way back to my favorite pastime.
We headed into town for a 'girls only' happy hour with Jaine and Lee's Mum Patty. We celebrated the moment with an impromptu photo, one of my favorites!
We stopped at the first Cantina we saw and we drank quite a bit of ice cold bottled beer.
We didn't leave until the men showed up to join us for a pretty good dinner at Las Mananitas. We had an wonderful evening and later Jaine literally flagged down a city bus and we all hopped on. They let us off on the highway in front of the Paraiso. What an experience catching a middle of the night golf cart from the gate to our rooms! The next day (Tuesday) we got up and took a Limo to Akumal for the day (prearranged by Sandi). Here are a couple shots from our wonderful day in Akumal, which included catching up with Craig and Kathy (from WI), drinks and lunch at Lol-Ha, and spending the day on a beautiful calm beach. The visit to the Library was very meaningful, as well.
What a beautiful day!
What a sweet little girl Schaela is. Love this pic of her in the Bay.
One day we decided to check out the new Spa and commercial area. The Spa is housed in an area right near the new Commercial Center. Both are near the Convention Center (the huge Purple and Fuscia colored building.) The Commercial Center is open to all guests and we spent a very enjoyable afternoon touring the grounds. It is a wonderful addition to the Iberostar Complex, and overlooks a world-class golf course designed by P. B. Dye. The Center offered more shopping and dining opportunities for the resort's guests and was a delightful change of pace from the buffets and ala cartes. We wandered around and took lots of pictures. There is a new Adult Disco called the Galaxy for over 18s. For some reason we didn't make it to the disco this trip and hung out in the Del Mar lobby all evening. I would like to check out the Disco next time.
We were given a very nice tour of the beautiful, albeit pricey new spa. They have all the posh amenities of a very upscale spa. They have a Bartender and a full bar inside the Spa providing "free" beverages to the Spa patrons. That struck me as so funny when she said that, but still it is a nice touch. I had a massage on the beach at the Lindo for $36 US a year ago, and it was cheaper the year before and so on. Now it is $86 US for 50 minutes (plus tip), so I declined this time. We took many pictures of the Spa and Spa pools and if I could only afford it, a day at the Spa would be an incredible way to enjoy a rainy day in Iberodise. We left the Spa and noticed a new Pewter Store with all its' shiny wares gleaming in the windows. It didn't appear to be open but we took photos through the glass.
There was a Jewelry Store that had some lovely pieces for sale, and a new Church with beautiful stained glass, which will no doubt be the future home of weddings if a planned beach wedding is rained out. There is a gazebo outside the Church, which would be a nice wedding locale, as well. We explored the new Church and took photos of the lovely stained glass windows, pretty wood and Chandeliers, and had a little something to eat at most of the little restaurants that were open.
The Tapas Place was pretty cool. They used tiny little porcelain plates to hold the appetizers. There were very pleasant friendly people working in these places, and they had poured very good wine. Remember when very good wine did not go in the same sentence as Iberostar? Now they had very drinkable wines throughout the resort, and an especially fine one at the Tapas Place.
We stopped at the new Taco Place and I had Tacos al Pastor with pineapple and grilled meat and some Guacamole. Very good I must say. I did not try the Burger Joint but did stop to look at it. It was very cute and looked like a Steak n Shake.
I especially enjoyed the Creperie, and it was entertaining to watch the young couple making the crepes. They stuffed mine with chocolate sauce, and topped it with ice cream.
One thing I noticed is that nobody, make that NOBODY knows about the Commercial Center. And it is free and available to resort guests. I told a lot of people about it, but if I didn't know about it myself, not one other person told me about it. It is a very well kept secret.
All in all I had a fun time exploring the grounds of the new Commercial Center with Sandi and Bob, and Blanche and Rick and look forward to trying some of the Spa services (should I win a lottery any time soon!)
Here is a picture of the new spa.
Here are a few more pix from my wonderful week in Playa.
Chillin' in the Del Mar Lobby with Loreto and Jaine!
I had to toss one in of Baby Jessie from Saint Pat's Day. We were all covered in stickers. Us drinking? Nah, we're just being goofy.
Sandi and Bob in their www.mybeachboard.com tees, strolling the beach before we snapped our 'infamous' back shot photos!
---
---
Here are some wonderful pictures from my online friends who have way better photos than I do!
Dave's Playa Fiesta 2005 and 2004 Pix
Bandman's terrific photos of the magical week(s) will make you wish you had been there!
Phil in Ottawa's Iberostar Paraiso Gallery
Philip Gammon's exquisite Playa Paraiso photographs are breathtaking.
Marlene and Gordon's Holiday Pictures
Fabulous pictures of the Iberostar Playa Paraiso show the true beauty of the resort
---
---
Please visit my other Playa and Cancun Pages!
There are more pictures on the photo page from this trip.
Ellyn's Cancun and Playa Paradise
Cancun and Playa Impressions, Photos, Tips, Thoughts, and Links
…all my other trip reports are here too!
Ellyn's Mexico 'n More Online Photo Album
Trip Report ~ Iberostar Quetzal ~ 2003
---
---
---
---
---
---
It will make my day!
---
---
You are visitor number

free counter by Andale
copyright©august 16th, 2004 ~ Last updated april 3rd, 2012
~ ellyn hloben ~ webmaster ~