Sick of those smarmy Christmas Letters?
Photos of my Tucson, Arizona Red Barn beginnings.
The Red Barn in Tucson, Arizona website.
~O~O~O~O~O~O~O~O~O~O~O~O~O~O~O~O~O~O~O~O~O~O~O~O~O~O~O~O~O~O~O~O~O~O~O~O~O~O~O~O~O~O~O~O~O~O~O~O~O~

3 FREE SCENE BOOKS!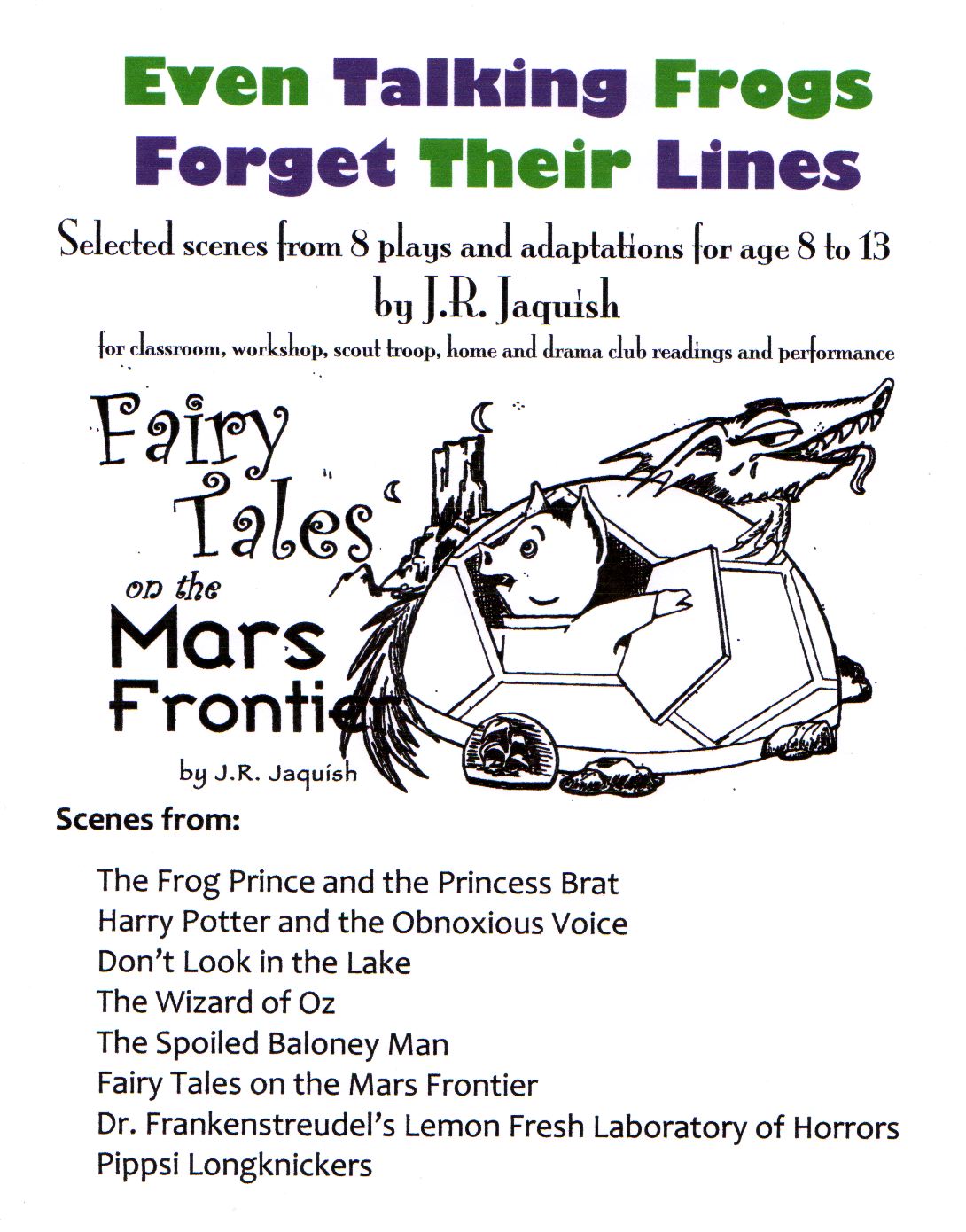 <-- Click to see List of Scenes for All Three Books!

In 3 age groups:
~ Age 6 to 8 .~*~. Age 8 to 13 .~*~. Age 13 and older ~

Kids love to read scenes and put on little performances.
Great for teachers, camp leaders and home schoolers!
No charge for the download, copying, distributing or performing!

<--Click on image to get the PDF files FREE.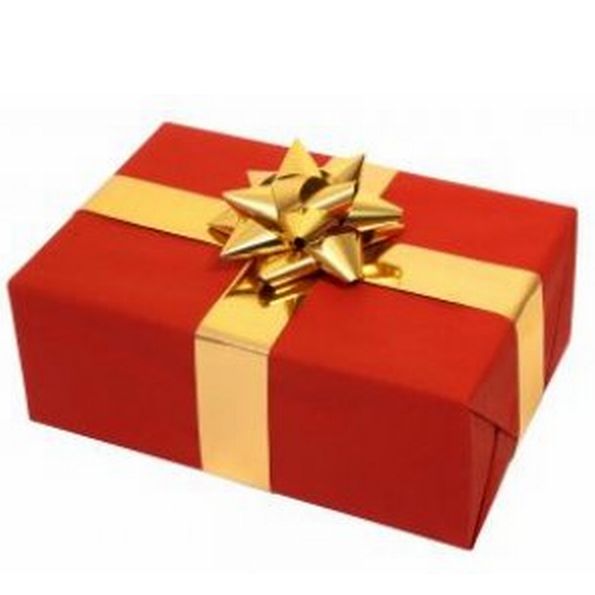 Or ORDER for Christmas or Birthday!
A Talking Frogs CD Collection makes a GREAT Gift!!
For teachers, activity leaders, scoutmasters, homeschoolers and parents.
ORDER All 3 "Talking Frogs" Scene Books
on pdf files on one CD ready to print out.
PRICE: $10 each CD in a case with a nice cover (title and images)
add $3 for gift-wrapped with a note.
POSTAGE to the US included and mailed by next day.
~O~O~O~O~O~O~O~O~O~O~O~O~O~O~O~O~O~O~O~O~O~O~O~O~O~O~O~O~O~O~O~O~O~O~O~O~O~O~O~O~O~O~O~O~O~O~O~O~O~


Non-Religious Christmas Plays & Secular Holiday Theater Scripts
~also St. Patrick's Day, Easter, Passover and Thanksgiving Plays~

NEW SCRIPT!: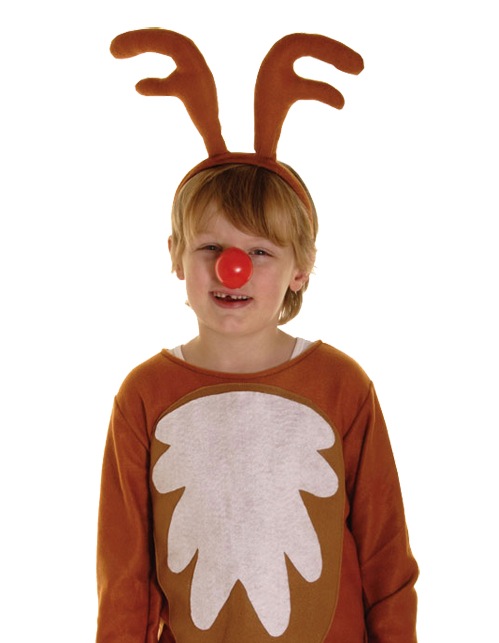 "When Santa's Away" & "Reindeer #3 is Squeaking!"
© 2012 by Zephyr and Jeannette Jaquish
A simple, energetic and witty, play-within-a-play Christmas comedy script with a song and a few easy-to-learn lines for everyone.

Click on Reindeer for EXCERPTS & DETAILS! -->
CASTS: 18, 20, 21, 23 or 24 children plus 2 adults.
-- "When Santa's Away": for 6, 8 or 9 elves age 5 and older, plus 1 adult Santa.
-- "Reindeer #3 is Squeaking!": for 12 or 15 angels, reindeer and elves age 7 and older, plus 1 adult Music Director.
LENGTH: About 15 minutes for both.
PRICE: $15 first performance, $5 additional, $35 for 1 year.
.......... Music CD: $10 includes US shipping. Click to see music tracks.

*** You can also order JUST "Reindeer #3 is Squeaking!" which needs no set.
Or order JUST "When Santa's Away" and pair it with another play or song.
ORDER ME!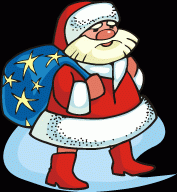 Elfin Antics in Santa's Workshop <--Click for Excerpts!
Children's Christmas Musical by Rosemary Snow
COST: $10 first performance, $5 additional, or $30/year.
$23 Music CD
Free sheet music is included with the script.
LENGTH: 25 minutes
CAST: 14 plus optional dogs
ORDER ME! There is pandemonium when the reindeer make toys and the elves take flying lessons!
Santa and the Missus are in despair! And it's the polar bears to the rescue led by the Yodeling Elf! Lots of Arctic facts and a song for each "species".



~*~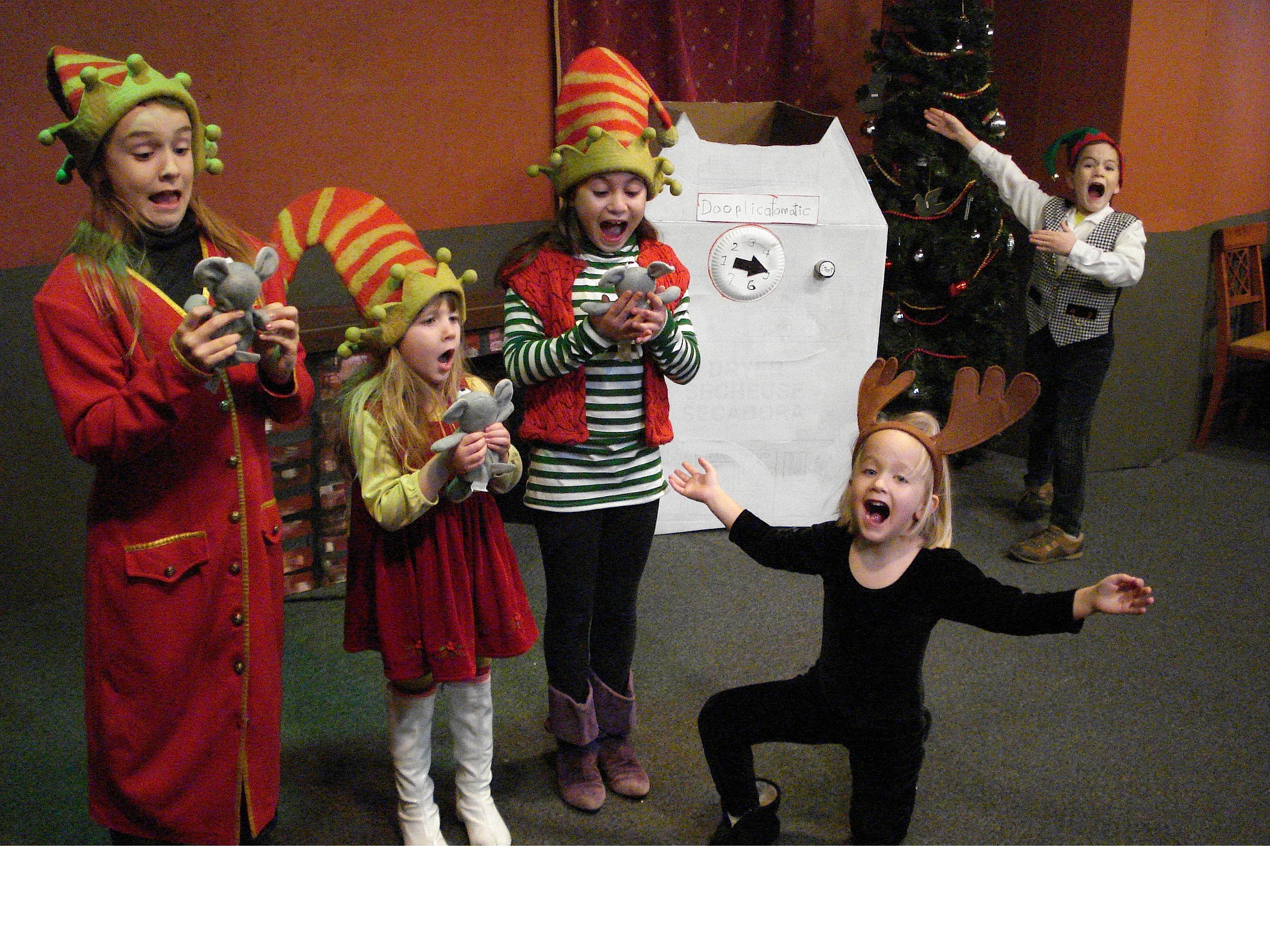 Snafu in Santa's Workshop <--Click for excerpts!
or "The Almost Awful Terrible Toy Disaster in Santa's Workshop"
an easy fun short kids Holiday Christmas script by Jeannette Jaquish

LENGTH: About 18 minutes.
COST: $15 first performance, $5 additional, or $35/year.
ORDER ME!
SUMMARY In a terrible mishap all the toys the elves have worked on for a year are destroyed. Can Quigley's new invention save the day, even after it is short circuited by hot cocoa? And who can think with those noisy reindeer romping around?
In rhyme for easier memorization by small children, plus a Narrator who prompts when lines are forgotten.

CAST: Minimum: 6 kids and 4 adults.
Comfortable: 8-12 kids and 2-4 adults. Can add more kids to be reindeer and extra elves.
Characters: Santa, 4 Elves, 2 or more reindeer, Narrator (capable chid or adult), 2 Kids opening presents, 2 FX crew
TECH: Cardboard box "Dooplicator" machine", toys, table, Christmas tree, fake presents.
SETS: Santa's Workshop & a Christmas tree with presents.


~*~


Miracle on Elf Street <--Click for Excerpts

An audience interaction Christmas play for a small cast by Scott F. Rousseau

DESCRIPTION: Santa's Elves are in a pickle when Santa gets sick and can't deliver the presents! Oh! And Mrs. Claus reminds them: They have new toy orders to fill: PRONTO! They need help fast! And who is available and sitting right there?
Great chance for audience kids to join the show!

CAST: Four: 3 Elves & Mrs. Claus + Santa's voice.
TECH NEEDS: 2 Tables, lots of soft toys, tennis balls, balls and balloons, cardboard boxes.
LENGTH: Short = about 30 min.
ROYALTY COST: $10 per performance, $35 for a one year run. - ORDER ME!




~*~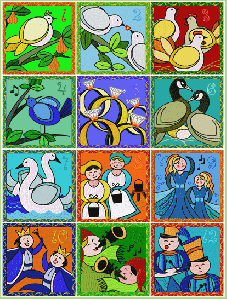 The Twelve Days of Christmas - A Merry Parody! <--Click for excerpts!
An hilarious Christmas parody play by Rhiannon Burch
COST: $5 first performance, $2 additional, or $10/year.
LENGTH:
About 5 minutes. ORDER ME!
This Twelve Days of Christmas script parody is rambunctious and screamingly funny. The more outrageous and terrible the costumes are, the better. You can use one person for each of the 12 gifts or actually fill the stage with 3 French Hens, 7 Swimming Swans and 10 Lords a Leaping.



~*~
Hansel & Gretel and the Falling Christmas Elves <--Click for excerpts!
A non-religious Children's Christmas Play by Jeannette Jaquish
COST: $10 first performance, $5 additional, or $30/year.
Order Me!
The dopey duo of Hansel and Gretel bungle their way into the hungry Witch's clutches and boiling pot again. When Santa's elves fall off the reindeer and into the Witch's kitchen, is rescue in sight? NOT LIKELY!
The Reader can prompt actors who forget their lines and make it sound like it is part of the narration, "Gretel rolled her eyes and said, "I thought you'd have a gingerbread house." " until the actor picks up and finishes the line. The elves lines are in rhyme making for easier memorization.
CAST: 14 to 19 kids age 5 to adult- Hansel & Gretel, Father and Stepmother, Witch, 7 to 12 Dwarves, Fairy Dog and Fairy Frog and the Reader.
TECH NEEDS: The Witch's large cook pot can be a large gray storage tub spritzed with black spray paint & fake fire.
LENGTH: 25 minutes
MUSIC?: One optional song in the forest with optional forest creatures (can become elves in the next scene). You can add more music. Music file is included with script.




~*~


"Seeking Santa" - A Saint Nicholas Day comedy play <--Click for excerpts!
An Audience participation play by Jeannette Jaquish
CAST:
4 experienced actors, plus 4 groups of 4 audience volunteer children (or child actors)
LENGTH: 30 minutes
TECH: Simple. Sets can be simple or complex. Just a few easy to get or make hand props. No furniture necessary.
COST: $15 first, $5 additional=performance royalty; $20= Music CD
Order Me!
SYNOPSIS
Santa is missing and St. Nicholas Day is tomorrow! Elves are panicking. They find a clue and follow it to one place after another, each time encountering characters who tell the elves their problems. The Elves figure out what they really need to solve their problems themselves. When they get back to the workshop Santa is there with a final gift solution. See Excerpts!



~*~


A Christmas Carol, by Charles Dickens <--Click for excerpts!
LARGE CAST theater script adapted for stage by Jeannette Jaquish
COST: 1st performance: $30; Additional performances: $15 each; $90 for a year of unlimited performances.
ORDER ME! LENGTH: 2 hours 15 minutes
TECH:
Lots of furniture-moving set changes, spooky lighting, simple ghostly effects, none difficult, but busy and quick. Forestage scenes and scenes in the audience continue the story and cover set changes.
CAST: 32 or more. Casting Chart & Rehearsal Groupings guide you in assigning multiple parts to each actor besides Scrooge -- there are 132 characters! Order Me!
This "A Christmas Carol" play is the classic Scrooge, Bob Cratchit, Marley & Tiny Tim mega-production. Lots of newly created lines and short scenes for supporting roles such as street urchins, storekeeper, Nephew Fred's friends, beggars, bankers, serving wench & mop boy and schoolkids! Everyone has great lines and distinct personalities!
This is a GREAT "A Christmas Carol" script!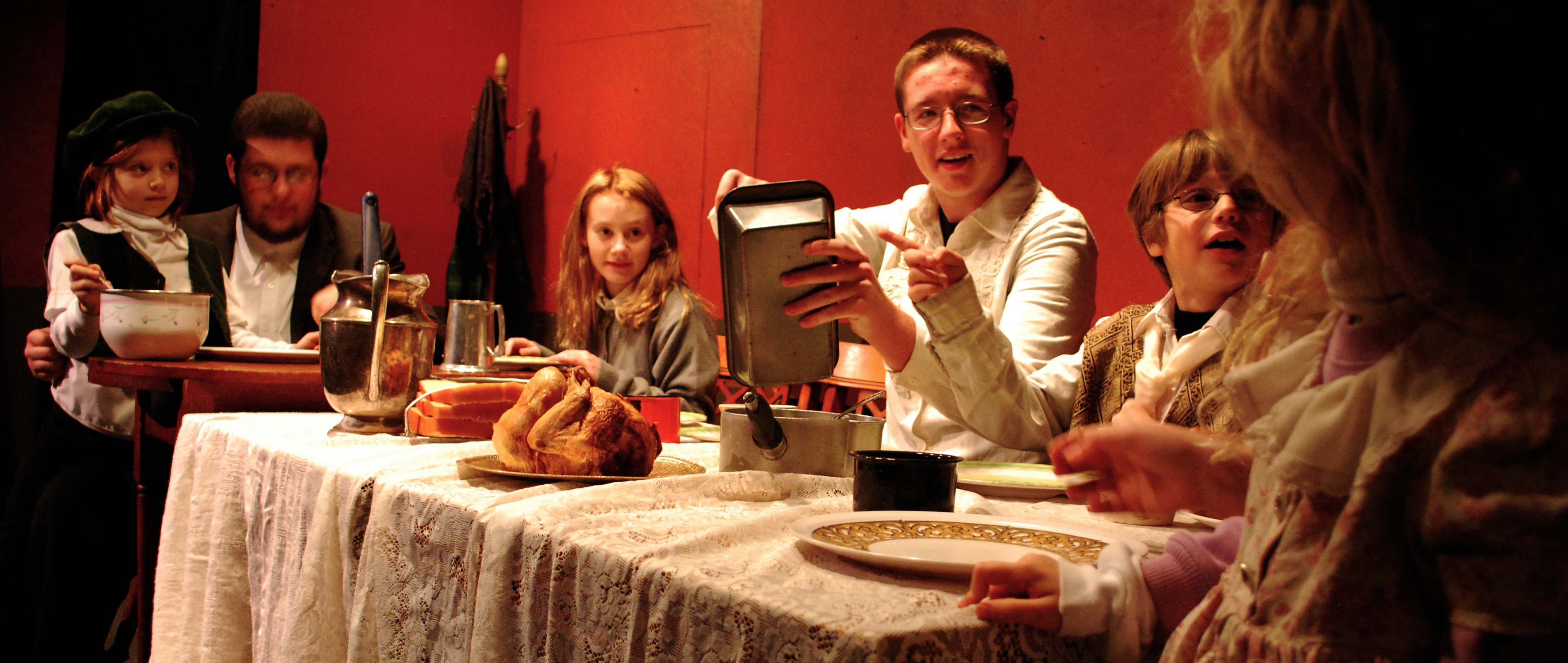 Excerpts:
URCHIN: I don't like singin' for the undertaker. He just stands there. Staring.
LITTLEST: And rubbin' his hands.
SNIFFLY: That's because he gets 2 quid for every pauper he buries.
LEADER: Yeah, we's just a pot o' gold he's waiting to lay hands on.
BANDAGE: So who ARE we gonna sing for?
LITTLEST: How about Mr. Scrooge?

THE CRATCHIT FAMILY'S CHRISTMAS DINNER:



END of CHRISTMAS SCRIPTS COLLECTION!
~O~O~O~O~O~O~O~O~O~O~O~O~O~O~O~O~O~O~O~O~O~O~O~O~O~O~O~O~O~O~O~O~O~O~O~O~O~O~O~O~O~O~O~O~O~O~O~O~O~

Government is not wisdom; it is not eloquence; it is force. And force, like fire, is a dangerous servant and a fearful master." -- George Washington This website (c) Jeannette Jaquish 1999-2013



~ * ~ Click to ORDER A SCRIPT!



~O~O~O~O~O~O~O~O~O~O~O~O~O~O~O~O~O~O~O~O~O~O~O~O~O~O~O~O~O~O~O~O~O~O~O~O~O~O~O~O~O~O~O~O~O~O~O~O~O~




MORE THEATER LINKS & OTHER STUFF

Ecstatic Theatrics in Fort Wayne, IN
Firehouse Theater in Fort Wayne, IN
Shoestring Theater of Fort Wayne, Indiana
GIANT PUPPETS -- how to make them! So Cool! By PuppetCo.
Build a Puppet Theater or order for $. Dismantles easily! By Gene Powell.
Dad's Home School - Science & Math Explained
FIND A SCRIPT: Stageplays.com locates all plays published in English. (Hint: go to the publisher listed and order from them. It's cheaper.)
Horse Costume Instructions
LONG list of theater scripts and resources.
JOKES to tell or act out.
Guinea Pig Skin Disease! Use Bag Balm or Vaseline to cure itchy, dandruffy, mange caused by mites.
Hoosier Outer Space Settlers (HOSS)
Bed-wetting is NOT caused by Laziness! Cure urinary tract infections with cranberry.
Stuttering: A Simple Semi-Cure: Take a Breath
Funny Fillers to put in theater printed program or on bulletin boards
Rejects from the NPR 3 minute fiction contest
Theater Exercise/Game: Emotional Rollercoaster
Free Downloadable Sound FX ilovewavs.com
Raven Radio and Readers Theater Scripts with tech on sound FX & downloadable scripts.


Email: funantics.scripts@yahoo.com