Please see the imagery creation, the image in his mother's heart, in tribute to our beloved son, Mark Landon Duncan, on
"Memories of Mark, Our Precious Son, Our Special Angel" Page.

A special note to my bereaved parent friends. If you would like an image creation of your child depicted, as "your special angel", please contact me. I would be most pleased to create one for you, as time allows, with my compliments. My angel images are not for sale to parents who've lost children unless multiple images are ordered. They are instead, gifts made with a common understanding from my heart to yours. Please request gift images of your own children/grandchildren only and the quantity must be limited to one. Each image is personally prepared with a uniqueness all its own. Due to time limits, I will not be able to honor image requests as gifts for other than your own children/grandchildren. Thank you for understanding.

For your other imagery and photography needs, whether it is an additional request for different images, an angel image requested for a friend, a marketing lay-out for a brochure, portfolio, or flier, a special invitation or announcement, or just photos to share, please email for details and pricing for your proposed project.

Email Sara Duncan

Click to see More ARAS Photo and Lay-out Samples-Page 1;
ARAS Samples-Page 2;&nbsp
ARAS Samples-Page 3;
ARAS Samples-Page 4


So glad you stopped by. Please come back and visit again soon!
Before you go, please be sure to sign the guest book.

SPECIAL LINKS, CREDITS, AND INFORMATION:
MEMORIES OF MARK, OUR PRECIOUS SON ~ PAGE 1
PAGE 2
PAGE 3
PAGE 4
PAGE 5

ANGELS, MARK & WHENDY, FOREVER TOGETHER, FOREVER YOUNG
and WHENDY'S PHOTO PAGE


SWEETEST REFLECTIONS

Web tribute to our children posted on the site of another bereaved mom, Pat K. ~ Bless you, Pat.

A most special dedication from a precious online friend, Pat K., who has honored me beyond words with the creation of this most special page index. Thank you, dear!



Support freedom
Merry Christmas from the Duncans in memory of all children gone too soon!



The Place for ANGEL HUGS
Danny Halmbohm's Spiritual Art Works
Cathy Lynn Walker's Angel page, daughter of Linda, TCF Chat nickname, "Smarty"
Angel Wink's Post Card Shoppe - A terrific site to visit on the web!
Angel Eyes Post Card Shoppe-Another great site with complimentary e-cards and more!
Sids Families Post Cards
My friend, William F. Hada - Professional Artist & Web Designer
Susan McDonald, Classical Guitarist
The Compassionate Friends - Bereavement Help
Smarty's TCF Chat Member Photo Page
New Years PHOTO Tribute to All Our Angels--Bless you, Julane!
A Tribute to Marissa, daughter of Laurie
Memorial Page of Cory Griffin, son of Jody
A Tribute to Logan, daughter of Angie
Memorial Page of Andy Dunbar, son of Sharon, TCF nickname, "Scookie"
Memorial Page of Matthew Conley, son of Rene'
In God's Hands, Pat Kusila's memorial site to her sons, Matthew and Steven
Memorial Pages of Cara Wilson, daughter of Netta, TCF nickname, "new212"
Beautifully Compiled Poetry and Music-When You've Lost of Someone Dear
Original Midi Compositions by Bruce De Boer
My Wish for a Sign at Mother's Day, by S. Duncan
It's Been Three Years, My Dearst Son, by S. Duncan

FRIENDSHIP ACROSS THE MILES



(Annie's Place Cyber Greetings)

Visit our Duncan Pup Page to view our 4-legged children, Tess, Jack & Tilly.
Guess what! Jack & Tilly have BIG news! Grandpuppies are here!












PLEASE NOTE: If you have a friend who has lost a child, a valuable book for you to read is,"WHEN YOUR FRIEND'S CHILD DIES: A Guide to Being a Thoughtful and Caring Friend" by my good friend, Julane Grant. This unique book will explain to our friends and family what to say and WHAT NOT TO SAY to ease our way down this path we would never have chosen. It tells how we want and NEED our child to be remembered, how their name is music, how the memories make us smile, if even through the tears. To get your copy, click on the little bookcover.



Email: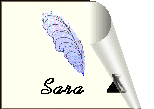 dncns@comcast.net