Cory Michael Griffin



At the time of Cory's passing, there was a very special little boy on the way, Cory Michael Griffin, Jr., born, October 21, 1999.

These pictoral depictions displayed here are to offer a visualization of the image in his mother's heart, as Cory admiring and standing as guardian angel over his precious baby son, who in delight, looks knowingly up at his angel Dad, Cory, in all his heavenly radiance.
Cory in his Heavenly Surroundings




The image here depicts Cory in Heaven. The image was created utilizing altered portions of two of the magnificent works of spiritual artist Danny Halmbohm, "Eye Hath Not Seen" (the columns and stairs) and "Welcome Home" (the dove), utilized with Danny's gracious permission.
Cory in his Heavenly Surroundings










In Loving Memory of My Son
Cory Michael Griffin






"They Say"
by Jody Seilheimer
Copyright 2000

They say that time will heal my heart
I found this is not so.
You see, with you, my heart went, too
So many months ago.

They say I must get over this,
I have a life to live.
You are my life, and to have you back,
Oh, what I would not give.

They say that you are happy now,
In a better place than I.
This, my son, I know is true
As tears fall from my eyes.

They say that you can hear me now,
I hope that it is true
I look and listen, day and night
For just a glimpse of you.

They say to give it all to God
Do it without delay.
But isn't that just what I did
One year ago, today?

Love, Mom






When Tomorrow Starts Without Me
(Author Unknown)

When tomorrow starts without me, and I'm not there to see,
if the sun should rise and find your eyes are filled with tears for me,
I wish so much you wouldn't cry the way you did today,
while thinking of the many things we didn't get to say.

I know how much you love me, as much as I love you,
and each time you think of me, I know you'll miss me too.
But when tomorrow starts without me, please try to understand,
that an angel came and called my name and took me by the hand
And said my place was ready in Heaven far above,
and that I'd have to leave behind all those I dearly love.

But as I turned to walk away, a tear fell from my eye,
for all my life, I'd always thought I didn't want to die.
I had so much to live for and so much yet to do,
it seemed almost impossible that I was leaving you.

I thought of all the yesterdays, the good ones and the bad,
I thought of all the love we shared and all the fun we had.
If I could relive yesterday, I thought, just for awhile,
I'd say goodbye and kiss you and maybe once more, see you smile.

But then I fully realized that this could never be,
for emptiness and memories would take the place of me.
And when I thought of wordly things that I'd miss come tomorrow,
I thought of you , and when I did, my heart was filled with sorrow.

But when I walked through Heaven's gates, I felt so much at home.
When God looked down and smiled at me, from His great golden throne,
He said,"This is eternity and all I've promised you.
Today, your life on earth is passed, but here it starts anew.
I promise no tomorrows, but today will always last,
and since each day's the same day, there's no longing for the past.
You have been so faithful, so trusting, and so true,
Though there were many times you did some things you knew you shouldn't do.
But you have been forgiven and now at last you're free.
So won't you take My hand and share My life with me?"

So when tomorrow starts without me, don't think we're far apart,
for every time you think of me, I'm right here… in your heart.






To Danny Halmbohm's Inspired Art
Click here to see more of Danny Halmbohm's Spiritual Art Works



In God's Hands Site Pages and Cory's photo album, created and maintained
by another precious friend and bereaved Mom, Pat Kusila.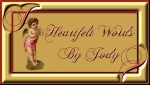 Please visit "Heartfelt Words By Jody", Jody Seilheimer's wonderful poetry pages.
She speaks from her heart, to and for the hearts of us all.



To Mark Duncan's Memorial Pages
The Place for Angel Hugs (Bereavement Help)


To Netta's "Lament for a Son" Page



Photo Imaging & Graphics for this Page: