Monstervision Proudly Presents
Duel
(1971)
Important safety tip:
Don't knock the redneck's sandwich out of his hand
On a deserted stretch of California highway, businessman David Mann (Dennis Weaver) settles into his red Valiant for the long drive to an urgent meeting. Ahead of him on the road is a slow-moving diesel truck, which he innocently decides to pass.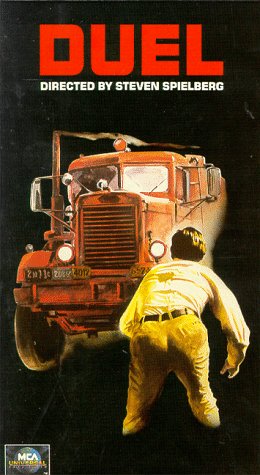 So begins the long duel between David and the Goliath-like rig in this nerve-wracking TV-movie directed by Steven Spielberg. Menacing Weaver at every twist and turn of the highway, the truck tries to push the Valiant onto a train track, run him down in a phone booth, engage him in a high-speed chase, and tailgate him into oblivion.
Hoping to lose the rig, Weaver stops at a roadside cafe only to realize that the driver of the truck is also in the restaurant. The driver is never seen, except one shot of his beefy arm waving the Valiant ahead into oncoming traffic. Instead, Spielberg uses the monstrous truck itself, much like the way he used the shark in Jaws, to harass and taunt. After its broadcast on television, DUEL was released theatrically with extra footage added.

The studio originally wanted Steven Spielberg to cast Gregory Peck in the role of David Mann. When the film premiered as an ABC Movie of the Weekend, it was 73 minutes. As a theatrical release it was expanded to 91 minutes, including footage Spielberg added--the opening shot of the Valiant leaving the garage and the scene of the truck trying to push the car onto train tracks. Some of Spielberg's other early television work included directing episodes of Night Gallery and Columbo (Spielberg was unknown at the time and used his own name as the name of characters in at least 2 Columbo episodes).
It was very early in his career that Spielberg directed this suspenseful TV movie about a businessman who finds himself in a deadly cat-and-mouse game with a diabolical diesel truck. The story appears to be original, though there are similarities to a 1942 episode of Lights Out
Additional Cast: Tim Herbert, Charles Seel, Eddie Firestone, Gene Dynarski, Lucille Benson, Lou Frizzell, Jacqueline Scott
Screenwriter: Richard Matheson (a name also recognized by Rod Serling fans)
Television broadcast premiere: November 13, 1971


Now here's Joe Bob Briggs with those drive-in totals:


Alright, next up is "Duel," the MonsterVision premiere of Steven Spielberg's first feature film, in which a diabolical, exhaust-belching big-rig goes head to head with the befuddled Dennis Weaver on the highways of California. I don't understand why more people don't appreciate this flick, it always tanks on TV, and I think it's great. It's the film that set Spielberg's career in motion. It's based on a story originally published in Playboy Magazine, and while your mind is there, yes we will have a visit from Reno the TNT Mail Girl. And somewhere in the midst of all this entoetainment, you'll be provided with an answer to one of the questions on the Joe Bob Summer School final exam, so visit the TNT MonsterVision website to see how viewing this show between now and Labor Day can get you 3 credit hours good at Jefferson Davis Vocational Technical Middle School in Bogalusa, Louisiana. And let me remind you that next week is Phys-Ed Night, with the awesome Roddy Piper as guest lecturer; pro-wrestler and star of both our feature flicks, They Live and "Immortal Combat."
Alright, we're gonna run "Duel" now, but let's do those drive-in totals first. We have: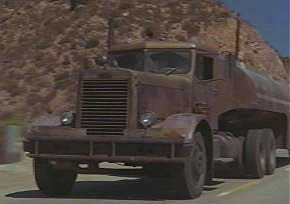 1 dead body
1 feature-length motor vehicle chase
1 stalled school bus – 13 obnoxious children
Rattlesnakes
Tarantulas
Giant gila monster
Gratuitous voice-over
Tractor trailer fu


Three and a half stars. Check it out and we'll be right here. Steven Spielberg. I like these little Steven Spielberg anecdotes. Steven Spielberg was turned down twice for USC Film School, and so he had to go to Cal State Long Beach. So you remedial types out there, you're in good company. In fact, feel free to go to Steven's house and loiter around the property with a crazy look on your face. He loves that, he'll probably give you a job.
Help you out.
Duel was written by Richard Matheson, who wrote most of the segments of Twilight Zone: The Movie, one of which was directed by Spielberg. And he wrote the MonsterVision flick Somewhere In Time, "The Legend of Hell House," the immortal "Jaws 3-D." The third one after Spielberg's Jaws and Jaws 2, both of which are on the MonsterVision schedule. But most of his work was as a TV horror writer, his movies had such titles as "The Night Strangler," Kolchak: The Night Stalker … do you remember "Jaws 3-d?" The one where the shark follows the entire family to the Caribbean? They go by plane but the shark spots em from the ocean, up in the plane. Wait a minute, or was that Jaws The Revenge?

"Duel" is available on video from Amazon.com and came out on DVD in 2003

See if your favorite person, TV series or
motion picture is available on video:





Trivia note: "Duel" was filmed in southern California, and Amazon.com reports that this video is most popular in Irvine, CA, as compared with the rest of the country.
Host segment transcript of 8-1-98 broadcast
©1998 Turner Network Television. A Time Warner Company. All Rights Reserved
Original "tnt.turner.com/monstervision" archives have been erased. Let me know if you want to see the other 8 host segments of "Duel." Mis-spellings in above restored transcription can be blamed on Bill Laidlaw