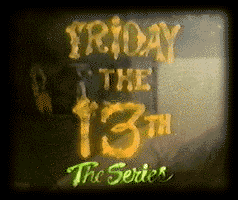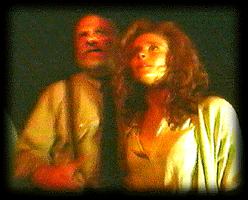 "Lewis Vendredi made a deal with the devil, to sell cursed antiques. But he broke the pact, and it cost him his soul. His niece Micki, and her cousin Ryan, have inherited the store, and with it, the curse. Now, they must get everything back, one by one, and the real terror begins."
The 1st season (1987) of the series is now out on DVD, featuring episodes with auteurs like David Cronenberg and Atom Egoyan. Friday the 13th the TV Series is scheduled on an occasional basis on SYFY's Chiller TV channel.

Although there have been no new episodes since season 4, the SCIFI Channel (now SYFY) announced a new series "WAREHOUSE 13" starting 7-7-09, in which two government agents (Eddie McClintock & Joanne Kelly) are sent to retrieve weird & mysterious artifacts for a secret government warehouse under the desert. Among the items that "threaten to ruin the world's day" are: a comb owned by Lucrezia Borgia and a samurai sword that can split light. Pilot episode
"After saving the life of the President, 2 Secret Service agents find themselves abruptly transferred to Warehouse 13 -- a massive top-secret storage facility in windswept South Dakota that houses every strange artifact, mysterious object, fantastical object and supernatural souvenir ever collected by the U.S. government. The Warehouse's caretaker Artie (Saul Rubinek) charges Pete Lattimer and Myka Bering with chasing down reports of supernatural and paranormal activity in search of new objects to cache at the Warehouse, as well as helping him to control the Warehouse itself." Pete & Myka are the only residents of "Leena's Bed & Breakfast" which was built when the Warehouse was. Leena (Genelle Williams) is also its sole employee, and has the useful ability to read the auras of both people and strange objects brought to the Warehouse. Artie's (classified) boss is Mrs. Frederic (CCH Pounder). CCH Pounder played Capt. Claudette Wyms for 7 years on The Shield, Dr. Angela Hicks on NBC's ER, and Agent Lucy Kazdin on The X-Files. She was also in the movies Tales From The Crypt and Robocop 3. Saul Rubinek was previously a regular on "The Equalizer" and guest-starred in Eureka, Psych, Star Trek:TNG, The New Outer Limits, and Lost.
Warehouse 13 episodes showing on SYFY channel
2am is night of date shown, not morning
Friday the 13th TV Series or Warehouse 13 currently also showing on SYFY Channel's ChillerTV along with Ripley's Believe It Or Not.

Friday the 13th marathon of episodes on Friday the 13th of March 2015
starting with episode "Demonhunter" (1989) @ 7am EST

Warehouse 13 had new episodes starting mid-April, 2014 (final season)


After Friday the 13th Part 6, it looked like the movie series had run its course and a new, syndicated TV series by the same title was created. No relation to the movie series, the TV series was about a man and his two young friends who take over an antiques shop that had been selling cursed objects. Lewis Vendredi's niece (rock singer Louise Robey, listed in the credits simply as Robey) inherited the store, renamed Curious Goods. With help from cousin Ryan (John D. LeMay, replaced in the final season by Steven Monarque) and retired stage magician Jack Marshak (Chris Wiggins), they track down the cursed objects and lock them in the basement vault.

Each item has a different mode of operating, but all require a human victim to be killed in return for something. For example, in "Doctor Jack," a scalpel once used by Jack The Ripper allows its user to save the life of any patient, no matter how close to death. But in return, the surgeon must first go out and kill someone for each life he wants to save. In "The Playhouse," a couple of kids start killing after getting a cursed dollhouse. And so on. Come to think of it, there's a lot of killing in the TV series too, most of it just happens offscreen to keep a PG-rating. The series won two silver medals (in 1988) in the International Film and TV Festival in New York, for episodes "Faith Healer" and "The Baron's Bride"
78 syndicated episodes


Music from Friday the 13th is available


Friday the 13th Episode Guide ... Season 1 & 2 descriptions ... Season 3...Characters / Actors ... More about the series ... Fan links and More links (as of 2001) Another fan site

Friday the 13th was no relation to the "Friday the 13th" movies, but why not visit the host segments for
Monstervision's marathon of Friday the 13th movies

SEASON 1
#1 - The Inheritance (1st ep, she inherits the shop)
#2 - The Poison Pen (a quill pen that predicts the future)
#3 - Cupid's Quiver 
#4 - A Cup of Time (ivy painted in a cup comes to life)
#5 - Hell'oween (Micki is alone when a storm hits and bad guys come looking for their evil item)
#6 - The Great Montarro 
#7 - Doctor Jack (1st ep in which one of the main stars' life is saved by a cursed object) 
#8 - Shadow Boxer (a boxer's shadow goes hunting after he wins each match)
#9 - Root of All Evil (unlike in the movie Fargo, this mulcher spits out money)
#10 - Tales of the Undead (Ray Walston uses a cursed comic book to become a super-villain) 
#11 - Scarecrow (it grants good crops if people die, shades of Children Of The Corn) 
#12 - Faith Healer (The Fly director David Cronenberg guest-directs this gory ep)
#13 - The Baron's Bride (1st time-travel ep, a certain 19th-century vampire wants Micki) 
#14 - Bedazzled 
#15 - Vanity's Mirror 
#16 - Tattoo (cursed needles make tattoos that come to life to kill their wearer) 
#17 - The Electrocutioner 
#18 - Brain Drain (actually spinal fluid drain, with shades of Lawnmower Man 2)
#19 - The Quilt of Hathor Pt. 1 (a cursed quilt in a Scarlet Letter-type community)
#20 - The Quilt of Hathor Pt. 2 (oops, they recovered the wrong quilt in part 1) 
#21 - Double Exposure 
#22 - The Pirate's Promise (a cross between Pirates Of The Caribbean and The Fog)
#23 - Badge of Honor (vigilante lawman uses cursed badge to kill, score inspired by Miami Vice)
#24 - Pipe Dream (Michael Constantine as Ryan's father owns a cursed object)
#25 - What a Mother Wouldn't Do (a cradle from the Titanic in a so-so story) 
#26 - Bottle of Dreams (Miki & Ryan trapped in the vault with an object that feeds on terror) 
SEASON 2
#1 - Doorway to Hell 
#2 - The Voodoo Mambo 
#3 - And Now the News 
#4 - Tails I Win, Heads You Lose (Micki is killed, and brought back, by a cursed coin) 
#5 - Symphony in B# 
#6 - Master of Disguise 
#7 - Wax Magic 
#8 - Read My Lips  (Billy Drago & John Byner are no dummies)
#9 - 13 O'Clock 
#10 - Night Hunger (not as good as Stephen King's Christine) 
#11 - The Sweetest Sting 
#12 - The Playhouse (no one dies in this one) 
#13 - Eye of Death (with Bernard Behrens as General Robert E. Lee) 
#14 - Face of Evil 
#15 - Better Off Dead (the only ep that had a parental warning due to graphic violence) 
#16 - Scarlet Cinema (there is no such thing as a werewolf) 
#17 - The Memphisto Ring 
#18 - A Friend in Need (actually 2 stories, involving: Medusa Shard & A Child's Coffin) 
#19 - The Butcher (no antiques in this one, someone's killing Jack's WW2 buddies) 
#20 - Mesmer's Bauble 
#21 - Wedding in Black (Satan wants Micki to have Rosemary's Baby) 
#22 - Wedding Bell Blues 
#23 - The Maestro 
#24 - Shaman's Apprentice 
#25 - The Prisoner 
#26 - Coven of Darkness (Catherine Disher of Forever Knight is a member of the Coven)
SEASON 3
#1 - The Prophecies Pt. 1 (a fallen angel in France plans to start the apocalypse for Satan)
#2 - The Prophecies pt. 2 (originally aired together as a 2-hour story, Satan possesses Ryan)
#3 - Demon Hunter 
#4 - Crippled Inside (a cursed wheelchair allows its crippled owner to hunt down victims astraly)
#5 - Stick It In Your Ear (cursed hearing aid allows wearer to hear thoughts)
#6 - Bad Penny (cursed coin from Season 2 episode 4 turns up again)
#7 - Hate on Your Dial (cursed 1954 car radio sends owner back in time to 1954 KKK meeting)
#8 - Night Prey (vampire slayer has a cursed silver crucifix)
#9 - Femme Fatale (character in cursed old movie comes to life one night for each victim)
#10 - Mightier Than the Sword 
#11 - Year of the Monkey (See no evil, speak no evil, hear no evil)
#12 - Epitaph for a Lonely Soul (antique aspirator)
#13 - Midnight Riders (dead bikers return to avenge their murders)
#14 - Repetition 
#15 - The Long Road Home (two brothers with an unsettling passion for traps and taxidermy)
#16 - My Wife as a Dog 
#17 - Jack-in-the-Box 
#18 - Spirit of Television 
#19 - Tree of Life (evil Druid priestess)
#20 - The Charnal Pit (time-travel, Micki gets to meet the sadistic Marquis de Sade in person)

Note: If the 3rd season was supposed to be 26 episodes, then those eps were either never written or made & never aired. Official Friday the 13th tv series page (if it's still there)

Warehouse 13

Click here to hear the TV series themesong again