Ripley's Believe It Or Not
TV and Movie page
WEBSITE TRANSLATION

This site is devoted to Robert L. Ripley,

creator of the famous Believe It Or Not cartoon sketches and collections.
In 1918, sports cartoonist Robert L. Ripley sketched out a comic strip based on some unusual facts and feats he had gathered. The result was Ripley's Believe It Or Not, an instant hit in newspapers across the U.S.A. (and later, around the world). It started in New York's Globe newspaper and was an immediate hit with readers. After the cartoon was picked up by King Features in 1929, it grew into an international success, printed in over 300 newspapers and translated into 17 different languages, and continues to be seen to this day even daily on the internet!. It is a name that is associated with outlandish claims and fantastic truths. Little did Ripley realize, when he sold his first cartoon in 1908 to Life magazine, that he had opened the floodgates of fame that would make his name one of the world's most recognizable. Ripley soon began doing his strip for a living, traveling the world several times over to find new material for his successful creation, and no longer limiting it to odd/unusual sports trivia. He later parlayed his comic-strip success in equally successful movie theater shorts, the radio airwaves in 1930--first as segments on The Collier Hour--then as its own network radio series, and a television show (1949-50) that he hosted until his untimely death in 1949 (see list below). The Ripley's radio series was also heard until 1949. When he died, his assistant Paul Frehm took over the cartoon sketching
.-. --- -... . .-. - / .-.. / .-. .. .--. .-.. . -.--
Ripley's Believe It Or Not 4th season currently showing on Chiller TV in 2014 Sorry, Chiller TV does not want anyone to see it's schedule anymore more than one day at a time

Incredible But True! This series ran 1950-51, after Ripley's death. Each episode dramatized a different weird story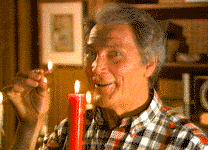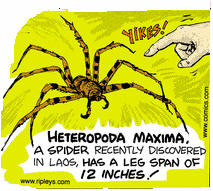 In 1982, inspired by the success of reality-based dramatizations "Rescue 911" (created by Dragnet's Jack Webb), Columbia Pictures Television created Ripley's Believe It Or Not with Jack Palance as Host, co-hosted by Catherine Shirriff (1982-83), daughter Holly Palance (1983-85) and Marie Osmond (1985/86 season). The 79 episodes ran on ABC from 9/26/82 to 9/4/86 (Sundays @ 7pm until the final year, when it moved to Thurdays @ 8pm-- up against Cosby Show and Family Ties) at a cost of over a million dollars per episode for the 1st season, and was rerun on the SCIFI channel until 1999. Palance sometimes went to actual locations of oddities, skulking around ruins or touring a torture museum in Peru. Among the segments in ABC's series were albino gorillas, the skeleton of the queen of Portugal, Mad King Ludwig of Bavaria, a drive-in funeral parlor, secret WW2 weapons, strange rituals that film crews discovered around the world, and of course the Texas millionairess who specified that she be buried in her Ferrari (have you seen the price of caskets lately?) wearing a sexy nightgown. But there was also the world premier of a Wizard Of Oz scene that had been cut from the movie (The Jitterbug) featuring Judy Garland, Ray Bolger, Bert Lahr and Jack Haley (the producers correctly guessed that The Jitterbug was a passing dance fad and would be dated quickly). There were also up-to-the-minute science reports on outer space and zero-gravity life aboard the Skylab in orbit. Palance died November 10, 2006.

Ripley's has also enjoyed a long life in syndication, inspiring another new version in 1999, this time hosted by Dean Cain (broadcasted 2000-2003). Here are links to the most recent tv series and the previous series on the Sci-Fi channel:
Ripley's Believe It Or Not moved from the Sci-Fi channel to TBS starting Jan. 12, 2000, with Dean Cain of Lois & Clark: The New Adventures of Superman (replacing Jack Palance) as host of new eps, which has now moved back to the SciFi Channel. We can only hope they have a marathon of the Jack Palance eps one of these days as well. See below for another update

The 1st episode aired in January 2000, #14-26 aired starting in August, repeated starting October 11, 2000 with this announcement:
Can't get enough of the strange and unusual? Never fear, Ripley's Believe It Or Not! (all episodes rated PG) is back with more wondrous places and fascinating people that stretch the limits of the imagination. Starting on August 2nd and continuing each Wednesday at 8:05 pm/est, TBS will premiere the second group of brand new episodes that will take you on a tour of the amazing feats, facts and artifacts that made Ripley's Believe It Or Not!™ a global phenomenon
Ripley's Believe It Or Not has moved from the SYFY Channel to sister station ChillerTV


Episode Descriptions:

Dean Cain's first season (year 2000), episodes #102-122

2nd Season, Episodes 201-222

3rd Season, Episodes 301-322

4th Season, Episodes 401-422

1985/1986 Season Episodes (host Jack Palance)



Previous listings this year

Actor Dean Cain, host of Ripley's Believe It or Not, starred for four seasons as Clark Kent/Superman on the TV series Lois & Clark: The New Adventures of Superman. Prior to that, he spent a season playing Rick on the popular series Beverly Hills 90210.
In addition to series, Cain has also starred in such telefilms as Things That Go Bump in the Night, Dogboys, and SCI FI Pictures' Dragon Fighter, and Post Impact.

What is unique about this word: Boob-bookkeeper (see bottom of page for answer)

The Yamakasi of Paris


The Tree Cat


Dragonflyer Quad-Rotor more stable than any other helicopter


The headless chicken that lived



Click here for the old TBS website about Ripley's Believe It or Not (2000)
Or here for an old archived version of the first 22 episodes

About the show and Robert L. Ripley

Jack Palance hosted the 1980s version
Ripley hosted movie shorts
Warner Bros. Pictures, sound by Vitaphone, 1 reelers (about 8 minutes each)

Believe It or Not (1930)
This first entry in the "Believe It Or Not" series of shorts visits northern Africa. Included are a look at the Tuareg people of the Sahara Desert, a waterfall whose under-surface builds up because of lime deposits, a clock that strikes 13, and the Tree of Abraham, estimated to be 3500 years old. Vitaphone release #1282

Believe It or Not #1 (May, 1930)
Robert L. Ripley first shows the very first cartoon of his, published in newspapers 8 years earlier. He then proceeds with various oddities, first introducing a woman who can read aloud 8 words a second. He demonstrates this by giving her a 200-word tract she reads in 24 seconds. Next a woman telephones to question his assertion that you can walk through a hole in a cigarette paper, but he demonstrates how when she arrives. Other oddities follow, including a miniature bedroom set built in a bottle; statements that the biblical Abraham wasn't a jew, but a Babylonian and that Einstein once flunked mathematics. He draws a picture of an African with a big projection growing out of his forehead and has a photograph to prove it. An animated sequence demonstrates how a porcupine fish can kill a shark. Finally, he brings out a small Chinese boy who sings "Hello Baby." Vitaphone Production Reel #1005. Description written by Arthur Hausner, genart@volcano.net

Believe It or Not #2 (July, 1930)
The second entry in the Believe It or Not series of shorts begins with Robert Ripley in his office sorting his mail. At the time he received about one million pieces of mail per year, more than any other individual. He shows the audience several of the more oddly addressed envelopes. These include one addressed in Morse code; one in Hebrew, one using the naval flag code; and one with a small tear to the left of a picture of Robert E. Lee (i.e., "Rip + Lee" = Ripley). A U.S. marshal then enters the office and arrests Ripley. He is brought to court to defend several of the claims made in his books and newspaper columns. One claim is that The Star Spangled Banner is not the national anthem of the USA (it wasn't until 1931). Another is that Charles A. Lindbergh was actually the 67th person to fly nonstop across the Atlantic Ocean. (The first nonstop flight was made in 1919 by a pair of aviators in one plane, and two dirigibles with more than 30 passengers each also made crossings before Lindbergh). Vitaphone Production Reel #1038. Description written by David Glagovsky, dglagovsky@prodigy.net

Believe It or Not #4 (1930)
At the request of a television experimenter who needed items to broadcast, Robert L. Ripley states unsubstantiated oddities including that a Spanish lady had her husband's portrait tattooed on her tongue as penance for nagging him to death. He also shows a house and the blind man who built it by himself in Wayne, New Jersey. The longest word in the world (184 letters, from a work by Aristophanes), is written on a blackboard and pronounced and translated by a professor. There are animated sequences of a rifle fish, which shoots at flying insects for food, and how a strange home run was hit in 1890, when the ball bounced off the outfielder's head and over the fence. Ripley demonstrates his skill as an artist by drawing several items, such as a Chinese man who had fingernails 22.75 inches long. Finally, in the most amazing sequence, Ripley introduces Carl Vaughan, who demonstrates how he picks up 12 pocket billiard balls with one hand and without touching the table or the balls with any other part of his body. There are scenes intercut throughout showing a family watching the show on the television. Description written by Arthur Hausner, genart@volcano.net

Believe It or Not #9 (1931)
Asked to present some oddities to members of the Believe-It-or-Not Club, Robert L. Ripley mentions that German was proposed as the official language of the United States, but was voted down by the Continental Congress by one vote (Hebrew and French also finished in the top four). The largest chair in the world is at Thomasville, North Carolina, and is 13' high and has a 5½' square seat. The tallest building in the world is the recently completed Empire State Building in New York, but a miniature skyscraper in Flint, Michigan stands 6 stories high and is 6 feet wide. There is a skyscraper in Chicago which has a cow stall. Various odd trees are described. Baby Katharine Marilyn Carney had a full set of teeth at age 6 months. Ulysses S. Grant's birth name was Hiram and he was not a general during the Civil War, but was made a general by act of Congress a few months before his death. A man once saved bits of string that measured 139 miles long, but an Indian fakir collected chains instead of string, finally accumulating 670 pounds of chains he wore around is body by adding one link each day. Ripley uses his skill as an artist to draw a picture of the man. Finally, he introduces Henry Scott, who plays a song on the piano while wearing mittens. Description written by Arthur Hausner, genart@volcano.net

Believe It or Not #10 (1930)
This entry in the Believe It or Not series (#10) finds Mr. Ripley aboard a US naval ship speaking to a group of sailors. The film he shows them includes items on a Mr. Curt Thompson, a blind telephone operator, and John R. Voorhees, who, at age 102, has voted 81 times since his 21st birthday. The finale is a demonstration of skill by Otto Reiselt, the three-cushion billiards champion. Description written by David Glagovsky, dglagovsky@prodigy.net

Believe It or Not #11 (July, 1931)
In this entry, passengers enter a mockup of an airplane. During the flight, Robert Ripley shows the "passengers" several oddities across the United States. They include the town with the smallest population (of one) in the 1930 census, a father and son who can rest their shoulders on their chest, and an armless trombone player who uses his foot to move the instrument's slide.

There was also an unrelated comedy short "Believe It or Not" (1928) directed by Harold Beaudine (brother of William "One-Shot" Beaudine of Jesse James Meets Dracula's Daughter fame)

Believe It or Not (1931/I)
This entry in the series crisscrosses America to find various curiosities. Among them are a church in Nebraska made of bales of hay; a man who uses only one leg; a baseball team with 9 brothers on it; a family living in a log cabin; a duck with four legs that lives with its owner in Flint, Michigan; a 128-year-old former slave who lives in Holly Springs, Mississippi, with her 100-year-old daughter; and, in a cemetery in Mayfield, Kentucky, a family plot wherein the deceased members are memorialized with life-size statues, including the patriarch's horse and other family pets. Vitaphone release #1304

Believe It or Not (1931/II)
Little Billy Hayes falls asleep reading Ripley's Believe It Or Not and dreams Robert L. Ripley (playing himself) takes him on a tour of Believe-It-or-Not land to see many oddities. Ripley draws an Indian who can call to fish; film of live blowfish, sharks; a 200-year-old tree that sprouted from discarded wooden riding whip; a segment on mice; a suit made out of Confederate money; a chair made of tin cans; a 2-headed turtle; an all-woman football team; a man who can write with both hands and feet; a cat who likes to smoke cigarettes. There are no credits: instead Ripley names the cast at the end though he leaves out Hayes! Vitaphone release #1320. Description written by Bill Laidlaw, scifans@gmail.com

Believe It or Not (1931/III)
"Mr. Robert L. Ripley is making a world tour in search of the strange, mysterious and unbelievable. During his absence, Leo Donnelly will act as your guide to the mythical land of 'Believe It or Not." Donnelly narrates scenes of oddities in the Philippines, Japan, Luxembourg and other places. A bamboo house is picked up and moved by men; a 1-armed boat builder; a walking boat; bonsai tree; Asian roosters with 18-foot tail feathers; a giant sundial in Manila; a 4-horned goat; a cow with bulldog face; a cow with a second, working, udder--on her back; alphabet cut from tree branches where each grew that way; a collection of miniature books; Grauman's Chinese Theater. Narrator Leo Donnelly orally identifies the other credited cast member. Robert L. Ripley's name appears in the opening foreword, but he is not mentioned when he appears in a segment from Japan. "Robert L. Ripley has visited 122 countries in search of material for his 'Believe It or Not' pictures." Vitaphone release #1427
Description written by David Glagovsky, dglagovsky@prodigy.net with segment descriptions by Bill Laidlaw

Believe It or Else (1939)
In this cartoon spoof of the newsreel series, we meet a man who drinks large amounts of milk, a snake charmer, a man building a ship in a bottle, the world's loudest hog caller, a man who hasn't left his room for years, a human basketball, an optical illusion, a new giant telescope showing life on Mars and none on the moon, a wishing well in Egypt, the world's fastest woodcutter, the country's most accurate knife thrower, the sounds made by ants, and a man who saws people in half. Egghead keeps saying he doesn't believe it. Voice of Mel Blanc, directed by Tex Avery. Description written by Jon Reeves, jreeves@imdb.com
Jack Palance as host of Ripley's was spoofed in at least 2 episodes of Mystery Science Theater 3000 (season 5) in 1992.

Ripley's Believe It or Not (1994)
A documentary examining the life of Robert L. Ripley (played by Richard Portnow), the man who created the "Believe It Or Not" series.

Ripley's Believe It or Not! (2009)
"Believe It or Not" picks up with Ripley at the time when he gained celebrity status through a "Believe it or Not" column that chronicled his search for the greatest oddities in the world. Along the way, he starts to respect his unusual human discoveries as more than mere conquests to be documented. Johnny Depp was at one point attached to play Ripley, but prior commitments made him unable to star, replaced by Jim Carrey. Tim Burton was signed on to direct, but ended his involvement to commence work on "Sweeney Todd" (2007, starring Depp). Burton is still listed as the film's Producer by IMDB.com, with music by Danny Elfman of Beetlejuice fame. Filming locations include Shanghai, China.

Believe It or Not (1949-50 NBC TV-series)
The first season, beginning in March 1949, featured Robert L. Ripley sitting in a "living room" recounting tales of strange stories (some of which were dramatized) while surrounded by oriental antiques and mementoes. Ripley died on 27 May and was replaced by Robert St. John who continued, July to November 1949. The second season, beginning in January 1950, was a dramatic anthology series based on Ripley's stories and featured guest players every week. Description written by J.E. McKillop
Among Ripley's guests were "Kuda Bux, the Indian fakir with X-ray vision;" a man who could "thread a needle with one hand while balancing his body parallel to the floor with the other; and a 4-eyed Mongolian." But as with the earlier radio series, Ripley also recounted stories of "ordinary people who had triumphed over great adversity to lead normal, and even exceptional, lives." For the month of June 1949, "guest custodians" hosted items from Ripley's sketchbook. The dramatized episodes in 1950 (and dramatized sketches in 1949) had no permanent cast and usually involved "murder, romance, or both." NBC had been airing the series at 9:30 pm or later, but evidentally decided the dramatized episodes would be more family-friendly, as all the 1950 episodes aired @ 8pm.

Ripley's Believe It or Not (1999, 25 episodes)
Hook up with Michael "Rip" Ripley (Teddy Lee Dillon), nephew of the celebrated Robert Ripley, as he scours the world to uncover strange stories and odd artifacts. Together with his uncle's former assistant, Cyril Barker (Rick Jones), and fact-seeking documentarian Samantha Seaver (Jennifer Morehouse), Rip sets off on his never-ending search for the unexplained. They'll visit strange sites, meet peculiar people, witness fantastic feats and, at the end of every episode, secure yet another awesome oddity. Description written by Monica Kactz, cookie_765@hotmail.com for IMDB.com (this Ripley's series was a Saturday morning cartoon)

TV-Series Episodes since 1999:
Dean Cain's first season (broadcast year 2000)

2nd Season, Episodes 201-222

3rd Season, Episodes 301-322

4th Season, Episodes 401-422

1985/1986 Season Episodes (host Jack Palance)

Fun facts:


* Ripley was born on December 25, Christmas Day
* The first full-masted Chinese Junk to ever sail up an American river was one owned by Ripley himself. It had belonged to a warlord who used it in 1939 to flee when the Japanese invaded China
* Ripley had one of the world's largest collections of automobiles, but never learned to drive
* During his lifetime, Ripley traveled a distance equal to circling the globe 18 times and visited 201 separate countries
* When working on a cartoon for the newspapers, he always drew them upside-down
* Ripley got 2500 letters a day, about a million pieces of mail a year. The packages included photos, tapes and testimonials of people doing unusual and strange things. There's the guy pulling a car with his hair, a five foot long cucumber, the world's largest broom, and the upside-down tap dancer. A two-week Ripleys contest once got over two million entries
* Ripley is buried in Odd Fellows Cemetery in his hometown of Santa Rosa, California, and there is a memorial to him in a Santa Rosa church made entirely from a single redwood tree


From the SCIFI channel website: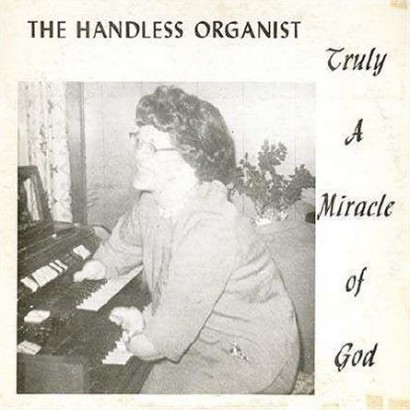 Ripley was born on Dec. 25, 1893, in Santa Rosa, Calif., to parents who were by no means well-to-do. From an early age, he was very interested in drawing. But it was not until he turned 14 and sold his first cartoon (for $8) that the young boy realized drawing would be his life's work. He began applying his talent to his daily life, convincing his schoolteachers that he could better express himself through drawing than through writing essays.

Ripley's other passion was baseball. The grand, glorious pastime beckoned the young man, and he eventually earned some local notoriety as a pitcher. But his dreams of fame on the diamond were cut short by an elbow injury.
At age 15, just one year after selling his first cartoon, young Ripley landed a job as a sports cartoonist — thus combining his two favorite passions — for the San Francisco Chronicle, but his tenure there was short-lived after he audaciously asked for a raise.

In 1913, with no job and little money, Ripley trekked across the country to the beckoning metropolis of New York, soon obtaining a position at the New York Globe, where he earned the then astronomical salary of $100 a week. Ripley's move to New York and comfortable finances opened up a whole new world to him, and in 1914 he traveled abroad for the first time. On the itinerary were London, Paris and Rome, each of which boasted some of the world's greatest museums. And Ripley made sure he saw as many of them as time would allow.

His work soon attracted great notoriety. Many people who wrote to Ripley included their own drawings, in the hope that he would be inspired to use their ideas for a Ripley's Believe It or Not! installment. In 1937, young Peanuts creator Charles Schulz was first published when he sent in a cartoon about his dog Sparky's ability to eat pins, tacks, screws and razor blades. Sparky served as the model for Schulz's world-famous cartoon character, Snoopy.

During his broadcasting career, Ripley celebrated many firsts. He was the first to broadcast on a nationwide network from mid-ocean, the first to broadcast from Buenos Aires to New York and the first to broadcast to every nation in the world simultaneously, assisted by a corps of linguists who translated his message.


The Thousand Hand Guan Yin - 觀世音

(there are no camera tricks in this video from China)


Actor Dean Cain, host of Ripley's Believe It or Not, starred for four seasons as Clark Kent/Superman on the TV series Lois & Clark: The New Adventures of Superman. Prior to that, he spent a season playing Rick on the popular series Beverly Hills 90210. In addition to series, Cain has also starred in such telefilms as Things That Go Bump in the Night, Dogboys, and SCI FI Pictures' Dragon Fighter, and Post Impact. His parents divorced before his birth and he and brother, Roger Cain, were adopted by their stepfather, director Christopher Cain. His name before adoption was Dean George Tanaka. Like Ripley, Dean was interested in sports and was interested in a professional football career until a knee injury at training camp ended the possibilty of playing for the Buffalo Bills. He graduated from Princeton with a degree in History.

Cain made his feature film debut in 1984 in the critically acclaimed independent film The Stone Boy, starring Robert Duvall and Glenn Close and directed by Cain's stepfather, Chris Cain. He later starred in the cop comedy Best Men, with Andy Dick; the thriller The Unconcerned; and the sci-fi film For the Cause. He recently (in 2000) completed the film Flight of Fancy and the thriller Militia, co-starring Jennifer Beals.

Phebe Ripley (1742-1825) taught Latin and Greek to a class of Harvard students while peeling potatoes with her hands and rocking a baby cradle with her foot because she didn't believe in wasting time

Answer according to Robert L. Ripley: "Boob-bookkeeper" (an incompetent bookkeeper) is a word that contains 5 double letters in a row!
A woman and 2 toddlers who live in government-assisted housing in Stoke-On-Trent, England, have had to put up with about 50 slugs almost every morning for 2 years. Contractors have bleached the floors, remodeled the kitchen and bath, but still can't figure out where they're coming from as of July, 2009

According to Robert Ripley, the origin of the term "Pot head" for a drunk began in Korea, where the king ordered all men to wear a pot on their head in public and to be arrested if they were too drunk to keep it from falling off.
Since 6-13-20, it has been illegal to mail children in the U.S. Postal system after someone actually did it. In Oklahoma it used to be illegal to take a bite from someone else's hamburger

In Great Britain, there is still a law on the books that a citizen placing a postage stamp picturing the Queen upside down can be arrested and charged with treason.

The world's tallest flagpole is 430' tall in Aqaba, Jordan, flying a flag that commemorates the 1916-1918 Arab revolt instigated by Lawrence of Arabia.

The Canadian post office has assigned the zipcode HOHOHO for letters addressed to Santa Claus

The tradition of shouting Geronimo when jumping out of a plane started in 1940 after U.S. paratroopers saw the 1939 movie Geronimo. It was the nickname given to an Indian brave who crossed into Mexico and is Spanish for Gerald.

In 2004, thirty-four Cambodian villagers emerged from the jungle after living in hiding for 25 years since the Vietnam war of 1979

It takes 2 seconds for a cheetah to reach 45mph, faster acceleration than any racecar or jet fighter ever made!

The charges against Joan of Arc for which she was burned at the stake included "disobeying her parents."

Rather than fly over the 8000' high Alps, migrating swallows have learned to fly through the 4-mile-long Grand St. Bernard Tunnel

40 degrees below zero is the same temperature in Fahrenheit or Centigrade. The metric system originally included a ten-day week, but French workers threatened to riot if they only got one day off in ten.

In ancient matches between a bull and a tiger in a pit, the tiger always lost to the enraged bull

The Taj Mahal made out of matchsticks. Thanksgiving Day was celebrated first in Canada, in the year 1578, 45 years before the Pilgrims. The first Thanksgiving celebrated in New England was in Jamestown, VA, on December 3, 1619, one year before the Pilgrims in Plymouth

Sauerkraut was invented in China about 3,000 years ago by fermenting cabbage with wine. Later, Germans adopted it but substituted saltwater for the wine. Kimchi, also spelled gimchi or kimchee, is a traditional Korean fermented dish made of vegetables. Early kimchi was made of cabbage and salted water only, and U.S. veterans of the Korean War sometimes said "in deep kimchi" as a euphemism for "in deep trouble"

Ripley's Believe It Or Not daily cartoon sketches based on current events are done by John Graziano, who has been working as an artist and illustrator since 1983, including trading card sets and a portrait series based on the 1960s cult TV show Dark Shadows

You can't register "www.yourname.to" anywhere else, and "www.fastlink.to" is still available!
Someone else will register it if your don't! Also available: javascript.to, movieguide.to,
beeline.to, soar.to, vault.to, clicks.to, corporate.to, gokids.to, musicfans.to, bigbucks.to

Link to this page from your website or blog: https://www.angelfire.com/mn/nn/Ripley.html


Don't try this at home



Modern contact lenses were invented in 1949 when British ophthalmologist Sir Harold Ridley discovered a sliver of plexiglas (polymethyl methacrylate, or PMMA) in the otherwise-uninjured eye of a WW2 veteran. It had been there since the plexiglas of his bomber was shattered by enemy fire and the doctor was astounded that there was no infection...until then it was assumed that only highly-fragile glass was inert enough to be placed on a human eye without causing infections. He tried to implant an artificial intraocular lens (IOL) made of this same plastic, to replace a cataractous lens removed by surgery, but the implants didn't work well and were abandoned. German soldiers in WW2 had worn hard contact lenses because wearing glasses was forbidden. A Czech doctor came up with a way of producing plastic lenses in 1961 that could be worn without surgery. After ten years of testing, the FDA approved soft-plastic contact lenses in 1971, the same year that Ridley retired.

The Jimmy Dorsey Orchestra played for motion picture soundtracks and on radio broadcasts, most notably Bing Crosby's Kraft Music Hall. In 1938, Jimmy Dorsey was included in "Ripley's Believe It or Not" after he played "Flight of the Bumblebee" in two breaths--he later played it in only one breath on the CBS television program "Swing Session." The Queen of Madagascar once ordered her subjects to not appear in her dreams on pain of death, those who did were executed. Rev. Father Gabriel Richard of Detroit is the only Catholic Priest ever elected to Congress (1955)

A penny made of solid gold would weigh two and a half times as much as one of solid copper. Chinese playing cards are called "fighting sticks." Charles Carroll of Carrollton, MD, signed the U.S. Declaration Of Independence and lived the longest, laying the cornerstone of the Baltimore & Ohio Railroad at age 91 (1828) and seeing it run before his death 4 years later. The transcontinental Canadian National Railroad is 3 miles longer in summer than winter due to expansion of its steel rails by the sun.

In France, a woman who has borne children to a man but never married him, can legally do so after his death. Charles De Gaulle, leader of the Free French in WW2, survived 30 assassination attempts in his lifetime. In WW2, an armor-piercing bullet hit PFC Allen Fuehrer in Lembach, France, but didn't kill him: Ripley says the bullet passed thru a hand grenade in his pocket without exploding it and then thru the Bible, before slightly wounding him. On 5/28/1738, a woman witnessing an execution in France was so horrified that she went into premature labor, giving birth to Doctor Guillotine, for which the guillotine was later named. Queen Min of Korea was murdered and her body burned by Japanese invaders in 1895 but after they left, the bone of her little finger was found so the city of Seoul made a the Tomb of the Finger, which Ripley visited in 1932. Queen Victoria was the grandmother of England's George V and Germany's Kaiser Wilhelm II, whose quarrel was known as World War 1.
India has the world's longest constitution at 100,000 words; while the United States has the world's shortest and oldest written constitution

A bulldog owned by Ludwig Hausing (manager of the theatre in Glogau, Germany) was trained to growl ominously when it heard the word "advance" mentioned to discourage actors from asking for an advance on their pay. Surgery has been performed for many centuries, but anesthesia wasn't invented until 1846. Although silk is produced by silkworms, it would take a million spiders to produce enough spiderweb to make a human shawl out of it

Santa Claus as a jolly fat man with white whiskers was first pictured that way by German-born cartoonist Thomas Nast (1840-1902) while the red cap, coat & pants with white trim was established in the 1930s in a Coca Cola ad by an artist who used himself as the model. Outer space is not a total vacuum--even in deep space between galaxies, scientists estimate there is at least one atom per cubic yard. Bamboo is actually a type of grass, divided into woody sections called inter-nodes by joints called nodes; the upper nodes divide off into parallel branches, which is why the term is used in computer networking. Japanese Timber Bamboo can reach heights of 45 feet and Moso Bamboo can grow 60 feet high. Bamboo used as scaffolds beside tall buildings in asia has been known to survive monsoon (hurricane) winds intact

On D-Day 6/6/44, the military password that started the massive invasion was "Believe It Or Not." Police Chief Byron Parrish of Ranger, Texas, could throw a can in the air and hit it with 12 bullets from two 6-guns before it hit the ground, firing simultaneously with both hands. So, do you feel lucky? Don Ritchie of Australia lives near a cliff overlooking Sydney Harbor, and so far has talked 160 people out of committing suicide off the cliff.

The national anthem of Bangladesh was written in 1906 as a protest song, against separation from India! Aborigines don't need sugar: they gather sugary sweet scales of the Manna Gum Tree created on its trunk by tiny insects

Anyone who sneezed or yawned in the presence of Burma's King Narathihapate (1255-1290) was beheaded. The massive Abbey of Burton in Staffordshire, England, was built solely to reassure the populace that the world wasn't going to end in the year 1000. Benjamin Disraeli became leader of England's conservative Tory Party and Prime Minister under Queen Victoria after losing 3 campaigns as a radical. Pennsylvania preacher Sylvester Graham, after whom the Graham Cracker is named, was convinced that a craving for whiskey could be cured by eating bread baked with bran.

The statue welcoming visitors to Wawa, Ontario, is a 3500 pound steel Canadian Goose 24 feet high; Wawa is the Indian word for Canadian Goose. The Brooklyn Bridge, America's first suspension bridge built with wire cables, contains more than 200 tons of defective steel in them, and its New York tower rests on sand. The Jonathan Fairbanks House in Dedham (MASS) is America's oldest frame house (1636). Olympic Gold Medals are actually 90% silver, not solid gold. When John F. Kennedy was elected to Congress in 1946 he was only 29 years old and was mistaken for an elevator operator when he arrived in the Capital Building. US elections are always held on a Tuesday because of a law passed in 1845, allowing religious people who refuse to travel on Sunday time to get to the polls even if they lived a day's travel away. Falkner, Mississippi, was named for John W.T. Falkner, president of the "Ship Island, Ripley & Kentucky" railroad, and grandfather of novelist William Faulkner

When the New York Central railroad began using its first diesel-electric locomotive in 1924, a city law required it to be proceeded thru the streets by a horseman flying a flag to warn traffic because in 1924, there were more horses than automobiles on the streets of New York. The 300-horsepower locomotive had been developed as a joint project of General Electric and Ingersoll-Rand. Castle Dangerous of Scotland, made famous by Sir Walter Scott's novel, was seized by English soldiers 3 times in the 14th century and each time its owner, Sir James Douglas, attacked and burned it to the ground. Dallas and Houston joined the ten most populous U.S. cities only after air conditioning became common.

Paris will probably never have skyscrapers. Even if the people approved, the Catacombs of Paris in which the bones of millions of people are contained, are just below the surface, preventing the excavation and building of large building's foundations. The 12th-century basilica of Saint-Denis near Paris was the first church built or remodeled in Gothic style. Mount Rushmore was originally to have depicted the figures from the waist up plus a 5th figure, Susan B. Anthony, but ran out of money during the Great Depression and stopped at just the 4 heads of state.

President Roosevelt was asked if the White House could be painted camouflage colors during WW2, he said no. The first microwave ovens sold in (1950s) America cost the modern equivalent of $40,000 each, as did the first refrigerators (1920s.) The first TV sets in the 1940s cost the equivalent of 10 ounces of gold. Their first popular use was in sports bars, where men who couldn't afford their own TV could watch baseball, boxing and wrestling. The unit of distance in India for 2000 years was the distance a cow's moo can be heard

Pizza was invented by ancient Persian soldiers, who baked flat-bread on their shields topped with cheese. The most popular dance in Paraguay is the galopa, in which dancers must keep a bottle balanced on their heads. The bark of cork trees in Portugal produce over half the world's supply of wine corks - some of the bark is harvested each year, without killing the tree. Coffee beans are not beans, but rather the pit of the coffee berry.

The only nature-made cave or tunnel in the world used by a railroad is Natural Tunnel in Virginia, in use since 1894. Carved by a stream that still runs next to the railroad track, it's used by Southern Railway (now Norfolk Southern) and is 100 feet high by 1557 feet long according to the American Association of Railroads. In 1956, American railroads used over eight million tons of coal in steam engines and over three million gallons of diesel fuel, though the total cost for a ton coal was only 20% that of a gallon of diesel fuel. Railroad employees were required to have a wristwatch or pocket watch accurate to within 30 seconds of Standard Time.

A bee sounds like buzzing to us because its wings beat 200 times per second. The Empire State Building was mostly empty, a financial disaster, until it was featured in the movie King Kong, and it wasn't fully rented until 1950. Frederic Auguste Bartholdi, sculptor of the Statue of Liberty, wanted it plated in gold not copper. During construction of the Kansas Pacific Railroad (now Union Pacific), Buffalo Bill Cody was paid $500 a month to supply 12 buffaloes a day for food - in 18 months he killed 4280 buffaloes. In Japan, green is considered a variation of blue, not a separate color, so traffic lights are blue instead of green

Thomas Edison owned the rights to build a hydro-electric dam in 1902 at the present location of the Hoover Dam, but an engineer told him there were not enough customers within a 180 mile radius in 1902 to make a profit generating electricity. After the three day Battle of Gettysburg in the Civil War, dead soldiers outnumbered the living ones.

St. Paul, the capital of Minneapolis, was originally named Pig's Eye. A golf course founded 60 years ago in Australia currently has over 130 wild kangaroos living on it and is still in use. Manhattan, New York, had a larger population in 1910 then it does now, due partly to business and office buildings replacing apartments. There were at least four versions of the Mona Lisa painted by Leonardo Da Vinci and his students, two of them topless, currently displayed in museums. The word "Canada" comes from the Iroquois word "Canata" which means village or settlement. The US Air Force built the cheapest and fastest super-computer in the military by wiring together over a thousand PlayStation PS3s for 500 teraflops. In Virginia it is illegal to smile on your drivers licence photo, it confuses face-recognition software, other states may follow suit.

Although poinsettia leaves are slightly toxic, a 50 pound child would have to eat 500 poinsettia leaves to reach the toxic level; there are no verified reports of children, dogs or cats dying from chewing on a single poinsettia leaf. The San Andreas Fault in California produces less powerful earthquakes than the Cascadia subduction of Oregon and Washington state, which produces earthquakes of up to 9.2 every 300 years; the last one was 1/27/1700 according to tsunami records in Japan, producing Washington's "Ghost Forest." FEMA estimates that when such a quake hits the Pacific Northwest today it would leave a million people homeless and over 2,500,000 without water.

Saint Patrick's favorite color was blue not green; green was the color of the Irish Rebellion. Tea samples were once sent to customers in a small mesh bag but customers thought it was to use as is and requested more "dunking tea bags." Only about 22% of American Indians still choose to live on reservations. Ostriches lay the largest eggs of any bird alive, yet the eggs are the smallest in proportion to the adult of any bird. Leprosy was unknown in the New World before the arrival of Columbus. Traffic lights in Japan are in the three primary colors: red, yellow and blue. In ancient Babylon, bartenders who watered down beer could be executed.

In ancient Rome, the 12 hour day went from sunup to sundown, making an hour 45 minutes in the middle of winter and 75 minutes in summer. In South Africa, attempted car-jackers were chased away by a nearby swarm of angry bees. A family photo was left on the Moon; on the back is written "This is the family of Astronaut Duke from Planet Earth. Landed on the Moon, April 1972."

The German insult "schweine-hund" translates as you are a "pig-dog." Japan consists of almost 7000 islands. The Hawaiian Islands and Midway Islands chain were all created by continental drift, as the sea bottom moves across the same volcano; some day a new island may rise to the east of the existing chain. The zipcode for Paradise is 95969 in California and 89109 in Nevada. Star Wars was originally released as the "b" movie with "The Other Side Of Midnight" which everyone thought would be the big hit, and was made only after George Lucas was unable to get the movie rights to Flash Gordon

When it came to moving giant blocks carved out of stone the ancient Chinese had an advantage over the Egyptians; with China's colder climate, they slid the stone blocks across wet ice, which required less than 20% as many men than sliding them across the ground.
Ripley's past rerun schedule

TUESDAY, JUNE 23 2015
2:00 AM	
EPISODE 408
TUESDAY, JUNE 30 2015
2:00 AM	
EPISODE 418
3:00 AM	
EPISODE 419
TUESDAY, JULY 7 2015
2:00 AM	
EPISODE 120
3:00 AM	
EPISODE 121
4:00 AM	
EPISODE 122
5:00 AM	
EPISODE 201
TUESDAY, JULY 14 2015
2:00 AM	
EPISODE 202
3:00 AM	
EPISODE 203
4:00 AM	
EPISODE 204
5:00 AM	
EPISODE 205
TUESDAY, JULY 21 2015
2:00 AM	
EPISODE 206
3:00 AM	
EPISODE 207
4:00 AM	
EPISODE 208
5:00 AM	
EPISODE 209
Tuesday, July 28
2:00 AM	
EPISODE 210
3:00 AM	
EPISODE 211
4:00 AM	
EPISODE 212
5:00 AM	
EPISODE 213
TUESDAY, AUGUST 4 2015
2:00 AM	
EPISODE 214
3:00 AM	
EPISODE 215
4:00 AM	
EPISODE 216
5:00 AM	
EPISODE 217
TUESDAY, AUGUST 11 2015
2:00 AM	
EPISODE 218
3:00 AM	
EPISODE 401
4:00 AM	
EPISODE 402
5:00 AM	
EPISODE 403
TUESDAY, AUGUST 18 2015
2:00 AM	
EPISODE 404
3:00 AM	
EPISODE 405
4:00 AM	
EPISODE 406
5:00 AM	
EPISODE 407
TUESDAY, AUGUST 25 2015
2:00 AM	
EPISODE 408
3:00 AM	
EPISODE 409
4:00 AM	
EPISODE 410
5:00 AM	
EPISODE 411
TUESDAY, SEPTEMBER 1 2015
2:00 AM	
EPISODE 412
3:00 AM	
EPISODE 413
4:00 AM	
EPISODE 414
5:00 AM	
EPISODE 415
TUESDAY, SEPTEMBER 15 2015
2:00 AM	
EPISODE 416
3:00 AM	
EPISODE 417
4:00 AM	
EPISODE 418
5:00 AM	
EPISODE 419
TUESDAY, SEPTEMBER 22 2015
2:00 AM	
EPISODE 420
3:00 AM	
EPISODE 421
4:00 AM	
EPISODE 422
5:00 AM	
EPISODE 101
TUESDAY, SEPTEMBER 29 2015
2:00 AM	
EPISODE 102
3:00 AM	
EPISODE 103
4:00 AM	
EPISODE 104
5:00 AM	
EPISODE 105

Ripley's was on NBC Universal's Cloo and SYFY's Chiller TV channel, no episodes are scheduled anywhere this month

---

Your computer knows that today is , believe it or not!