See if your favorite person, TV series or motion picture is available: video/DVD/books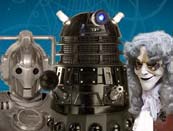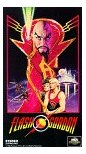 It would take producer Dino De Laurentiis of Conan, King Kong (1976) and King Kong Lives fame to revive the 1930s space hero in 1980.
Flash (Sam J. Jones) is now a New York Jets quarterback and Dale is a travel agent in this expensive production. The stunning sets & costumes are by Fellini protege Danilo Donati, and director Mike Hodges played for camp & sex, like 1967's Barbarella ( which had angels that looked a lot like Flash's Hawkmen, and which was also produced by De Laurentiis). Swedish ham Max Von Sydow is a hoot as Ming The Merciless, and future James Bond Timothy Dalton is also in the cast, but it was the driving soundtrack music of "Queen" that really brought in young movie goers by the droves.

Ornella Muti as evil Princess Aura is played as a sexy vamp, but Melody Anderson plays a forgettable Dale. Sam Jones was a former health club attendant and I don't know where his movie career went after this.
Rated PG, 110 minutes

Flash Gordon movie trailer


Flash Gordon (2007)

A new Scifi Channel tv-series premiering in August, 2007, with a 90-minute pilot/movie and 21 episodes:
Flash: Eric Johnson
Ming: John Ralston (of Showtime's Jeremiah)
Princess Aura: Anna Van Hooft
Dale Arden: Gina Holden
Produced by Tom Rowe
Filmed in Vancouver
Flash is being produced by Reunion Pictures under an agreement with King Features Syndicate, which owns the franchise. RHI Entertainment's Robert Halmi Sr. and Robert Halmi Jr. (SCIFI's Legend of Earthsea) are executive-producing, with Hume also expected to executive-produce. Matthew O'Connor and Tom Rowe produce.
Canadian actor Johnson is perhaps best known for his role as Whitney Fordman on Smallville, a character he portrayed from 2001 to 2004. Watch Flash while you can in case there's no 2nd season...


SCIFI Channel 2008 schedule:
01/04/2008 8pm & 11pm  THICKER THAN WATER     
01/11/2008 8pm & 11pm  EBB AND FLOW     
01/18/2008 8pm & 11pm  BLAME     
01/25/2008 8pm & 11pm  COLD DAY IN HELL     
02/01/2008 8pm & 11pm  REVOLUTION - PART 1     
02/08/2008 8pm & 11pm  REVOLUTION - PART 2 (final episode of series) 
      No further episodes scheduled until April
04/10/2008  FLASH GORDON marathon:     
          08:00 AM  LIFE SOURCE     
          09:00 AM  ALLIANCES    
          10:00 AM  REVELATIONS    
          11:00 AM  TIL DEATH    
          12:00 PM  CONSPIRACY THEORY    
          01:00 PM  RANDOM ACCESS    
          02:00 PM  SECRETS AND LIES    
          03:00 PM  SORROW    
04/30/2008  FLASH GORDON marathon:     
          08:00 AM  STAND AND DELIVER    
          09:00 AM  POSSESSION    
          10:00 AM  THICKER THAN WATER    
          11:00 AM  EBB AND FLOW    
          12:00 PM  BLAME    
          01:00 PM  COLD DAY IN HELL    
          02:00 PM  REVOLUTION - PART 1    
          03:00 PM  REVOLUTION - PART 2 
Previous broadcasts

Most recent showings of the 1980 movie:
Encore's Action Channel, various times in January 2008


Scifi channel's Flash Gordon website There has never been a Flash Gordon network tv-series, but NBC produced a tv-movie "Flash Gordon, The Greatest Adventure Of All" in 1979 (2-hours with commercials), broadcast two years after the 1980 movie was released. The NBC animated feature is set in the 1930s, using Filmation's "limited animation" Saturday-morning cartoons method, though the spaceship models are a first rate special effect thanks to a motion-control camera. Script by Sam Peoples. Executive Producers Scheimer & Prescott were known for many Saturday cartoons including the limited-animation but well-written 1974 Star Trek Animated series

Flash Gordon started as a newspaper comic strip in 1934 by artist Alex Raymond, as King Features' answer to competitor Buck Rogers. Just two years later, Flash came to the big screen in the first of three popular serials starring Buster Crabbe (who also did a fourth as Buck Rogers). The 13 weekly episodes were later cut down and rereleased as a feature
"Rocketship."
Flash and Dale Arden (Jean Rogers) journey to the planet Mongo in a homemade rocketship built by Dr. Zarkov to find out who is causing earthquakes tearing Earth apart. They are seized by merciless dictator Ming The Merciless. Ming has the hots for Dale, while Ming's daughter Princess Aura is attracted to Flash, making a 4-sided triangle that keeps them alive...for now. Along the way, Flash visits the underwater kingdom of the Sharkmen, and the Sky City of the Hawkmen
(which floats on anti-gravity rays).
The studio claimed that the 1936 budget was $350,000 - but that amount evidentally included the original construction cost of the laboratory from "Bride Of Frankenstein" (1935), which becomes the lab in Flash, and music from "The Invisible Man" (1933). Two other serials followed, "Flash Gordon's Trip To Mars" (1938, then cut down as a feature rerelease "Mars Attacks The World" to cash in on Orson Welle's 1938 War Of The Worlds broadcast), which featured very realistic, oozing Clay People. And then "Flash Gordon Conquers The Universe" (1940), in which Ming infects Earth with "death dust" called the "Purple Death"
to cause a plague.
There was also a 1953 tv-series that was hastily slapped together to cash in on Captain Video (1949-55). This Flash starred Steve Holland in first-run syndication and was gone the same year. It was filmed in Germany, with Irene Champlin (Dale) and Joseph Nash (Zarkov) in all 39 episodes.
A "classic" it ain't.
In 1935, radio's Mutual network (creator of The Lone Ranger and Green Hornet), began broadcasts of "Flash Gordon" starring a young Gale Gordon (later Lucy's exasperated costar in TV's "Life With Lucy" and "Here's Lucy" after Lucy divorced Desi Arnaz) or James Meigham as radio's Flash Gordon, with Maurice Franklin (Zarkoff), Bruno Wick (Ming), and Everett Sloane.

Listen to the 1935 radio episodes here



Spoofs of "Flash Gordon" have included "Flesh Gordon" (1974), a soft-core porn film that could probably be shown on basic cable today. "Emperor Wang of the planet Porno aims a raygun at Flesh & Dale's Ford-Trimotor plane, causing them to lose their inhibitions and have sex." They're rescued by Dr. Jerkoff in his phallic-shaped spaceship, then Wang kidnaps Dale and makes her be his Queen, which offends the other queen, Prince Precious. Narrated by Craig T. Nelson of Poltergeist. Cameo by real porn star Candy Samples. Sequel "Flesh Gordon 2: Flesh Gordon Meets The Cosmic Cheerleaders" (1990) has a different cast and such watered-down sex to escape an X-rating, it could probably have run unedited on MonsterVision.


Anyway, the original Flash Gordon movie and serials are available on video and on DVD from Amazon.com

Max Von Sydow played Robin Williams' guide to Hell (literally) in What Dreams May Come and played the Devil himself in Needful Things based on a story by Stephen King


Sources for this page included:
The Science Fiction Image by Gene Wright (Facts On File Pubs, New York, NY)

The Big Broadcast 1920-1950 by Frank Buxton & Bill Owen (Avon Books, a div. of The Hearst Corp, New York, NY)

Flash Gordon description above © Bill Laidlaw. All Rights Reserved. So there.