I just finished this victorian heart for a customer and was very pleased with the way it turned out.
I had paint samples to match the fabrics as closely as I could and they really helped.
My customer has sent me pictures of where they gave the rug it's beautiful new home that is filled with love, so I am sharing them with you too...enjoy!

Here are the comments that my wonderful customer sent me along with the pictures of their rug.

Hi Mary,

As you can see from these pictures, your rug is the highlight of our room! With it's "shabby chic" charm and beauty, it gives the perfect accent that I was looking for. Thank you again.

Hugs and blessings to you,
Gayden



This is one of my original designs that I did in the year of 2001 or possible earlier and the first that I made with the edging that I designed to make it look like it has points instead of it looking more round....just something I wanted to try and I liked it so much that I continued to use it on all of my designs. I also like the colors in this rug because it has a southwestern look to it.
SOLD





This is another one of my shag creations that was made with a zebra print and solid red.
It measures 5.5 foot and really turned out beautiful!!
I have added a picture that shows the loop stitch before cutting it to make it a shag and it also shows the back side of the rug too.

If you would like one, just email me and let me know your size and colors; and I will be happy to make you one too.









I just finished this all shag round rug done in navy, medium blue and crisp white for a lovely lady
that is going to give birth to a bouncing baby boy soon.

It is three and a half foot round, and the shag is between 4 to 6 inches deep.

I have also added a picture showing an up close look at the shag cut for you to see.

If you would like for me to make you one, I will do it in the colors of your choice.

Here are the comments that this sweet lady sent me about her rug through Creative Arts where I am a member:

Dear Linda,
Please tell MeMe how truly beautiful the rug looks! I am so excited! It is just perfect.
I can't wait to put it in the baby's room! Thank you so much for working with me to create this perfect piece for my little boy's room!
I love it!

Many thanks,
Joan

Here are the follow up comments from Joan after she received her rug...thanks Joan!!

I did get the rug and it is absolutely perfect!!
The colors match exactly and it just adds the perfect finishing touch to the room.
I am so pleased! Thank MeMe for me and know that I will definitely recommend your site to others!
Thanks again for the wonderful rug!

Sincerely, Joan









I made this rug for a wonderful lady on 1-07-2006 that was in the process of remodeling her kitchen.
She sent me sample colors through email of the different shades in her new kitchen,
and ask me to try to make her a rug that would match her colors,
so I sent her back some scanned fabrics that I thought might work,
and we worked together to get her the "just right" look that she wanted.

Here are her wonderful comments that I received after she got her rug,
and also a picture of the rug in it's new happy home.

Hi MeMe,
All I can say is "WOW". That is exactly what I thought when I opened the box and took the rug out. I knew right away it was going to be perfect and it is. The colors are awesome!
I especially like the mettalic print and the blue/grey is just enough to give it some contrast.
I put the rug down in front of the sink and it just gives the kitchen that "completed look" plus it also gives it that homey, country touch too which is what I love.
You did a great job on the rug..It is beautiful. I didn't realize that is was going to be so lush and thick.
It is just perfect. It is exactly what I was looking for. I knew right from the start that you had grasped what I wanted..Thank you for working with me and for making such a wonderful rug.
I can tell that you put your heart into each rug you make which makes it even more special. I'm sure I will get many hours of pleasure from looking at it.
I will keep you in mind for when I get my bathroom redone. I think a small oval rug for there would be nice too.
Attached is a picture of the rug's new home!! I hope it will be happy here..Smile
Once again..many thanks Carolyn I thank Carolyn for her permission to use her comments and also the picture of the rug in the place she choose to put it.
Bless you Carolyn!!

I just got this email from Carolyn today 7-13-2007, and wanted to share it with everyone in order that you all may see just how the handmade crocheted rugs hold up.....Thanks so much Carolyn for sharing your experience with me!!

Hi Meme, I don't know if you remember me..
I think it has been over a year since we worked together on finding the right colors for my heart shaped rug for my remodeled kitchen..(you have my kitchen picture on your website)..
I just had to tell you how much I still love your creation!
Every time I walk into my kitchen and see my heart shaped rug I get such a warm and good feeling.
When I pick it up to wash it, I can't believe how empty the kitchen looks without it but when I put the rug down it just makes it look lovely and complete.
I am almost afraid to wash it too many times for fear I will ruin it and I wouldn't be able to replace it! I try not to wash it too much because of that but it washes up so nice and still looks new..
So, I just had to run my thoughts by you and to once again, thank you for making such a great rug for me..
I am sure you have made many more people happy through your creations.>P? I hope all is well for you and your family..when we were in contact before regarding my rug I know you were going through tough times with the flooding etc and all the things that got ruined for you.

Carolyn









This rug was made from a box of strips that was sent to me by a wonderful lady
in one of my crochet groups to help me to have something to do during our time of evacuation from hurricane Rita.
I put the strips together and made the rug in the heritage look and am going to send it back to Kathy as a memory rug.
I had so many wonderful emails and gifts from friends that I have only met on the internet during our experience with hurricane Rita.
I do want to thank Kathy for her wonderful kindness and thoughtfullness during the time we had to be away and displaced.
I am truly amazed at just how many wonderful people that were there for us.
The Lord saw us through and kept our family safe, and that is all that matters...all physical things can be replaced.
Thanks to all that showed the overwhealming kindness and love to Ray and I!!!!

We are still trying to re-build what we lost, and are making progress each day...thanks to all that were there for us!!

It is hard to see almost 20 years of our lives just taken over night, but we are determined to find peace amongst the rubble someday.









This rug is done in red/white and black/white prints throughout as requested by my customer.
It is the standard size rug except for being a little larger than the other ones that I make.

If you would like one made in the colors of your choice, just email me and we will work on yours too!!

Thanks









Another one done....:)
This rug is done in navy, medium blue and crisp white in the shag technique,
and is 24" wide and 30" long and has a shag that is between 4 and 6 inches deep.

I can make yours in the choice of colors that goes with your decor if you would like one too.
Just email me, and we will work on getting yours done too.

Thanks!!









This rug is done in shades of black, tan and off white; and is 3-1/2 foot round.
It is done in the shag technique....really turned out beautiful!!

Here are the wonderful comments from my customer for the rug above:

Hi Meme,

We received the rug today and it looks beautiful,
we just love it, but like with any thing new we have to get used to it.
Thank you again and I am so sorry for your troubles.

Carol

This patchwork heart rug was done as a birthday gift to a wonderful friend. Happy Birthday Donna and many more to ya!!
The rug is done in various prints of red and white along with red and white solid.
It is the patchwork heart look, and done completely in the shag technique.
If you would like for me to make you one in your choice of colors, just contact me and we will plan yours too.
And here are the comments that she sent when she got her rug:
Mary, I just love my heart red and white rug, my goodness 5 different colors! Oh my this takes my breath away, took it to show my boss, and she said OH THIS IS FOR ME? I said no, u take it u will bring back a nub called a hand! LOL, she knew i was just kidding, but knew never in my life time will i give up this rug, this is the most beautiful rug I have ever seen....my co-workers each, stopped by my cube to look at it today when i received it.....i made sure i took it home immediately, was afraid someone might help it walk off to another home! LOL! thank u so much Mary, I love it!
Well you said Ray stuffed into the top of the box, so when I opened it,
I found a bag that said wilsons leather....so I tore into that..yes, like a kid at christmas,
gathered it in my arms and very carefully laid it out after shaking it a couple of times,
and messed with the fabric, felt the stitches....just touched it on the floor...
and re-arranged and fussed and ohhhheeeddd and ahhhhhed, as did everyone else,
cause I called 3 other gals over....as I was doing all this...and I imagine I was glowing..
that is how much I love it...and still lookin at it and love it..
yes I am silly and goofy over stuff like this....can't help it.
Donna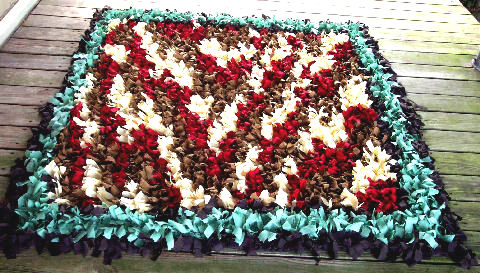 This rug was done in many different colors in a random pattern.
It has many silk fabrics in it, and is size 5.6 x 5.6 foot square.
The colors include barn red, buttercup yellow, tan, chocolate brown and a light sage green.

PLEASE READ ABOUT MY TERMS BY CLICKING HERE

If you hold your cursor over the icons below, it will tell you what is on each page.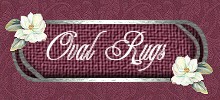 Click on the next button to go to page two of my oval rugs.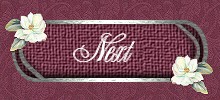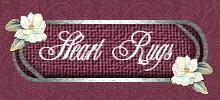 Please click on the next icon to view page two of my heart rugs.

Please click on the next icon to view my shag wearables.


Page updated 012/11/2018
Written content and merchandise, pictures and original patterns
Copyright © by Mary Suire 1981-2021.
All Rights Reserved