After nearly two years, the debris pickup in Lake Catherine is in full swing.


Live Oak - still alive after Katrina - Hwy 90, aka Chef Hwy - June 2006

This website will detail the rebirth of both Chef Highway and Highway 11, which travels into Slidell.
Post Katrina it is almost a ghost town. There are still the commuters and the Vietnamese are coming back and reopening businesses, but the Bayou Sauvage has taken a beating.

Here's a great post about one man's trip into N.O. east for some good eats. Good pictures.
Thanks, Ray.


Update January 2007. I took Hwy 90 home from work one beautiful afternoon to see what's been going on since my last trip.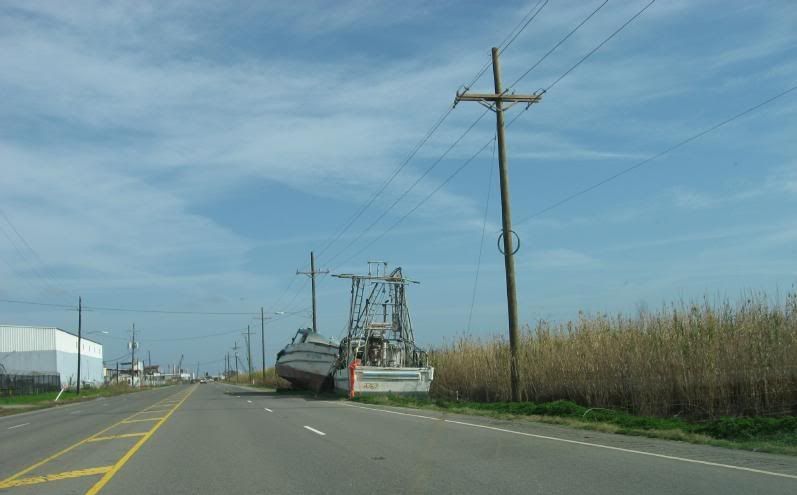 Well, the big boats in front of Textron Marine are still where they landed almost 17 months ago.

I've moved my photos of Venetian Isles and Lake Catherine to this website
And Fort Pike Pictures can now be found here

New Orleans Camps dot com
A fascinating website that details the history of lake front camps in the New Orleans area


HELP STOP NOLA EAST LANDFILL LINK
Click here

New Orleans East dot com
A community-based think-tank to rebuild the community


Perhaps the beginning of restoration:
A $19.6 million proposal may be the first among four projects recommended for approval
by the Breaux Act Task Force at its Oct. 18 meeting.
If the task force agrees, as expected, the federal Natural Resources Conservation Service
and the state Department of Natural Resources would choose a contractor and oversee the work
to rebuild a land bridge, sandwiched between Lake Pontchartrain and Lake Borgne in an area known as Alligator Bend (see red star on map below),
the contractor would mine about 3 million cubic yards of sediment from Lake Borgne to fill in 410 acres of open water, in part created by Hurricane Katrina.
The project also includes planting vegetation along 7 1/4 miles of the Lake Borgne shoreline, which retreated 5 feet during the storm.

The Coastal Wetlands Planning, Protection and Restoration Act (CWPPRA) was passed by congress in 1990. It funds wetland enhancement projects nationwide, designating approximately $60 million annually for work in Louisiana.

This report gives an overview and status of coastal efforts to protect, conserve, restore, and improve the state's coastal wetlands. The Barrier Island Status Report is included in the report as mandated by the 2006 Regular Legislative Session. The report is subdivided into four primary sections by region and also includes information on project location, features, acreage, costs, and funding sources.

a href ="http://onthescene.msnbc.com/hurricanes/2005/09/bayou_savage_na.html"> MSNBC visited Bayou Sauvage in September 2005 and did this video on how it made it through the hurricane.


More than a year after Katrina, many boats are still orphans. Click here for the documentary.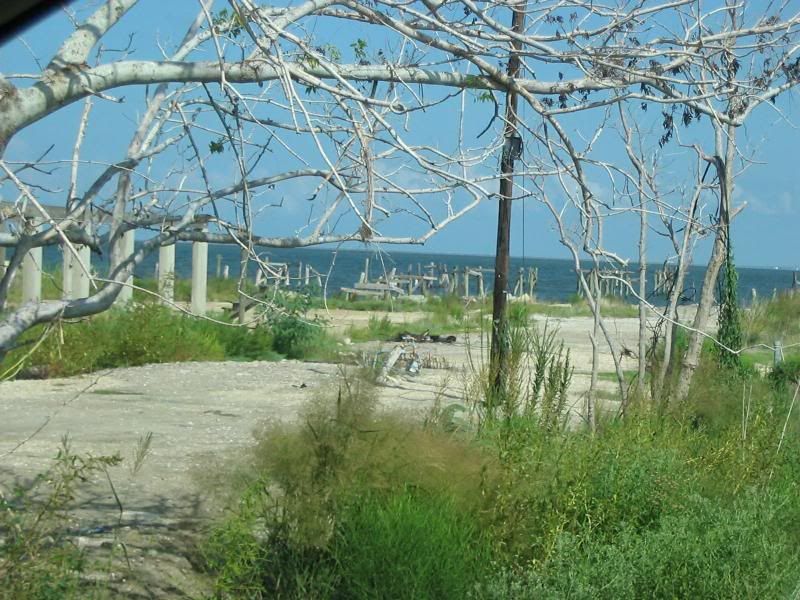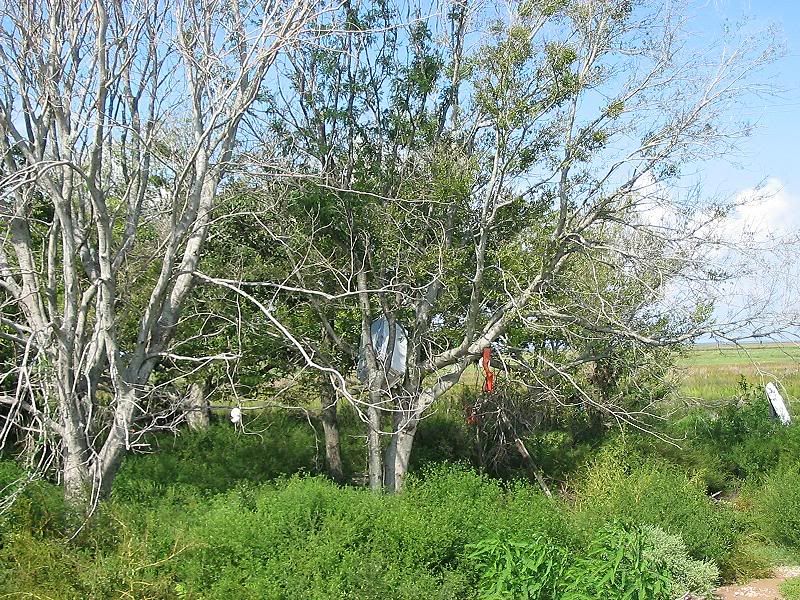 The waterline showing on the trees made me think that it was at least 20 feet. Here a fridge sits in a tree.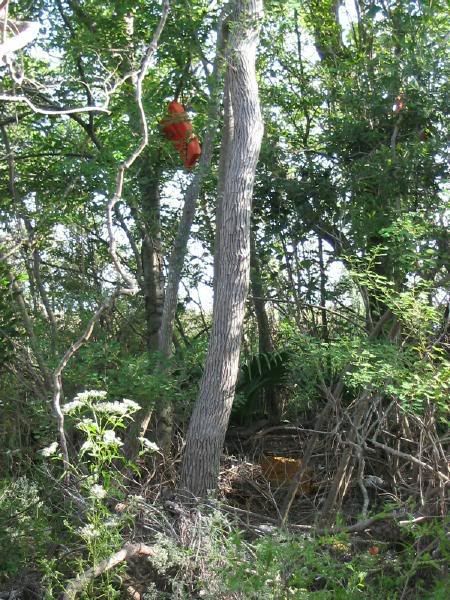 Look how high that life preserver is. This picture taken my my 6 foot husband.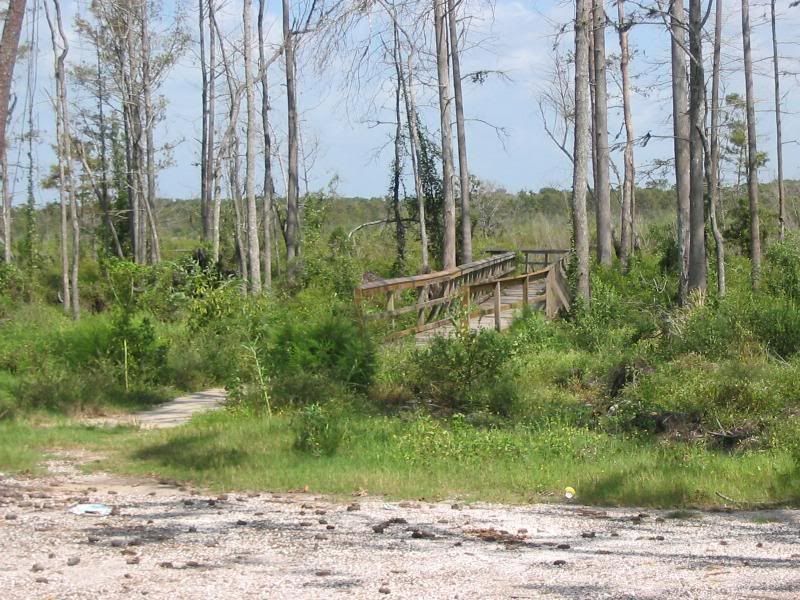 The White Kitchen Nature Preserve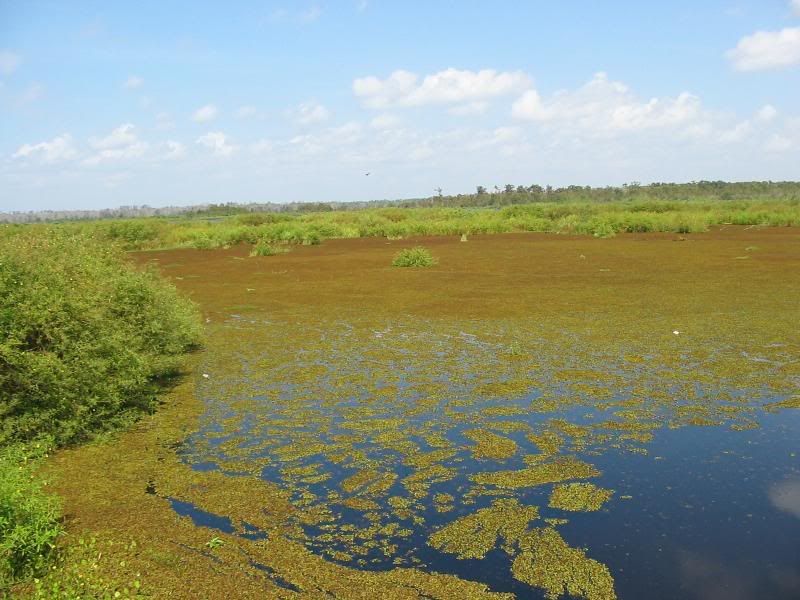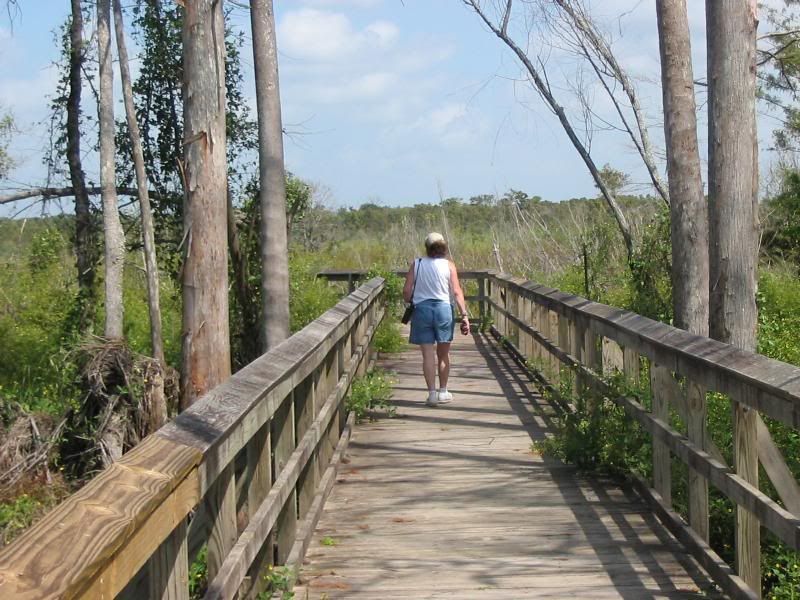 My Katrina blog which helps me work through the whirlwind of emotions that impact me every day as I drive through Katrina's leavings in my daily commute to work.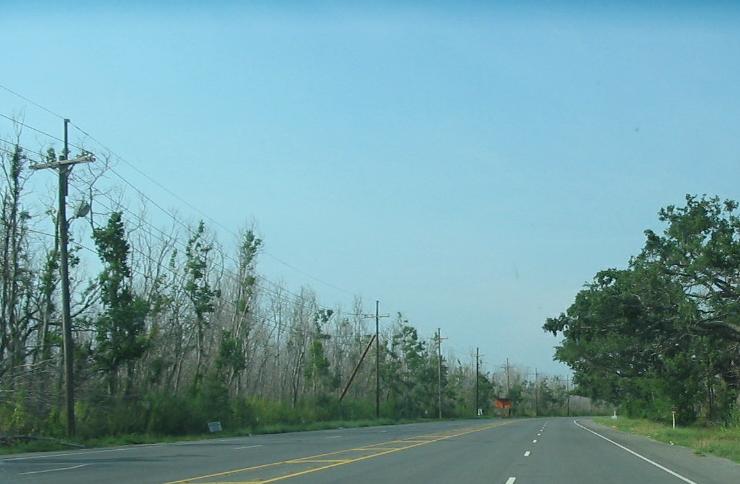 This is Hwy 90 (aka Chef Hwy). The trees on the left hand side of the road were killed by saltwater intrusion caused by MRGO


Here's the walkway out onto Bayou Sauvage. We're in a drought and this shows it.


The trees along the swamp were killed by the saltwater intrusion. It apparently made it across Hwy 90

Chef Menteur Landfill - New Orleans East
Mayor Nagin and the Louisiana DEQ allowed this landfill to be built to handle construction and demolition debris. However, it is between the Bayou Sauvage Wildlife Reserve and a Vietnamese community in the far reaches of New Orleans East. Currently closed for testing, if allowed to reopen, there is no telling what kind of pollution will be dumped there. This cannot happen. Where the hell is the EPA?????

Click here for an article that discusses the closing of a landfill that abuts this Wildlife Preserve.

< Here's an article on DEQ's disagreement with the decision to close landfill, but promises to follow New Orleans' wishes.

Update 8/2/06
Dammit!!! Waste Management - who originally railroaded the opening of this landfill, is suing L.A. DEQ to keep it open