WRIGLEY FIELD
"IS THIS HEAVEN?" IF IT IS HEAVEN REALLY BLOWS
Yes, it's the only reason the Cubs have fans. Why else would people subject themselves to such
misery? Cubs fans and the Tribune Co. (they're both the same thing) would like the rest of the world to believe that Cub fans are such die-hard true baseball fans, and they love their team so much, that that's why they keep filling the doll house of a ballpark up.
Truth: Wrigley Field is full of tourists and people who come to be seen, get a tan, stare at chicks and ivy, and above all: get drunk. Sure there's real fans mixed in there, but if you only counted them, the Cubs' attendance would be about as good as the Tampa Bay Devil Rays.
Wrigley Field is built up to be this picturesque timeless shrine to everything good about baseball. What it really is: a urine-scented tourist trap full of drunk frat boys, yuppies on cell phones, and other types of idiots all gathered together to be oblivious of the team losing on the field.
Cub fans must not like Wrigley, based on the way they always seem to throw trash on the field
article on Wrigley's "Dirty Secrets"
PHOTOS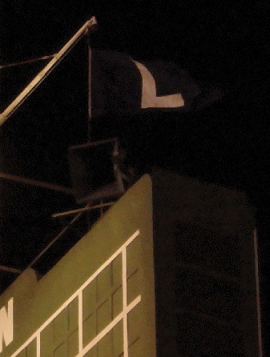 A common site: the "L" flies over Wrigley. Losing is cute to Cub fans.
Statue of Harry Caray stealing children's souls.
It's believed Sox fan killed this ivy during the '02 crosstown series by pouring herbicide on the adorable ivy. BRILLIANT!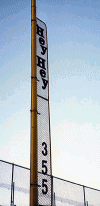 the "Hey, Hey" foul poles are absolutely adorable!
Wrigley's precious scoreboard from behind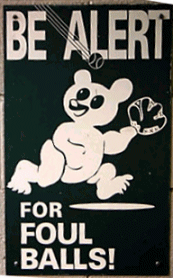 these cutesy signs are posted all over the inside of Wrigley. Perhaps all Steve Bartman is guilty of is following the rules.
buried in the wall outside of Wrigley somewhere is a brick from old Comiskey Park, cemented in one late winter night by Sox fan Peter Donaghue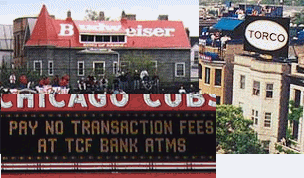 part of wrigley's appeal is the old-fashioned advertisement-free charm.
seriously, though, look at any 1900s or earlier baseball photos. what do you see painted on the outfield walls? ads. they're just as old and just as much of a part of america as baseball itself.
you have to pee in a trough at Wrigley. Outdated plumbing a sewerage systems along with drunk Cubs fans who can't aim into the trough have caused 90 years of urine to soak into Wrigley, giving it that lovely smell which earns Wrigley the nickname, "the urinal"
WRIGLEY FACTS:
-built in 1914
-originally known as Weeghman Park
-first sports stadium ever to sell out it's name to a corporation
-no batted ball has ever hit the obsolete centerfield scoreboard
-smells like pee
-Last stadium to install lights.
-following renovations in 1994 and 1995, there are now 63 private boxes.