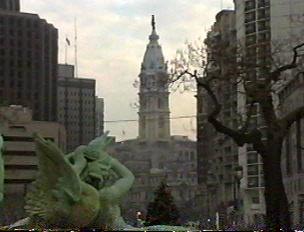 Date:THE PRESENT Location: City Hall- Philadelphia
On January 1, 2001, the building known as City Hall will celebrate 100 years since it's completion, planned in 1868 and finished in 1901, this building is the largest City Hall in the world, it can also boast as being the largest and tallest masonary building in the world.
The building is 548 feet 11 inches from the street to thetop of William Penn's hat, the statue of Penn was designed by Alexander Milne Calder and at 37 feet high is the largest statue on top of a building in the world, there are also 250 sculptures that adorn the building by Calder.
The clocks on the four sides of the towers are 26 feet in diameter and weigh over 50 tons, the minute hands weigh in at 250 pounds while the hour hands are 175 lbs.
All interesting facts, some known , others not so well known, another interesting fact, the courtyard is haunted!
Some 200 years ago the ground that City Hall now stands on was used as a public gallows, one interesting case involved an Native American , Joseph Hightower, in 1783 he was accussed of murdering a Quaker family by the name of Samuelson , he was found gulty but even to the gallows he maintained his inocence , his lasts words were that he would come back and avenge himself aganst this injustice.
Sometime after his death, the arresting police officer, James Mann and the prosecution attorney Robert Tanner, both died by a form of suffocation,Mann by drowning, and Tanner was run over by a carriage which severed his windpipe. There have been reports over the years of a dark shadow in the courtyard whose feet are at eye level and seems to be swaying, could this be Hightower.?
Ever see a ghost?A UFO ? Or any other paranormal experiance, drop us a line if you would like to see it on line.